In our extensive tests which are repeated at regular intervals, VyprVPN stands out as the top VPN for Netflix unblocking across most geographic regions. The VPN market has grown to include many players touting a myriad of features but to work around Netflix's algorithms, a VPN service must have exceptional technology to match the streaming giant's blocking prowess.
Any VPN service that claims to be able to unblock Netflix must provide the fastest connections for data-heavy activities such as streaming and have robust servers that can circumvent any kind of blockade. This is where VyprVPN beats the rest of the crowd.
The company has invested heavily in its own infrastructure to ensure control over performance and guarantee users reliability through a strong customer support system. As we shall see later, VyprVPN delivers a unique combination for users who need to access Netflix from anywhere around the world.
What is Netflix streaming?
Streaming is a means of listening to music or watching video on your device in real time rather than downloading a file to your device and watching it at a later time. Streaming media is a continuous stream of data transmitted over a computer network (via a mobile network, Wi-Fi or Ethernet) for immediate playback.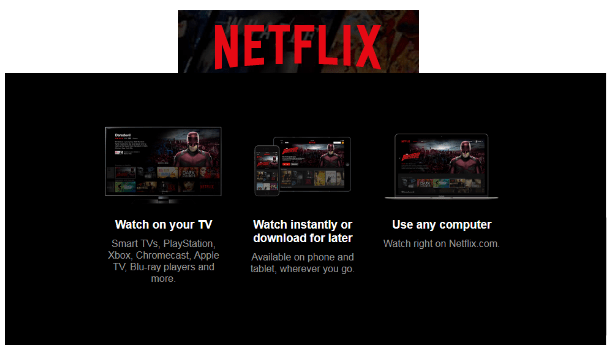 Such media, whether they are movies, music, podcasts, games, TV series, videos or webcasts of live events require an internet connection. This content is consumed through various devices including laptops, smartphones, desktop computers, TVs, set-top boxes, tablets and game consoles.
Popular providers of streaming content include Netflix, Hulu, Apple TV, Amazon Video, Twitch and Crackle for video services while Apple Music, Google Play, Pandora and Spotify provide music streaming.
Netflix leads the pack in video due to its huge catalog of movies and TV shows that cover different genres and the constant flow of thousands of new shows. With such a huge library, the service has attracted over 148 million subscribers around the world and is available in more than 190 countries.
Netflix offers unlimited movies and TV shows on laptop, TV, phone and tablet in three streaming plans. The Basic plan costs $7.99 and allows you to stream on a single screen in standard definition. The Standard plan sets you back $9.99 per month with an offer of HD videos and two simultaneous viewings.
The Premium plan allows streaming in HD and Ultra HD and 4 screens at $11.99 per month.
Why does Netflix restrict content by region?
The provision of online streaming content is complex in a world that has relied on traditional television. Streaming services have to contend with licensing agreements and copyright laws that may not necessarily favor consumers.
The licensing agreements vary across countries depending on who has the upper hand to distribute particular content in that region. For example, a popular show may be exclusively licensed to a local TV network. Such a show cannot be available online to Netflix viewers in that country.
If another distributor bid a higher price and won the distribution rights for a TV show in a certain country, then Netflix cannot stream that show to users in that country.
Audience interest is another factor that determines whether a distributor like Netflix makes a movie or show available to a certain audience. The company will always look at whether buying the rights for a region will attract enough viewership to recover expenses and make a profit.
Due to these contractual obligations, a series may be available in selected countries and not accessible in others. This happens a lot to popular shows that are in demand across different demographics around the world. Restrictions to certain regions can only be overcome if online viewers are able to access the shows through Netflix regardless of where they are.
Most of the shows that make up the huge Netflix library are produced for US audiences. The US represents the largest market for the produced content and majority of movies and TV series are restricted to that market.
If certain programs on Netflix are blocked in your region, you need a robust VPN to be able to access such content from anywhere.
Using a VPN to unblock Netflix
As we shall see, VPNs can not only safeguard your privacy and security when browsing the web but can also open access to Netflix content that may not be available in your region. You can unlock a treasure trove of great movies and TV shows by simply tapping into any region's service through a VPN.
To ensure that certain content is only accessible to a specific region, Netflix uses geo-location technology to restrict its subscribers based on where they are located. The company does this by looking at the IP address of your device and directs you to the content available for your region.
Using a VPN enables you to circumvent the regional restriction applied by Netflix and open the door for you to watch content from other regions.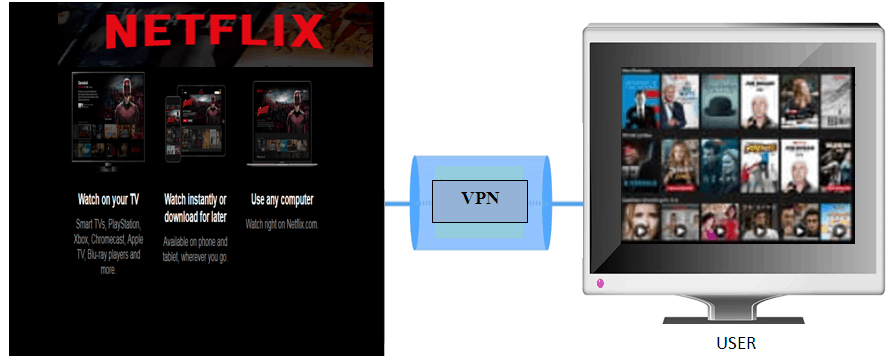 A VPN or virtual private network is a service that allows you to change your IP address to remain anonymous online and also encrypts your data enabling you to send and receive information securely.
The service essentially tricks your device, whether it's a TV, laptop, desktop computer, tablet or smartphone into thinking it's in another location. Using this technology will therefore trick Netflix servers to think your device is in the region whose content you are interested in watching.
The Virtual Private Network provider will replace your device's initial IP address with a different one from any gateway city of your choice around the world where their servers are located.
Choosing a VPN that can unblock Netflix
A VPN may have the capability to unblock Netflix but may let you down on some other areas that are critical for you to be able to watch streaming content without a hitch. To choose the best VPN for Netflix streaming you must consider the following factors;
Speed – streaming is a data-intensive activity that requires a connection that guarantees fast speeds. This calls for a VPN with robust servers to enable you stream content in HD.
Security and Privacy – the service should use top level encryption to secure your connection from prying eyes. It should also employ privacy policies that ensure your identity is not revealed to anyone.
Multi-platform compatibility – this ensures that you can be able to use the service on all your devices whether it's a laptop, router, TV, smartphone or tablet.
Reliability – the service must be innovative to consistently unblock Netflix due to changing technologies which have enabled Netflix to block some VPNs.
Great and efficient customer service – due to evolving technologies that enable Netflix to block some VPNs, customer service that is available 24/7 is important to guide users on what to tweak in the event they are unable to unblock Netflix from their location.
Server coverage – this gives users greater choice of servers in countries which host the content viewers are interested in accessing. Some of the best providers have a large pool of servers which are well distributed across the world.
After looking at the factors above, the VPN must then be able to open up the international Netflix catalog to give you access to countless new TV shows and movies. As we shall see below not all VPNs can unblock Netflix. It takes impeccable customer service, the right infrastructure and latest technology to beat Netflix at its own game.
The Best VPNs for Netflix
As we saw earlier, Netflix uses IP addresses to determine where their subscribers are based. A VPN on the other hand generates a different IP address for users to get around the restriction. Netflix has in turn developed technology that detects when subscribers access content through a VPN. The company's crackdown on VPNs is legendary and is meant to ensure that copyright holders get maximum returns because streaming rights for popular content are sold separately in most countries.
When Netflix detects that a subscriber is using a VPN, the user will not be able to access the content and will be shown an error message like the one below.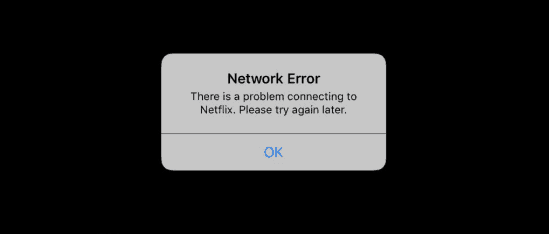 While the methods used by Netflix to detect the use of VPNs are complex and continue to evolve, what is certain is that the company is able to pinpoint shared IP addresses which are commonly used by most VPN providers.
Shared IP addresses are shared among hundreds of users and are used to create anonymity but are easy for Netflix to detect. If a given IP address is accessing large amounts of data from Netflix servers, it raises a red flag suggesting that it is a VPN-shared IP and will be immediately blocked.
Netflix may also block a whole range of addresses if it suspects that they are owned or used by VPN providers. The providers normally buy IP addresses in bulk to give them a variety of servers under similar IP addresses to serve their customers. Some VPN providers offer an individual IP address as a solution to this but it means that the user will lose the anonymity associated with a shared IP.
Only those VPNs that are able work around this problem can unblock Netflix.
There are numerous VPNs that are unable to crack Netflix's firewall and no longer work with the streaming service. If you're using such a VPN and you're a Netflix subscriber, you may find yourself unable to access content from your own region unless you turn off the VPN.
The VPNs we recommend below have put in place robust systems and resources to counter any new blocking methods by Netflix. It's important to note that these VPNs may also get blocked, but they are always prepared to replace blacklisted IP addresses and related servers quickly to ensure users can continue accessing content.
Here's our current list of the best Netflix VPNs that have consistently provided access to Netflix content through great effort and expertise:
1. VYPRVPN
VyprVPN is an excellent VPN service based in Switzerland with emphasis on speed, security and high level performance across several areas. Its support for P2P torrenting with unlimited bandwidth gives users the capability to stream content without incessant buffering.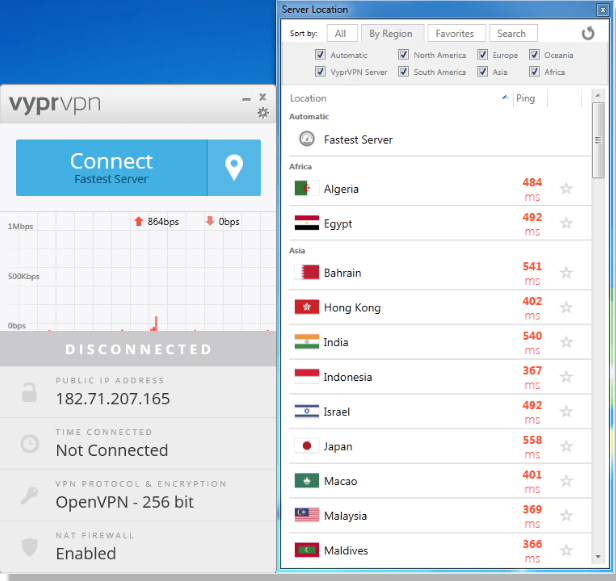 The company has developed its own proprietary protocol known as Chameleon to defeat VPN-blocking. This protocol uses unmodified OpenVPN and can also allow users to circumvent censorship in countries such as China.
VyprVPN operates its own infrastructure and does not depend on third parties to run the network. This enables the company to have a network that is not only reliable but delivers good speeds and great customer support.
While its server count is not huge, the network is well distributed across the world and a collection of high-end features such as One-click connect for quick server selection more than covers for that.
The service offers unlimited server switching and compatibility with multiple platforms including Windows, MacOS, iOS, Android routers, Android TV, QNAP, Blackphone and Anonabox.
Although VyprVPN offers no money-back guarantee, it gives subscribers 3 days to test the service for free. The company accepts credit cards, Paypal and Alipay and annual plans start from $5.00 per month for 3 devices and $6.67 per month for 5 devices. Users have a choice of monthly payments which start at $9.95.
Key features include:
Speed – VyprVPN offers excellent download speeds which are particularly great for streaming content. Most of the servers we tested in the US and UK delivered exceptional experience for Netflix.
Security and Privacy – The service is based in Switzerland, which means pro-privacy laws apply. The company has a 'No logs' policy which ensures that no data can be used to identify users and none is shared or stored on their servers.
VyprVPN uses its own proprietary Chameleon™ VPN technology to defeat VPN-blocking. This technology is based on unmodified OpenVPN 256-bit protocol for the underlying data encryption. It basically scrambles OpenVPN packet metadata to ensure it's not recognizable via deep packet inspection. Apart from OpenVPN, it also supports other protocols including L2TP/IPsec and PPTP.
A NAT Firewall is used for additional security to ensure that user data is protected at all times.
Multi-platform compatibility – VyprVPN is compatible with Windows, macOS, Linux, iOS, Android, Android TV, Anonabox, QNAP, Blackphone and routers. It allows users to connect 5 or 3 devices at the same time depending on the subscription. Installing the VPN on a router enables users to connect unlimited devices through the VPN tunnel.
Reliability – VyprVPN handles Netflix streaming with ease and has zero restrictions on downloads. Unlimited server switching gives you the freedom to access hundreds of servers to support Netflix in the US and other countries.
Customer service – The VyprVPN support reps are available 24/7 on live chat and there is an option of submitting a request for action via email.
Server coverage – the company has more than 700 servers worldwide which are spread out in more than 70 locations. The servers provide users with a selection of over 200,000 IP addresses.
PROS
Excellent speeds and unlimited bandwidth for streaming media
Free 3-day trial
Compatible with numerous apps
2. NORDVPN
NORDVPN is among the most robust virtual private networks that prioritize security and cutting-edge technology to protect users. The company's set of features provides great performance while protecting your online activity from hackers and malware.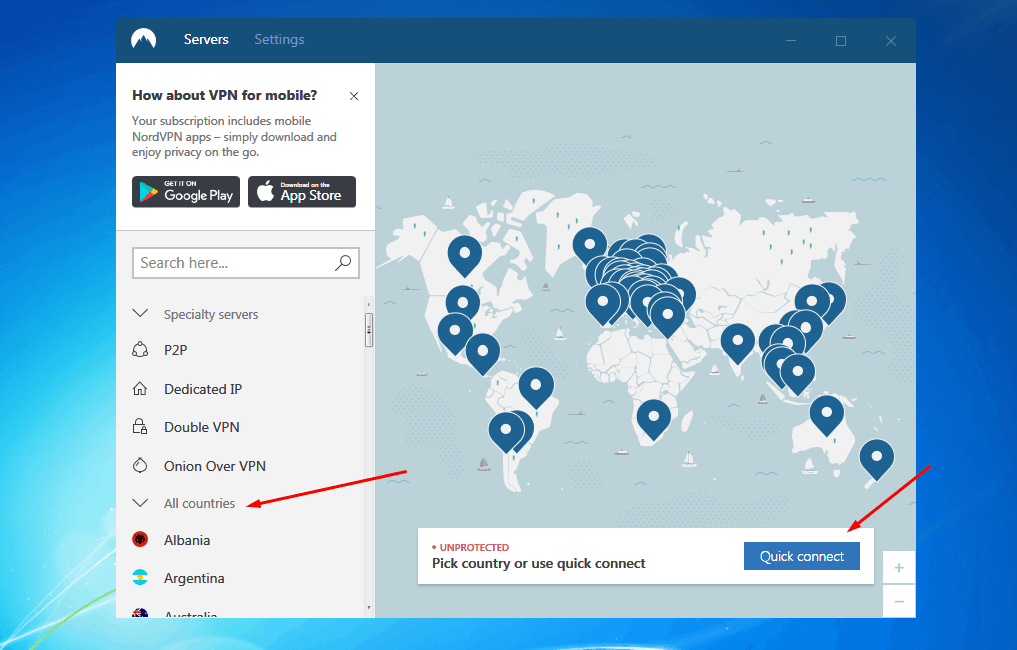 The company uses 2048-bit encryption, has DNS leak protection and a kill switch which ensures no VPN connection is exposed to snoopers. The huge network of servers gives users multiple choices for Netflix programming across the world. A no-logs policy ensures that users' online activities are kept private.
The service is great for Netflix and it unblocks other services including BBC iPlayer and YouTube. It supports Netflix in the United States, Canada, Japan, UK, the Netherlands and many other countries.
NordVPN accepts Crypto Currencies, credit cards, Alipay and Neosurf. Plans start from as low as $2.99 per month for a 3 year plan and there's a free 7-day trial not to mention the 30-day money-back guarantee.
Key features include:
Speed – This provider offers fast speeds on most of the servers we tested in the US but recorded a few slow ones. However, all the servers we tested did make a connection to Netflix.
Security and Privacy – NordVPN utilizes AES (Advanced Encryption Standard) with 256 bit-keys to protect your data. The company uses IKEv2/IPsec and OpenVPN security protocols.
The use of high-level cryptographic algorithms and keys for encrypting traffic to military-grade standards ensures stability and high levels of performance speeds.
OpenVPN is a versatile protocol that supports a high number of strong encryption algorithms for a faster live streaming experience. The Double VPN feature passes your traffic through two servers for an extra layer of encryption in a process known as VPN server chaining.
The service has a No logs policy and has put in place DNS leak protection that ensures DNS requests used in resolving domain names go through the VPN tunnel to your VPN provider's DNS servers and not through your ISP.
An automatic Kill Switch helps to safeguard you by automatically stopping selected programs or the whole device from connecting to the web once a VPN connection drops.
Multi-platform compatibility – NordVPN has applications for Windows, macOS, Linux, iOS, Android and Android TV. The service can also be used on browsers through encrypted proxy extensions for Chrome and Firefox. Users can connect up to 6 devices simultaneously.
Reliability – Works well with Netflix and other streaming services.
Customer service – The company provides live chat sessions 24/7 and the representatives respond quite fast to any inquiries. We were connected to a representative on live chat support within a minute. A searchable help center has a variety of answers to numerous questions and users can get in touch with the company via email.
Server coverage – NordVPN has more than 5,249 servers worldwide which are spread out in 60 countries in Asia Pacific, Americas, Europe, Africa, the Middle East and India.
PROS
Offers a 30 day money-back guarantee
Huge collection of servers
Good performance
CONS
Speeds can be a bit slow on some servers.
Monthly billing plan is quite expensive
3. HIDEMYASS
HMA has a network of more than 990 servers in 280 locations across 190 countries. This gives the company a strong presence of having servers in almost every country.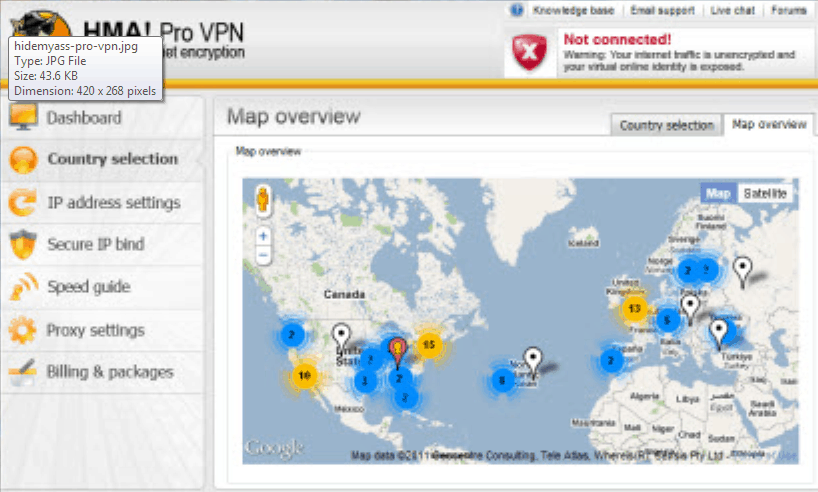 It boasts of strong encryption protocols and great performance in service delivery with special emphasis on streaming services. The company has deployed special servers for users who are interested in unblocking US and UK Netflix services.
These servers are optimized for streaming and are able to unblock Netflix. Our tests showed that this VPN (which offers unlimited bandwidth) works well and delivers good speeds on its servers. The service unblocks US Netflix in the browser and on the Netflix app.
HMA offers five simultaneous connections which allow you to stream on any device running Windows, Android, macOS, iOS and Linux.
The company's location in the UK is of concern for users keen on privacy. HMA has a data retention policy which allows it to share information with law enforcement.
The high speeds and unique features come with a heavy price tag of $6.99 per month for the one year plan. A limited offer of $2.99 per month for a 3 year plan appeared on the website and hopefully may become a regular plan. A 2-year plan is also available at $4.99 per month. However, subscribers can enjoy a 30-day free trial as well as a 30-day money-back guarantee.
HMA accepts major credit cards and Paypal as payment methods.
Key features include:
Speed – HMA has exceptional speeds which allow for uninterrupted streaming. The company's speeds are among the fastest on the market making it ideal for data-intensive activities such as streaming.
Security and Privacy – HMA uses AES 256-bit encryption to secure data and is based in the UK which is inside the 'Five Eyes' Security Alliance. The company logs your activity and may hand over this information to authorities when requested.
The following logs are kept by HMA:
Your license ID
A time stamp when you connect and disconnect to the VPN service
The amount of data you transmit (upload and download) during your session
The subnet of the IP address used to connect to the VPN
The IP address of the individual VPN server used.
Multi-platform compatibility – HMA is compatible with Windows, macOS, Linux, iOS and Android.
Reliability – HMA offers optimized servers specifically dedicated for streaming and P2P sharing so that you can watch or share content with unlimited uploads and downloads.
Customer service – HMA has a comprehensive support library with a ticket support form on the website. The live chat is a quick way of getting your questions answered. We actually recommend using live chat to find out which servers are actively supporting Netflix streaming and any other tweaking you need to do for a smooth experience.
Server coverage – this VPN provider gives access to more than 940 servers in 280 locations across 190 countries. This means that there are servers in almost any country you are interested in. The service allows users to connect 5 devices simultaneously.
PROS
Unblocks Netflix
30-day money-back guarantee
Good server speeds that are consistent
4. PUREVPN
PureVPN is a great service with an array of features that make it rank among the top VPN providers. Based in Hong Kong, away from the "5 and 14 Eyes," the company is not required by law to store any data, giving you the privacy you deserve. However, since Hong Kong is a Chinese territory, this policy may be reviewed by authorities in this semi-autonomous region.
The company's network is well distributed with more than 2,000 servers spread out in 180 locations across 140 countries. The service has deployed servers which are dedicated to US Netflix to ensure that users get a buffer-free streaming experience.
PureVPN has gone a notch higher by including a separate tab for US Netflix which shows its dedication to provide users access to the streaming service in an efficient manner.
Apart from unblocking US Netflix, this VPN is also compatible with Amazon Prime video.
The company has deployed military grade security with multiple protocols such as OpenVPN, PPTP, L2TP/IPSec and IKEv2.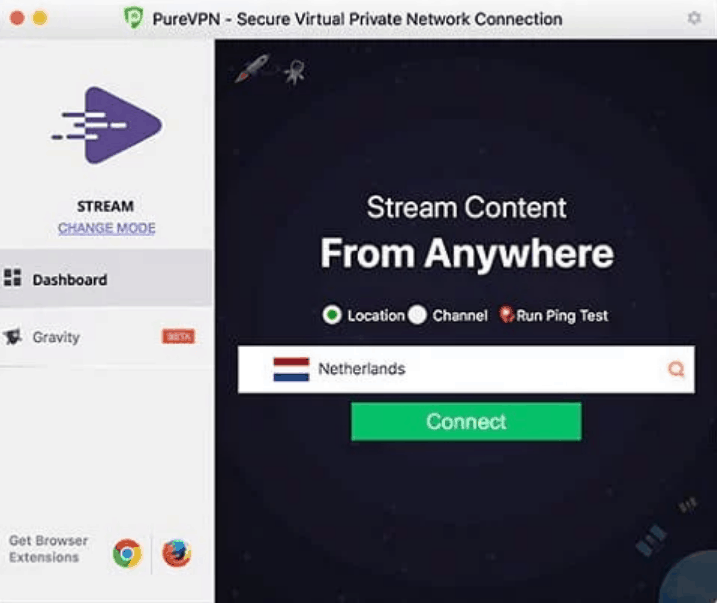 PureVPN allows the use of Bitcoins, PayPal, Alipay, PaymentWall, BlueSnap and major credit cards. Prices start at $3.33 per month for a one year plan and drop to $2.88 per month for a two year plan. A monthly plan is more expensive at $10.95.
This is one of the cheapest VPN subscriptions on the market with Netflix functionality.
Key features include:
Speed – PureVPN is able to deliver streaming content but its speeds are not fast enough to compete with other VPN providers with similar plans. However, the use of split tunneling helps to deliver an acceptable streaming experience.
Security and Privacy – PureVPN servers support multiple security protocols including PPTP, OpenVPN, L2TP/IPSec and IKEv2. The service uses AES 256-bit encryption across the network to protect data. The Internet Kill Switch is configured as a fail-safe button to ensure your privacy remains intact in case there is a server disconnection.
It also offers DNS, IPV6 and WebRTC Leak Protection to ensure no data is exposed during a connection. The company is based in Hong Kong, which has no data retention laws.
Multi-platform compatibility – PureVPN supports apps for desktop computers, mobile devices, routers, TV and gaming consoles. These include Mac OS, Windows, iOS, Android, Linux and routers. It also supports Amazon FireStick, Kodi, Roku, Playstation, Android TV, Xbox and Boxee box.
Reliability – There are no restrictions for torrenting and streaming. Unlimited bandwidth and optimized servers that are specific to Netflix ensure that streaming is a breeze.
Customer service – The support website has a section dedicated to Netflix which explains how to access the streaming service and FAQs. You can submit a ticket or fire up the 24/7 live chat.
Server coverage – The Company has more than 2,000 VPN servers in 180 VPN locations spread across 140 countries. This gives users a wide choice of countries, more than 300,000 IP addresses and up to 5 simultaneous connections.
PROS
31-day money-back guarantee
Optimized servers for P2P and video streaming
Compatible with multiple platforms
CONS
Slow download speeds on some servers
5. EXPRESSVPN
ExpressVPN is a unique VPN with excellent performance necessary for streaming content. The service is packed with great features that will give you the ability to watch Netflix from numerous locations.
With great speeds and more than 3,000 servers, ExpressVPN unblocks Netflix across numerous regions and delivers streaming in HD for multiple devices. You can enjoy Netflix in the US, UK, Canada and many other locations.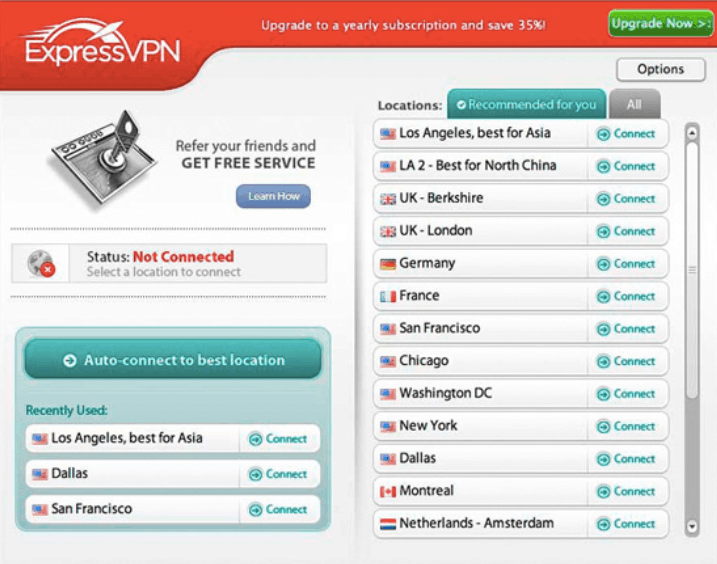 Some devices such as Apple TV do not support VPNs. ExpressVPN is offering a way around this through tutorials on how to setup MediaStreamer DNS (this is a smart DNS proxy) to unblock Netflix on many devices that don't support VPNs.
The more than 3,000 servers are spread in over one hundred server locations. This ensures that you'll be able to find a server that's not overloaded which guarantees good speeds. If you're traveling you can bet there will be a server nearby for reliable connectivity.
Customers can pay using Bitcoins, PayPal and major credit cards. Plans start at $6.67 per month for one year which is a bit expensive compared to similar services. The monthly plan is billed at $12.95 per month while the 6-month plan will cost you $ 9.99 per month. All plans include a 30-day money-back guarantee.
Key features include:
Speed – ExpressVPN delivers excellent speeds that are suitable for streaming content. The experience for Netflix streaming is pleasant with minimal buffering.
Security and Privacy – this VPN utilizes AES 256-bit encryption with DNS/IPv6 leak protection. It also features a kill switch which automatically stops all traffic from entering or leaving your device if you are disconnected from a VPN server location. This prevents your network traffic from being routed back through your internet service provider, which may lead to exposure.
The use of split tunneling lets you choose which traffic is routed through the encrypted VPN tunnel. The provider's base in the British Virgin Islands guarantees privacy with friendly policies that do not require data retention and the company's own "No logs" approach.
Multi-platform compatibility – This VPN can be set up on several devices with apps for Mac OS, Windows, iOS, Android, Linux and routers. It also supports Apple TV, Fire TV, Smart TV, PlayStation and Android TV box.
Reliability – ExpressVPN has no restrictions for torrenting, P2P connections and streaming. The high-capacity bandwidth works well for Netflix streaming and optimized servers ensure reliable connectivity.
Customer service – If you have any problem while using ExpressVPN you can file a support ticket, send an email or open a live chat session. We found the live chat to be more effective in resolving issues. The support staff are quick to respond and guide you on which servers are optimized for Netflix.
Comprehensive instructions and troubleshooting guides are available on the ExpressVPN website.
Server coverage – There are more than 3,000 global ExpressVPN servers in 160 VPN locations spread across 94 countries. The service offers 3 simultaneous device connections and unlimited bandwidth optimized for fast connections.
PROS
30 day money-back guarantee
Excellent speeds
Performs well with
Netflix and other streaming services
How to Use Netflix with a VPN
Using a VPN can allow you to access popular versions of Netflix from the US, Canada, and the UK which have massive catalogs of TV shows and movies. If you are travelling outside the US, a VPN will help you to access US content in countries where it is blocked.
If you already have a Netflix subscription and have chosen a VPN provider from the list above, you can start enjoying a huge catalog of programming through a simple process of setting up the VPN:
Install and turn on your VPN
Once you have signed up for a plan from your chosen provider, download and install the VPN software. After turning it on, the VPN client will display a list of servers in different countries.
Choose the country whose Netflix library you want to access
Browse the list of servers by country and connect to one based in the country whose Netflix library you want to watch. For example, if you want to access US Netflix, connect to a server based in the US.
Check if your VPN is working
You need to make sure that the IP address you're using matches with the location that you wish to access Netflix from. Visit whatismyipaddress to find out if your current IP address is in your country of interest.
Connect to Netflix
Open the Netflix app or go to the Netflix website in your browser. You will be able to see the version of the site that corresponds to your VPN server location and access content from that country.
VPN and the Netflix App
As we mentioned earlier, Netflix is continuously developing ways to block the use of VPNs to access its content. On many occasions, VPN users may be able to watch Netflix through a web browser but may get an error message when they try to access the content using the Netflix app.
This complication arises because Netflix is able to detect a VPN by checking whether your IP address location and your DNS server location match. This is not a problem in a web browser since the VPN provider will be able to route your traffic via its chosen DNS server which means your traffic and your DNS server locations match.
The Netflix app on the other hand can override the DNS settings and force your device to use the default ISP name server which will indicate that the location of the traffic passing through the server does not match the DNS server. This will automatically trigger the proxy error from Netflix.
To resolve this issue, we recommend that you install your VPN software directly onto your router and configure your settings to forward DNS queries to the DNS servers provided by the VPN. Each VPN provider has guidelines on how to configure routers. This will allow you to connect all your devices to a single router and be able to use the Netflix app
How to Watch Netflix in Your Country?
We have done our research and made guides on how to unblock Netflix in your country, check out our guides here:
Conclusion
As Netflix continues to succeed in locking out many VPNs, some providers have found a way around this issue and are able to unlock content from US Netflix and many other countries. The VPN provider that we recommend here is VyprVPN which does a great job of enabling users to access Netflix through web browsers and the Netflix app.
VyprVPN delivers excellent speeds suitable for HD streaming without buffering and its unlimited bandwidth ensures sleek viewing of Netflix across numerous countries.
While some VPNs struggle to unblock Netflix, VyprVPN continues to innovate and stay ahead of the sophisticated blocks by giving access to US Netflix from every server we tested.
Their topnotch customer service ensures that any issues encountered are resolved expeditiously. Simply initiate live chat or email the support team and they will guide you on which servers are working with Netflix.
VyprVPN is our top pick for streaming Netflix based on speed, advanced network, reliability, consistency and customer service responsiveness.