As far as security is concerned, this provider takes the day. Touted the 'world's truer VPN provider,' PrivateVPN lets its users enjoy some of the rock-solid encryptions and cutting-edge security features.
Besides its easy-to-use interface, this VPN is powerful enough to protect you against hackers, and snoopers. So, do you want to stop the government from prying on your online activity? Maybe you want to block unwanted content? Well, PrivateVPN can help you with that.
Speaking of features, can this VPN fully secure your browsing? Is it as fast as they claim it to be? Does it unblock geo-restricted content? What about Netflix? These are just some of the questions that I will answer.
My Verdict
PrivateVPN is an incredible all-round provider that offers remarkable speeds (no more buffering) and rock-solid protection to your online privacy. For Netflix lovers, this is a fantastic VPN provider that lets you torrent on the side. All in all, it's a suitable VPN for anyone who's on a budget but cares about their privacy.
Pros
Adheres to a strict no-logs policy
Easy to install, and use
2048-bit encryption with AES-256
Unlimited bandwidth with decent speeds
Cons
Few servers compared to some competitors
OVERALL RANK: 4.1/5
Privacy Score: 4.9/5
Security Rating: 4/5
Speed: 4.3/5
Tested Speed: Downloads 24.1 Mbps
Streaming Score: 4/5
Torrenting: Allows P2P, and torrenting
Netflix: Yes
Other Streaming Services: HBO, Amazon Prime, Sky Go, Hulu
Pricing: 4.5/5
Trial: 30 days money-back guarantee
Features
PrivateVPN offers IPv6 leak protection, Stealth VPN, built-in kill switch, and DNS leak protection. Besides, there's a list of protocols to choose from depending on purpose and location. For instance, if you're in China, you may connect to the VPN's L2TP protocol.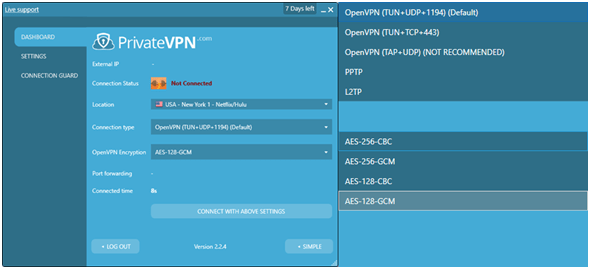 AS far as your privacy, and security goes, the kill switch, specifically, is vital. And in case of interruptions, PrivateVPN terminates your browsing session right off the bat, keeping your online activity safe.
Also, this VPN lets you anonymously download computer software, games, music, and movies.
Not sure whether you can torrent? Worry no more. Well, all the servers I tested allow P2P file sharing. Furthermore, they support it, as indicated on their site's FAQ page.
PrivateVPN also allows for port forwarding, which advances the performance of P2P, that's good for downloading torrents.
A single subscription lets you protect up to 6 devices simultaneously. Plus, this VPN provider offers native app support for major platforms, including Mac, Windows, Android, and iOS. It works with Linux, and routers too!
With more than 100 servers across 60 countries, their server count isn't the largest. To compensate for this, the servers are positioned strategically all over the world to ensure everyone's connected.
Even better, this provider offers some of the fastest VPN speeds and unlimited bandwidth. This means you can stream or download content faster. All the more, PrivateVPN is an affordable option to protect your privacy.
However, if you aren't sure whether to subscribe to their VPN service, try out their 30-day money-back guarantee option. Maybe you want a 7-day free trial? Converse with one of their top-rated customer support representatives via live chat, email, and FAQ library.
Streaming
Most of the VPN providers promise to unblock streaming content that is geographically restricted, such as Netflix. But do they live up to their promise?
All PrivateVPN servers I tested easily connected to Netflix. This VPN also lets you unblock geographical barriers, and stream BBC iPlayer, ABC, Sky, Amazon Prime, Hulu, and more others.
What's more, this VPN provider has a list of selected servers in Canada, the UK, the USA, Peru, Italy, and Germany.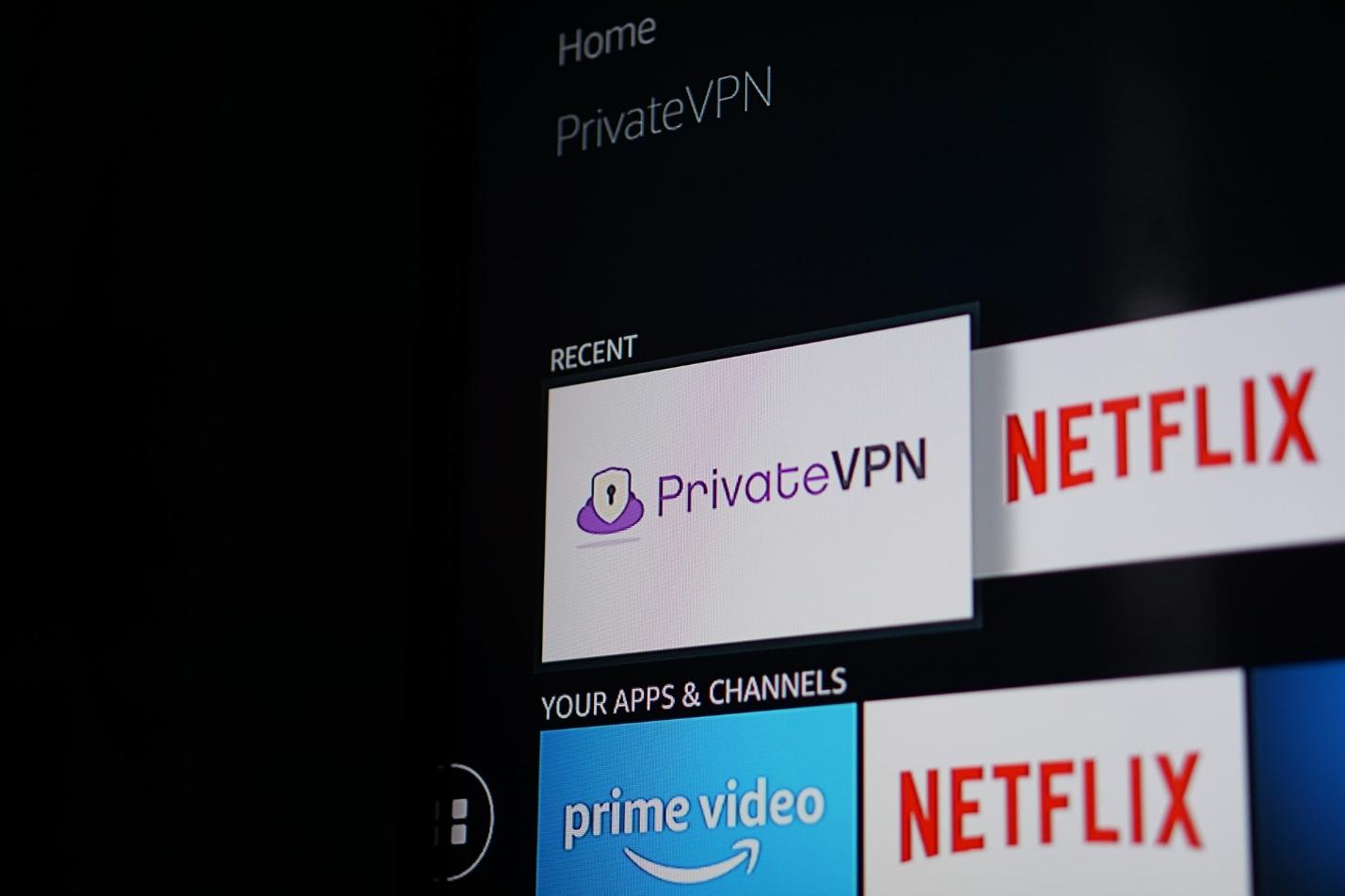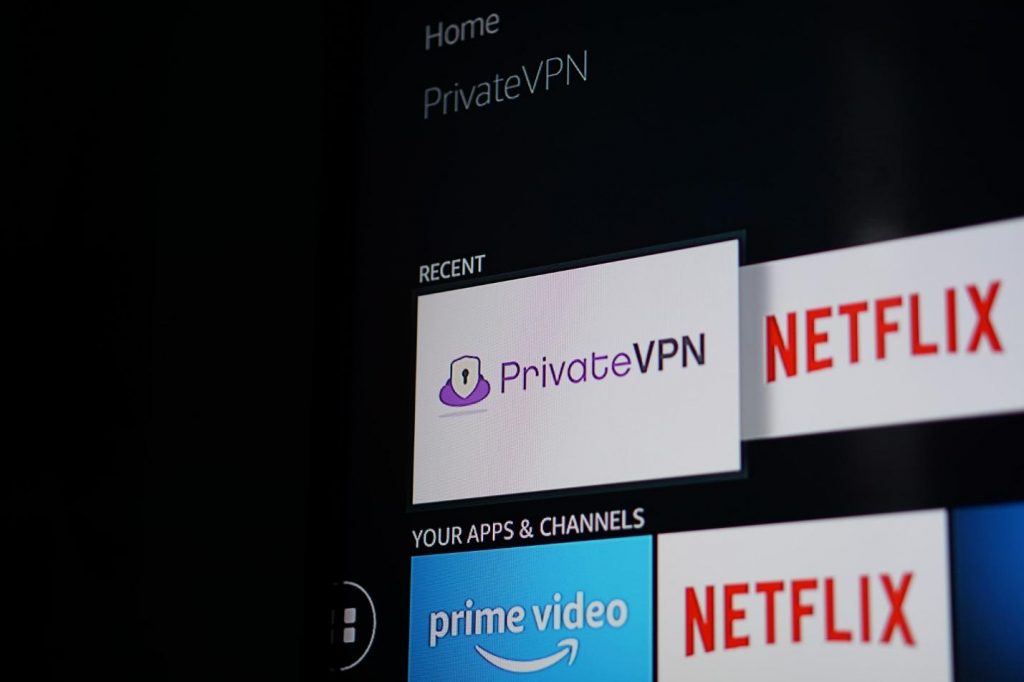 Although PrivateVPN let me stream Netflix consistently, it struggled to unblock global Netflix content. This is in large part due to the limited number of Netflix unblocking servers.
While few VPN providers can unblock content, most of them fail to indicate—within the app—which of their servers are optimized for streaming. This isn't the case with PrivateVPN.
PrivateVPN does its best to be user-friendly. For instance, their servers are labeled, making it easy for you to access your favorite streaming sites.
Security and Privacy
This provider offers some of the best security features, including kill switch, to keep your activities safe. Thanks to its default military-grade OpenVPN, the RSA-2048 handshake, and AES-256. That's not all.
PrivacyVPN comes with perfect forward secrecy. This feature helps improve your HTTPS security by generating unique session keys for each session and as a result, ensuring that one interrupted session doesn't affect subsequent sessions.
Several security protocols are also provided by this VPN, including L2TP/IPSec, PPTP, IKEv2, and OpenVPN. Plus, you can pay using Bitcoins to guarantee anonymous browsing.
Most importantly, PrivateVPN doesn't keep logs. So no matter a court orders for your data, the providers can't produce it, because they also don't have it.
According to them, the only data of yours they've got is your email. This is because you use it to complete orders and for verification during logins. And well, they use it to send promotional emails.
How secure is PrivateVPN? Considering Europe's stringent data restriction laws, Sweden might not be the best location for a VPN provider.
In 2009, an anti-coping piracy law (IPRED) was passed in Sweden, allowing copyright owners to demand the data of infringers from Swedish ISPs. Fortunately, in 2014, the European court of justice banned the mandatory retention of data terming it a violation of user rights.
That aside, it's important you understand the provided VPN protocols. Still, if you are looking for a balance of speed and security, OpenVPN is a worthy option.
Speed
I ran speed tests on PrivateVPN using the provider's Windows app. First, I connected to 4 different locations, i.e. US, UK, Hong Kong, and Netherlands. Then, I ran the test, then boom! An average download speed of 21.1 Mbps.
We also tested this VPN with AES-256 on and noticed a considerable drop in speed. No matter the swapping OpenVPN between 256 and 128, I didn't obtain any noticeable difference. Similarly, when I connected this VPN to distant servers, the speeds reduced significantly.
Although some top providers that can maintain relatively high speeds, the same can't be said about PrivateVPN. Despite that, PrivateVPN continues furnish its users with better connections and speeds compared to most of its competitors with several servers.
Despite PrivateVPN performing highly in most of the speed tests, sometimes connecting to a server can be a problem. This may force you to restart your device, which will take just 10-15 seconds for the connection to be established.
Noteworthy, apart from being a security feature, IKEv2 also stirs connections faster. Aside from this, using OpenVPN over UDP is quicker since it lacks connection error. Therefore, it's one of the ideal options for your video streaming.
Although PrivateVPN may not be the fastest VPN, Its speeds are relatively good considering its server network isn't the most expansive. And yes, the speeds work well when playing online games, downloading files, and video streaming.
Cost
PrivateVPN is one of the most affordable VPNs. Plus, you get more discounts by choosing a more extended plan.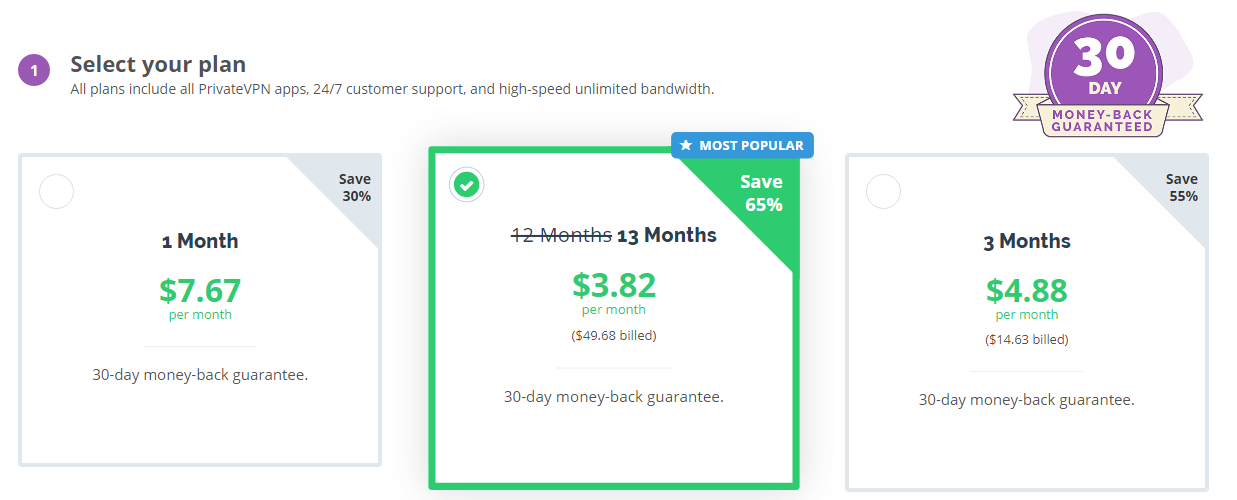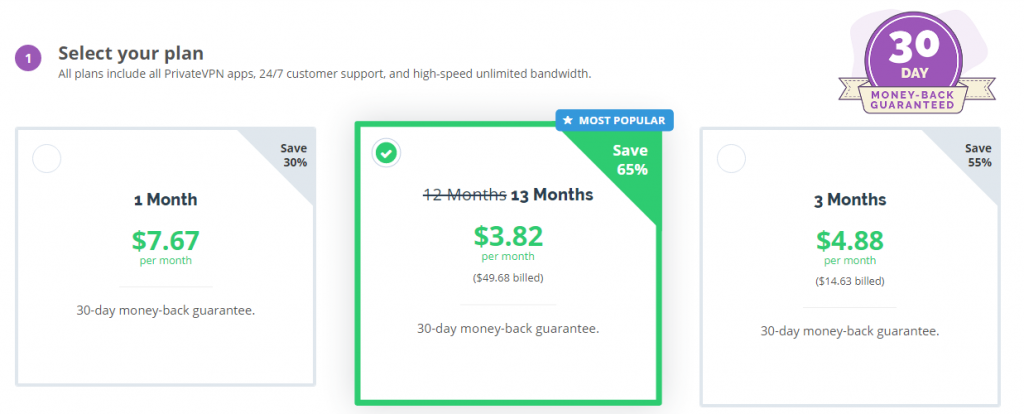 Want to try it out before you make any commitment? All the subscriptions in PrivateVPN offer a 30-day money-back guarantee.
A 7-day free trial is also included, although it takes some digging to claim it. The point is, to get the free trial, you need to contact customer support, who'll award you a gift code to redeem for the free trial.
Alternative VPN Options
PrivateVPN is an ideal choice for anyone seeking to protect their privacy, download movies and music, and play online video games without restrictions.
Notwithstanding, people have different tastes, and some folks may not be satisfied with what PrivateVPN provides. In this regard, I recommend that you check out one of the top providers below.
NordVPN

NordVPN's encryption and performance are incredible. Plus, it's among the few VPNs that offer the best value for money. Its robust military-grade encryption, automatic kill switch, double data encryption further enhance your security, and privacy.
Even more apparent, their strict adherence to a no-log policy ensures there's no record of your online activities. Thankfully, it's located in Panama; where there's no data retention law.
This provider boasts of its more than 5000 servers in 60 countries. And yes, you can access their fast service from anywhere in the world as there's probably a few of their servers near your location.
Not to mention, NordVPN is a user-friendly VPN with a compelling interface and a superb layout. Better yet, with a single subscription, you can secure up to 6 devices simultaneously.
ExpressVPN


It takes more than a VPN to beat the security and privacy options offered by this provider. ExpressVPN is one of the top-rated VPNs with over 3,000 servers in more than 90 countries.
ExpressVPN masks your IP address and incredibly encrypts your network so you can do your thing anonymously.
It also abides by a verified no-logs policy. For this reason, this VPN provider doesn't collect your browsing activity and connection IP.
This VPN also unblocks geo-restrictions to lets you access content, including streaming services, like Netflix and a ton other streaming platforms.
Though a bit pricey, its performance, privacy features, and speeds are incomparable. Speaking of speeds, if your data or Wi-Fi connection suddenly drops, an automatic reconnection is enabled to ensure you don't lose data.
In case of any problem? Their live support chat team is always on toes, waiting to offer you the best solutions.