VyprVPN claims to be the world's most trusted VPN with more than 2 million customers. This VPN provider is part of Golden Frog, a group known for owning Usenet provider Giganews and other companies such as ISP provider Texas.net and data center collocation services provider Data Foundry.
The company's privacy policies are a unique selling point since they are anchored in the laws of Switzerland where it is based. The basis of any VPN service is security and privacy. This makes VyprVPN among the leading VPN providers in the market with an emphasis on privacy and other features.
Let's look at VyprVPN in more detail, how its features stand out and how it stacks against the competition.
Installation
Once you have signed up – which requires an email address and a payment method only – installing the VyprVPN apps is a breeze for all supported platforms. On the site, you will be directed to a choice of apps on different platforms including Windows, smart TVs, Android, Mac, iOS and more.
For each app there is a breakdown of the various features and minimum operating system requirements and a link to download and run the file to install the app. The Android app for example can be downloaded from the website as a plain APK file or from the link to Google Play Store.
The OpenVPN configuration files are also available online and are named according to location, which makes it easy for users to decide which servers are suited for their activities.
Several tutorials are available that show how to manually set up the VPN service on different platforms like Linux, Android TV, Apple TV, Chromebooks and a number of routers.
The process is pretty straightforward and after running the setup for the preferred platform, simply log in with the credentials from the signup process and get connected to the VyprVPN network.
Interface
VyprVPN provides an integrated design for its apps across platforms. From Windows to Mac OS, Android and iOS, the interface is user friendly with tap buttons that enable quick connections.
The interface is intuitive and similar on the various platforms. Here's a look at the supported platforms and major clients:
Supported platforms
VyprVPN supports several platforms with apps available for Mac OS, Windows, iOS, Android, QNAP, Blackphone, Anonabox, Router and TV. Where there are no apps, detailed VPN device and Router guides are available for DD-WRT, Tomato, AsusWRT, Synology NAS, OpenWRT, Boxee and Blackberry.
Here's a look at the major clients
On Windows
VyprVPN's Windows client has a visually simple interface with the major features prominent on the home screen. On top is the Connect button which automatically connects to the best server nearest to your location.
Also prominent on the home screen is a scrolling chart that displays your current upload and download speeds. This allows you to quickly decide if you need to change servers to achieve the speeds you want.
On the Connect bar, your chosen location is displayed and the location picker icon allows you to quickly choose another server. Clicking on it will give you a list of all the server locations in alphabetical order. On the right of each server is indicated the relevant ping time (this shows the time it takes to connect and it gives you an idea of the server distance). Further right, you can add the server to your favorites list.
Servers added to the favorites list will appear in the Favorites tab which makes them accessible through the menu that appears when you right-click the system tray icon. The favorites will also appear on the main interface for quick connection.
The information on the list of servers allows you to sort them out based on location or latency of the connection.
Clicking on the By Region tab opens up lists based on the different regions like Europe, Asia or North America. The Search tab helps users to type in the search box a server location and quickly find it.
The home screen also features the current IP address connected to, the preferred VPN protocol and encryption level, the connection time and the NAT firewall status.
The VPN Protocol and Encryption part shows any of the four protocols supported by the client namely OpenVPN, PPTP, L2TP and Chameleon. Users can easily choose which protocol they want to use for their connection.
The gear icon at the top right corner takes you to the Settings menu where you can find the Kill Switch which helps to protect you in case the VPN drops a connection to the server by instantly blocking internet access to the whole device. The auto-reconnect system will automatically restore your internet when the secure VPN channel has been reestablished.
Within Settings you can also configure the client to connect when you launch the application or when Windows starts. This can be helpful if you require a secure connection at all times.
When the DNS leak protection is on, it minimizes the possibility of your information being exposed to hackers or your ISP.
The Connect on Untrusted Wi-fi feature automatically connects the VPN when it detects a Wi-fi service. While VyprVPN has deployed its own DNS servers which do not log your information for maximum privacy, it allows you to switch it to any other DNS service of your choice.
Users can also choose which sounds to play for notifications such as when a connection is lost.
On Android
The VyprVPN Android app can be installed easily through the Google Play Store or by downloading the plain APK file from the VyprVPN website. After installing the app on your Android device, log in with the credentials used during signup.
The Android interface is quite intuitive and easy to use with the key features flowing out on the home screen in a functional way.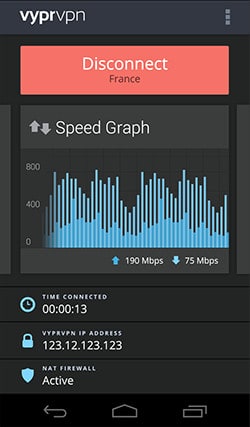 The interface is not only good-looking but gives users quick access to the nearest server, the kill switch, connection to untrusted Wi-fi and blocking malicious content, all in succession while displaying the current IP address and location.
The dark background brings out a clear visual aura that immediately shows whether a user is connected to a server or not, making it even easier to disconnect.
On the home screen you can swipe left to get a view of your connection log, a real-time graph of internet speeds, IP address and your current location. Also available are statistics on how many times the kill switch has been activated and a count on malicious sites that have been blocked.
You will need to disconnect from your current server first to be able to change to another one. The servers are arranged alphabetically or you can sort them according to region. This makes it easy to find servers near you. Each server has a ping time which helps you to have an idea of the speed and distance from your location.
Users can also add a server to a favorites list by simply tapping the star next to each server.
Within Settings you will find the kill switch which helps to protect you whenever a server connection is lost by disconnecting your device from the internet.
Complementing the kill switch is the Connection Per App feature which allows you to choose which individual apps use the VPN service and which ones do not. This is critical since not all your installed apps may need a secure connection. Other VPN services normally refer to this feature as 'split tunneling.'
Another feature available is 'Connect on Untrusted Wi-fi.' This option enables the app to detect any unknown Wi-fi network and automatically switch on the VPN to ensure that you are safe. You can easily specify which networks are safe and instruct the app to activate VyprVPN on any other connection.
The Android app also allows you to choose which DNS service you want to use. VyprVPN has its own DNS servers or you can decide to use any other DNS service that you prefer.
Furthermore, you can switch between Chameleon and OpenVPN protocols. OpenVPN is an open source high performance protocol that is fast, secure and reliable while Chameleon is a proprietary protocol from VyprVPN that helps to avoid ISP throttling and VPN blocking in countries like China.
Another critical feature availed on the Android app is URL filtering. This detects and blocks any malicious website on VyprVPN's blacklist. However, it warns users and allows them to proceed to the website if the users deem it safe. URL filtering is important to avoid phishing attacks and installation of malicious programs on your device.
Apart from the inconvenience of having to disconnect the current server before connecting to another one, VyprVPN's Android interface is easy to use and functional for both new and experienced VPN users.
On iOS
With Apple's stringent approval checks, it is now common to find some features which may be available on Android missing on the iOS platform. This is no different for the VyprVPN iOS app.
Although the general interface is very much similar to Android, the iOS app does not feature a kill switch. However, the 'Connect on Untrusted Wi-Fi' feature allows the app to connect to the VPN whenever you are using an untrusted wireless network. It also automatically reconnects if the VPN suddenly drops.
The home screen displays the country and server location, the public IP address being used, the connection time, the NAT firewall status and the connection status.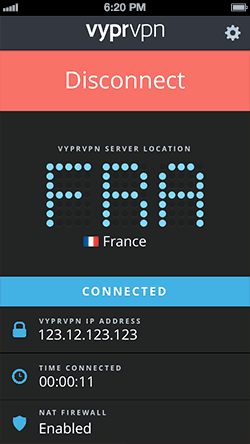 You can choose a different location easily, although like the Android version, you still have to disconnect first before choosing a different server.
The location picker gives a quick way to find servers by name or by ping testing any of the dozens of global locations to view different speeds. You can be able to add commonly-used servers to a favorites list to help you access them faster later on.
Also missing on the iOS app is the URL filtering feature which would be instrumental in detecting and blocking any malicious websites to protect users from phishing attacks and other malware.
The app only supports the IPsec/IKEv2 protocol. However, the support section on the website has clear guides on manually setting up L2TP/IPSec, OpenVPN and PPTP for iOS.
As with most VPNs, the OpenVPN protocol which is popular for its high level of encryption is not supported for iOS and can only be utilized through manual setup.
The connection log gives you detailed information on IP address, server host name, the protocol being used, the connection time, how many times the server has disconnected and why. The app allows you to disable the connection log in Settings if you don't need a record of VPN usage.
The app's compatibility with the iPad allows users to browse servers quickly on an interactive map developed specifically for the iPad. The map easily displays the server ping times and helps users to connect via the home screen.
Considering Apple's tough rules, VyprVPN's iOS app brings out a simple interface with basic functionality that enables you to have a secure VPN connection.
On Routers
The VyprVPN router app is available with OpenVPN, PPTP and Chameleon protocols. The app is available for download from the VyprVPN website with clear installation instructions.
After installation the app window is simple although detailed. At the top right corner is the Connect button which also shows the current country and server location.
The dropdown arrow on the Connect button allows you to quickly see a list of server locations and corresponding ping times. Alternatively, clicking on VyprVPN > Connection, which is found on the menu appearing on the left, the app opens a Connection window which displays two tabs showing the current location and the protocol being used.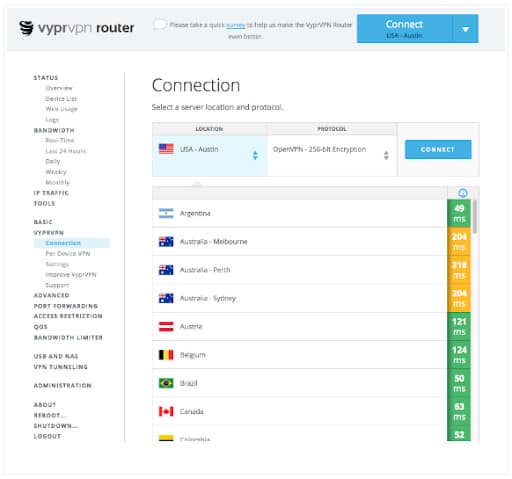 The Location tab gives a list of server locations and the ping time on the right.
The menu on the left is a list of information tabs including Status, Bandwidth, IP Status, VPN Tunneling and others.
Straightforward guides are available for manually setting up VyprVPN on other supported routers.
Since VyprVPN limits the number of simultaneous connections to 5 for the highest plan, deploying the app on routers gives users the flexibility to have multiple devices on a secure connection simultaneously. This makes it possible to enjoy the full benefits of a VPN with an unlimited number of connected devices.
The VPN Tunneling feature allows you to choose which devices use VPN and which ones bypass it. For example, you can choose to have your laptop, PS4 and iPad use VPN while the Smart TV connects directly to the internet.
Key Features
In a fiercely competitive marketplace, security, privacy, speed, functionality and reliability are important considerations for VPN customers.
Let's have a look at VyprVPN's features in detail
Security
VyprVPN offers several core features that are critical for security conscious VPN users. Let's look at the various security components:
Encryption
VyprVPN utilizes AES 256-bit OpenVPN on Windows, Android and MacOS. The protocol can be setup manually on other platforms like Linux. Other protocols used by VyprVPN include IKEv2, L2TP/IPsec, PPTP and Chameleon – which is the company's proprietary technology that uses the unmodified OpenVPN 256-bit protocol and scrambles the metadata to prevent DPI, VPN blocking and throttling.
The PPTP protocol is used in the Windows and Router apps and can be setup manually in Windows, Mac OS X, Linux, iOS, Android and Synology.
The L2TP/IPsec protocol is used in the Windows, Mac and iOS (IPsec/IKEv2) apps. It can be setup manually in Windows, Mac OS X, iOS, Android, Blackberry 10 (IPsec only) and Chromebook.
The OpenVPN protocol is used in the Windows, Mac, Android, Router, Anonabox, QNAP apps and can be setup manually in Windows, Mac OS X, Linux, iOS, Android, DD-WRT, Tomato, OpenWRT, AsusWRT/Merlin, Synology.
The Chameleon protocol is used in the Windows, Mac, Android and Router apps and cannot be setup manually.
VyprVPN Kill Switch
The VyprVPN Kill Switch helps to protect you in case the VPN drops a connection to the server by instantly blocking internet access to the whole device. The additional auto-reconnect system will automatically restore your internet when the secure VPN channel has been reestablished.
This handy feature ensures that your information is not exposed every time a server connection is dropped. The VPN should protect your online activities from snoopers, hackers and even your own ISP. If a server connection is lost and your device continues to be connected to the internet, your identity or other information is likely to be exposed.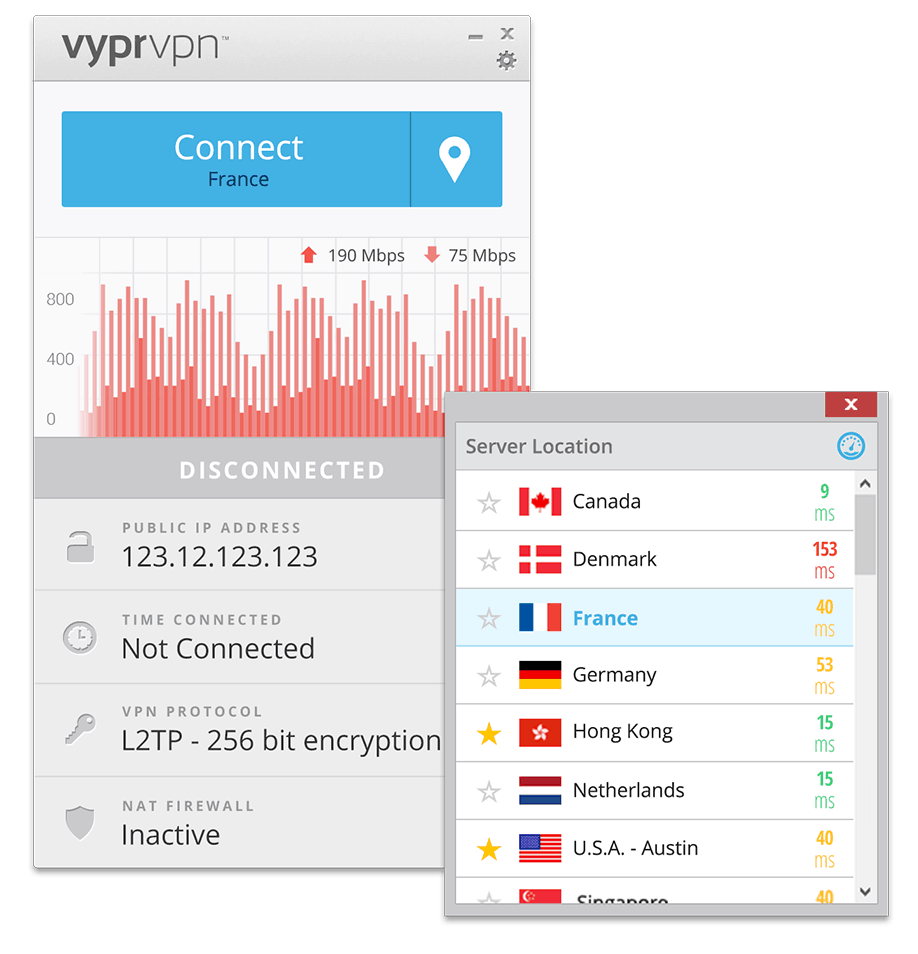 The VyprVPN Kill Switch works fine on the Windows client when the OpenVPN protocol is in use. Trying to close the L2TP connection activates the kill switch but the client continues to indicate an active connection. This requires the user to shut down the client and restart or manually disconnect then reconnect again.
However, this doesn't mean your information is exposed. The kill switch works effectively to cut the internet connection.
Leaks
Leaks are issues that every VPN user should be concerned about since they may not be identified easily without conducting the proper tests. Some of the reasons for such leaks include:
A dropped VPN server
A device losing connection to the network
A BitTorrent client trying to send some traffic outside the VPN tunnel
Switching a device from Wi-fi to a cellular data network
WebRTC allowing a third party to request your true IP address
Some of the common leaks that can affect a VPN include
IP address leaks
DNS leaks
WebRTC leaks
Bittorrent leaks
DNS leaks are of particular concern for VPN users since they are quite common. They expose user information and activities such as IP address, which files are downloaded or websites visited.
VprVPN secures all traffic by processing all DNS requests through its own VyprDNS servers. These are zero-knowledge DNS servers which means they do not retain hostnames, geo-location data and even hostnames found in URLs.
This protects users against potential man-in-the-middle attacks.
Privacy and legal
Security and privacy represent the epitome of a good VPN service. Towards this end, VyprVPN has several features that focus on privacy. Let's have a look:
No logs policy
In its privacy policy, VyprVPN states that it does not log IP addresses (source or destination), traffic data, DNS queries, or anything that can be used to identify users and their activities.
To assure users that their privacy is paramount, the company commissioned an independent audit of its policy in September 2018. The results of the audit which was done by Leviathan Security Group, are available to the public on the VyprVPN website.
The audit gives a detailed report on the policies used by VyprVPN in managing the privacy of users. It is a detailed breakdown of processes of how logins are managed and even examines the source code for configuration issues.
The issues raised by the audit were immediately fixed by VyprVPN confirming its commitment to ensure user data is safe.
The company indicates that any information retained cannot be used to identify users or their activities. For example, the date a user connects to the service, amount of data transferred each day and the version number of any clients installed are normally stored. This information is safe for users since it cannot be used to identify users or link any activities to them.
VyprVPN also keeps records of connection failures, crash reports and speed tests. However, all these are anonymized to avoid any link to a particular user.
The privacy policy coupled with the audit report is a good indication of VyprVPN's effort to assure users that the company is serious about no logging.
Jurisdiction
VyprVPN is based in Switzerland. This country has for centuries been known for friendly privacy laws especially within its banking sector. The right to privacy is enshrined in Article 13 of the Swiss Federal Constitution.
The constitutional and legal framework in Switzerland provides strict privacy protections for all online activities hence VyprVPN is legally under no obligation to keep connection logs or any other data on user activity.
VyprVPN's privacy policies are backed by law and guarantee complete privacy by not allowing data retention.
Switzerland is not part of the '14 Eyes', a group of countries that have an intelligence sharing agreement. VyprVPN cannot therefore be compelled to release any data to authorities within or outside Switzerland.
Connection Per App (Split Tunneling) Feature
VyprVPN utilizes the Connection Per App feature which is often referred to as split tunneling by other VPN providers. This feature allows you to choose which app traffic is routed through the encrypted VPN tunnel and which one has direct access to the internet. This gives you the freedom to restrict certain apps that do not need secure connections from going through the VPN channel.
This feature can be activated in "Settings" since by default, all applications are routed through the VPN. It is found at the bottom of the menu that appears on the left of the router app.
The feature can also be implemented on routers and is referred to as VPN Tunneling. It allows users to control or choose which devices use VPN and which ones do not.
Special feature – VyprVPN Cloud
VyprVPN has a special feature known as VyprVPN Cloud. This is a user-friendly VPN server deployment solution that gives you an added layer of security whenever you're accessing your cloud servers. The company offers VyprVPN Cloud for DigitalOcean, Amazon Web Services (AWS) and VirtualBox.
This service offers your own dedicated business VPN server which gives you control of the entire stack through:
Dedicated IP – you get your own dedicated IP.
Seamless Connection to Existing Apps – simple connection to your existing apps and programs like Salesforce or Confluence.
Secure Access Point – it provides a secure access point that locks down your cloud infrastructure and protects your Internet connection.
VyprVPN Cloud can be deployed on multiple servers since each account comes with 10 concurrent connections.
Server coverage
VyprVPN boasts more than 700 servers in 70 VPN server locations spread out across 64 countries that provide 200,000 IP addresses.
The servers are distributed across Europe, North America, South America, Africa, Asia and Oceania.
To ensure total privacy from end to end, VyprVPN has deployed its own servers and does not use any third parties. The company also uses dynamic server switching to prevent overloaded or unavailable servers. The availability of different VyprVPN apps also allows for easy server switching.
The number of servers is not large enough compared to other VPN providers who boast about thousands of servers. Multiple server locations normally give users more flexibility and choice when they want to use IP addresses from particular countries.
Subscriptions and Pricing options
The VyprVPN pricing structure has two plans which offer 3 connections and 5 connections respectively. These two plans can either be monthly or annually.
For the monthly plan that gives 3 simultaneous connections, the price is $9.95 per month while the one with 5 connected devices will set you back $12.95 per month.
The annual plans will cost you $60 per year ($5 per month) for 3 simultaneous connections and $80 per year ($6.67 per month) for 5 devices.
The Chameleon Protocol and VyprVPN Cloud feature are only available on the plan with 5 simultaneous connections.
Each plan comes with a 3-day free trial before billing kicks in.
VyprVPN offers various payment options including all the major credit cards such as Master Card, Visa, Discover and Amex as well as PayPal.
The company doesn't offer a money back guarantee.
Connections and devices
VyprVPN supports up to 5 simultaneous connections with a lower plan for 3 simultaneous connections. This is a limitation for users with multiple devices.
However, the company offers a comprehensive router app and guides on installing the app on various other platforms. The router will occupy one of the 5 slots and enables users to connect multiple devices including smart TVs, desktops, laptops, smartphones and game consoles.
Users with routers will therefore not worry much about the maximum number of 5 connections.
Customer Support & Knowledge Base
VPNs face a lot of challenges from setting up, connection issues, government censorship and much more. Customer support is therefore an important component for every serious VPN provider to ensure customer queries are responded to and resolved promptly.
VyprVPN's support page provides a wide range of information that includes setup instructions, FAQs, app downloads, guides on troubleshooting, account management and how to contact customer support directly.
The page has structured troubleshooting guides to help users with various issues. The installation instructions are pretty straightforward and cover the basics of VyprVPN apps on various platforms.
The Search box enables you to find topics quickly, without necessarily having to browse through the entire lists.
The VyprVPN Service Status page has the latest updates, known issues and recommended troubleshooting steps.
Live Chat
The VyprVPN support reps are available 24/7 on live chat which is a good way to get your issues resolved. We tried the live chat for general inquiries about the service and the response was instant.
Email
VyprVPN allows users to submit a request for action via email. After sending them a question on the pricing structure, they responded within the hour which is exceptional.
You can also send an email through the client itself. Use the Contact Support option to post a support question directly from the client and the dispatched message will have your user ID and the support team will use it to find your account details and respond appropriately.
Netflix Streaming
One of the key points of attraction for VPN services is the ability to help users access content that is geo-blocked. Most streaming services are segmented for various geographic regions across the world depending on licensing and copyright agreements.
A VPN service that delivers high-capacity bandwidth for streaming and is able to unblock restricted content is what most users are looking for.
Streaming services like Amazon Prime, US YouTube, Netflix, Hulu, Sky Go and BBC's iPlayer are continually developing their protocols to block VPNs in a bid to ensure that content meant for one region is not watched in other regions.
To access such content which is unavailable in your region, you require a VPN service with advanced features that can get around such geo-restriction.
VyprVPN is making an effort to ensure that users are able to access blocked content. The company is not leaving anything to chance by providing comprehensive troubleshooting guides on how to access the various streaming services and urges users to contact the support team when they encounter difficulties for more help.
We tried to access various streaming services and we found out the following:
VyprVPN was able to unblock Netflix when we tried using their US servers and this happened seamlessly with excellent speeds.
We were able to stream content from BBC's iPlayer without any difficulty.
VyprVPN performed quite well on Amazon Prime from servers in the UK and US.
Using servers in the UK we were able to access US YouTube.
It is clear that VyprVPN has put in place a robust system to defeat geo-blocking for numerous services. While this is no guarantee that you will be able to access these services from your location, the company has a support team that can assist in advising on which servers you will be able to access blocked content.
Using VyprVPN in China
China is known to block outside content from being accessed by its citizens. Other repressive regimes are also notorious for such controls but China has the infamous "Great Firewall."
VyprVPN touts its Chameleon protocol as technology that allows its users to fight back against censorship by bypassing restrictive networks in any country trying to control internet access. However, this is better said than done.
The Chameleon protocol is supposed to scramble the metadata of OpenVPN traffic and make it impossible for packet inspection techniques (used by Chinese authorities) to figure out that you're using a VPN.
Unfortunately, for quite some time VyprVPN has struggled to get past the "Great Firewall." Customers inside China have consistently complained of inability to access blocked content using VyprVPN. The service has therefore been an on/off affair. Compounding this is the fact that the Chameleon protocol is not available for the iOS platform.
The company's Service status page is regularly updated with Chameleon's connectivity in China.
Torrenting
While other VPN providers tout P2P-optimized servers for torrenting fans, VyprVPN does not mention anything on the front pages of its website. However a closer look within the support pages reveals a clear answer to the question of P2P torrents.
The company says that it treats all traffic equally and that peer-to-peer and BitTorrent traffic is allowed on the service. It adds that all ports are open for use and that no user information is logged or retained.
As mentioned earlier, VyprVPN is based in Switzerland and treats user privacy with utmost respect.
However, the company is clear on how it deals with copyright infringement in its copyright policy.
The interesting part is that the company is a no-log VPN, which means they do not log their users' activities when connected to the VPN service. They are therefore unable to identify particular users who may be infringing upon the copyrights of others.
If you are a torrenting fan, you can stay anonymous and download content on VyprVPN without being monitored.
Speed
VPN services route internet traffic through servers spread out around the world to conceal users' IP addresses. This process has an impact on speed that users are accustomed to when they are not using a VPN.
However, good VPN providers have robust servers that ensure their customers have minimal changes in connection speeds.
Although VyprVPN has fewer servers compared to other similar-priced services, their speeds are largely above average.
Our test results (we used SpeedTest and TestMy for these results) showed VyprVPN delivering speeds of 74Mbps from servers in the US. Fluctuations were observed across Europe averaging between 60 and 70 Mbps.
Pros
Favorable jurisdiction and strong commitment to customer privacy
OpenVPN protocol supported
Performs well with Netflix and major streaming services
Cons
Few servers
Only 5 simultaneous connections
Alternative VPN Options
While VyprVPN delivers admirable speeds and is domiciled in privacy-friendly Switzerland, other VPN providers compare favorably with extensive server networks, special features and affordable pricing models.
NordVPN has deployed a formidable network of more than 5,000 servers in 60 countries. It offers applications for Windows, macOS, Linux, iOS, Android and Android TV and an attractive 30-day money-back guarantee. The CyberSec feature automatically blocks suspicious websites to prevent malware and other threats from infecting user devices and protects against annoying ads that are now common.
NordVPN's Double VPN feature routes traffic through two servers for an extra layer of encryption in a process known as VPN server chaining which ensures user data is highly secured.
Hide My Ass is another alternative that uses 256-bit encryption and provides apps for major platforms such as Windows, MacOS, iOS and Android. It supports torrenting and is able to unblock Netflix US, BBC iPlayer and other streaming services. It has also deployed advanced leak protection for maximum privacy and offers a 30-day money-back guarantee.
ExpressVPN on the other hand is a well-rounded VPN that combines security, convenience and speed. With headquarters in the British Virgin Islands and a no-log policy, your data can't be any safer while the network of more than 3,000 servers and dedicated IP addresses should cover many parts of the world.
ExpressVPN uses AES 256-bit encryption with DNS/IPv6 leak protection, has excellent internet speeds, unblocks Netflix and allows torrenting.
Conclusion
VyprVPN is a VPN service that performs well on most parameters. It combines great features on security while the company's location and no-logs policy ensures that customer data is protected and privacy upheld.
The interface, while not enticing in an outstanding way, is easy to use and navigate.
The use of standard encryption protocols by VyprVPN is laudable. The company uses AES 256-bit OpenVPN, IKEv2, L2TP/IPsec and its own proprietary Chameleon protocol.
However, of concern is the company's continued use of the PPTP protocol which has been shunned by others for security reasons. The vulnerabilities in PPTP have led most of VyprVPN's competitors to replace it with the more secure and lighter IKEv2.
The presence of a Kill Switch helps to protect you in case the VPN drops a connection to the server by instantly blocking internet access to the whole device. This is critical to safeguard user information and prevent snoopers intercepting data.
A Connection per app feature (and the VPN Tunneling option on the router app) is another excellent addition that gives users flexibility on which connections need to use the VPN tunnel.
Apart from security and key features, VyprVPN scores well around the issues of privacy. The company is based in Switzerland where strict privacy laws apply. Its no-logs policy is an attractive proposition for anyone using a VPN service.
Torrent lovers will find this service easy to use since it allows P2P file sharing and explicitly states that it does not discriminate against users based on how they use the service. A good number of streaming services like Netflix and BBC iPlayer are unblocked by VyprVPN.
The service has some limitations around the server network, simultaneous connections and use in China. With slightly over 700 servers, VyprVPN performs dismally compared to its competitors who have deployed thousands of servers.
Only two pricing options (which are already high), 5 device connections, and inability to consistently unblock services for clients inside China are some of the issues the company has to grapple with in a competitive field.