The US has Fox, the UK has BBC, Canada has CTV and Australia has Foxtel. What do all these names have in common? They are major television networks that come with awesome content to show.
What else? They cannot be accessed outside their respective regions. At least not normally. You will need to use a VPN service. I will be telling you how that works in a short while.
In our post, we are especially interested in Foxtel. Home to Wentworth Prison, arguably the second-best prison drama show you will ever watch. Prison Break is the best prison TV show there ever will be. There is no debate about it.
The television network started out as a cable service in 1995 but has expanded into other services such as the Foxtel Magazine and an Internet TV service called Foxtel Now.
The latter serves as an alternative to traditional Foxtel subscriptions and is meant to help the Network compete with modern streaming services like Netflix and Prime Video. It comes with over 50 live channels and multiple on-demand titles across 6 different subscriptions.
The Foxtel Go is an app that was created in 2012 to allow traditional Foxtel subscribers to access their content via the internet. It's the same app that is used by Foxtel Now subscribers.
Why is Foxtel blocked outside Australia
It's because each country has its own content licensing laws that the television networks have to adhere to. In order for Foxtel to show their content outside of Australia, they would need to approach the licensing bodies of each country and apply for the rights to stream their content.
And I'm sure the foreign governments will make it as hard as possible to get the rights because Foxtel would be competing directly with their local networks.
On the upside, it provides the TV network an opportunity to make extra money off their shows.
If a show was a hit, like was the case with Wentworth Prison, streaming services like Netflix and Prime Video may approach the network and purchase the rights to stream it on their platform.
How does Foxtel block their content outside Australia
Anytime you connect to the internet, your device gets assigned a unique identification number known as an IP address. It's how the web servers are able to know where to return the data you requested for.
Unfortunately, the IP address contains personal information such as the name of your ISP and your geolocation. So when Foxtel receives your connection request, they first check your IP address. If it's not in Australia then you will get an error message.
Unfortunately, this is also their undoing because all you need is a reliable tool that can spoof your IP address so that it appears as if you are connecting from Australia. And the name of that tool is? A VPN.
And you are in luck because I am giving you not one, not two, but five best VPNs that you can use to watch Foxtel anywhere in the world.
And the best part about a VPN is that it also encrypts your traffic to protect you from hackers trying to steal your personal data and anybody trying to monitor your online activities.
Best VPN for Foxtel
ExpressVPN – My best pick to watch Foxtel due to its amazing speeds. You will hardly notice that you are using a VPN.
NordVPN – This is the best VPN for security enthusiasts due to its advanced security features. NordVPN comes with double encryption and allows you to easily configure Tor over VPN connections.
CyberGhost – CyberGhost comes with all the premium VPN features but at affordable prices. Excellent connection speeds, optimized streaming servers, and solid security features.
IPVanish – IPVanish is the only provider on this list that owns and self-manages all their servers. They don't rely on third-parties to provide the best quality services.
PrivateVPN – In most cases, if a product is cheap then you have to compromise on some features. PrivateVPN finds the perfect balance and will be an excellent choice for Foxtel.
Factors to consider when choosing a VPN for Foxtel
Servers in Australia – The best VPN for Foxtel is one that has an adequate number of servers in Australia. This will prevent congestion on one server and ensure a great streaming experience.
Connection speeds – VPNs are always guaranteed to slow down your internet speed due to encryption and the additional distance that your data has to travel to reach the selected server. The best VPN for Foxtel is the one that has the least effect on your speeds such that your streaming quality is not affected.
Has not been blocked by Foxtel – Foxtel Go now includes algorithms to identify when you are using a VPN and block your access. Ensure that your VPN of choice can bypass these algorithms.
Customer Support – Choose a VPN that offers prompt support and is preferably available 24/7 via live chat.
Multiple device compatibility – The best VPN for Foxtel is one that is compatible with all the devices that you can use to watch view Foxtel content.
Security and Privacy – Some of the factors to consider in this regard is if the VPN has a kill switch and if it offers leak protection features. Also, ensure that the VPN is using top-notch encryption protocols and is located in a VPN-friendly country where there are no mandatory data retention laws.
1. ExpressVPN
ExpressVPNExpressVPN is the undisputed king of VPNs and definitely my best option if you want to watch Foxtel outside Australia. If not for anything else then for its excellent speeds.
With ExpressVPN, you don't have to worry about buffering or low-quality streaming. And with more than 3000 servers distributed in 94 countries, you can be sure that there are enough servers in Australia to prevent congestion.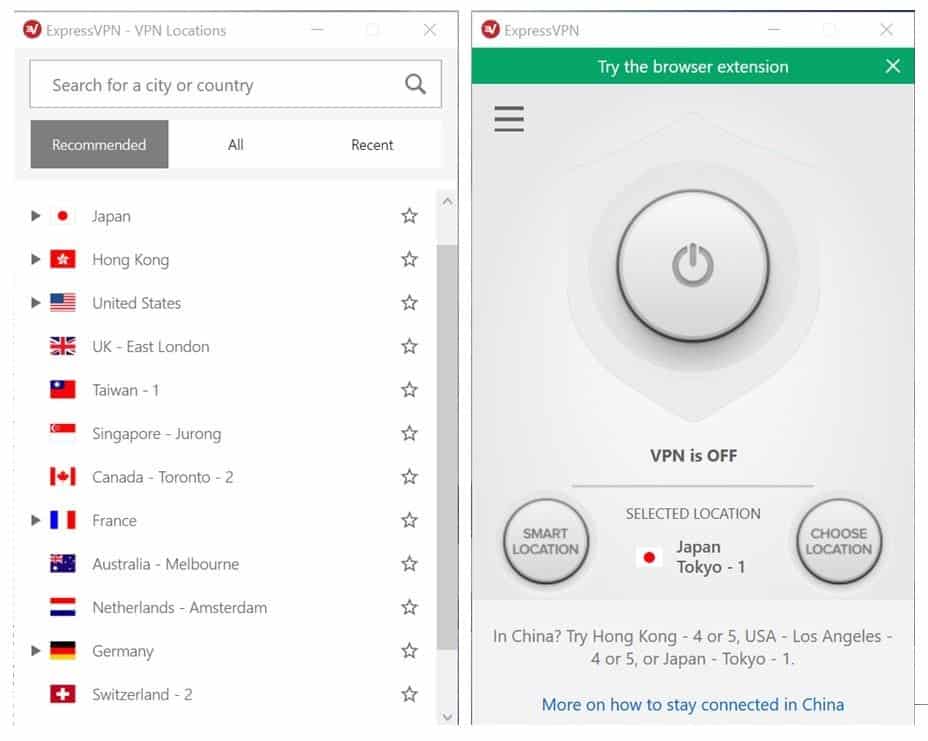 Also, I am yet to come across a VPN that is as consistent in unblocking streaming services. Not just for Foxtel but also other streaming services and TV networks. ExpressVPN rarely gets blacklisted and in the event that it happens, they are so prompt to update their IP addresses to new working ones.
ExpressVPN can be used on just about any device running on any operating system. It has dedicated apps for Mac, iOS, Android, Windows, and even Linux.
Even better, it can be installed on a router which will allow you to stream Foxtel on every other device that you connect to that router.
ExpressVPN does not dissapoint when it comes to security.
To begin with, it uses AES 256 bit encryption which is the same standard used by the US military to protect sensitive information. This is further reinforced through the use of OpenVPN connection protocol.
ExpressVPN also supports other protocols such as TCP, L2TP, and PPTP which are not as secure as OpenVPN but will deliver better speeds when you need it. You don't have to worry about configuration because ExpressVPN automatically chooses the best protocol to use based on your network.
This VPN does not offer a free trial but once you get the premium version, you will be allowed a 30-day money-back guarantee. You can request a refund if it does not live up to your expectations.
Read the ExpressVPN review here
Pros
Excellent speeds with no buffering
Compatibility with multiple devices
Servers are adequately distributed in Australia
30-day money-back guarantee
2. NordVPN
This a VPN that made its name by offering top-notch security but without compromising what matters the most in our case. Speed. This is why I recommend it as the 2nd best VPN for Foxtel Go.
NordVPN was the first and arguably the best VPN to offer double VPN features. You can configure it so that your traffic is encrypted twice.
Moreover, you can enable Tor over VPN connection directly from the app. Other solutions require that first download the Tor browser.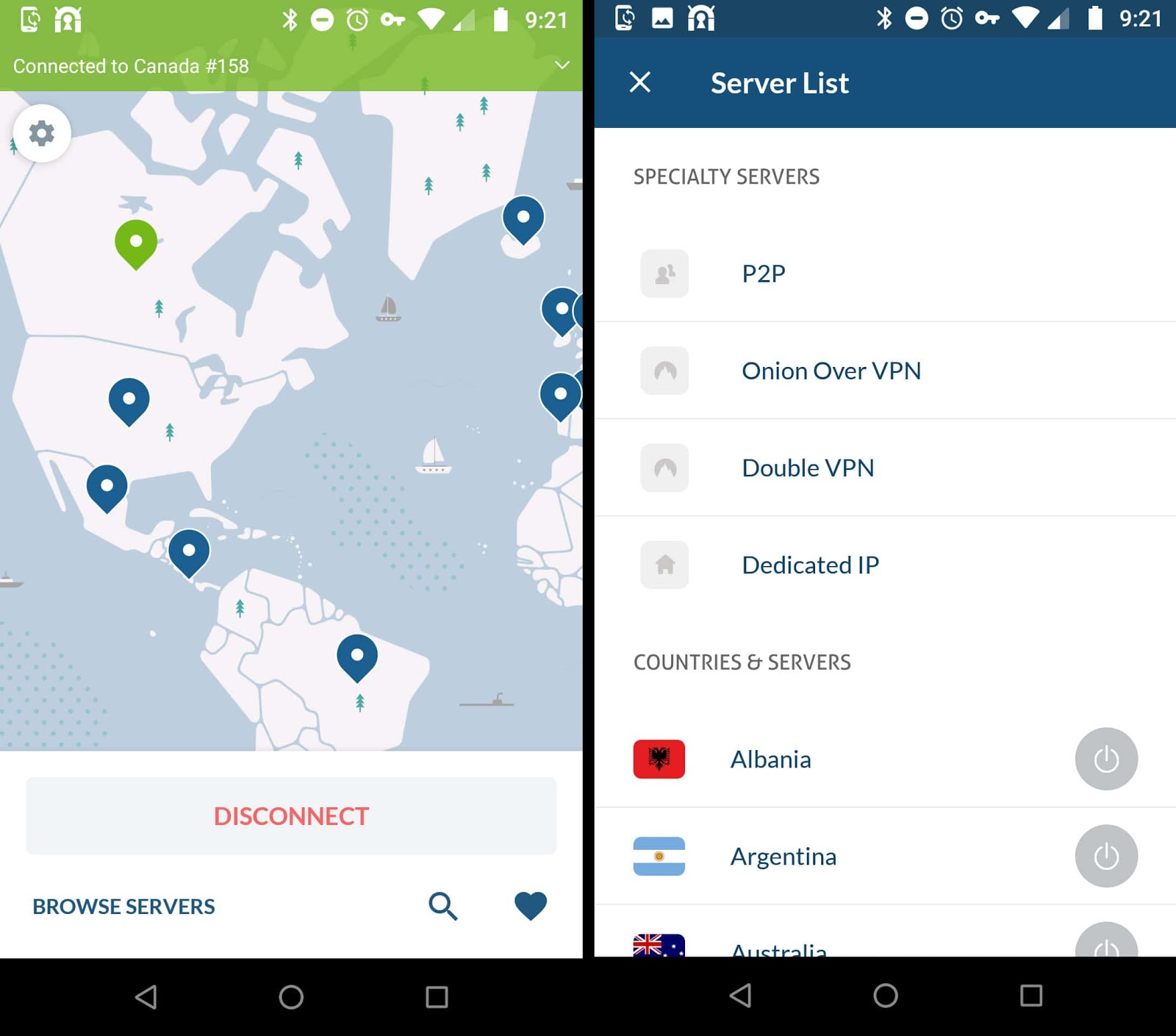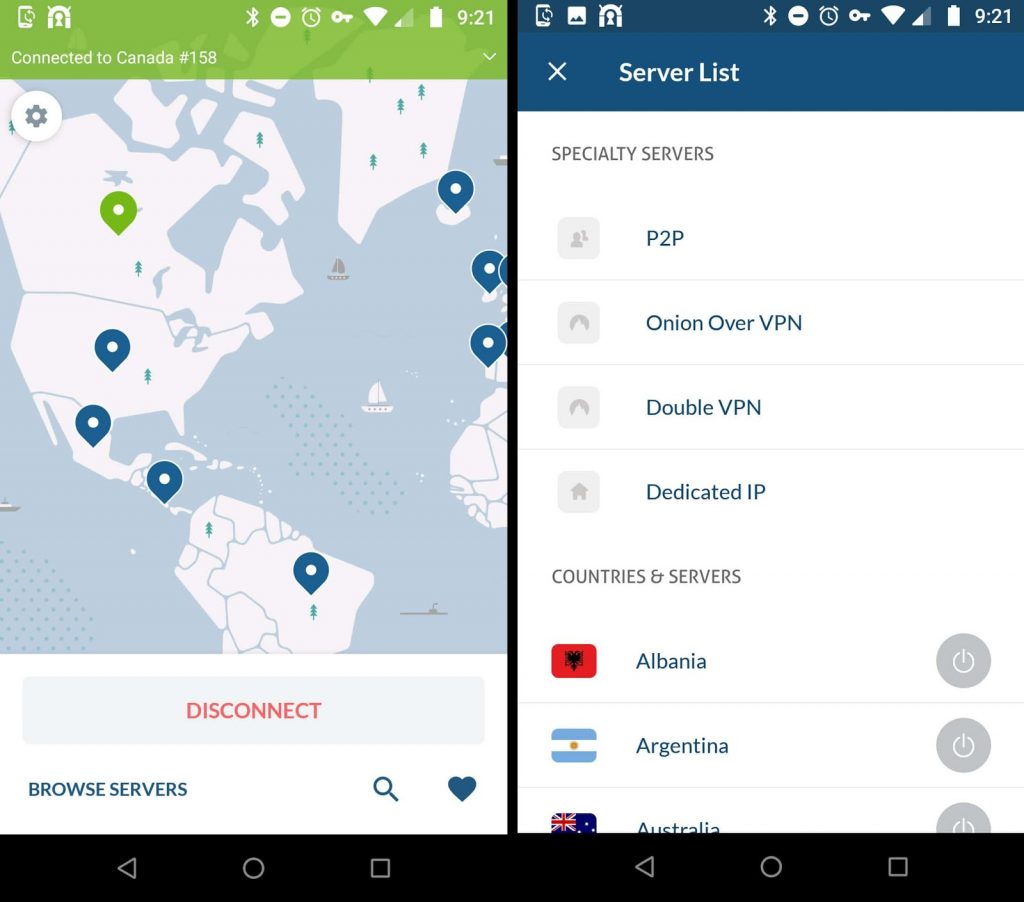 But the best part is you get to enjoy all your Foxtel shows in HD and without constant buffering. Admittedly, the advanced security features will take a heavy hit on your speeds.
Therefore, if your initial speeds before connecting to a VPN are not good enough I recommend you stick to the standard security. That is AES 256 bit encryption combined with OpenVPN connection protocol.
NordVPN also allows you to manually change to other connection protocols like IKEv2/IPSec which is the protocol used by iOS devices since they don't support OpenVPN.
NordVPN has an overall of 5644 servers in 58 countries and 264 of them are located in Australia. These are enough to ensure that users do not congest on one server and compete for bandwidth.
Regardless of which device you use to access Foxtel Go, you can be guaranteed NordVPN is compatible. It even works for Android TV and has extensions for Google Chrome and Firefox.
NordVPN allows you to protect up to 6 devices at the same time. If you want to bypass this, you can install it on your router which will allow you to protect all the other devices in your network.
Again, NordVPN does not come with a free trial but you will be protected by their 30-day money-back guarantee.
Read NordVPN review here
Pros
Great streaming speeds
Solid security features
Servers are adequate in Australia
Compatible with multiple devices
Cons
Advanced security features may affect streaming
3. CyberGhost
CyberGhost is the perfect combination of premium features at an affordable price. With over 7100 servers in 90 countries, it currently stands as the VPN with the highest number of servers.
92 of these are distributed over two cities in Australia and they are enough to ensure that CyberGhost users trying to access Foxtel do not compete for bandwidth. Case in point, I was able to watch a full episode of Outlander in full HD and without buffering.
CyberGhost even comes with special servers for streaming but only for popular platforms like Netflix, Prime Video, YouTube and BBC iPlayer.
And if you are worried about security, you can rest easy knowing all data will be AES 256-bit encrypted. The connections are then transmitted through the OpenVPN connection protocol to further enhance security. You can opt to manually change to other protocols such as IKEv2 and L2TP/IPSec if you are not getting the optimum speed for streaming.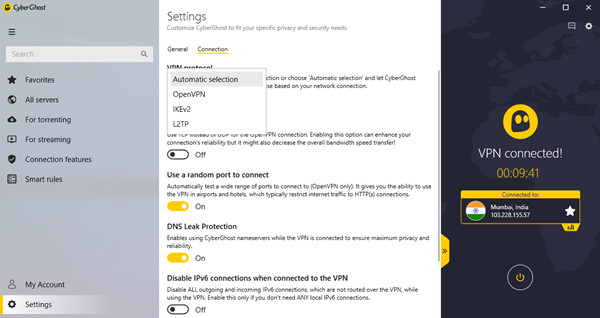 And since the VPN is based in Romania you don't have to worry about the government forcing them to share your personal data with them.
Another thing that you don't have to worry about is compatibility. CyberGhost has a dedicated app for just about every device that you may use to access Foxtel. And for any unsupported device, you can overcome the problem by installing the VPN on a router and then connecting the unsupported device to that router.
That is also the perfect way to bypass the seven devices maximum allowed to connect to the VPN in a single instance.
CyberGhost is the only VPN provider on this list that comes with a free trial. However, it's just for one day and has a number of limitations. Therefore, it's best you purchase the premium version and make use of their 45-day money-back guarantee to test the service.
To get the best deal out of CyberGhost you will have to purchase the long-term plan.
Read the CyberGhost VPN review here
Pros
Great speeds for watching Foxtel shows
Has optimized servers for streaming
A very affordable plan
45-day money-back guarantee
4. IPVanish
IPVanish is another affordable VPN that comes with impressive speeds. Out of their 1300+ servers, 78 of them are located in Australia. The bulk of these is in Sydney while the rest are distributed over Melbourne, Perth, and Brisbane.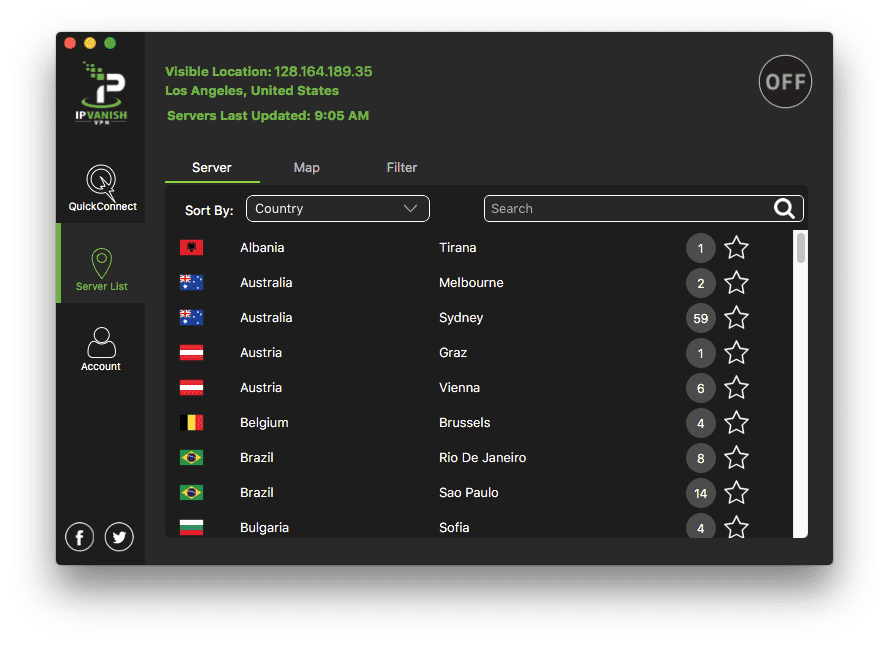 Unlike most of the other providers who lease their servers from third parties, IPVanish owns and manages their servers. Therefore, when they promise excellent streaming speeds you can be assured they will deliver.
The VPN also comes with a dedicated easy to use application for all the devices you might use to access Foxtel Go. However, if you want to watch Foxtel on your smart TV, then you will have to configure the VPN on a router and then connect your TV or streaming box to the router.
This will also allow you to protect unlimited devices as opposed to the 10 maximum allowed by IPVanish.
On the downside, IPVanish is located in the US which is a member of the five eye alliance. They are notorious for spying on their citizens.
However, the provider maintains that they do not log any personal data that may compromise your anonymity. Also, they employ the highest encryption standard and any data that the government may get will be scrambled and unusable.
Your data security is further reinforced through the OpenVPN connection protocol. As usual, you have the choice to manually change to other protocols such as IKEv2 and L2TP/IPSec which will provide you with faster speeds.
And another thing, I think this VPN service should increase its money-back guarantee period. They only offer seven days which puts the other providers on our list above them.
Read the IPVanish review here
Pros
Great speeds for viewing Foxtel Go
Their servers are self-owned and managed
Dedicated application for multiple devices
Allows 10 simultaneous connections
5. PrivateVPN
Without a doubt, the most affordable VPN on our list and ironically the most looked down upon. But I think PrivateVPN is one of the best VPNs for Foxtel for multiple reasons.
The first of course is the excellent speeds. Which may not be very believable considering that the service has a little over 160 servers. By my estimate, there are less than 5 servers in Australia and they are distributed in two cities, Melbourne and Sydney.
However, in my tests, I only experienced minimal buffering problems and I was able to watch the content in full HD for the most part. I consider that a worthy compromise compared to the price that I pay for this VPN.
And unlike CyberGhost, you don't have to purchase the long-term plan to get the best value. Even the monthly plan is an absolute steal.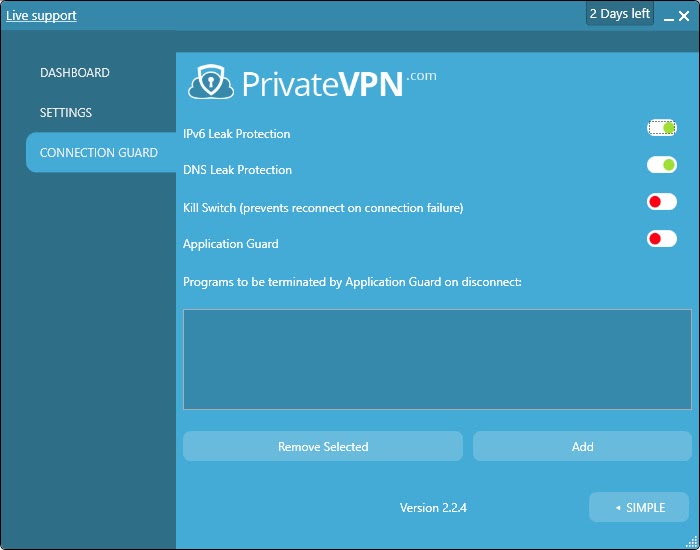 It does not slow down when it comes to security either. PrivateVPN uses 2048 bit encryption with AES-256. This is then combined with the OpenVPN connection protocol to form an impenetrable security wall. Good luck to anybody trying to spy on you or access your personal data.
Moreover, this VPN service s based in Sweden where there are no mandatory data retention laws. They cannot be forced by the government to spy on you.
PrivateVPN is compatible with all the operating systems including Mac, Windows, iOS, Android, and Linux. It allows a maximum of 6 simultaneous connections but it can be configured on specific types of routers to allow more connections.
PrivateVPN comes with a 30-day money-back guarantee.
Read the PrivateVPN review here
Pros
Very affordable
Decent speeds for viewing content on Foxtel Go
Compatible with multiple devices
Solid security and privacy features
What is the Best Free VPN for Foxtel
If you have read any of my other posts then you know that I never recommend free VPNs for one simple reason. I don't believe in free lunches.
The only way they can provide free services is if they are making money in other ways. VPN services need servers to operate and these servers demand a maintenance cost.
My guess is that they raise this money by collecting and selling your data to advertisers. And isn't that one of the things you are trying to avoid when using a VPN.
Free VPNs are also extremely slow and will therefore not be a great fit for Foxtel or any other streaming service for that matter.
Conclusion
There you have it. All the knowledge you need to access Foxtel anywhere in the world. Do you have your best VPN yet? Hopefully yes. If not then I can help you out.
Go with ExpressVPN. It's, without a doubt, the best VPN for Foxtel. And I am not just saying this because it's the VPN I use. It has adequate servers in Australia, it provides unrivaled speeds, and it can consistently unblock Foxtel and other streaming services even when other VPNs fail.
What else do you need?
Sure, it's not the cheapest but you get value for every penny you invest in it.
And the best part is that you are protected by the money-back guarantee. So, if it's not what you are expecting you can get a refund and try another one.