Unlike a few years ago, you cannot purchase just any VPN and hope that it will unblock Netflix. Also, you cannot trust what the VPNs promise you on their official site. A lot of them will promise you to successfully unblock Netflix only for you to be met with a streaming error.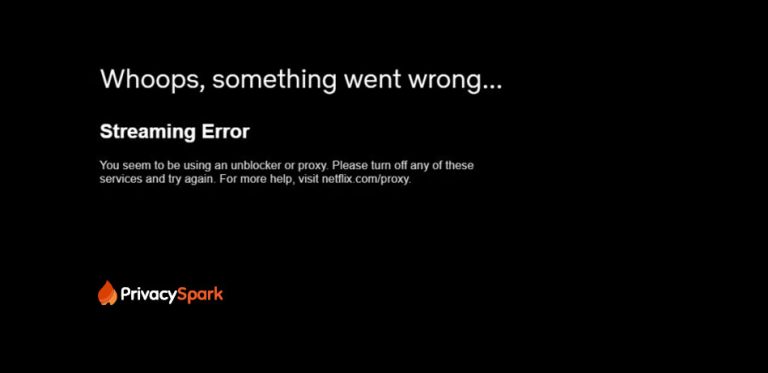 Although to be fair, a lot of them start out unblocking Netflix but due to the increased crackdown on VPNs by the streaming service, they end up being blacklisted.
Only a handful of VPNs have been able to continuously bypass the geo-restrictions imposed on Netflix. ExpressVPN is one of them. In fact, it is the number one recommended solution by experts for unblocking not just Netflix but all the other popular streaming services.
So, what is it that separates this VPN from the rest? Consistency. Netflix is smart about what it does so at some point they will always catch up with a VPN. What matters is how the VPN reacts after they have been blacklisted.
On the rare occasions when ExpressVPN has been discovered by Netflix, they are so quick to add new working IP addresses and servers that it barely inconveniences the users.
Now, before I get carried away, I think it is important I tell you why and how Netflix blocks VPNs. Then it will be easier to understand why ExpressVPN is my best choice.
Why does Netflix Block VPN Connections
To avoid possible lawsuits from the content owners. Netflix does not own most of the titles they show on their platform. Instead, they approach Movie studios, Television networks, and independent producers and buy the rights to stream their content.
Due to varying content licensing and copyright laws in different countries, the content owners can opt to restrict the viewing of their movies and shows to specific regions only.
When Netflix acquires the streaming rights to these titles, they are bound by contract to ensure that the content is not viewed outside the set boundaries. Therefore, if they allow you to use a VPN to access the content then they could be sued for violating the contractual agreement.
Also, the content owners do not receive any financial gain when you access the movie or show outside the set borders, unlike Netflix which still stands to gain since you are paying a subscription fee to access the platform.
The content owners may feel cheated and refuse to partner with Netflix in future deals.
How does Netflix Identify and Block VPN connections
The streaming giants have developed an algorithm that can identify VPN IP addresses and block them.
In case you didn't know, every time you connect to the internet the device you are using gets assigned a unique identification number called the IP address. The identifier contains your personal information such as your geolocation and name of your ISP.
So every time Netflix receives your connection requests, they check your IP address, establish your location and redirect you to the appropriate country library. And this is where the VPN comes in.
It changes your IP address and assigns a new one based on the location you choose. Now when Netflix receives your connection request, they will be tricked into thinking you are in the new location.
Unfortunately, the VPN servers only come with a limited number of IP addresses to allocate which means that one IP address will end up being used by multiple users.
The multiple connection requests coming from a single IP address are what triggers the Netflix detection algorithms.
Best Blocked Netflix Workaround: ExpressVPN

The reason ExpressVPN has been so effective in bypassing the Netflix geo-restrictions is that they have the resources to continuously add new IP addresses or configure new servers when the existing ones get blacklisted.
And they do it in mere hours. So a lot of the users may not even realize that the VPN had stopped working with VPN for a while.
For me that is what matters the most but here are some of the other features that make ExpressVPN the perfect solution for unblocking Netflix.
Excellent connection speeds
Have you ever tried streaming a movie on a slow network? It's infuriating and unfortunately, a common problem when using many VPNs. But not ExpressVPN.
The solution has managed to find the perfect balance between security and speed and most of the times you will even forget you are using a VPN. In our tests, I was able to watch a full movie without buffering and in full HD.
ExpressVPN has more than 3000 servers which are distributed in 94 countries. This makes it possible to find a server that is near you which will reduce the distance that your internet traffic has to cover to reach the VPN servers. As a result, you are guaranteed faster connection speeds.
And with so many servers, it's hard to imagine experiencing connection problems resulting from congestion on one server.
Additionally, ExpressVPN allows you to use the speed test feature to find the server with the best speed performance for uninterrupted streaming.
Excellent customer support
I love how responsive the ExpressVPN customer support is. You can reach them via live chat at any time and they will respond to your query in less than a minute.
This means that if you are having a problem unblocking Netflix you can contact them and they will promptly direct you to a working server.
Multiple device compatibility
Which device do you use to access Netflix? I am willing to bet that there is a dedicated ExpressVPN application for it. The VPN can be installed on iOS and Android phones, computers running on Windows, Mac, and Linux OSes, Playstations, Smart TVs, Amazon Fire TV Stick, and other similar devices.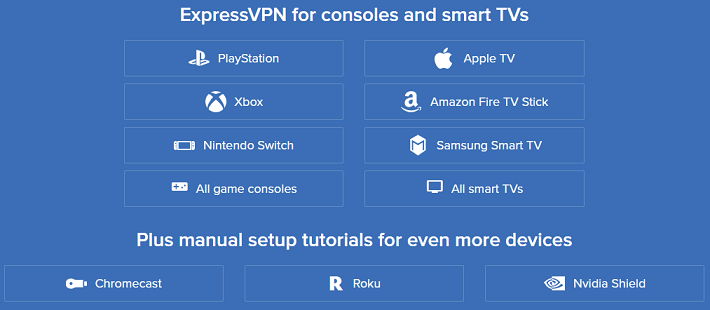 But most importantly, the VPN can be configured on a router which will help to protect all the other devices connected to your network.
Not only does ExpressVPN excel in bypassing geo-restrictions but also it offers top-notch security. It is compatible with OpenVPN connection protocol which is further reinforced through AES 256 bit encryption to provide full-proof protection against hackers and online snoopers.
Even the NSA is yet to crack through this security combination.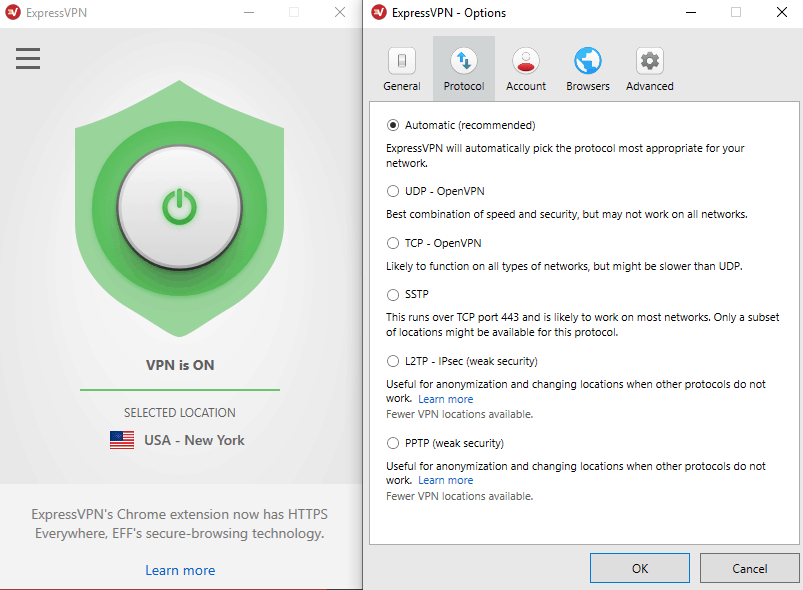 ExpressVPN also supports other protocols such as PPTP and IPSec which offer less security than OpenVPN but have better speeds for streaming. Although this should not worry you because the VPN automatically selects the best protocol for your network.
Moreover, ExpressVPN does not store user data and hence there are no digital footprints that can lead back to you. It also comes with a killswitch that prevents unencrypted data from leaking by disabling your internet every time the VPN disconnects unexpectedly.
This is not the point where I tell you that ExpressVPN is the most affordable solution. If it was, it would have since stopped working with Netflix. What I can tell you, however, is that you will get value for every penny you spend on the VPN.
And what's more, when you purchase the product, you are protected by their 30-day money-back guarantee. If during this period you are unsatisfied with any aspect of the product, you can request a refund.
Conclusion
When it comes to unblocking Netflix you can never be too sure. I would be lying if I told you that ExpressVPN will always successfully unblock Netflix.
However, I can assure you that of all the existing VPN solutions, it is currently the best solution you can use.
And the day that ExpressVPN finally gives up on the fight to unblock Netflix then that is the day all the other VPNs will surrender too. Hopefully, it never comes.