If you have tried searching for the best VPNs then you have definitely come across NordVPN. It's a favorite among streamers due to its speed and is even more recognized by security enthusiasts due to its top-notch security features. Up until recently, no other VPN had as many worldwide servers as NordVPN.
Then we have VPN Unlimited which has been around since 2013. Compared to other VPNs it's still relatively young but that has not stopped it from amassing millions of users. On the downside, the VPN is located in the US which is not the best jurisdiction for a VPN. Their privacy policy is also a bit shaky but they have put up several measures to ensure that user security and privacy are protected.
Also, VPN Unlimited is one of the most affordable solutions you will find in the market.
Now, for anybody looking for a VPN, both of these solutions will be excellent choices. Unfortunately, you can only pick one. But don't worry, this post is going to make things extremely easy for you.
How to Choose the Best VPN
Any time you are shopping for a VPN, there is a procedure to be followed. Factors to consider. And what we are going to do in this post, is to highlight all those factors and use them as the baseline in measuring the performance of both NordVPN and VPN Unlimited.
We will crown the winner in each category and at the end of the post, we will announce the overall winner.
Connection Speeds
Speed is what makes or breaks a makes a VPN. Have you ever tried streaming a movie on a slow network? I would rather listen to my least favorite song on repeat for a whole week. It's less frustrating.
And you see due to encryption and the increased distance that your internet traffic has to travel to reach the VPN servers, a VPN is guaranteed to slow down your internet.
So, it's critical that you find a VPN that has the least effect on your speed. Both NordVPN and VPN Unlimited fit great in this category. But I decided to go ahead and perform speed tests so as to give you a clear picture of what I am talking about.
We use the speed test app for all our tests.
First, I measured my internet speeds before connecting to a VPN and then I measured the speeds after connecting to the US and UK servers for each VPN.
This is what we found.
Connection speed before connecting to the VPN servers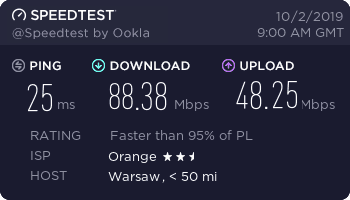 Connection speed when connected to the NordVPN US Server
My baseline download speeds decreased by about 15%. I never worry too much about the upload speed because most of us receive data more than we send it out.
Connection speed when connected to the NordVPN UK Server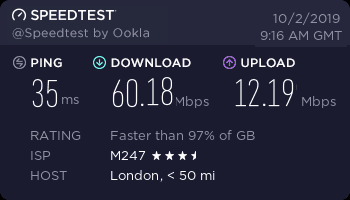 Download speeds decreased by about 32%. The ping time was not affected as much as when connected to the US Server.
Connection speed when connected to the VPN Unlimited US Server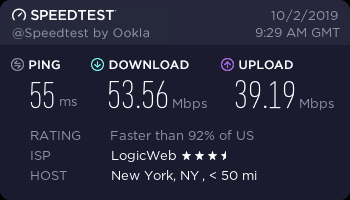 Download speeds decreased by about 40%.
Connection speed when connected to the VPN Unlimited UK Server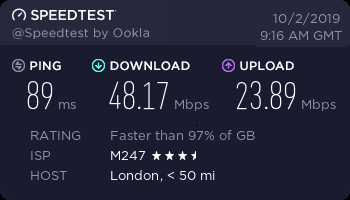 The hit on speed was quite hard, almost 50% decrease. However, with a download speed of 48.17, I can still do all the heavy internet stuff like streaming and gaming without much problems.
Note that this is not a direct representation of how these VPNs affect your internet. That will depend on several factors such as your speeds before connecting to the VPN and your distance from the VPN servers.
Also, I noticed that the lower your baseline speed the smaller the hit it will take from VPN connections.
Connection Speed Winner: NordVPN
Pricing
Here is a piece of advice. Never choose a VPN because it is the cheapest and even more importantly, avoid free VPNs like a plague. Instead, focus on the value you get. If you have to pay more money for it, no problem. It will always be worth it.
The good news is that both NordVPN and VPN Unlimited give you the best of both worlds. You will get all the premium VPN features and all that without breaking the bank.
NordVPN is currently available in four plans. A monthly plan, an annual plan, a 2-year plan, and a 3-year plan. As usual, the longer the subscription plan the better the deal. The 3-year plan is currently valued at $3.49 per month which is quite a bargain compared to the monthly plan which costs $11.95.
On the other hand, VPN Unlimited is available in three plans. There is the monthly-plan which currently costs $9.99. It is followed by an annual plan valued at $5.00 per month and then they have a 3-year plan which gives you the best deal at $2.22 per month.
VPN Unlimited is also currently offering a life-time plan that will cost you a one-time payment of $99.99.
Not a bad deal but you need to be sure that you want to commit yourself for life before going for it. My recommendation is that you start with the short-term subscription and see how the relationship grows. If after three years the love is still strong, then you can make it your life partner.
VPN Unlimited has a free trial
A lot of VPNs including NordVPN have stopped offering free trials and instead opt to give you a money-back guarantee. This refers to the risk-free days you get after purchasing the premium plan and both NordVPN and VPN Unlimited give you 30 days.
This period is for testing the VPNs and should they not live up to your expectations you are free to ask for a refund.
However, before that, you will have utilized the VPN-Unlimited 7-day free trial.
Pricing Winner: VPN Unlimited
Privacy
One of the most important roles of a VPN is to ensure that you remain anonymous while browsing. And the first way to ensure this is by not logging user data.
Unfortunately, VPN unlimited does not perform very well in this regard. The first bad sign is its location. The US is a member of the five-eye alliance who are known for surveilling on their citizens.
Also, a close look at the VPN Unlimited privacy policy will reveal that the VPN vendor stores personal user information such as your real IP address, your browser type, and your OS type. This information is deleted once your session ends but this does not help put my mind at ease.
This is because every time that I am connected to their servers I am at risk of being discovered and consequently monitored. IP addresses can be combined with other log data such as your connection time to the servers to track all your online activities.
NordVPN, on the other hand, provides complete privacy and only stores data that is necessary to provide great customer support. Like the email address and the payment information that you provide when purchasing the VPN. It also records the amount of data transferred through their servers to help them identify the servers that need the most optimization.
Moreover, NordVPN is based in Panama where they are under no obligation to store user data.
The type of payment allowed is also a crucial part of privacy. Apart from the usual credit cards and debit cards, both NordVPN and VPN Unlimited allow payment through cryptocurrencies which allow you to pay for your subscription anonymously.
Privacy Winner: NordVPN
NordVPN vs VPN Unlimited Features Comparison
Encryption
Security is the other important feature of a VPN and it's implemented through encryption and a number of other features. Once your data is encrypted it will be impossible for anyone including your ISP to see what you are doing online. It will also make it impossible for hackers to steal your personal data by intercepting your traffic.
If you want the best security then ensure that your VPN is compatible with OpenVPN connection protocol and uses AES 256 bit encryption.
Both NordVPN and VPN Unlimited support this combination. The VPNs also support IKEv2/IPSec which does not provide the same level of security as OpenVPN but it will be useful in instances when you want to boost the speed.
Both VPNs also include a kill switch that disables your internet when the VPN disconnects unexpectedly to prevent leaking of personal data.
At this point, both VPNs seem to be evenly matched in regard to security. However, NordVPN takes it a notch higher through its double VPN feature. It allows you to pass your internet traffic through two servers which consequently encrypts your internet twice.
Good luck to anybody trying to break through that.
Additionally, it allows you to add The Onion Router (TOR) network over the standard VPN connection directly from the application. VPN Unlimited also supports Tor over VPN but you have to download the Tor browser separately.
Encryption Winner: NordVPN
Simultaneous Connections
The good thing about VPNs is that you don't have to buy a different license for all your devices. You can protect multiple of them with just one license.
NordVPN allows you to simultaneously connect to up to 6-devices while VPN Unlimited allows you 5-10 devices depending on the license you purchase.
But the best part is that both VPNs can be configured on a router allowing you to protect every other device that connects to your network. It is the perfect way to bypass the maximum device limit and secure unlimited devices using your VPN.
Simultaneous Connections Winner: Tie
Torrent support
If you like downloading torrents then you are at a disadvantage because more and more VPNs are cutting down their support of P2P sharing.
It has something to do with the fact that the technology is exploited to share copyrighted content which rubs various authorities the wrong way.

NordVPN and VPN Unlimited are two of the few remaining VPNs that can be trusted with torrent downloads but they only allow P2P sharing on limited servers.
NordVPN is more expansive providing you with hundreds of servers in 42 different countries to use for P2P file sharing.
VPN Unlimited, on the other hand, only allows P2P sharing in 5 server locations which are US, Canada, Romania, Luxembourg, and France.
While it's commendable that they still offer the service, it will make it harder for a lot of users to find a server that is nearest to them. This will consequently affect the download and upload speeds because the data has to travel for a longer than usual distance.
Also if multiple users are connected to these servers, it can cause speed problems due to congestion.
Torrent Support Winner: NordVPN
Global Server Coverage
The important question here is how many servers the VPN has and how they are distributed around the world.
NordVPN has 5400+ servers in 59 countries while VPN Unlimited has over 400+ servers in 80 locations. Multiple servers help eliminate competition for bandwidth that may result from congestion on one server. NordVPN significantly outmatches VPN Unlimited in that regard.
Then the distribution of servers is important because then it becomes easier for users to find the servers that are nearest to them. Like I mentioned before, the farther you are from the VPN server the lower your connection speed will be because then your internet traffic has to travel a longer distance. VPN Unlimited wins in that regard.
Global Server Coverage Winner: Tie
Multi-Platform Support
The sheer number of devices we can use to connect to the internet is unbelievable. I am looking around right now and I can count five. My laptop, mobile phone, Smart TV, gaming console, and a tablet. All these devices need to be protected and it becomes absolutely easy if your preferred VPN has a dedicated application for each one of them.
Both NordVPN and VN Unlimited are compatible with all the popular operating systems. They come with an easy to use application for Windows, macOS, Android, iOS, and Linux. NordVPN also comes with browser extensions for easy integration into chrome and Firefox.
On the downside, both VPNs lack native support for Smart TVs, Playstations, and streaming media players like Amazon Fire TV Stick and Roku.
But on the upside, they can be installed on a router which allows you to protect all the other devices on your network.
Multi-Platform Support Winner: NordVPN
Customer Support
Customer service is an integral part of any product. I have downright passed up buying certain products because of bad support.
This will not be a problem with NordVPN. They have a 24/7 live chat option and their agents will reply to your queries in mere seconds. They also offer email support but you won't have to use it unless your problem is escalated to the technical guys.
VPN Unlimited only offers email support. This means you won't receive an immediate response to your messages and that is not great when for emergency problems. Like when the usual servers have stopped unblocking Netflix and your favorite show is about to begin.
But I have to hand it to them. They have made some major improvements since the last time I reviewed the VPN. Now it will take anywhere between 10-30 minutes to get a response. Yes, it was that bad.
But a good thing about both NordVPN and VPN Unlimited is that they have a knowledge base that comes with several 'how-to' guides. You can utilize them to solve various problems without assistance.
Customer Support Winner: NordVPN
Conclusion: NordVPN Wins
The results are out. The only area that VPN Unlimited outperforms NordVPN is pricing. And that is its major selling point. If you are on a tight budget and still need VPN protection then you should consider VPN Unlimited.
But, you have to deal with the customer support issue which I feel is their biggest downside.
Then again, NordVPN is not that expensive either. And, the few dollars you add to your subscription will be worth the value you get.
You will not get a free trial like with VPN Unlimited but you will still be protected by their 30-day money-back guarantee. What do you think?