Are you familiar with the 14-eye alliance? It's a surveillance network consisting of 14 countries that share intelligence data with each other. And by intelligence data, I mean your online activities and GPS location information.
And considering how much we currently rely on our devices, this is all the information that the government needs to create a very accurate profile of you.
How is this related to Europe? Well, 10 out of the 14 countries in the alliance are European. Which really emphasizes the need to use a VPN if you are in Europe.
A VPN will encrypt your internet traffic making it impossible for the government or even your ISP to monitor your online activities.
Here is a rundown of all the reasons why a VPN is important if you are in Europe.
Why you need a VPN for Europe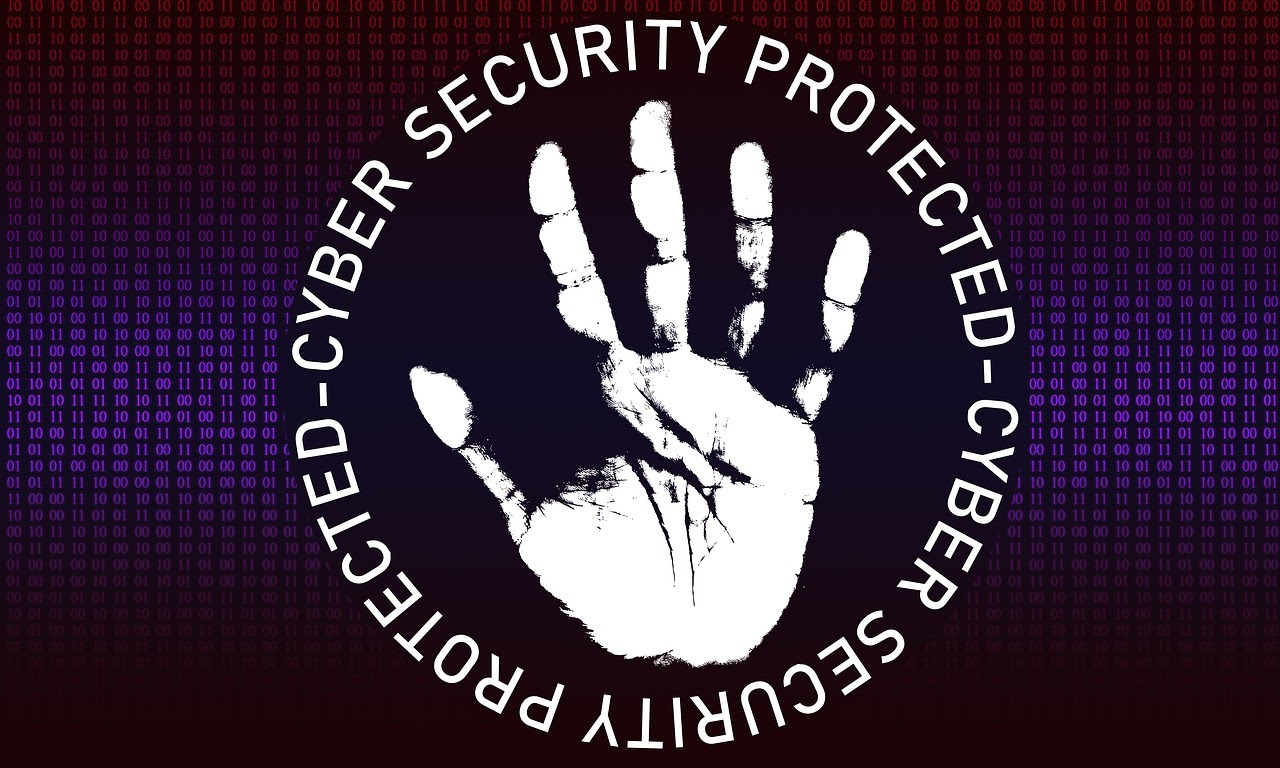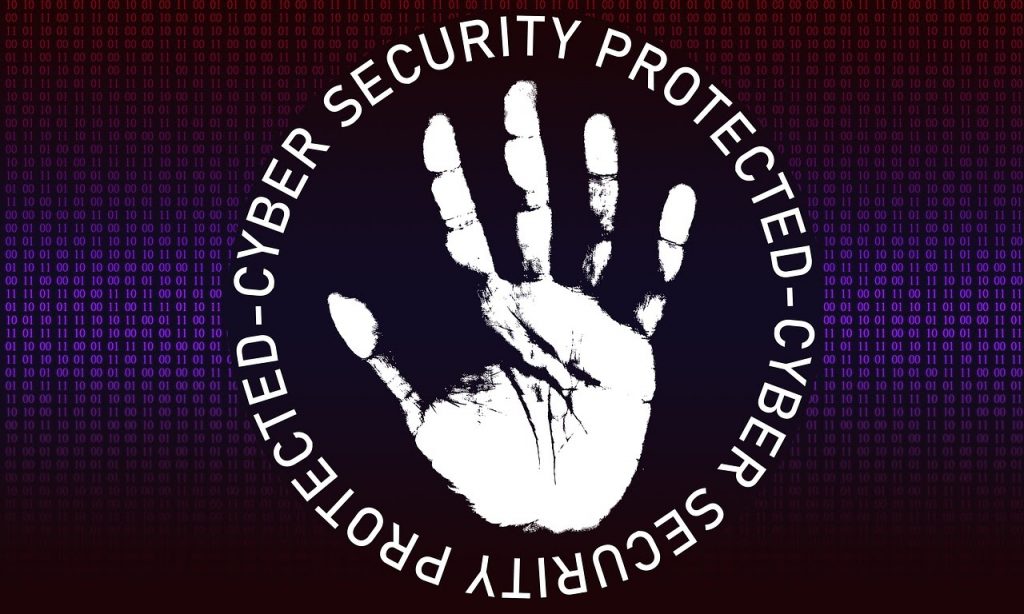 We are in the digital age and your data is gold. Apart from the government, we have other parties like advertisers and hackers who are interested in your data.
It's common practice for various websites to use trackers that monitor what you do online. This data is then sold to advertisers to help them serve you with targeted advertisements.
Hackers can also try to steal your personal data which they will then use to execute identity theft[Link to identity theft post] and other forms of online fraud.
A VPN locks out unauthorized access by encrypting your data.
To unlock streaming services
If you are subscribed to streaming services like Netflix and Amazon Prime Video then you know that the type of content available in their libraries depends on your geolocation. The movies and shows available in Netflix France are not the same as those on the US Netflix.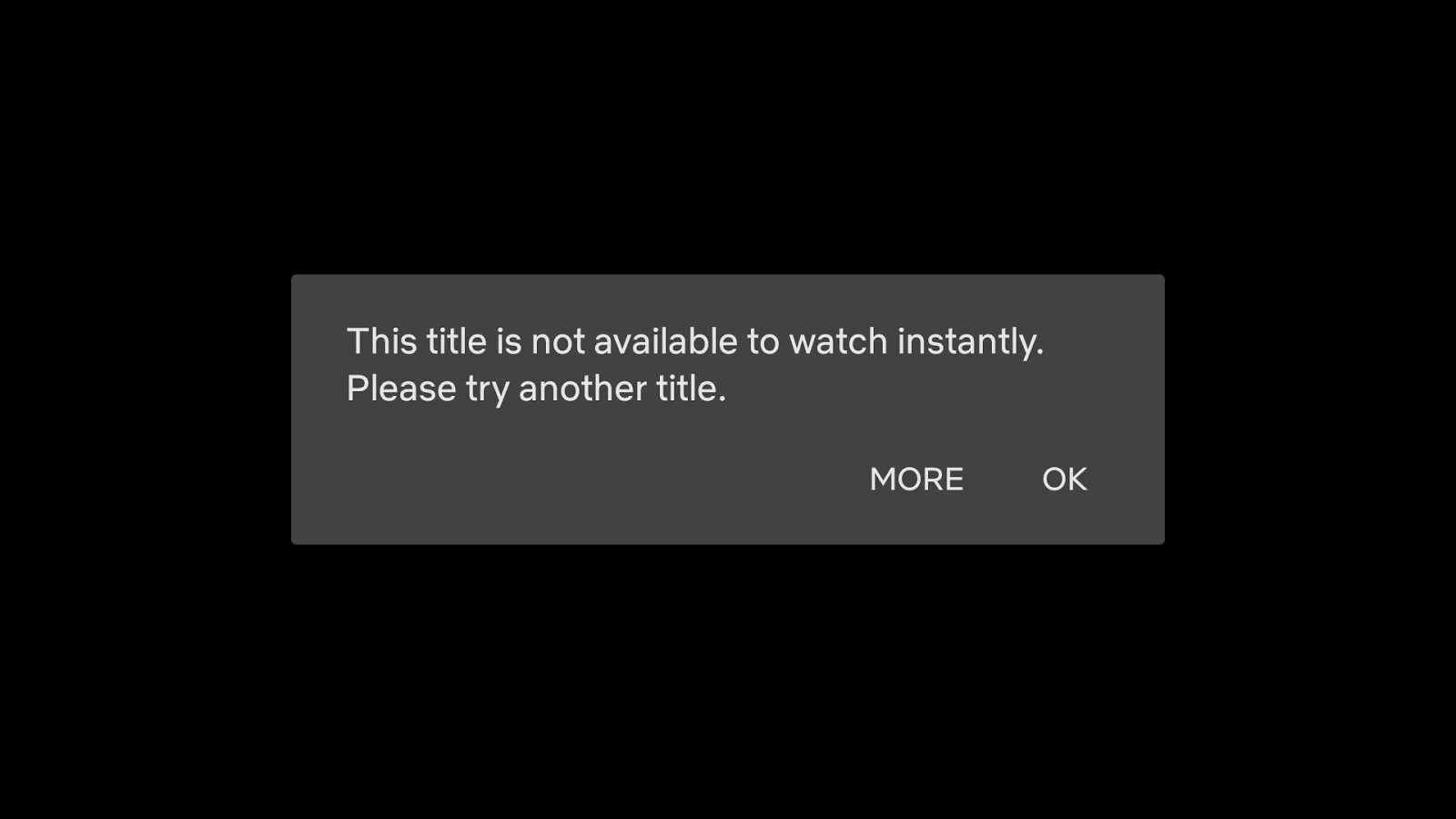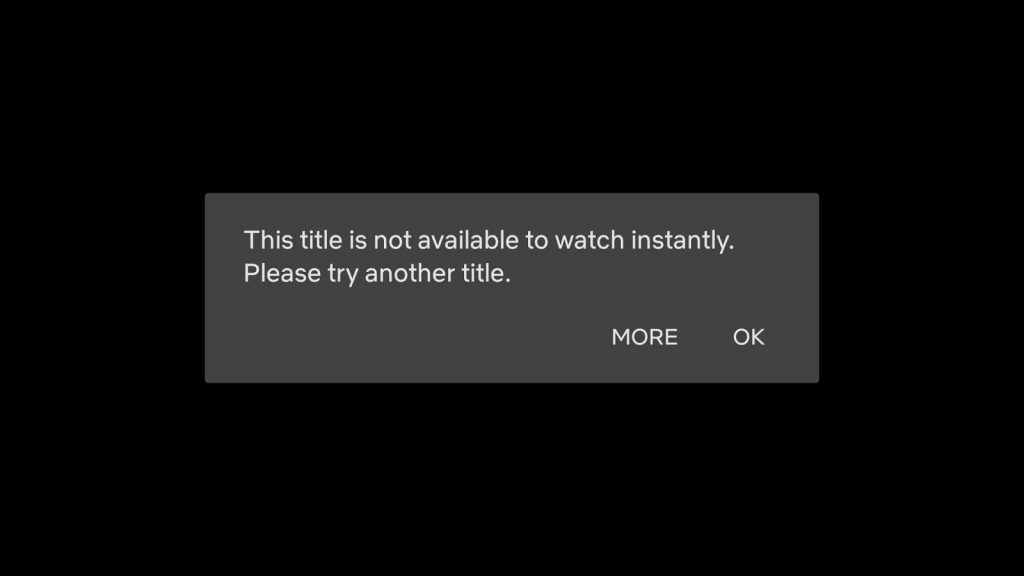 However, when you use a VPN, you can spoof your location to any country you wish which consequently unblock all the titles that were inaccessible outside that region.
It will also allow you to access streaming services such as BBC iPlayer and Hulu which are only available in specific countries.
To access blocked websites
It's not uncommon for countries to block access to various websites if they are not in tandem with their cultural or political stand.
A website may also be blocked on an institution network if it interferes with productivity or affects the network performance. For instance, if you are using your work or school Wi-Fi, you may find that access to various social media networks like Facebook and YouTube has been blocked.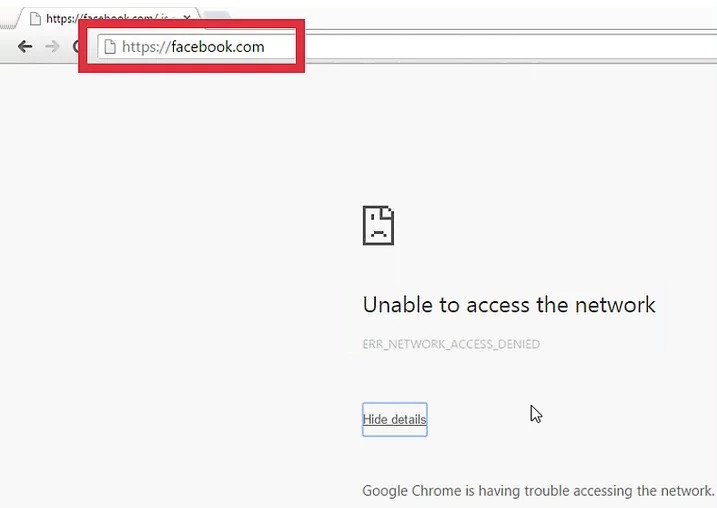 When you use a VPN, it ensures that not even your ISP or network admin can see what you are doing online which allows you to access any website you want without restrictions.
To download torrents
In 2012, the UK became the first country to pass a law that required all ISPs to block torrenting sites such as The Pirate Bay and rarbg. A lot of the other countries have followed suit.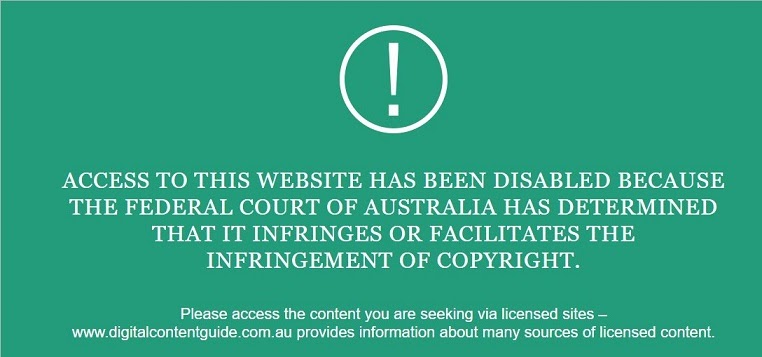 Using a VPN allows you to access the blocked websites and download files securely and anonymously.
In case you did not know, downloading torrents without a VPN service exposes your real IP address to other people downloading the same file. Malicious users can use the IP address and exploit a vulnerability in your system to gain remote access into your device.
Note that not all VPNs support P2P technology.
To stay safe on Public Wi-Fi
Hackers have realized that a lot of people love free Wi-Fi and so, they have come up with multiple ways to steal your data.
They can tap your internet traffic as it flows from your device to the router or they can perform a man-in-the-middle attack. This is where they create a fake website that looks legitimate and trick you into providing personal information such as your login credentials.
You can read more about that in this post[Link to post on dangers of public wifi].
A VPN ensures that all data transmitted on public Wi-Fi is encrypted and thus inaccessible to malicious users.
Best VPNs for Europe
Factors to consider when choosing a VPN for Europe
Connection speeds – The thing about VPNs is that they will always lower your internet speeds. This is as a result of encryption and also because your data now has to go through the VPN servers before getting to its destination. The secret is to find a VPN that provides the perfect balance between speed and security.
The number of servers – The first thing you need to ensure is that the VPN has adequate servers in various countries in Europe. This will allow you to access all local content while enjoying the benefits of a VPN. The VPN also has to have enough servers around the world for when you want to access restricted content in these regions.
Ability to unblock streaming services – Most streaming services have come with algorithms that can detect and block VPN connections. Netflix and BBC iPlayer are the most notorious. A great VPN is one that can circumvent these algorithms and give you access to the restricted content.
Solid security features – The type of encryption standard and the connection protocol being used is the first thing you check security-wise. Check if the VPN supports AES 256-bit encryption and the OpenVPN connection protocol. Also, check whether the VPN has a Kill switch. This will disable the internet in the event that the VPN disconnects unexpectedly and thus prevent unencrypted data from leaking. This should be further reinforced through IPv6 and DNS leak protection features.
Privacy – When choosing a VPN for Europe check to see what are their privacy policy. What kind of user data do they store and can it be used to trace you online? The country in which a VPN operates is also important.
Support services – The ideal VPN for Europe offers 24/7 customer support through various modes such as live chat and email support. Better yet, it should have preexisting resources on how you can solve various problems on your own.
Supports P2P sharing – Due to the legalities surrounding torrenting, some VPN providers have stopped supporting P2P sharing. Choose a VPN that not only has P2P servers but also comes with enough of them to prevent user congestion.
Device compatibility – A great VPN should be compatible with all your devices regardless of the operating system being used.
1. ExpressVPN
ExpressVPN is the undisputed king of VPNs and here is why. First off, speed. This VPN manages to find the perfect balance between security and speed such that you will hardly remember you are using one.
This means you will have the best time browsing, streaming and torrenting.
Speaking of which, ExpressVPN supports P2P sharing on all its 3000+ servers. These are distributed over 94 countries so you should have no problem finding one that is nearest to you.
It also means that you will have access to unlimited content in all of these regions.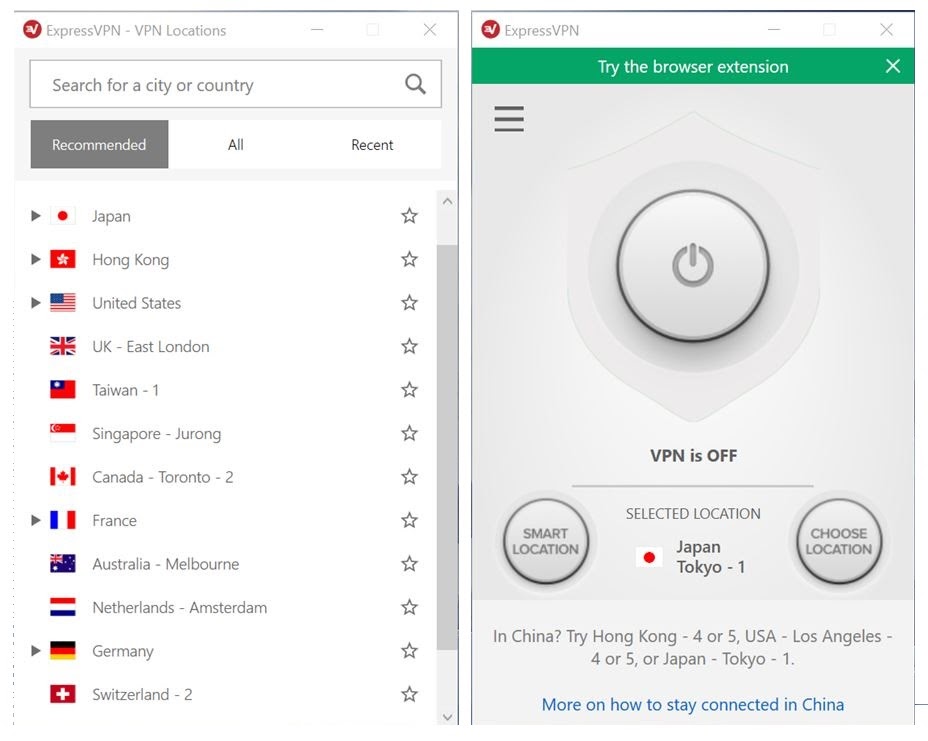 Of all the VPN providers I have tested, ExpressVPN has been the most consistent in unblocking streaming services like Netflix and BBC iPlayer. In the rare instances that it gets detected and blocked, they will promptly add new IP addresses or configure a new working server.
All this is possible due to the swiftness with which ExpressVPN responds to customer issues. The support staff is available 24/7 via live chat.
ExpressVPN has a very strict no-logs policy so you don't have to worry about them storing data that could compromise your anonymity. Better yet, they are based in the British Virgin Islands which is not under UK law and thus, cannot be obligated by the government to spy on you.
In terms of security, this VPN service uses AES 256-bit encryption which is further reinforced through the OpenVPN connection protocol.
Depending on your network, ExpressVPN may automatically switch to other connection protocols such as TCP, L2TP, and PPTP. These are not as strong as OpenVPN but they provide better speeds.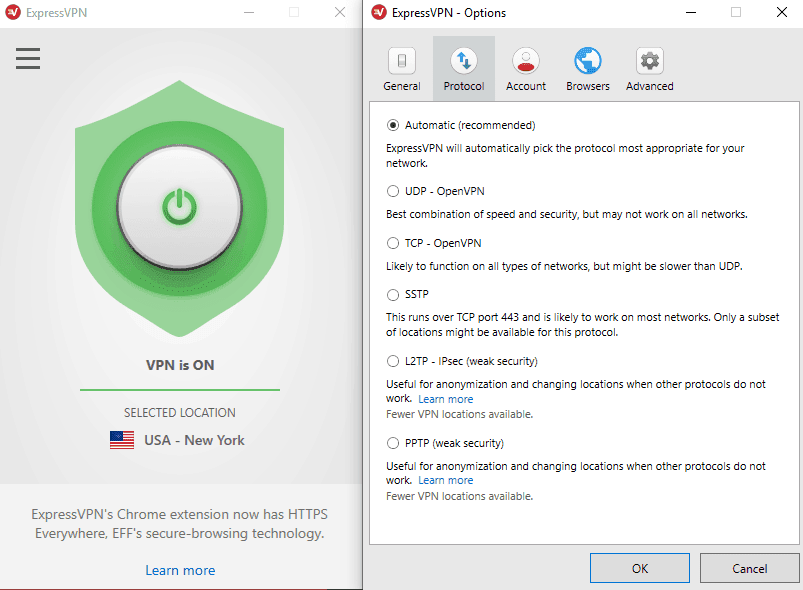 This VPN provider has a dedicated application for all the popular operating systems including Windows, macOS, Linux, Android, and iOS. It can also be installed on streaming media players like the Amazon FireTV Stick and gaming consoles.
The number of simultaneous devices you can connect to ExpressVPN is five. However, if you configure it on a router that will count as one connection and you will be able to protect all the devices connected to that router.
ExpressVPN does not offer a free trial but it comes with a 30-day money-back guarantee. If it does not satisfy you during this period, you can request a refund.
Read Full Review
Pros
Excellent speeds
Widespread server locations in Europe and the rest of the world
Supports torrenting on all servers
Offers 24/7 customer support via live chat
2. NordVPN
This is the right VPN for you if you are a security enthusiast. You get the standard security features comprised of AES 256-bit encryption and OpenVPN connection protocol and you also get advanced security features.
For instance, NordVPN allows you to encrypt your traffic twice by passing it through two servers. Breaking single encryption is already hard enough so I can only imagine how hard it will be to get through double encryption.
Additionally, you can enable the Onion network over the standard VPN connection directly from the NordVPN app. This is the same as using the Tor browser and a VPN at the same time except that you don't have to download the Tor browser.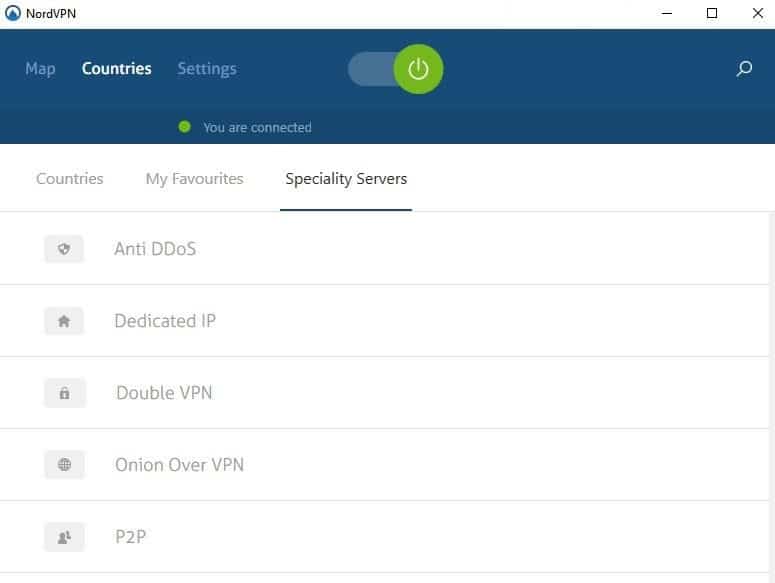 On the downside, the advanced security features will have a more significant effect on your internet speeds. Therefore, I recommend enabling them only when browsing or if your internet speed before connecting to the VPN is above average.
NordVPN also does a very great job of unblocking not just Netflix but other streaming services such as Prime Video, Hulu, and BBC iPlayer.
I watched a whole episode of Money Heist and I did not experience any buffering.
If you are a torrent guy then good news, the VPN allows P2P sharing on all its servers except those that are in countries where torrenting is legal. It has over 5600 servers in 58 countries so I would say you have plenty of options to choose from.
NordVPN works on all the popular operating systems and allows you to protect a maximum of six devices in a single instance. Of course, you can configure it on a router to protect unlimited devices. It also has browser extensions for easy integration into Chrome and Firefox.
This VPN provider has a 30-day money-back guarantee which gives you time to familiarize yourself with the product and get back your money if unsatisfied.
Read Full Review
Pros
Top-notch security provisions
Great speeds for streaming and browsing
Can unblock all the popular streaming service
Very responsive support staff
Cons
Advanced security features significantly slow your internet connection
3. CyberGhost
The rate at which CyberGhost is growing is phenomenal and here is why I think it's a great choice if you are in Europe. First, it is the number one VPN in terms of the total number of servers worldwide. Currently, it has over 6900 servers in 89 countries.
Regardless of where you are in Europe, you will have easy access to a server near you which guarantees better connection speeds.
Streaming enthusiasts will be especially happy to know that CyberGhost has specialized servers for streaming. Now, if you want to unblock Netflix US you just connect to the specific server instead of trying out multiple servers looking for one that works successfully.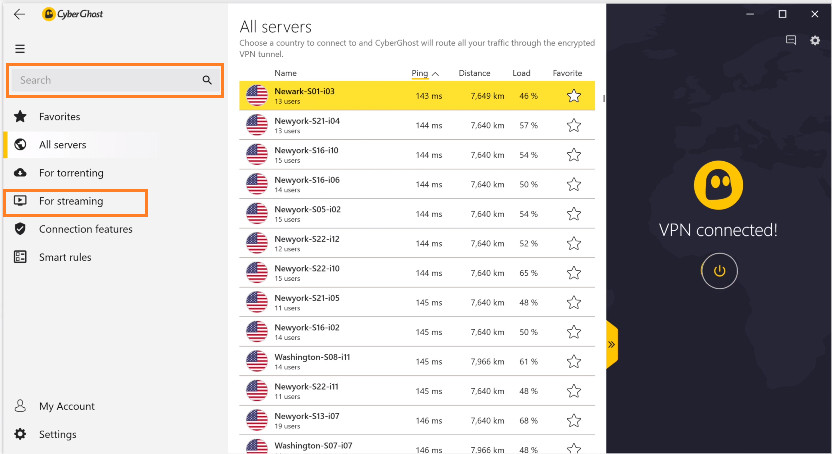 CyberGhost also comes with specialized servers for P2P sharing that have been optimized to provide the best download speeds when torrenting.
In terms of security, this VPN service employs AES 256-bit encryption which is further reinforced through the OpenVPN connection protocol. You can also manually change to other protocols such as IKEv2 and L2TP in case you want better speeds.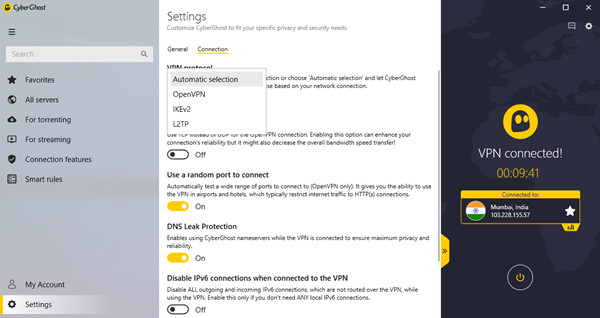 CyberGhost does not store any data that could be used to trace back to you. Moreover, they are protected by the Romanian privacy law which means they are not obligated to spy on you by the government.
Which device do you use to connect to the internet? Chances are there is an easy-to-use CyberGhost app for all of them including your Smart TV and Amazon Fire TV Stick. You are allowed to simultaneously connect up to seven devices using one license.
CyberGhost comes with a one-day trial period. However, due to a number of limitations, you will have to purchase a premium plan to fully test the product. The longer the subscription plan the cheaper the cost.
The provider is very generous and offers you 45 risk-free days to test the product and request a refund if unsatisfied.
Read Full Review
Pros
Widespread server locations across Europe and the rest of the world
A very affordable long-term plan
Offers dedicated servers for streaming and torrenting
Compatible with all the popular OSes
Cons
The one-day trial is limited
4. IPVanish
Just to get this out of the way, IPVanish is based in the US which obviously is not the best jurisdiction for a VPN. But, it excels so much in other areas that the location becomes a non-issue. They also have a fool-proof plan to protect their users' data.
For starters, IPVanish does not log any data that could be used to identify you online such as your real IP address or your connection time stamps.
But, under US law, they could be forced to provide data for a specific user. This is why the VPN employs top-notch encryption measures to ensure that any data that is given cannot compromise your anonymity.
IPVanish uses AES 256-bit encryption and then combines it with the OpenVPN connection protocol resulting in an uncrackable security wall. In case you want better speeds, you can manually switch to IKEv2 or L2TP protocols.
Additionally, this VPN has over 40,000 IP addresses that are shared between its users. This is great for anonymity because the activities of one IP address cannot be traced back to any specific device.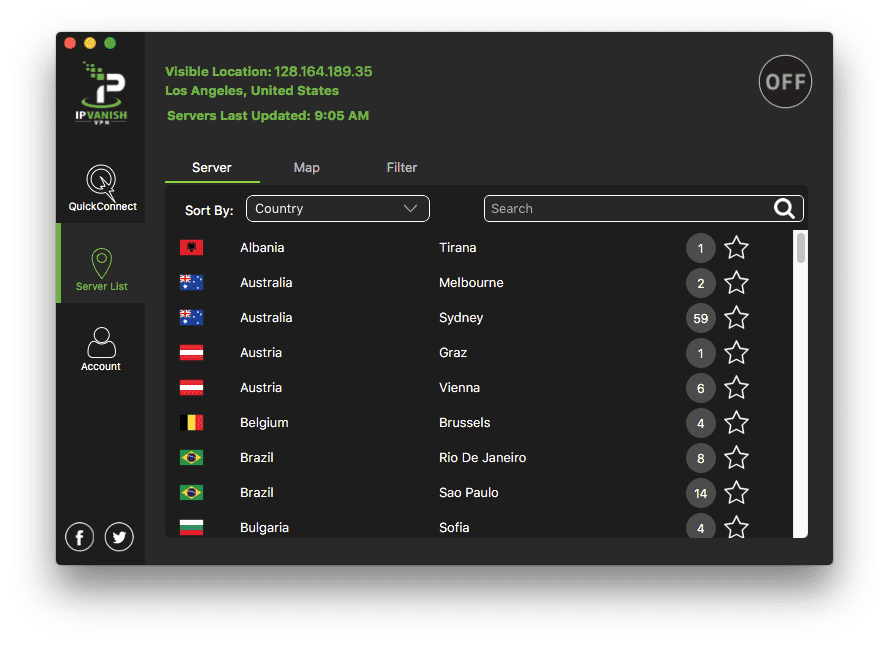 IPVanish is the only VPN on this list that owns and manage all their servers. This means they will put all the effort to provide you with fast and reliable speeds. It also minimizes the chances of your data falling in the hands of third-party contractors.
More good news is that all the IPVanish servers can be used to download torrents.
In my tests, I was able to watch a whole video in full HD and without buffering. Unfortunately, IPVanish is not the best solution for unblocking geo-restricted content, especially on Netflix.
But on the upside, there is no other VPN on this list that is as generous as IPVanish when it comes to the maximum allowed simultaneous connections. It can support up to 10 devices.
You should have no problem using this VPN service on any device running on Android, iOS, Windows, macOS, or even Linux.
IPVanish comes with a 7-day money-back guarantee. I think this enough time to test and familiarize yourself with the product but it would be great if the provider could increase it to the average 30 allowed by most of the other services.
Read Full Review
Pros
Great streaming and browsing speeds
Supports P2P sharing on all their 1300+ servers
Allows up to 10 simultaneous connections per single subscription
Compatible with all the popular operating systems
Cons
The US is not the best jurisdiction for a VPN
5. PrivateVPN
And now, introducing the hidden gem of VPNs, PrivateVPN. At face value, this VPN does not look like much. It's not until you begin using it that you really begin to respect it.
The Swedish based VPN comes with slightly over 160 servers and that is significantly lower than the other top-tier VPNs on this list. The expectation would be that the PrivateVPN speeds will be slow but I did not experience that while streaming.
Sure, the videos took longer to load and there were occasional fluctuations in video quality but apart from that, I did not experience any buffering.
PrivateVPN is also quite consistent when it comes to unblocking streaming services. I was able to view Netflix US, France, Germany, and Australia with no problem.
All connection requests are encrypted using 2048-bit encryption with AES 256 and facilitated through the OpenVPN connection protocol. You can also opt to use yainn for devices that do not support OpenVPN or to get better speeds.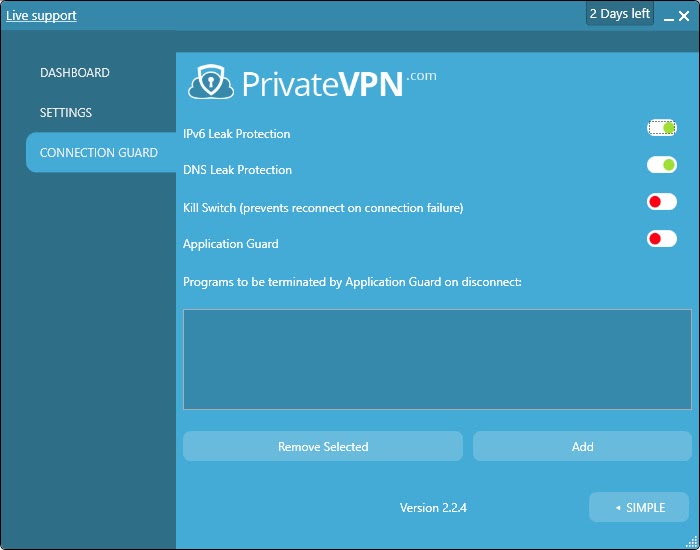 The bad news for torrenting fans is that only the UK servers allow P2P sharing. If you are in the UK, good for you but if you are located further away, you may experience reduced connection speeds because your traffic has to travel a longer distance to reach the UK.
Nevertheless, these P2P servers are high-quality network capacity servers with unlimited bandwidth which is exactly what you want for torrenting.
But, my favorite thing about PrivateVPN is its affordability. Unlike CyberGhost which gives you the best price when you purchase their long-term plan, PrivateVPN offers an unbelievable monthly plan and an annual plan that is an absolute steal.
PrivateVPN comes with easy to use applications for android, iOS, Windows, macOS, and Linux. It can support a maximum of six simultaneous connections using a single license.
This VPN does not have a free trial but it comes with a 30-day money-back guarantee.
Read Full Review
Pros
Very affordable
Offers solid privacy and security measures
Can unblock Netflix and other streaming services
Offers a 30-day money-back guarantee
Cons
It has a limited number of servers.
What is the best free VPN to use in Europe
There are a number of free VPNs you can use but they are not the best in Europe or anywhere for that matter. See, a VPN company needs servers to operate and these servers need maintenance cost. How do the free VPN providers raise this cost?
I will tell you. By collecting the same data you are protecting and selling it to the highest bidder. This could be the government or advertising agents.
And in the event that's not true, you cannot rely on free VPNs even for simple tasks like browsing because of slow speeds. Their servers are absolutely swamped.
I have a list of freemium VPNs[Link to free VPNs post] I can recommend though. These are not absolutely free. They give you access to limited features of a premium VPN to motivate you into upgrading.
Conclusion
The number of VPNs you can use in Europe is limitless. But as you have seen, you cannot just randomly pick one and hope it will do the work. There is a procedure, factors to consider.
We are aware of this process and that is why you should trust that we are giving you the best options to choose from. Hopefully, you have found the ideal VPN for you.
If you are still having trouble making a decision here is what I recommend.
Start with ExpressVPN. There is a reason it's the first on my list. Not only is it the fastest VPN on this list but it also has the best support staff and the best track record unblocking restricted content.
Use the risk-free 30 days to determine whether it's what you are looking for. You will not be disappointed. I know because it's the VPN I use.