NordVPN is one of the oldest VPN services with a history of advanced features for privacy and security.

While it ranks among the top VPN services on the market, NordVPN still combines a pocket-friendly price with functionality in a way that competes favorably with other service providers.

As the world becomes more digitized, anonymity and security will continue to dominate the top concerns for online users.

To fully mitigate the implications of security and privacy, the use of an advanced VPN service is inevitable. In this review we are going to discuss the important aspects that define NordVPN and guide you to understand the various features that are best suited for your needs.
NordVPN Installation
NordVPN can be installed on various devices by following the instructions on the NordVPN website. The installation on a Windows desktop is easy and takes just a few minutes.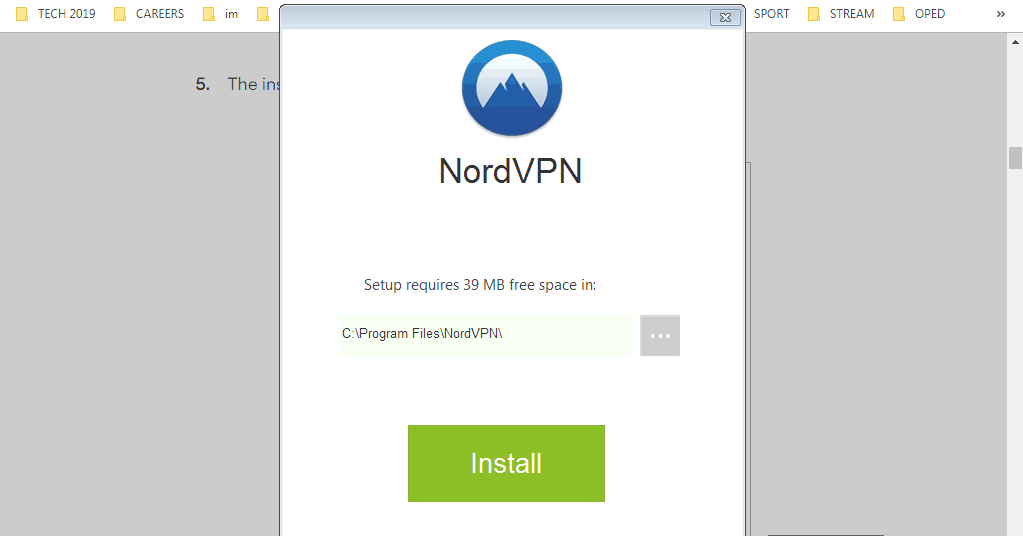 After the installation, the application icon appears on the desktop and the tray area. The user is then prompted to enter their login credentials.

Interface
When you install NordVPN on a Windows PC, the interface is simple to use and very interactive. After logging in, what you get is an intuitive window with the menu and a Quick Connect button.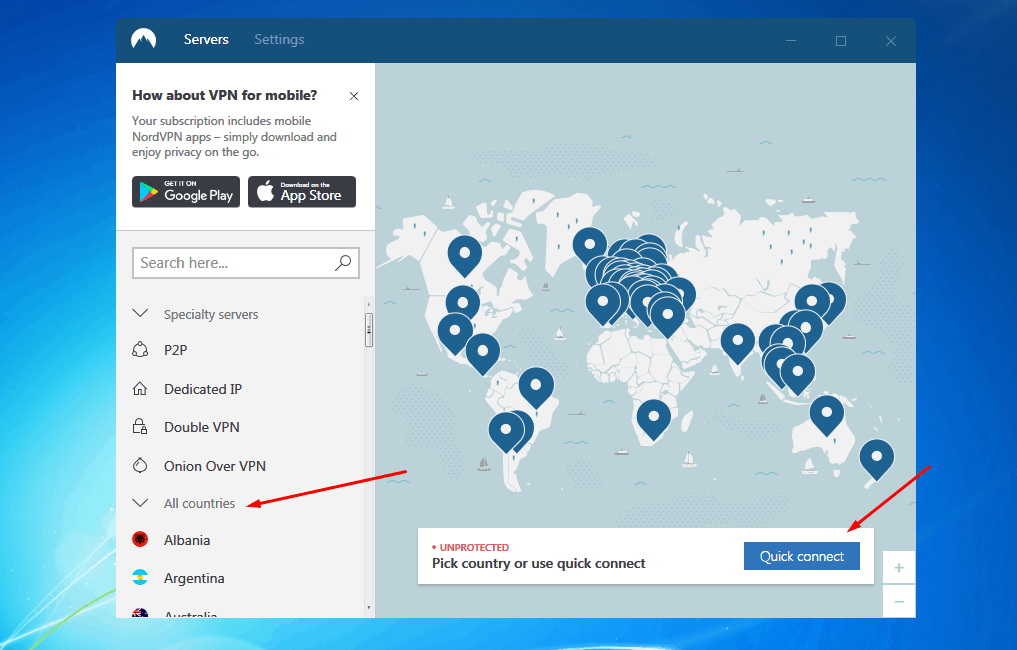 The menu items includes the "Servers" and "Settings." When you click on Servers, the application will display a map showing the more than 60 server locations around the world. This map can be tricky when you look at it in its default state.To get a more friendly view, zoom in to make the interactive map clearer so that you can choose the location you want to connect to and even narrow down to a given server.

Alternatively, you can simply tap the "Quick Connect" button in the bottom left corner below the map and NordVPN's algorithm will find the best possible server option from the network of thousands of servers spread out across the world.

When you click on the "All Countries" submenu item, it gives you a list of countries available. Clicking on a given country will connect you with the best possible server in that country. Clicking on the three dots (…) will open a drop down menu where you can choose a specific server and connect to it.

If you want to have preferred servers, mark them using the Heart icon to include them on your favorites list.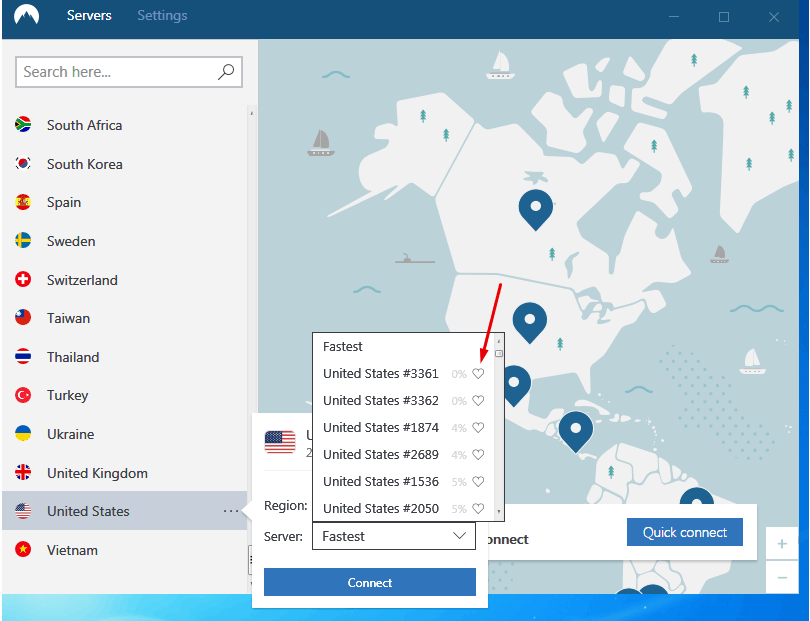 On the "Specialty Servers" submenu you can choose from several specialty server types for your special needs. There are default servers recommended for each type although you can click on the "List" button to choose from a list.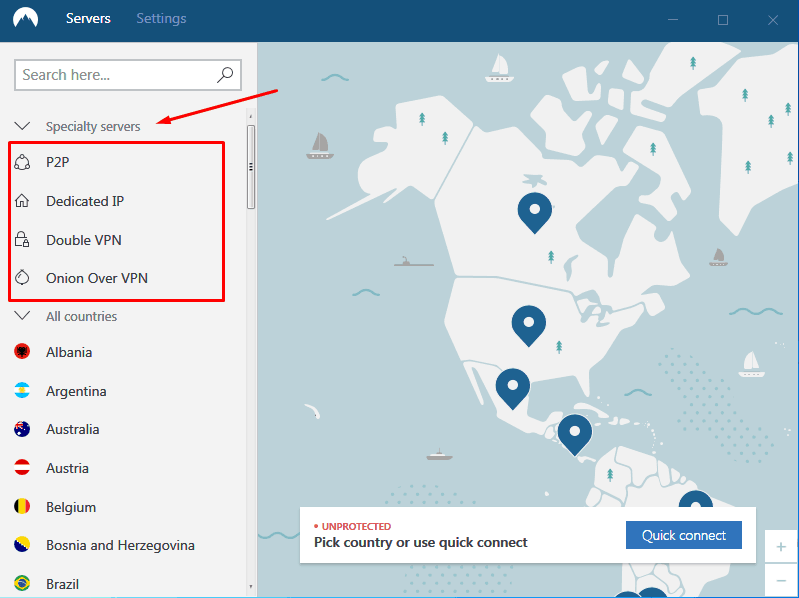 Dedicated IP servers – can only be used by you and will not be shared with any other NordVPN users.
Double VPN servers – the internet traffic is channelled through two different VPN servers for double encryption.
Onion Over VPN servers – combines the benefits of NordVPN with the anonymizing powers of the Onion Router.
P2P servers – Point to point or P2P-optimized servers are a great tool for torrenting. Users are able to mask their torrenting activities with these servers and since they are dedicated for P2P, they ensure that your bandwidth is not throttled for you to enjoy the fastest speeds.
Supported platforms
NordVPN supports several platforms including Android, iOS, Windows, MacOS, Android TV and Linux. You can also install browser extensions for Chrome and Firefox for a convenient and secure browsing experience.

The NordVPN Windows app is easy to use (see description above). When using the mac, the application interface is similar to Windows making it easy to navigate.

The NordVPN Android app interface is intuitive, looks much the same as the Windows version and retains all the powerful features in a very functional format but without the kill switch feature (which is common for most VPN apps on Android).

Using the Quick Connect button users can connect to the best VPN server which is automatically selected by the app.

The "Always-on VPN" feature is important to ensure that you maintain VPN connectivity at all times. This comes in handy, ensuring that all your data is encrypted whenever you connect to a public wifi network. It's a simple way to secure all the messaging platforms, streaming websites and social media sites frequented by the user.

The Android app allows you to choose the different server types for your customized use, block malware using the CyberSec feature and to Switch between the TCP and UDP protocols depending on speed and reliability preferences.

The NordVPN Android .apk can be downloaded from the NordVPN website or Google Play store. The CyberSec feature is available on the Android app downloaded from the NORDVPN website.

The NordVPN iOS app can be downloaded from the Apple store and installation is a breeze. The interface is easy to navigate and has a kill switch which makes your connections more secure and private by avoiding exposure when a server loses connection.

The iOS app uses the IKEv2/IPsec security protocol by default due to the restrictions by Apple on the use of the OpenVPN protocol.

The app allows you to choose from the different server types such as Onion Over VPN, P2P, or Double VPN to suit your needs or simply click on Quick Connect, and the app will connect automatically to the best available server.

It is important to remember that the browser extensions are meant to protect your browser traffic only. For other uses on your device you will be required to use the VPN app. It is therefore possible to only hide your IP address on the browser and reveal it on the other apps.

The NordVPN extension works for Chrome and Firefox on your Windows, Mac or Android device.

The browser extensions are lightweight and it takes a few seconds to add them to your browser from the Chrome store or Mozilla Extensions library.

Within the browser extension, the CyberSec feature automatically blocks suspicious websites, effectively preventing any malware attacks. Users can also hide their IP addresses safely at all times by disabling Chrome's WebRTC protocol, which when turned on may reveal your IP address and compromise your privacy.

The Auto Connect button enables users to find the fastest connection and protect their IP addresses from third-party snooping with a mere click. Changing from one server location to another is fast and smooth.
When browsing sites that are not protected by HTTPS, the NordVPN extension encrypts the entire browser traffic to secure user activities at all times.

NordVPN does not have an app specific for routers. However, you can configure your router by following the comprehensive NordVPN tutorials on their website. These instructions cover the setup process for all the apps supported.
Key Features
NordVPN comes loaded with a number of features which are standard and others which puts it ahead of its peers. Unique features like Onion over VPN increase the level of security and anonymity to new levels while running their own DNS servers helps to mitigate DNS leaks. Let's look at the features in detail:
Security
NordVPN offers several features that makes it stand out as a security conscious VPN provider. We shall look at the various categories:

Encryption
NordVPN encrypts all data using AES with 256-bit keys. This is the strongest encryption available for use even among the military.

NordVPN utilizes two different VPN protocols, IKEv2/IPsec which employs powerful cryptographic algorithms and keys and OpenVPN, an extremely versatile security protocol that uses AES-256-GCM encryption algorithm with a 2048-bit DH key.

These are the most advanced encryption technologies available today.

To give users a smooth ride, NordVPN has selected the appropriate encryption settings for the different platforms. The default protocol for iOS and macOS apps is IKEv2/IPsec.

OpenVPN is set as the default for NordVPN apps on Windows, macOS, and Android devices which gives macOS users a choice between the two protocols.

Double VPN
When a VPN is in use, it typically changes your IP address and encrypts all the data that passes through it. The Double VPN feature in NordVPN ensures that the data encrypted through the remote VPN server passes through a second server where it is encrypted a second time.

Cybersec
The Cybersec feature, which can be be enabled in the System Settings menu, has three important functions:

It blocks dangerous websites and protects users from getting caught up in phishing scams or being attacked by spyware, malware or snooping trackers. This is done by scanning against a list of known sites that host malicious software.
It helps users avoid botnet control by blocking any effort to control or force a device to participate in distributed denial-of-service (DDoS ) attacks. This feature detects any malware in a device that may be used for such attacks and cuts off the links.
It ensures that autoplay video ads, unwanted pop-ups and other annoying ads do not show up on your screen. This helps users to have a more friendly online experience that saves data usage and improves the load speed of websites.
Note: the CyberSec feature does not work on the NordVPN app downloaded from the Google Play Store (Google ad policy) but is available on the Android app downloaded from the NordVPN website. The NordVPN apps on Windows, macOS and Linux enjoy the full CyberSec feature.

Onion over VPN
TOR is a browser that is widely used to remain anonymous on the web. It utilizes a network of volunteer servers across the world to hide your online activities. However, TOR by itself doesn't prevent your ISP or other players from seeing that you're trying to avoid being tracked. They can see that you are using TOR but they cannot see the information or data being transmitted.

Your traffic is routed through a chain of servers which encrypt it at every connection. However, the entry node can see your real IP address, but not your destination. The exit node on the other hand can see your destination but not your IP address.

A combination of TOR and NordVPN encrypted servers reinforces the dual function of security and anonymity. NordVPN encrypts the traffic and hides your real IP before connecting to the Onion network.This makes sure that the entry node cannot see your IP address.

Considering the no logs policy by NordVPN, your online activities remain hidden from all parties, including NordVPN, giving maximum privacy and security.
Onion over VPN can be a very useful tool for those keen on avoiding surveillance, censorship or leakage of sensitive information.

NordVPN Kill Switch
The NordVPN Kill Switch is a critical component of security because it automatically stops either selected programs or the whole device from accessing the web once a VPN connection drops.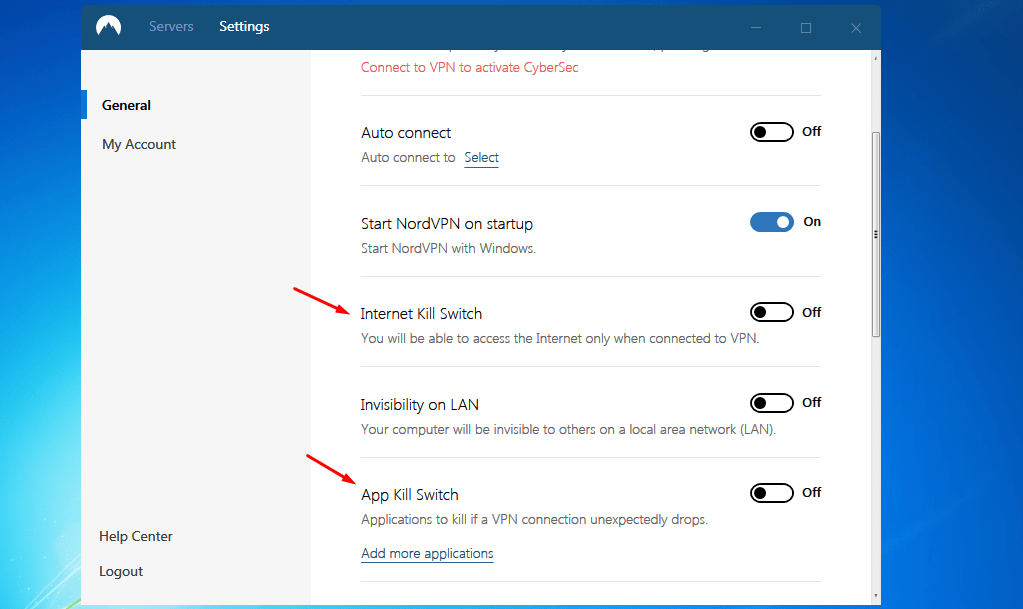 The fundamental purpose of a VPN is to protect your IP address and online activity from being exposed to your ISP, hackers and other players. In situations where there is a sudden dropped connection from a VPN server, the continuing internet connection is likely to expose your identity and activities.

To avoid such a situation, the kill switch instantly stops your device or specified apps from connecting to the Internet until the VPN connection is restored or until the VPN app is closed.

Users can choose which apps to kill every time a VPN connection unexpectedly drops.

NordVPN currently provides two versions of the Kill Switch feature.

On Windows and macOS, the Kill Switch feature allows users to choose which applications on the PC will shut down in the event of a dropped VPN connection. This prevents the apps from sending unprotected traffic during the period the VPN connection is lost.
The company says that it is improving the feature so that it terminates the internet connection on the entire system instead of shutting down the apps.

The Kill Switch feature on iOS and Android is different from the one used on the desktop. This one does not terminate running apps but rather disables the system-wide Internet access when the VPN connection is dropped.
For Android devices, the Kill Switch feature is only available on Android 7 or higher. Users can enable it in the System Settings menu.

DNS Leaks
When a computer connects to a website, it first contacts a DNS (Domain Name System) server and requests the unique IP address of that site. When using a VPN, this process goes through the VPN tunnel ensuring that your data is secure and private.

Sometimes your system may revert to the default DNS servers, exposing the websites you visit and activities like which files you download. This information can then be intercepted by your ISP or other actors revealing your identity.

Such DNS leaks can also happen when the system preferences are reset or when a VPN is set up manually.

It is therefore important to use a VPN service that owns its DNS servers or offers adequate protection from DNS leaks.

NordVPN has its own DNS servers to ensure that no unencrypted queries are sent outside a secure VPN tunnel.

When checking whether there are any DNS leaks,

Make a note of your actual IP address.
Use your VPN, and run the DNS leak test to see if your real IP address is still being displayed.
Your traffic is secure if the test doesn't display the DNS servers of your actual ISP.
To check NordVPN's DNS leak protection we used a DNS leak test and this is the result:

Privacy and legal
Your privacy and that of your data is important when you choose to use a VPN service. NordVPN has put in place policies that protects your IP address and your activities online.

No logs policy
NordVPN does not store connection timestamps, session information, used bandwidth, traffic data, IP addresses, or other data. This is important because it means there is nothing to share with government agencies, advertisers or any other third parties.

It's important to note that NordVPN keeps usernames and the timestamp of the last session status while the session is active for enforcing the 6 VPN connections limit. However, this data is automatically deleted within 15 minutes after disconnection.

Although the company requires your email during registration, you may opt to use a disposable email if you wish to remain anonymous. However, the email may be useful when you need other services such as resetting your password.
Independent audit of the "No logs policy"
NordVPN has conducted an independent audit of its "No logs policy." The results of the audit, done by PriceWaterhouseCoopers AG, Zurich, Switzerland, found that the policy is fair and accurate. Such third-party audits show the level of NordVPN's transparency

Jurisdiction
NordVPN is based in Panama, away from US and EU laws. There is therefore no legal obligation to collect personal data. While NordVPN's founders remain anonymous, the company maintains its policy of "no-logs" and has gone the extra mile of allowing the third-party audit mentioned above.

Payment Options
NordVPN gives the option of paying using cryptocurrencies for an untraceable VPN purchase. Users can use a crypto wallet and still get a 30-day money-back guarantee.

Special features
Sensitive information is given an extra layer of security using the Double VPN or Onion Over VPN features (see Security section above) which double the data encryption.
Server coverage
NordVPN has a network of more than 5148 servers spread out in 60 countries. Europe has the largest count at 2,363 servers followed by The Americas with 2,219, Asia Pacific with 485 while Africa, the Middle East and India have 70 servers.

The servers are segmented into specialty groups. This groups are meant to provide specialized service to users.

These servers can be ordered and will be dedicated for your own use and will not be shared by other NordVPN users.

For the highest level of security, use Double VPN servers to encrypt your data twice through two different VPN servers.

Obfuscated servers are masked to avoid detection by state actors. This is useful in countries with restrictions on internet usage such as China. To activate Obfuscated servers, click on Settings > Show Advanced settings. Toggle the Obfuscated servers button to activate. "Obfuscated servers" will now appear on the Servers menu.
When "Obfuscated servers" is active, the other specialty servers are disabled.
Combining a NordVPN server with TOR (The Onion Router) gives an extra layer of anonymity for increased privacy and security.

P2P optimized servers offer unlimited bandwidth without logging your activities. This allows you to utilize P2P sharing which is important for torrenting fans.

These are the normal VPN servers used to protect your browsing activities by changing your IP address every so often and ensuring your data is encrypted.
Subscriptions and Pricing options
Plans start at $2.99 per month for a 3-year plan with a 30-day money back guarantee. Other options include $3.99 per month for a 2-year plan, $6.99 per month for a 1-year plan and $11.95 per month for the monthly plan. All the plans qualify for the 30-day money back guarantee.

NordVPN offers various payment options for your convenience. These include:

All the major credit Cards such as Master Card, Visa, Discover and Amex
Cryptocurrencies such as Ethereum, Bitcoin and Ripple
Other emerging payment platforms such as WebMoney, iDEAL, Alipay, UnionPay, Yandex, Giropay and SOFORT
As with most VPN services, there is no free version of NordVPN. Remember, to be able to run a good VPN service, heavy investment in infrastructure is needed. Thousands of servers around the world with top-notch security features for your privacy don't come cheap.
However, NordVPN have a free trial but you will not find it on their homepage. They have hidden it for reasons known to them, although we think with the quality of their service, they have been attracting customers without any difficulty.

We have uncovered for you the url to the free trial at NordVPN free trial.

While NordVPN isn't the cheapest VPN provider on the market, the fully fledged features are a fair bargain compared to others.
Connections and devices
NordVPN supports up to 6 simultaneous connections. This enables users to connect desktops, laptops, phones and tablets at the same time. NordVPN offers apps for devices running Windows, macOS, Android, iOS and Linux.

Routers can also be connected to NordVPN NordVPN using one of the six slots to secure every device on your network including game consoles and smart TVs.
Customer Support & Knowledge Base
As with any service, users will find problems that require help or technical responses from the provider. These could be connection issues, payment processing or subscription cancellations.

Such issues need to be resolved promptly and NordVPN offers multiple ways to contact them.

Some of the options for getting professional help include:

Live chat – the live chat sessions are manned 24/7 and the representatives respond quite fast to any inquiries. We were connected to a representative on live chat support within one minute. We were impressed with the professionalism and knowledge exhibited on various aspects of the service.
Email – users can get in touch with the company via email.
A searchable help center has a variety of answers to numerous questions.
NordVPN has a detailed tutorial section that has installation instructions and minimum requirements for all the applications and platforms supported, which makes it easy for both beginners and experts.

Comprehensive configurations for various operating systems are available as well as a FAQ section that answers most of the commonly asked questions.

Netflix Streaming
Netflix is a streaming service that has a lot of content that's segmented for various regions across the world to prevent copyright abuses. For example, some content is only available to the US while other content is available in the U.K. alone.

If you already have a Netflix subscription, you may want to access content that is not available in your region. A VPN service can help you to access content from a region that is geo-restricted for you by hiding your IP address and using one from that particular region.

Netflix is continually sealing loopholes that allow VPNs to circumvent the geo-restrictions. Although many VPNs are having difficulty with geo-restrictions, NordVPN performs quite well with Netflix. Their US servers did not block Netflix during our tests. This can be attributed to the large number of servers within the United States which gives the service a variety of options for users.

The service also performed well for other streaming services like BBC iPlayer, HBO and Hulu.

The content providers have copyright agreements that restrict access to certain regions around the world. With the proliferation of VPN services, measures have been put in place to block some of the technologies employed by the VPN services.

VPN providers have to keep pace with these developments and come up with innovative ways to circumvent these restrictions.

The ability of NordVPN to bypass geo-blocking restrictions has also made it a viable choice for Kodi (Kodi a free and open-source media player software application that can be used with televisions).

SmartPlay Feature
The SmartPlay feature enables users to stream content with unlimited bandwidth and no buffering. This technology, which is initiated by default for all NordVPN apps, ensures that connections are implemented at high speeds. It automatically activates when one connects to any server via the various apps.

In situations where the content is censored, SmartPlay acts both as a VPN service and Smart or Dynamic DNS, allowing you to access any censored website or media content. Regardless of the location of the server you are using, SmartPlay allows users to get the benefits of strong encryption for online security without compromising on stability and speed of a dynamic DNS.

Since the SmartPlay feature is automatically enabled, all a user needs to do is connect to the NordVPN app on any given device and tap on the Connect button. One can also choose the country and start accessing any streaming service in a secure way.

NordVPN issues a disclaimer that some streaming services may not work as expected.
Using NordVPN in China
The environment in China and other countries with repressive regimes is highly restricted where certain content is blocked by the government.
The good news is that NordVPN can bypass the Great Firewall and unblock websites that are censored in China to allow users access to a variety of content.
If for any reason users are unable to access certain content, the enabling of Obfuscated servers is recommended. This is done via the app's menu. Simply click on "Settings" > "Advanced Settings" and scroll down to "Obfuscated servers" and toggle the button.
Obfuscated servers normally trick China's deep packet inspection system to believe that the data is unencrypted and allow it through.
Torrenting
A lot of folks use VPNs for torrenting purposes. This is critical to maintain anonymity and security. Downloading heavy files or media can be time-consuming and consumes a lot of data. The best way to achieve great download speeds and utilize economies of scale with other users is by employing torrents.

Torrents make use of peer to peer connections to make downloading a breeze.

NordVPN has special P2P-optimized servers which are essential for torrenting. In addition, the data transmitted on these servers is encrypted for security purposes. The service offers unlimited bandwidth with great speeds that appeal to any torrenting fan.

Internet service providers know your IP address and are able to monitor your online activities. Some activities like downloading content may need some privacy. If you are security conscious about your download activities, you require a VPN service that allows you to torrent anonymously without the fear of exposure.

NordVPN's performance in this area is exemplary. It offers a free SOCKS5 proxy which allows you to specifically hide your torrent traffic and at the same time adds an additional layer of security to mask your activities against any form of monitoring. This effectively increases the speed of your torrents which saves data and time.

The NordVPN proxy is easy to set up on torrenting clients like uTorrent, BitTorrent or Vuze. Simply go to Options > Preferences > Connection on the torrent client interface and follow the instructions on NordVPN torrenting tutorials.

While torrenting can be tricky in certain jurisdictions with heavy penalties, you can be on the safe side by using a VPN that has favorable privacy policies. NordVPN meets this criteria by not keeping any identifiable information that can be used by authorities to find you.
Speed
On average, when you click on a given NordVPN server, it takes around 10 to 15 seconds to connect you. While NordVPN is not the fastest VPN service on the market, it does not perform badly either.

A VPN service routes your traffic through servers around the world before you get to the required resource. When using the internet without a VPN, the traffic travels directly to the intended website. However, the process of encrypting your data and hiding your IP address is bound to affect the amount of time it takes to access a website.

The speed experienced when using a VPN will be lower compared to when no VPN is being used. However, a good VPN service will have a small effect on the overall speed.

A great VPN service is able to sustain good speeds across different locations. NordVPN does this well considering the wide footprint of servers spread out across the world – 2345 in Europe, 3987 in the US, 4567 in Asia and 5674 in Africa, Middle East.

As mentioned NordVPN may not have the fastest speeds among its peers but promises 99 percent uptime in its terms of service. The growth of server locations has considerably improved its speeds.

It is important to note that server speeds can be affected by other factors like number of users at a given time, infrastructure in a location, redundancy status of your ISP and many others. There are various free tools online that can be used to measure the speed of your VPN.

Check out the speeds we tested below.
Without VPN:

With NordVPN:

The dynamic nature of the internet is a significant factor when conducting a speed test for a VPN. A user's location and the load on the server being used can impact on the speed – a reason why those with access to faster connections may find a large variation in speeds.

However, as observed above the difference in speeds between a normal connection and the one using a VPN should be moderate.
Alternative VPN Options
While NordVPN boasts of a huge network of servers (5,118 servers in 60 countries) and fantastic features, other providers come close by way of speed, geographic coverage and extra features.

ExpressVPN, which has a smaller number of servers (3,000+) but a wider footprint (servers spread out in 90+ countries) comes out with amazing speeds. The number of countries seems to favour overall speeds since any outage of one server is taken care of by other servers.

VyprVPN on the other hand has better performance and speed but does not offer the 30-day money-back guarantee available from NordVPN. However, VyprVPN provides support for P2P networks with unlimited bandwidth and does not use third-party servers for security reasons. It offers 5 simultaneous connections and support for multiple devices.

TunnelBear VPN has a free plan that allows 500 MB of free data per month. Plans start at $4.99 per month for unlimited data and includes double VPN and dedicated apps for multiple platforms.
Conclusion
NordVPN is packed with a myriad of powerful features that make it a good choice for many users keen on privacy and security online.

The large pool of servers are optimized for specific purposes, allowing users to choose how to utilize the service – whether it's shopping, streaming content or torrenting.

The service has a strict zero-logs policy which is critical for privacy and is reinforced with an Onion over VPN feature that extends the benefits of The Onion Router (TOR) to a VPN service.

While the response from the Live support staff is fast and helpful, the app itself seems to be slow in picking up selected servers. However, once the server connects the speeds are excellent for most activities but could be improved further.

The advanced functionality of NordVPN offers strong security among its peers. The SmartPlay feature unblocks numerous streaming services including Netflix, Hulu and many others by bypassing geo-restrictions.

The pricing of NordVPN plans is budget-friendly compared to the high security and privacy standards offered. Military-grade encryption using AES-256-CBC algorithms ensures data transmitted remains safe and a variety of protocols – IKEv2/IPSec, PPTP, OpenVPN (UDP and TCP), L2TP/IPSec – to choose from, gives desired flexibilty to users.

A Kill Switch ensures that user security is maintained by terminating apps or disconnecting the internet when a server connection drops while the WifiSec feature is handy for automatically initiating a VPN connection whenever a user joins a Wi-Fi network.

CyberSec is another excellent feature that blocks dangerous websites that can be used for phishing attacks and also lets users block annoying ads and popups.

NordVPN may not be the fastest VPN service on the market, but all these features bring to the fore the strength of NordVPN across functions that require highly secure tunnels while at the same time demanding speed and total privacy.