Don't you just love the Internet? I mean without it we would still be stuck on Cable TV. Having to watch programs we don't really enjoy because there is no alternative. But that's not the case anymore. We now have Video on Demand services that offer tons of content to choose from. Whether it's music videos, movies, shows, or even documentaries.
Even better, we can now access these services directly from our TVs. New model televisions come with the smart technology already installed but if that's not the case then the Amazon Fire TV Stick is the perfect solution.
A simple and affordable device that you plug into the HDMI cable allowing you to access the internet using an ordinary TV.
But now to the question of the day. Why do you need a VPN for your Amazon Fire TV Stick?
Why Do You Need a VPN for Amazon Fire TV Stick
I will give you three solid reasons.
To unblock geo-restricted content – It's true that the various streaming services give you access to unlimited content but as you will realize, the content that you access varies depending on your location. For instance, a lot of shows that are available in Netflix US will be unavailable in Netflix Canada and vice versa. A VPN allows you to change your geographical location to a different country which gives you access to the content in that country.
For Online Privacy and Security – Did you know that your ISP can monitor what you are doing online? By using a VPN all your internet traffic is encrypted making it impossible for third parties to spy on you. It is also an effective way to prevent hackers from stealing your personal data.
To Prevent Internet throttling – Throttling is when your ISP limits your bandwidth when they notice that you are using too much of it which is usually the case when streaming. When you use a VPN your ISP cannot tell what you are doing online and they, therefore, have no grounds to throttle your internet.
All that being said we have come up with a list of 5 VPN software that will be excellent for Amazon Fire TV Stick.
Best VPNs for Amazon Fire TV Stick
With more than 60 VPN solutions currently in the market, we understand that picking one can be a hassle. But by narrowing that list to 5, it was not easy, we have made it easier for you to decide.
So, what criteria did I use to come up with these VPN solutions?
Factors to Consider When Choosing a VPN for Amazon Fire TV Stick
Server Coverage
How many servers does the VPN have and how are they distributed globally. More servers mean less competition for bandwidth since users will have more options to choose from. And if they are well spread across the world, it makes it easy for the user to find one that is nearest to them. The longer your internet traffic travels to reach a VPN server then the lower your connection speed.
Ability to Unblock Geo-Restricted Content
A lot of VPNs will claim to unblock restricted content only for them to be flagged down by the streaming service providers. We have tested the VPNs on our list and established that they can unblock Netflix and at least 2 other popular streaming services.
A Dedicated App for Amazon Fire Stick
If a VPN software is available on the Amazon App store then installation becomes a breeze. Nevertheless, we have also included an alternative method to install the VPN if it's not available on the App Store.
Security Features
A great VPN will encrypt your data making it almost impossible for hackers and third parties to spy on you or collect your personal data. OpenVPN protocol combined with AES 256 bit encryption provides the best security and privacy. Other VPN protocols like L2TP and IKEv2 are less secure but they provide better speeds.
Connection speeds
A VPN is always guaranteed to slow down your connection speed. However, a good VPN will find the perfect balance between security and speed allowing you to enjoy uninterrupted streaming with the best video quality.
1. ExpressVPN
On their website, ExpressVPN claims to be the number one trusted VPN and I could not agree with them more.
The VPN is located in the British Virgin Islands where there are under no obligation to store your user logs.
Couple that with their compatibility with OpenVPN connection protocol and AES 256 bit encryption and you have yourself an iron-clad security structure. Not even your ISP can tell what you are doing online and good luck to anyone trying to steal your personal data.
From our tests, this VPN has been the most successful in unblocking streaming services. Netflix and the others have come up with techniques to identify VPN connections and block them and this has affected a lot of VPN vendors. Not ExpressVPN though.
Then the other great thing about this solution is that it has a dedicated application for all the popular devices including Amazon Firestick. You can also install it on a mobile phone, computer, Xbox, PlayStation, among others.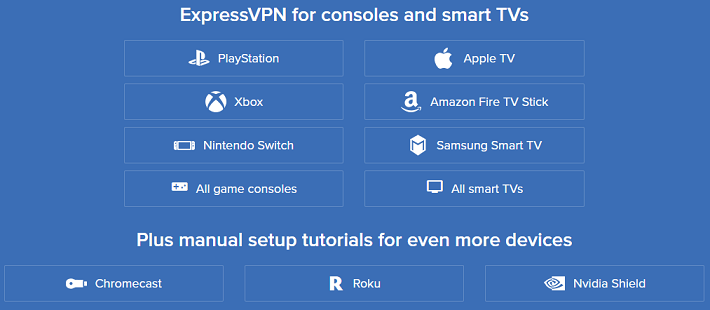 But the best part about it is that it can be installed on a router. This will be especially useful to users of the older generation Fire TV Stick which is not compatible with any VPN app.
Also, every other device you connect to the router will be VPN protected and thus you don't have to worry that ExpressVPN only allows a maximum of 5 simultaneous connections.
ExpressVPN has 3000+ servers distributed over 160 locations in 94 different countries. The server diversity gives you access to unlimited content that would otherwise be blocked and it also increases the chances of finding a server that is nearest to you for the best connection speeds.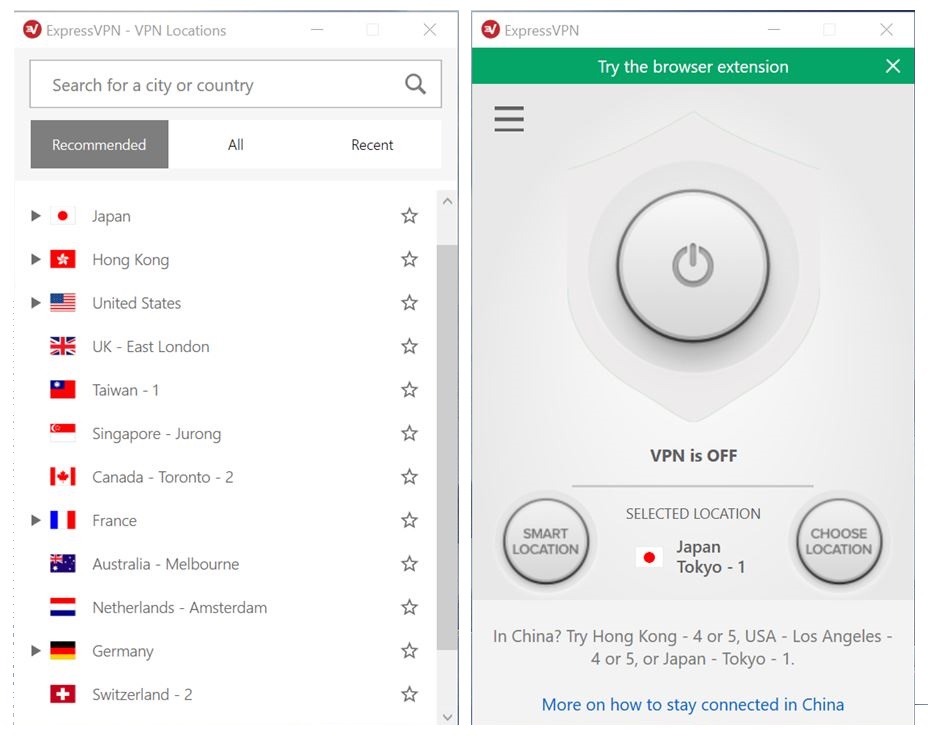 ExpressVPN does not have a free trial but it comes with a 30-day money-back guarantee. If you are unsatisfied with any aspect of the software within these days you can request a refund.
Read Full Review
Pros
Has a widespread collection of servers
Includes a dedicated app for Amazon Fire TV Stick
Excellent customer service
Excellent streaming Speeds
2. NordVPN
NordVPN has 5100+ servers distributed in 59 countries. And while that's impressive, it would have been great if they had extended their scope to more countries. Nonetheless, the multiple servers help reduce competition for bandwidth which results in great connection speeds when using NordVPN.
You will be able to stream all your favorite movies and shows in Full HD and with no buffering.
This VPN also comes with a dedicated application for Amazon Fire Stick which means setting it up is a breeze. Additionally, it supports iOS and Android mobile phones, computers running on Windows, Linux or Mac OSes and it also includes browser extensions for Firefox and Chrome.
NordVPN allows you to simultaneously protect 6 devices with a single license.
In regard to security, this VPN solution uses OpenVPN protocol combined with AES 256 bit encryption to protect your personal data from prying eyes. It also allows you an extra layer of protection by introducing the Onion network over the standard VPN connection. For other VPNs, this would require that you first download the Tor browser.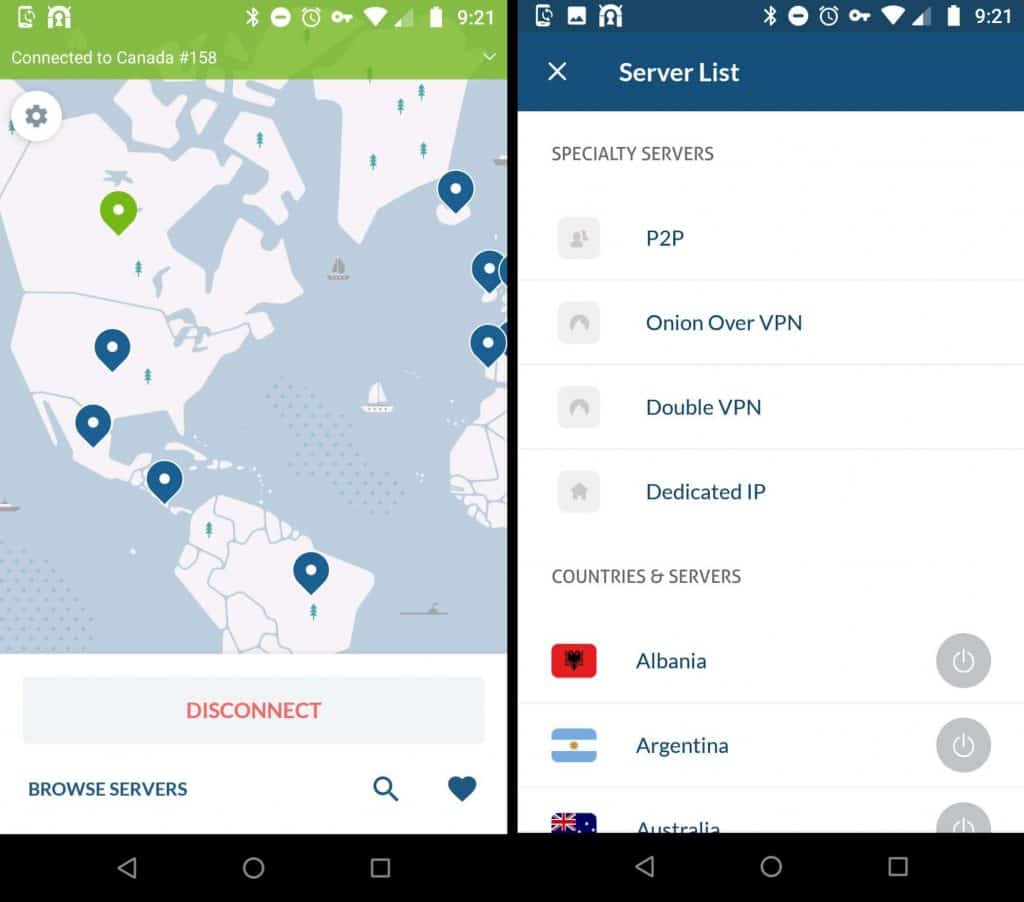 However, it's worth noting that the added layer of security will further decrease your connection speeds so I would not recommend it when streaming.
Additional security features include DNS leak protection and a killswitch that will disable your Internet in case the VPN disconnects to avoid leaking your information.
Moreover, NordVPN comes with a malware and ad blocker.
If you are going to purchase this VPN then I recommend the 3-year plan because it gives you the best value.
This VPN solution comes with a 30-day money-back guarantee.
Read Full Review
Pros
Unblocks all the popular streaming services
Huge collection of global servers
Solid security features
The app is available on Amazon App Store
Cons
Lacks optimized servers for streaming
3. CyberGhost VPN
CyberGhost is the most affordable solution on our list but that does not make it any less than the others. Guess what? It currently stands as the number one VPN with the most servers. It has over 5500 servers distributed over 112+ locations in 60 countries.
As a result, there is no competition for bandwidth allowing you to stream your videos in Full HD and with no buffering. The widespread server locations also mean you can unlock content in multiple countries.
In our tests, CyberGhost was able to unblock Netflix US as well as Hulu and Amazon Player. We were also able to access BBCiPlayer which is only available in the UK.
The good this about this VPN solution is that it comes with specific servers that have been optimized for streaming. With most of the other VPN solutions, you have to use trial and error to find which of the available servers works best in unblocking content.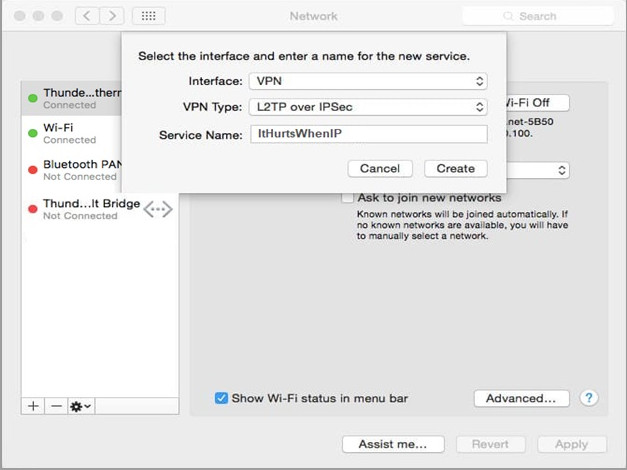 The connection speeds with CyberGhost are amazing and will give uninterrupted streaming at Full HD.
And if you are concerned about security, then CyberGhost has all the right features. The killswitch ensures that if the VPN disconnects then no data is leaked. The VPN is also compatible with OpenVPN protocol but also allows you to switch to L2TP or IKEv2 which are less secure but offer better speeds.
CyberGhost offers a free 1-day trial but it's limited. For instance, it will not allow you to unblock any streaming service. In that case, you will have to purchase the premium service. The good news is that you get a 45-day money-back guarantee.
Read Full Review
Pros
Has specialized streaming servers
Very affordable
Can unblock multiple streaming services
Offers decent connection speeds
Cons
1-day free trial could be extended
4. IPVanish
Our next recommended software is IPVanish, a US-based VPN that comes with 1300+ servers in over 75 different locations. The company owns and operates all its servers and can, therefore, assure reliability and fast connection speeds.
IPVanish is quite generous with how many devices you can connect allowing up to 10 simultaneous connections. Also, it has dedicated applications for all the popular devices including the Amazon Fire TV stick.
I understand that the US is not the best jurisdiction for a VPN seeing as it is a member of the 5 eye alliance but IPVanish does not store any user logs and thus should the government come knocking, they will have no information to give.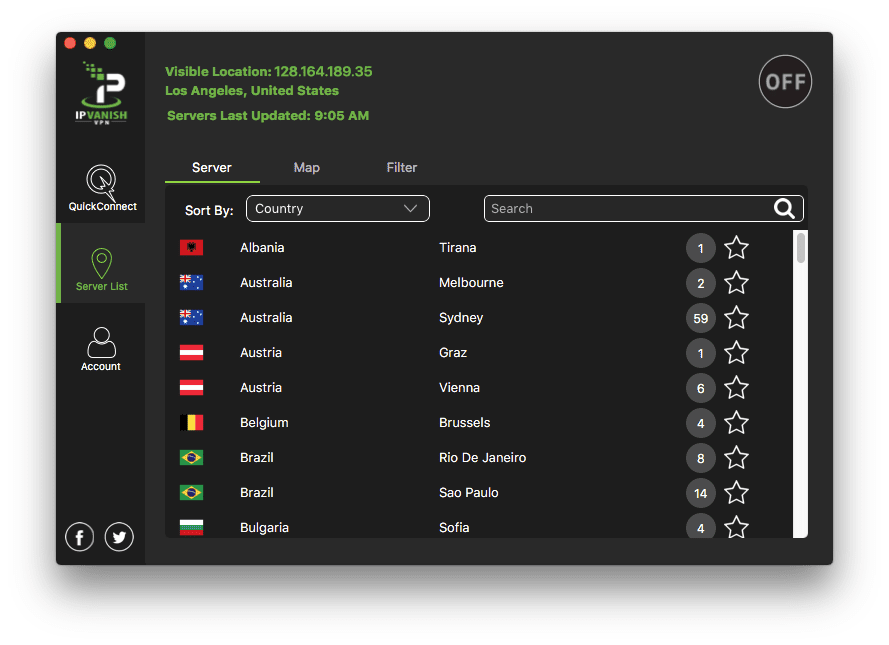 A really great feature that makes IPVanish great for unblocking Netflix and other streaming services is stealth mode. This is the ability to disguise VPN connection to look like normal traffic and is a great way to access sites that block VPN connections without being detected.
Unfortunately, IPVanish does not offer a free trial. Which is also why I feel that the 7-day money-back guarantee they offer is a little less. But still, I would say that it's enough time to test and understand the product.
Read Full Review
Pros
Their servers are self-owned and operated
Allows 10 simultaneous connections
Unblocks Netflix and other streaming services
Has a native app for Amazon Fire TV Stick
Cons
7-day money-back guarantee is a little limited
5. Private VPN
PrivateVPN is a Swedish-based VPN that has managed to garner quite a following since its inception and for good reasons. With slightly over 100 servers, PrivateVPN has the least number of servers in our list.
However, they have done a great job of spreading them to cover 60 countries which allows you to easily find a server that's near you for the best speeds.
Private VPN can successfully unblock Netflix which is the most strict of all the other streaming services and it also works with Prime Video and Hulu. You can also make use of their servers in other countries like France, UK, and Australia to access content that would otherwise be inaccessible to you.
All traffic being sent via PrivateVPN connection is encrypted using 2048-bit Encryption With AES-256. The VPN is also compatible with OpenVPN protocol. Additional protocols supported include PPTP, L2TP, IKEv2 And IPSec.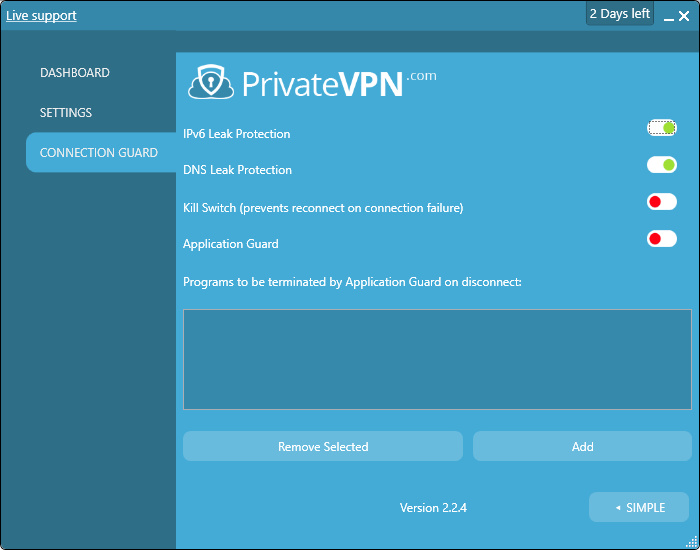 To further enhance security the VPN includes a killswitch that will automatically disable your internet connection if the VPN disconnects and is further reinforced through IPv6 and DNS leak protection features.
The maximum number of devices you can protect using one license is six. And after purchasing the product you can try its features risk-free for 30-days. If unsatisfied, request for a full refund.
Read Full Review
Pros
Unblocks multiple streaming services
30-day money-back guarantee
Solid security features
Application is available in Amazon App Store
Cons
No of servers is a little less
How to Install a VPN on Amazon Fire TV Stick
On the device, you are currently using, download and signup to the VPN of your choice. We have provided the download links.
Go to the Amazon App Store on your Television and enter the name of the VPN on the search bar. All our recommended VPNs have a dedicated app for Amazon Fire TV Stick.
Download the VPN and once it is installed, log in to your account.
Choose a server location depending on the content you want to unblock. Select the US server if you want to access the US content library. Proceed to connect to the server.
Launch your streaming service application and you will now have access to the restricted content in the country you chose.
Alternative Way to Install a VPN on Amazon Fire TV Stick
Use this method only if the VPN you are installing is not available in the Amazon app store.
Go to Settings on your Amazon Firestick device, click on Device and open Developer options.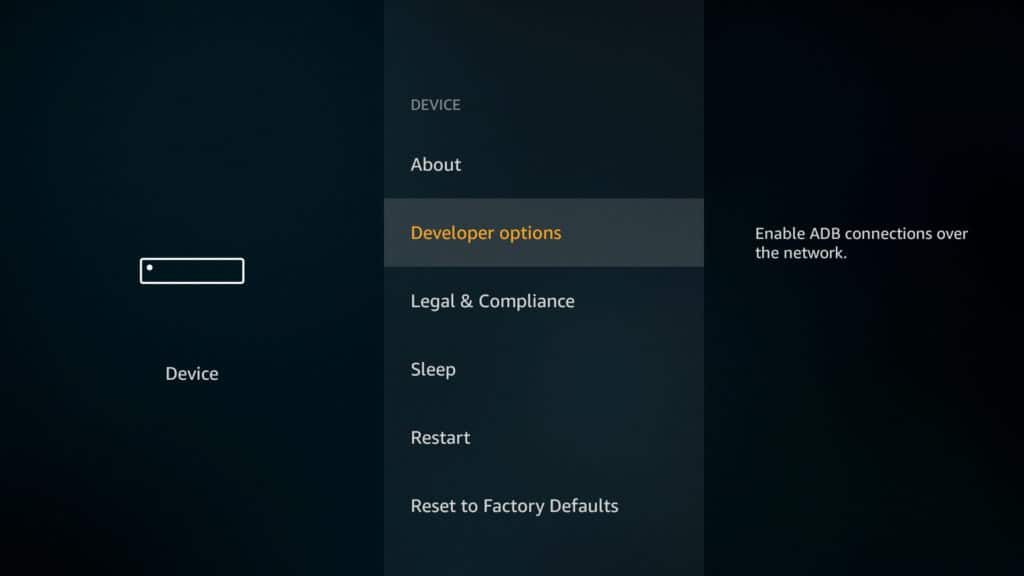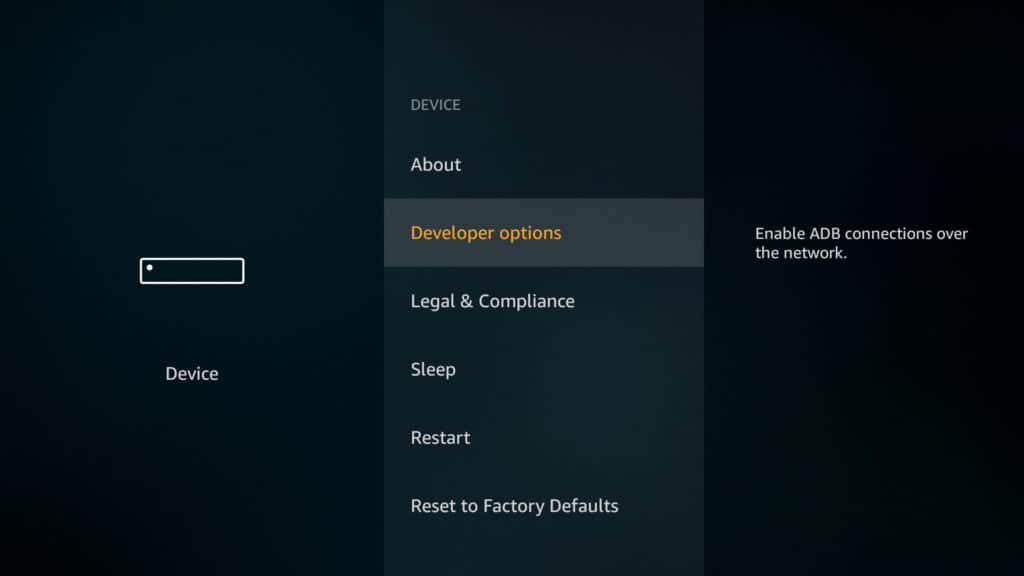 Enable ADB Debugging and allow the device to install apps from unknown sources.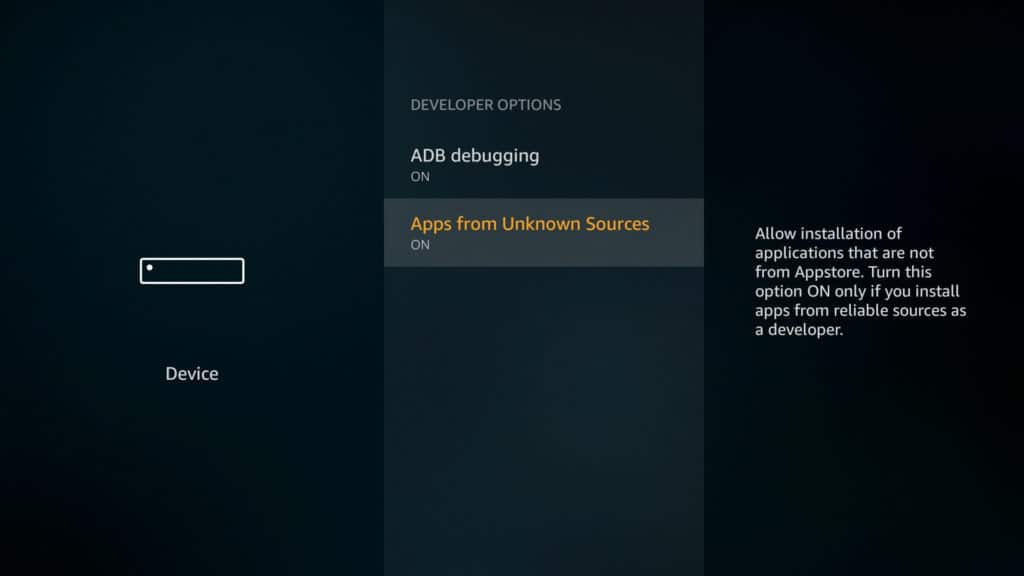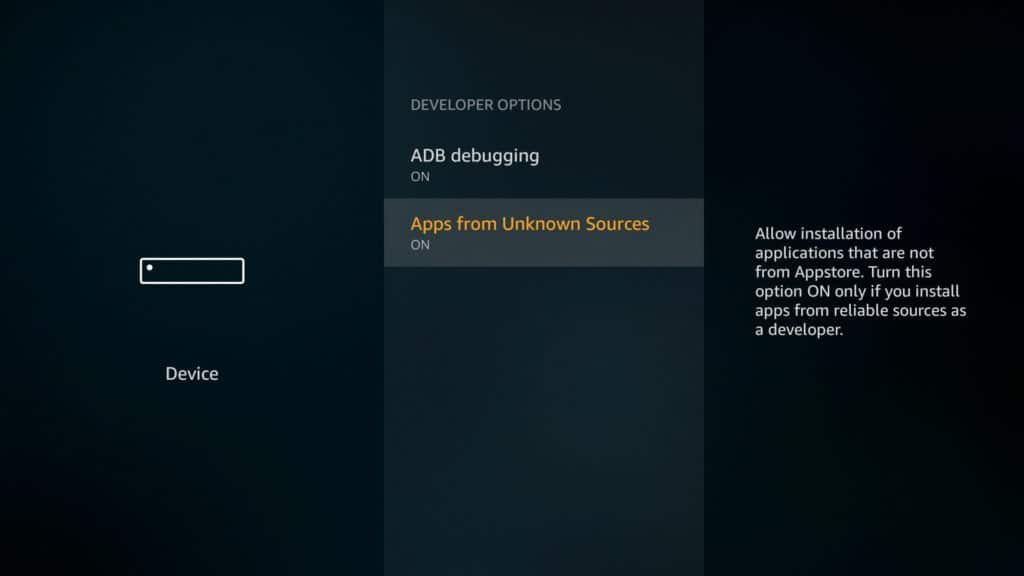 Go to the store and search for an application called Downloader. Install and then launch it.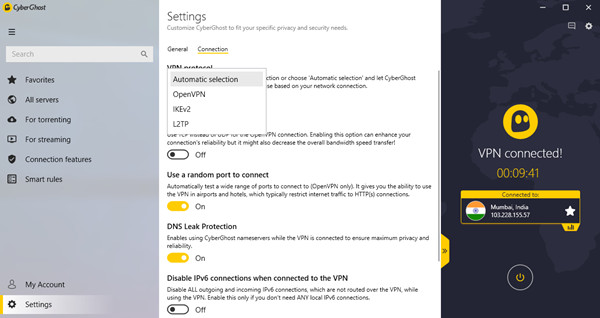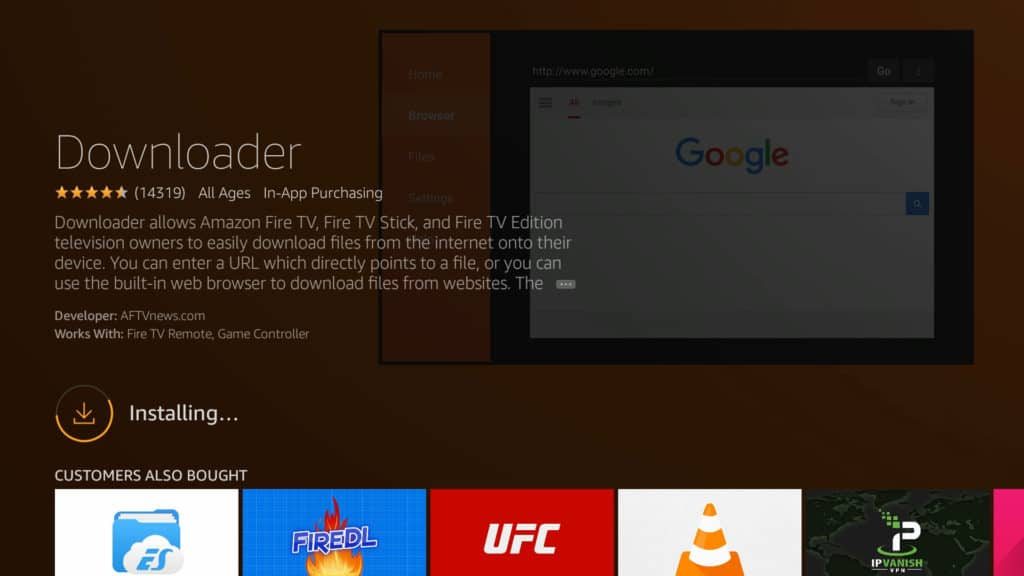 You will see an address bar on the Browser section of Downloader. Copy the VPN's download link and paste it on the bar.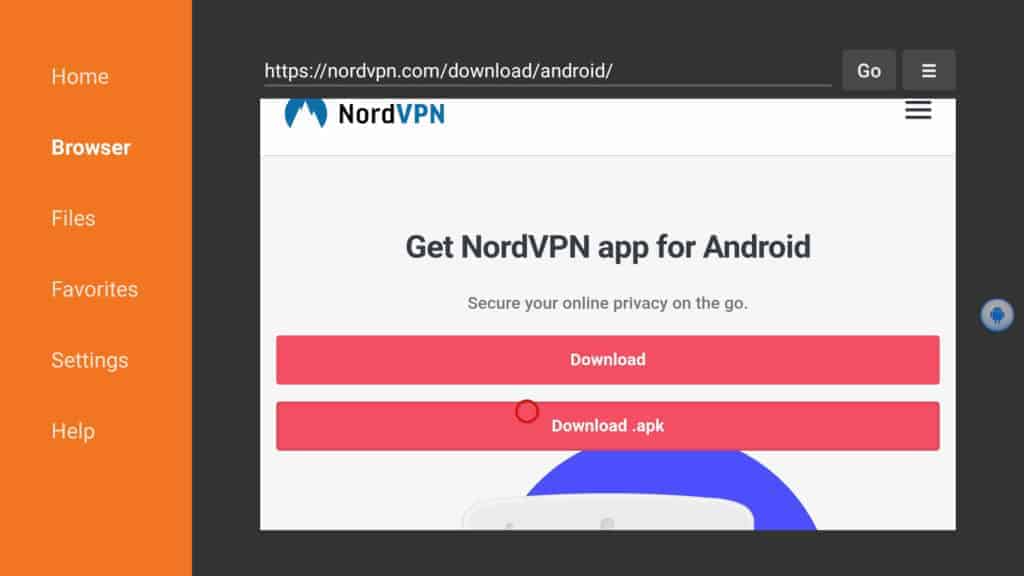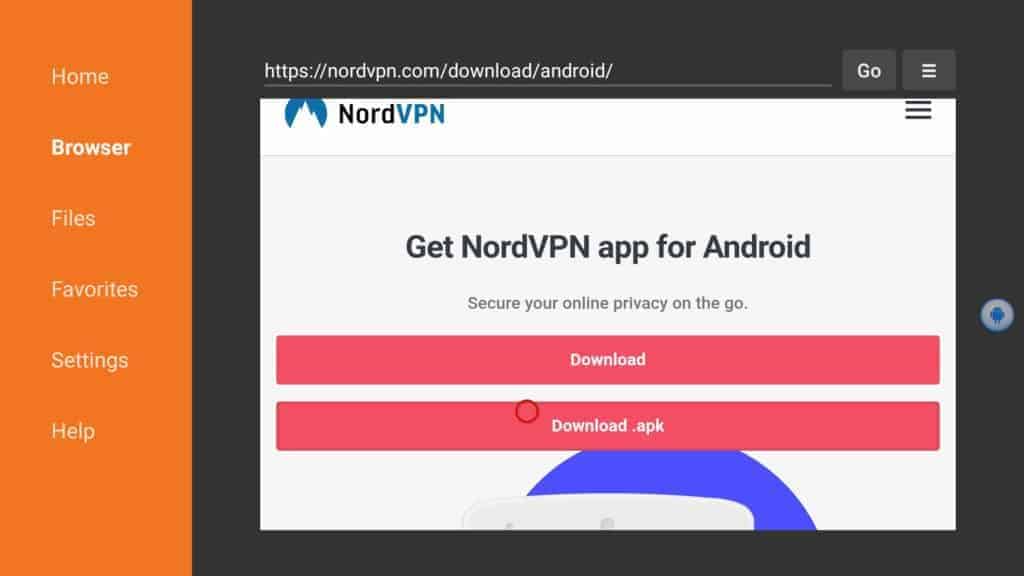 Download the application and proceed to install it.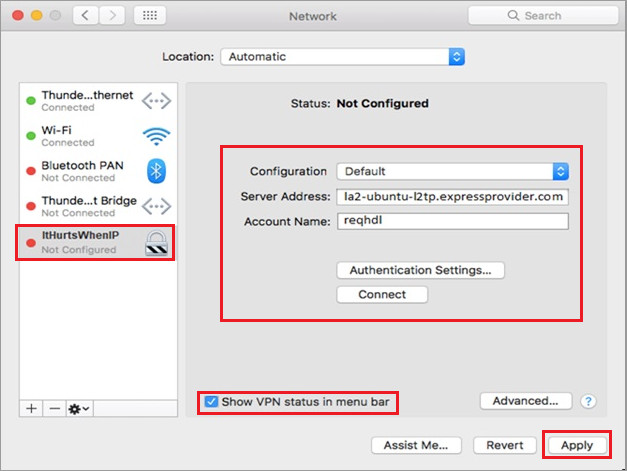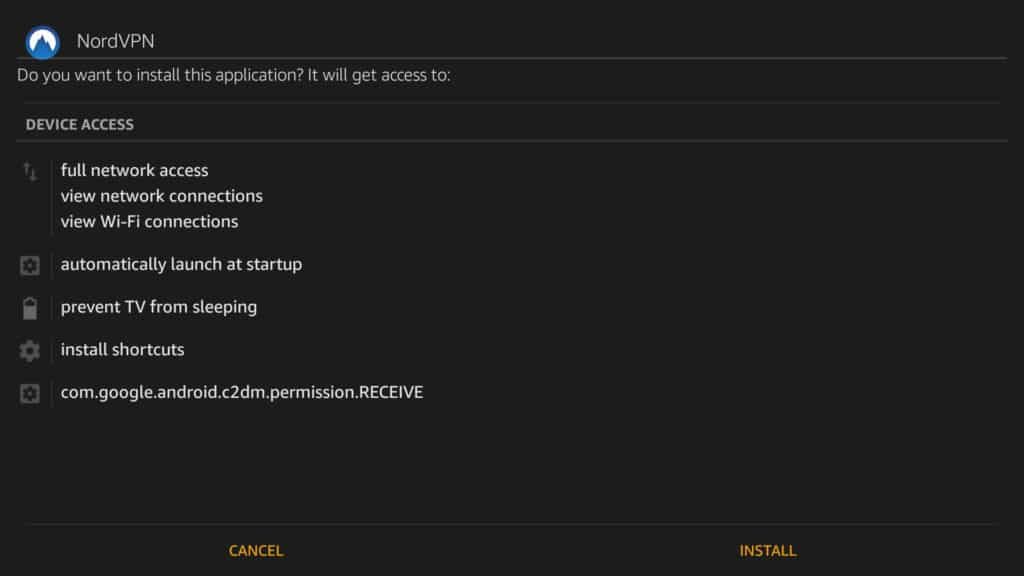 Once the process is done, the VPN will not be available on your normal list of apps. So to view it, go to Settings and select the Manage Installed Applications option.
Now locate the VPN from the list of applications and launch it.
Log in to the VPN, choose your desired server location and connect. You are now good to go.
Free vs Paid VPN Options for Amazon Fire Stick
Which is the best free VPN software to use for Amazon Fire TV Stick? Well, there is no best free VPN to use for anything.
See, the VPN providers need money to maintain their servers and pay their employees. And if a VPN is completely free then how do they finance these activities? I will tell you. By selling your data to the same people they are protecting you from.
So what I would recommend instead is a freemium VPN option. Or in other words, a limited version of premium software. For instance, TunnelBear is available for free but only allows you 500MB of data each month. But unfortunately, this is too little for streaming and will therefore not work with Amazon Fire TV Stick.
How to prove that the VPN is working
Launch your VPN software and connect to the server location of your choice
Go to the Amazon App Store and download a browser. It could be chrome or Firefox.
Open the browser you downloaded and paste this link on the address bar.
It will return your location information based on the server you are connected to.
If it still shows your real location even after connecting to a server in a different country then the VPN is not working.
Conclusion
Amazon Fire TV stick has been an absolute savior for people who do not own a smart TV.
It would, therefore, be unfortunate if after enabling your TV to access the internet you still don't get the best entertainment just because it's blocked in your region.
Luckily a VPN will take you to any location that you desire without you having to be physically there. I have given you my best 5 recommended solutions but as a parting shot, I will tell you which is my favorite.
And you probably guessed it already. Express VPN.
It's the most successful VPN when it comes to avoiding blocks by the streaming services and its wide server selection will give you access to unlimited content.
Oh did I mention that they have the best customer service. Their agents are available 24/7 via live chat and it takes less than a minute to respond to your query.