One of the major benefits of using a VPN is that it uses shared IP addresses. A single IP address will usually end up being used by multiple users making it impossible to trace the activities of the address to a single person. This is perfect if you are shooting for increased anonymity.
Better yet, every time you reconnect to the VPN, you will most likely be assigned a new address and that completely throws off anybody that could have been tracking you.
Unfortunately, what we consider an advantage in terms of anonymity is also the VPN's undoing in a number of instances. Like when you are accessing security-sensitive sites such as mobile banking applications or eCommerce sites.
To protect their users against data and identity theft, such sites have put up security measures that block suspicious IP addresses. In most cases, the sites will form an online profile using your commonly used IP address and will flag down any connection coming from a different IP.
Now you are beginning to understand why a dedicated IP address is important, right?.
You can contact your ISP to see whether they offer dedicated IP addresses but they are usually expensive. VPNs, on the other hand, are cheaper and come with extra functionalities such as data encryption and the ability to unblock geo-restricted content.
In this post, we will be discussing the 5 best VPN solutions that offer dedicated IP addresses. Follow along and pick the one that is most ideal for you.
Best VPNs with Dedicated IP addresses
NordVPN – NordVPN is a great choice that provides top-notch security and has dedicated IP addresses in 5 locations. It's also well suited for unblocking Netflix and other streaming services.
CyberGhost – CyberGhost is a really affordable solution if you choose the long-term plan. It has dedicated IP addresses in 8 locations and will also be an excellent solution for unblocking streaming services.
Torguard – Apart from dedicated IP addresses TorGuard also offers a number of other IP addresses that will be perfect to different occasions. For instance, their streaming servers are optimized for unblocking geo-restricted content and will provide fast and uninterrupted streaming.
VPN Area – VPNArea comes with dedicated IP addresses in 13 different locations but its most notable feature is that it gives you your own server for every address you purchase.
PureVPN – PureVPN has the best deal on dedicated IP addresses compared to all the other solutions and the addresses are available in 8 locations.
In case you are wondering, this is the criteria we used in coming up with the best solution.
Factors to Consider When Choosing a Dedicated IP VPN Provider
Available countries with dedicated IP – Unlike the shared IP addresses, VPNs offer dedicated IPs in specific areas only. Before settling for a VPN ensure that they offer the service in your preferred region.
VPN Jurisdiction – Countries such as the US and the UK may not be the best locations to base a VPN. They are members of the 5 eye alliance who are known for surveilling on their citizens. These countries can use the law to force your VPN provider into spying on you.
User data logging – It's critical that your choice VPN does not store important user data like your real IP or the time you connect to their servers as this is information that can be used to identify you online.
Connection speed – This is a general consideration for any time you are shopping for a VPN. How do encryption and the additional routing of data through the VPN servers affect your internet speeds?
The best way to determine this is by watching a video. See if streams in full HD and without buffering.
Support team – How responsive is customer support? They are the best people to help you in case you have a problem using the VPN or your dedicated IP
Also, consider the number of article resources that a VPN has in their database that you could use to solve a problem yourself.
Price – Apart from the overall cost of purchasing the VPN, you also have to consider the additional cost of the dedicated IP address.
Money-back guarantee – VPNs have stopped offering free trials but you have to ensure you are protected in case the VPN does not meet your expectations. This is usually through a money-back guarantee that allows you to test the product for a stipulated time and request a refund if you are unsatisfied.
1. NordVPN
NordVPN offers dedicated IPs in 5 locations, US, UK, Germany, Netherlands, and France. And the main reason that it is my number one recommended solution is the enhanced security it offers.
The VPN offers double-VPN meaning that your internet traffic is sent through two servers and encrypted twice.
Moreover, you can make use of the integrated TOR network for increased anonymity. Other VPNs require that you first download the TOR browser to enjoy this benefit.
If you just want the standard security, NordVPN uses OpenVPN protocol which is further reinforced through AES 256 bit encryption to provide full-proof protection against hackers and online spies.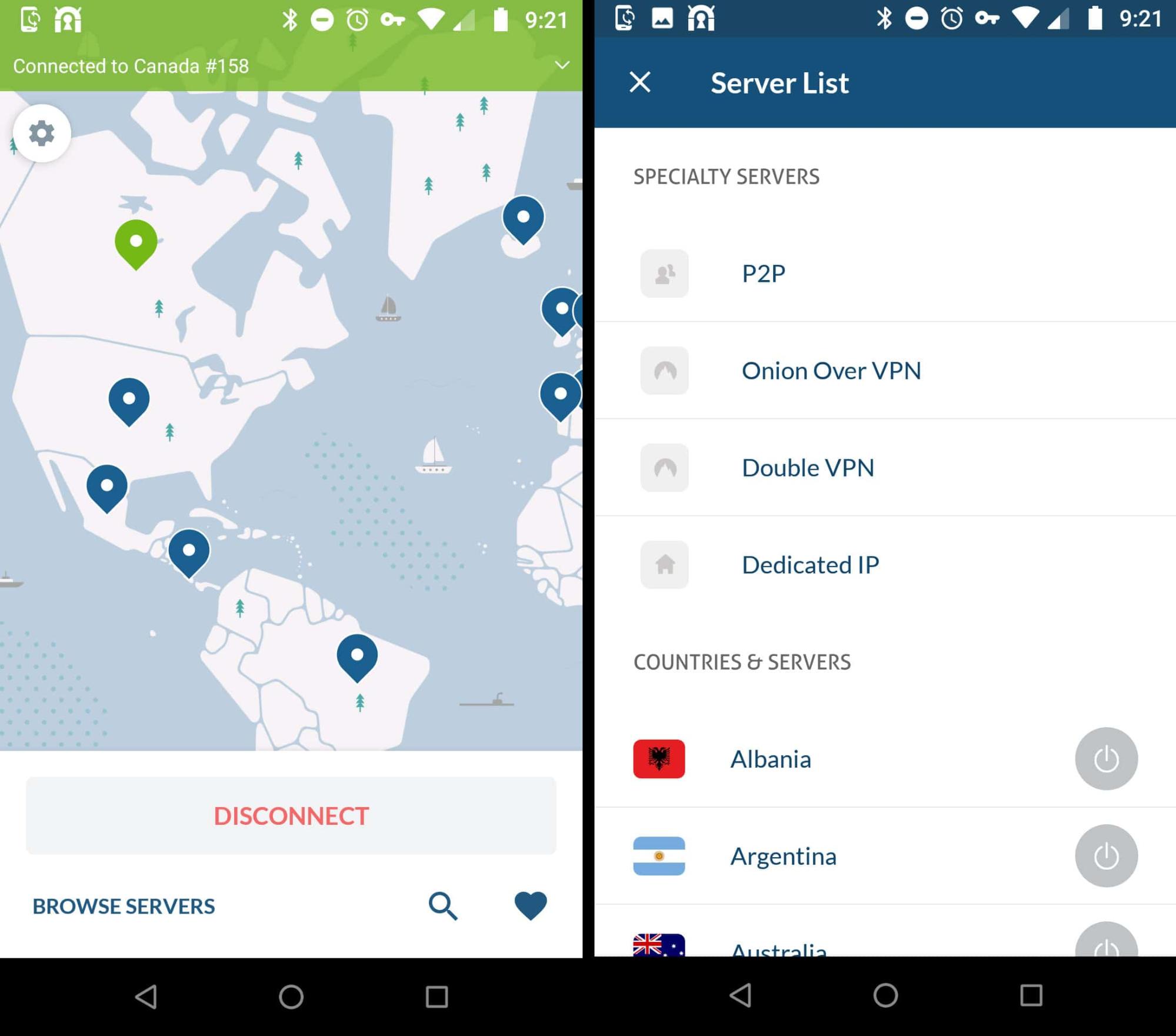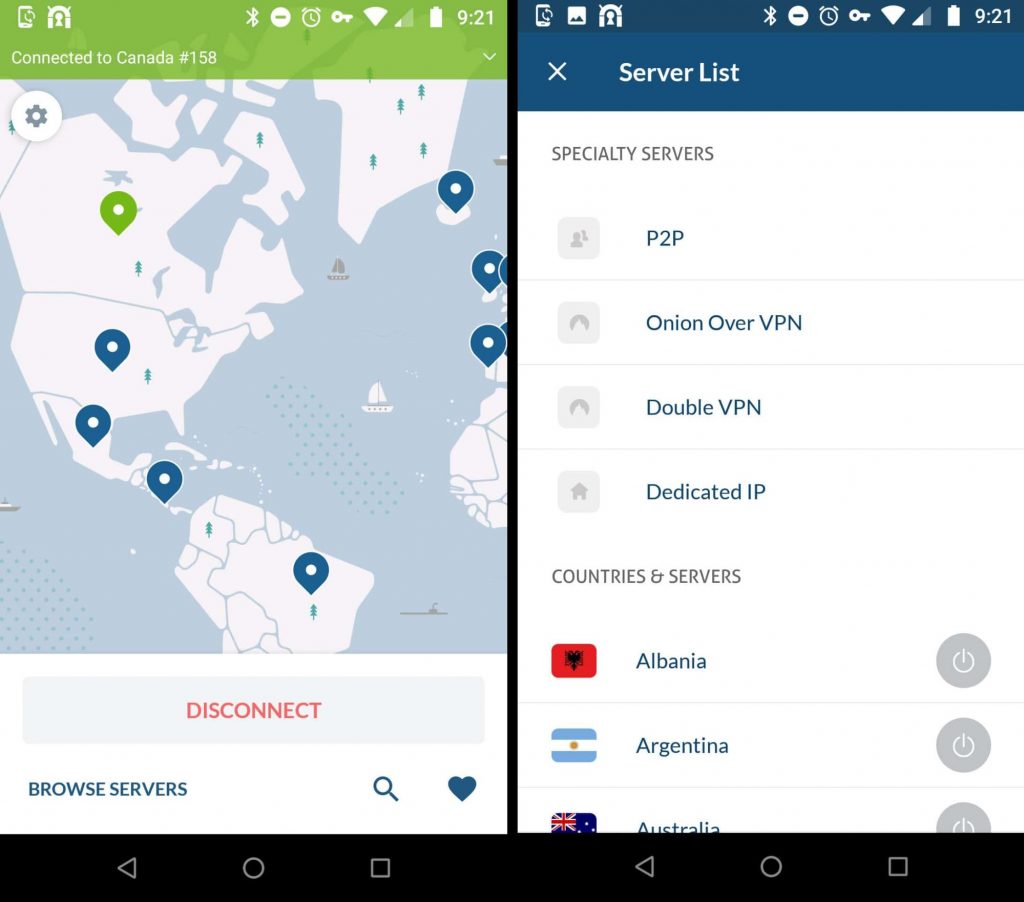 This VPN is located in Panama where it is under no obligation to store user data and cannot be forced to spy on its users by the government.
Then the other security feature I should mention is the Kill switch. It disables the internet in case your VPN has connection problems to avoid accidental leaks.
Streamers will also be happy to know that NordVPN is one of the top-rated solutions for bypassing geographical restrictions. So if you purchase the US IP address you are assured of unrestricted access to Hulu and access to the US versions of Netflix, Prime Video and other streaming services.
The same is true for all the other locations where the dedicated IP is available.
I also think that NordVPN customer care deserves a mention because they are amazing. The agents are available 24/7 via live chat and are very prompt in replying to your queries.
The NordVPN dedicated IP costs $70 per year and once you purchase your subscription, you are allowed 30 days to change your mind. It is highly unlikely but if you do then you get a full refund.
2. CyberGhost
It's really amazing how CyberGhost has grown from a relatively unknown VPN to a VPN giant competing with the biggest names in the industry.
It currently stands as the number one solution with the most servers worldwide. But in your case, the dedicated IP addresses are available in 8 different locations. These include two in the US, two in Germany, two in the UK and the rest are in France and Canada.
CyberGhost is located in Romania, where they are under no obligation from the law to share their user data with the government.
But what I really love about CyberGhost is how affordable are while still maintaining all the premium VPN features. Their 3-year plan is so generous that you can add the extra cost of purchasing a dedicated IP and it will still be cheaper than a lot of the other VPN solutions.
Unlike NordVPN, CyberGhost comes with different plans for it's dedicated IP program. You can opt for the monthly plan, annual or semi-annual plan. All for $5 per month.
Then the other great thing about this VPN is its multiple device compatibility. It has a dedicated application for iOS and Android devices, computers running on Windows, Mac, and Linux OS and it can also be installed on Smart TVs, Amazon Fire TV Stick, Playstations, Xbox, and other similar devices.
Even better, it can be installed on a router to provide protection to all the devices on your network. CyberGhost allows you to connect to up to 7 devices using a single license.
And if you are a passionate streamer, this VPN will be an excellent choice. Not just because it has great connection speeds but also because it has a track record of successfully unblocking Netflix and the other streaming service.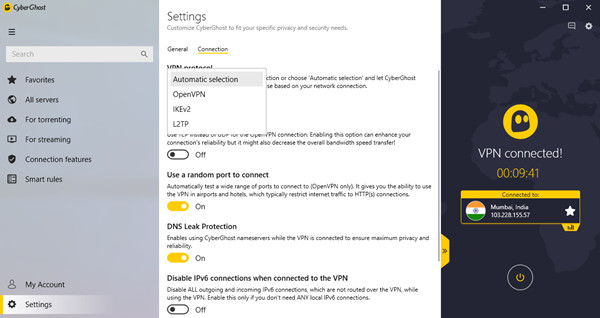 Additionally, CyberGhost does not disappoint when it comes to security. It is compatible with OpenVPN protocol and AES 256 bit encryption which form the best security combination. Good luck to anyone trying to monitor your online activities.
The VPN also supports other connection protocols such as IKEv2 and L2TP which will be great for streaming.
Cyberghost has a 45-day guarantee that you can use to test and understand the product.
3. Torguard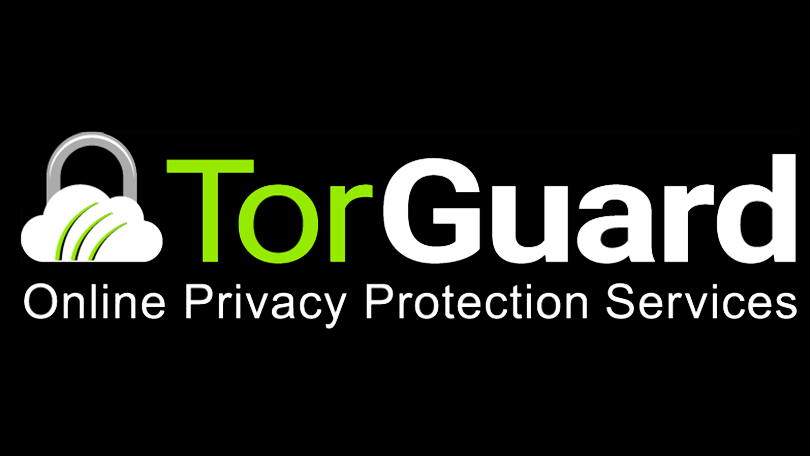 Torguard is another great recommendation that comes with a number of special IPs not just the dedicated IP address.
For instance, it includes streaming IP addresses that are very similar to dedicated addresses but have been optimized for streaming. Streaming IPs will be replaced for free in the event that they are blacklisted by your streaming service provider.
Torguard also offers another type of special IPs called residential IP addresses. These are only available in the US and the UK and are leased directly from the internet service providers. Which is awesome because they will never be flagged down by websites that block VPN connections.
But to be honest, I am a little skeptical about the ISPs collaborating with VPN vendors when VPNs block the ISP from monitoring your online activity.
TorGuard also allows you to purchase DDOS protected IPs in Canada and France that have been designed to block most DDOS and DOS attacks. This is a feature that a lot of gamers will appreciate.
And finally, the VPN also offers 10-gigabit-per-second network IP addresses that promise fast and consistent speeds. These are available in the US, UK, and Canada.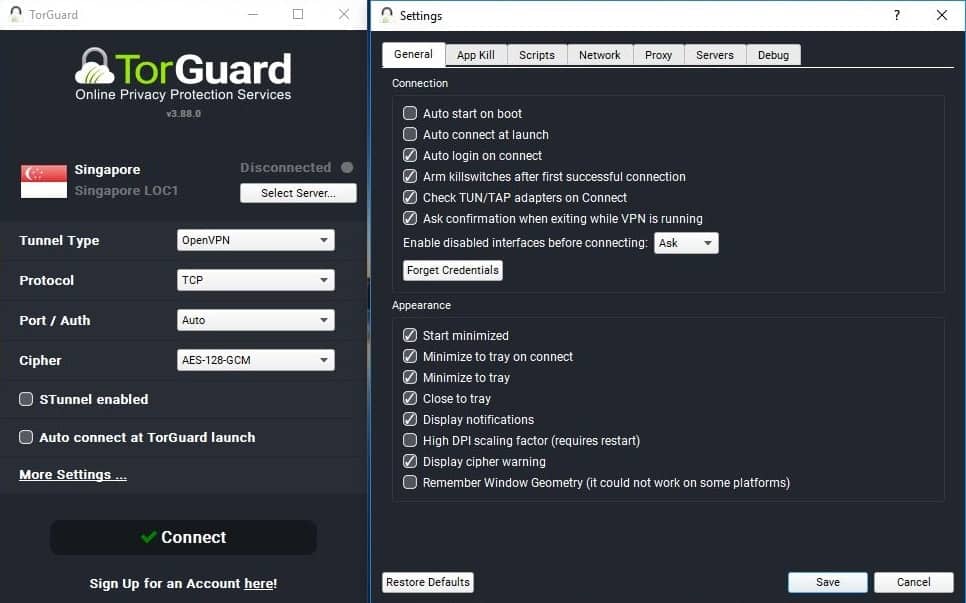 All the special IP addresses are available for $7.99 per month and unfortunately, once you purchase them, the money is not refundable. The 7-day money-back guarantee offered by TorGuard is only applicable for the general subscription.
In our tests, we found Torguard's speed to be satisfactory and they do not put a bandwidth cap on their servers. This means that you should have no problem streaming your favorite show and movies.
Should you opt for the Torguard shared IP addresses then you will have access to 3000+ servers in 50 countries.
This VPN is compatible with all the important connection protocols including OpenVPN, SSTP, and IPSec. Combine that with AES 256 bit encryption and you have iron-clad security.
Some of the other security features worth mentioning include a kill switch and protection against DNS and IPv6 leaks.
4. VPN Area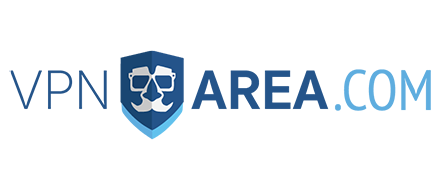 How do you feel about having your own dedicated server to go with the dedicated IP? That is what VPNArea promises.
The VPN offers dedicated IPs in 13 locations and regardless of the one you choose, you still get a complimentary server. The IP address distribution includes four in the US and the rest in Netherlands, Romania, Sweden, Bulgaria, Canada, Australia, the UK, and HongKong.
The price of the dedicated IP depends on the country and ranges from $20-$44 per year.
One thing you can be assured of is that speed will never be a problem when using VPNArea. There is no competition for bandwidth since you are the sole user of your server.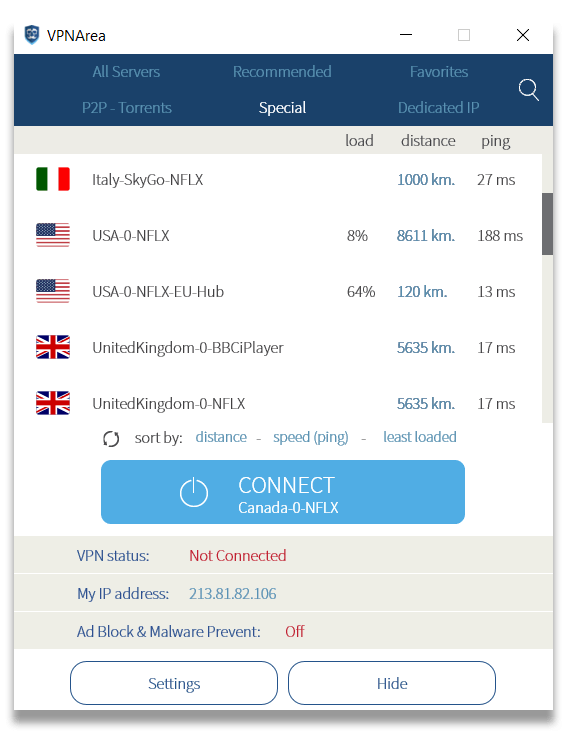 Much like NordVPN, VPNArea also has the double VPN feature which means that your traffic goes through two servers and is encrypted twice for increased anonymity.
The VPN is based in Bulgaria where they don't have mandatory retention laws. VPNArea does not log any personal information like your real IP address that can be used to implicate you.
Also, on top of the standard security measures involving OpenVPN and AES encryption, this VPN also comes with an ad and malware blocker. Not that it can replace a dedicated anti-malware program but it's great for protecting you against minor threats.
VPN Area is compatible with a lot of popular devices and will allow you to connect up to 6 devices using a single license.
The VPN is available in three plans and gives you an amazing offer for the 3-year plan. Once you purchase the product, you can make use of their 30-day money-back guarantee to test and understand it.
5. PureVPN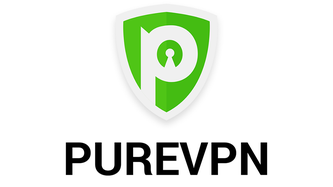 PureVPN is another great solution that you should consider if you are under a tight budget.
You will get the best deal when purchasing their 5-year plan but regardless of the plan that you choose, you still get their dedicated IP at the cost of $0.99 per month. That is cheaper than any other VPN on our list.
PureVPN also allows you to purchase a special DDOS protection IP address and a port forwarding address at the cost of $0.99 per month too.
PureVPN promises great connection speeds which will ensure that you have the best streaming experiences. It can also successfully bypass geographical restrictions imposed by streaming services. So, if say, you get a US dedicated IP address you can watch Hulu and access Netflix US.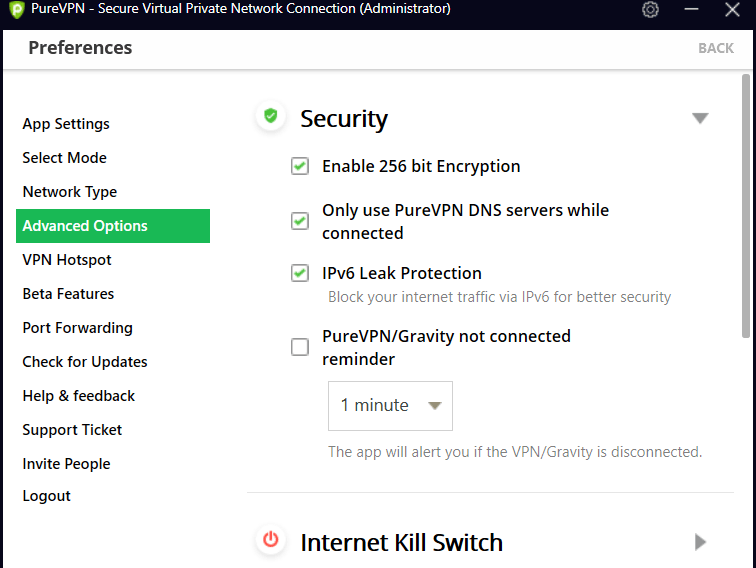 All data that is transmitted via the PureVPN servers is encrypted using AES 256 bit encryption which means that you are protected from hackers or any third party trying to snoop into your online activities. The connection protocols used in encryption include OpenVPN, PPTP, IPSec, and SSTP.
When you are not using the dedicated IP address then you can utilize their 2000+ servers to connect to any of the available 140 countries. All PureVPN servers are self-owned and managed.
This VPN comes with a 31-day money-back guarantee. If an aspect of the product does not impress you during this period, then you can request a refund.
The PureVPN dedicated IPs are available in 8 locations. The US, UK, Australia, Canada, Germany, Malta, Singapore, and Hong Kong.
The Benefits of Using a Dedicated IP Address from a VPN
Great for security-sensitive activities such as online banking
Due to increased cyber-security concerns, a lot of sites now can identify when your account is accessed using an unusual IP address and block the log in.
When you use a shared IP address that changes every time you reconnect to the Internet then this is a problem you have to deal with. However, with a dedicated IP, you only have to register it once. Now anytime you visit the website again, the IP will be recognized.
Remains with you all the time
Whether you are at home or traveling, once you purchase a dedicated IP address it will always be with you. This is even better than the IP you use without a VPN because it does not change when you connect to a different connection.
Helps to bypass geo-restrictions
Platforms like Netflix block VPN connections by identifying multiple connections coming from a single IP. This will not be the case when using a dedicated IP because you are the sole user. You could share it with a few of your relatives but this is not enough to raise suspicion. Better yet, in the event that Netflix or the other streaming services block the VPN then you will get first priority and receive a new working IP address.
Facilitates remote access
Current technology allows you to remotely access systems that are in a distant location without having to be there physically. For instance, you can access and use your home computer while at work or use your work computer while at home.
However, you have to set up one IP address that you will be using to connect to the remote device.
If you use shared IP addresses then every time the address changes then you will be blocked out of the remote computer and you will have to register the new IP address again. A dedicated IP address allows you to have continuous access to all your remote systems.
You don't have to verify your identity every time you log in to your accounts
Don't you hate it when you have to fill out captcha images before accessing a site? This is usually a measure to block out malicious users that use bots to carry out attacks. Using a dedicated IP legitimizes your connection request.
Are there free VPNs with Dedicated IP addresses
I am yet to come across one. But, if there was I would not recommend that you use it. This is because even though you won't pay in monetary terms you will be paying in terms of your security.
Ask yourself this. If a premium VPN that charges you for basic subscription still wants you to pay extra to access a dedicated IP, then why would another VPN that is completely free give you the address with no charge?
Because you are their product. They are selling the information you are giving them to the people they are supposed to be protecting you from.
Conclusion
So what is your best VPN pick to get a dedicated IP? The choice you make will depend a lot on your needs but if I was to go with one solution, then it would be NordVPN. It ticks all the right features.
You want security, you have it. You need to unblock geo-restricted content, done! Are you having problems with the product? Contact customer care. And if after everything you are still not satisfied then you can request a refund. But that's just me.