If you have tried searching 'How to browse the web anonymously' then you know that using a VPN and using the Tor browser are two of best-recommended solutions.
Both methods are great on their own but when combined they produce complete anonymity and protection against data theft and online snoopers. They complement each other's shortcomings.
For instance, a VPN encrypts your data and prevents third parties from knowing what you are doing online. However, the VPN still has the logs of all your online activities and you just have to trust that they won't store or share this data with others.
Using the Tor browser ensures that your VPN has no data to log. This is because once your internet traffic leaves the VPN servers it is sent to the Tor secure servers, also called nodes, where it is encrypted again. From there, even your VPN can establish what you are doing online.
Then, on the other hand, Tor can only guarantee your anonymity when you are browsing. It won't protect you from internet usage outside the web browser like when you are using a desktop application.
Also, the Tor network is yet to be effectively implemented on mobile platforms. And it is in instances like these that a VPN will come through for you. So now you see how the two solutions are mutually beneficial!
There is just one problem though. You cannot just use any VPN with Tor, so how do you select the best solution?
We tested all the popular VPNs against a number of factors and we came up with a shortlist of five best VPNs for Tor. In this post, we will tell you all you need to know about these solutions and at the end of it, you will be in a better position to pick the most ideal.
The 5 Best VPNs to Use With Tor
Factors to Consider When Choosing a VPN for Tor
Speed – One of the downsides of using the Tor browser is that it slows down your internet connection and unfortunately, there is not much you can do to optimize the speeds.
The VPNs also slow down your network but the overall effect on your speed varies from vendor to vendor. We test all our VPNs for speed and eliminate the slow performing ones.
Compatibility with Tor – Some VPNs will not allow you to use the Tor browser while connected to their servers.
Does not store logs – It's very important that the VPN of your choice does not log user data. This information can be used to identify your real address
Solid encryption – Ensure that your preferred VPN supports OpenVPN connection protocol and uses AES 256 bit encryption. This is the best security combination that a VPN can have.
Supports Bitcoin payments – Bitcoin allows you to pay for your subscription anonymously to further help protect your identity.
1. ExpressVPN
If you go to the ExpressVPN website, you will see that they claim to be the #1 Trusted leader in VPN. It's not just a marketing scheme.
The reason that I recommend ExpressVPN over all the other solutions is that it has the least effect on your connection speeds. This is necessary to ensure that you still have decent browsing speeds once you connect to the Tor browser.
This VPN solution is also very strict about not storing their user data which is further helped by the fact that they are based in the British Virgin Islands. There are no mandatory data retention laws in the region.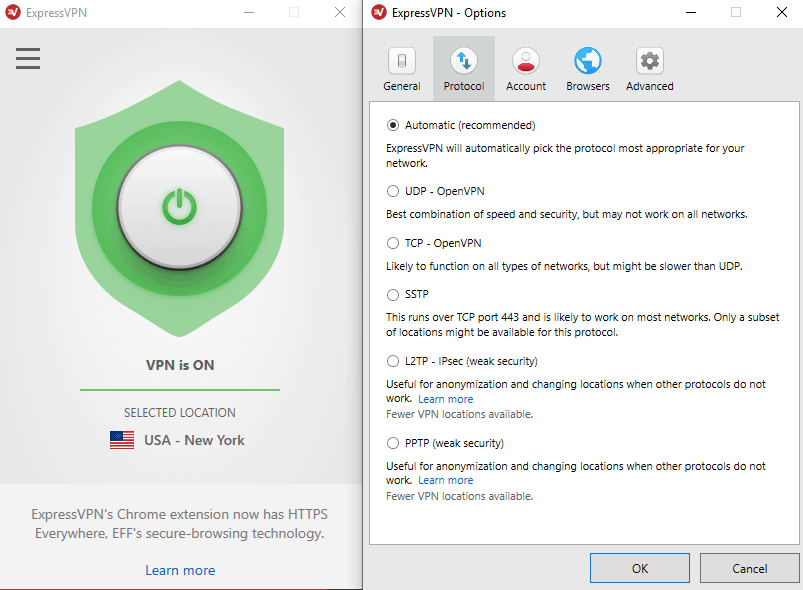 In terms of security, ExpressVPN supports OpenVPN connection protocol which forms the ultimate security duo when combined with AES 256 encryption. It also supports other protocols such as SSTP, L2TP, and PPTP which may lack the same level of security as OpenVPN but offer better speeds.
ExpressVPN automatically connects to the most appropriate protocol for your network.
This VPN solution has dedicated applications for all the popular devices including mobile phones, computers, Smart TVs, gaming consoles, and streaming media players such as Amazon Fire TV Stick and Apple TV.
This is perfect for protecting you against all the other use cases that cannot be secured using the Tor browser.
Also worth mentioning is that ExpressVPN has a Tor .onion service called Expressobutiolem.onion. It's an address link that you paste on your Tor browser and it will allow you to create a completely anonymous account with the vendor by using a temporary email and paying using Bitcoin.

Once you purchase the ExpressVPN premium plan, they allow you to use the product risk-free for 30 days. Use this time to test and understand the VPN. If you are unsatisfied with an aspect of the product, then you can request a refund.
Read full review of ExpressVPN
Pros
Excellent connection speeds
Has a .onion site you can use to create a completely anonymous account
Has a dedicated application for all the popular devices
30-day money-back guarantee
Cons
It's not the cheapest VPN
2. NordVPN
It would be impossible to talk about security without mentioning NordVPN. This is where the VPN thrives. It was the first and is arguably the best solution to offer the double VPN feature. This is a technology that allows you to encrypt your internet traffic twice by passing it through two servers.
The VPN is also compatible with OpenVPN connection protocol which combines with AES 256 bit encryption to create an impenetrable security fortress.
But more related to our topic and my favorite feature of NordVPN is that it allows you to use the Tor Network over standard VPN directly from the application. The feature can be activated in just one click eliminating the need to first download the Tor browser separately.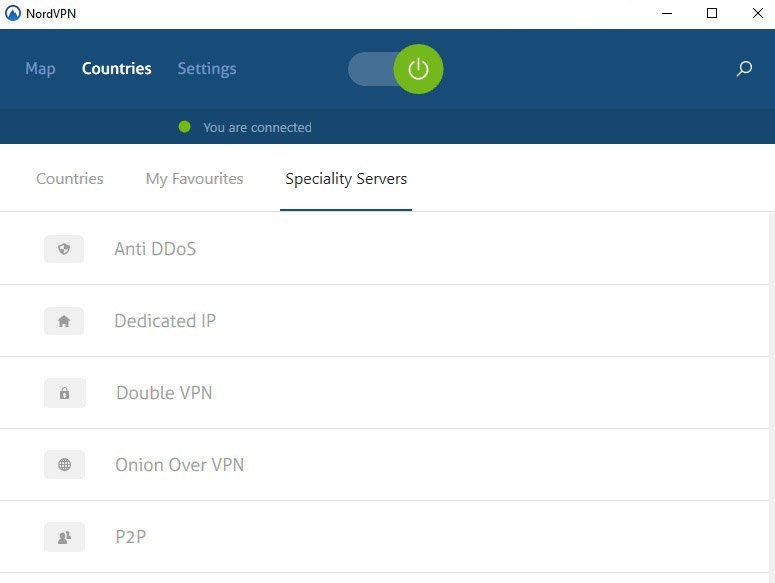 The major benefit of the inbuilt onion-over-VPN feature is that you can extend the added security that comes with this combination to other non-browsing activities. Also, the VPN has already been optimized to provide the best speeds when you are using Tor over VPN.
Still, if you prefer using the VPN and then Tor separately you can set it up that way.
NordVPN is located in Panama where there are not under obligation from the law to store user data.
To further enhance security and privacy, the VPN has a killswitch that will disable your internet to prevent leaking of unencrypted data in the event that the VPN disconnects unexpectedly.
NordVPN comes with apps for all the popular operating systems such as Windows, Mac, Linux, iOS, and Android and thus you should have no problem using it with most devices.
The VPN does not have a free trial but they offer a 30-day money-back guarantee once you purchase their subscription plan. They accept Bitcoin as payment.
Pros
Integrated Tor over VPN feature
Solid security features
Does not store user logs
Compatible with all the popular Operating systems
Cons
Combining double VPN with Tor browser will be noticeably slow
3. CyberGhost
This VPN has really grown over the years even managing to surpass NordVPN as the number one VPN with the most servers worldwide. It boasts of 5800+ servers distributed in 90 countries.
CyberGhost does not offer any Tor-specific features but it is compatible with the browser. When used on its own, this VPN has great speeds and therefore, it will not significantly slow your speeds when combined with Tor.
Another top reason you should consider using CyberGhost is cost. Their 3-year plan valued at $2.75 per month is an absolute steal and I doubt you will get another VPN that offers the same and still provides you with the same amount of features. The VPN accepts Bitcoin as a form of payment.
CyberGhost does not store any user data that could be used to trace to you. But they do keep some logs such as the date you connect to a server and the amount of data transmitted through the server. Information that they claim helps them know which servers to optimize for the best user experience and I agree with them.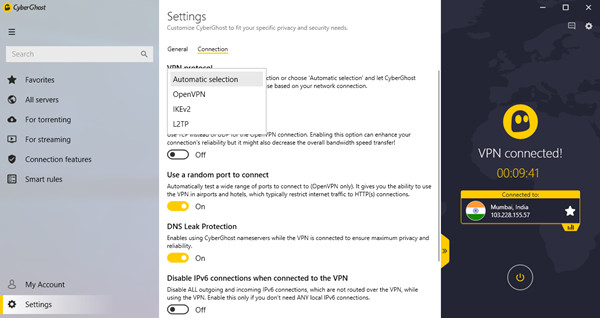 Security-wise, the VPN supports OpenVPN protocol and AES 256 bit encryption which, as you know, is the best security combination you can have. You can also manually change to other protocols such as PPTP, LT2P, and IKEv2 to try and getter better speeds.
The VPN also has a kill switch which protects your data from leaking when the VPN disconnects unexpectedly. This is further reinforced through DNS and IPv6 leak protection features.
You can protect up to 7 simultaneous devices with just a single license of CyberGhost.
The VPN has dedicated applications for all the popular OSes including Windows, Mac, Linux, Android, and iOS and hence you are assured of protection for other internet uses besides browsing.
CyberGhost comes with a one-day free trial but you won't really get a feel of the product until you purchase the premium plan. Don't worry though they have a 45-day money-back guarantee and if you are unsatisfied with the product during this period, you can request a refund.
Read full review of CyberGhost VPN
Pros
Offers great speeds
Very affordable on the long-term plans
Solid security features
45-day money-back guarantee
Cons
Lacks Tor-specific features
4. IPVanish
Again this VPN does not have any special Tor features but I would still recommend it due to great speeds. The company owns and self manages all their servers and can, therefore, guarantee consistent speeds and server reliability.
IPVanish is based in the US and I understand how that can be unsettling for some but the VPN has maintained that they do not store any logs. This means that even if the government was to come knocking they would have no data to give them.
One feature that completely distinguishes IPVanish from the other VPN solutions is traffic obfuscation. It allows the VPN to disguise its traffic to look like normal traffic which is an excellent way to get past sites that block VPNs.
Additionally, you can configure the VPN to update your IP address to a new one at various intervals. Good luck to anyone trying to track you.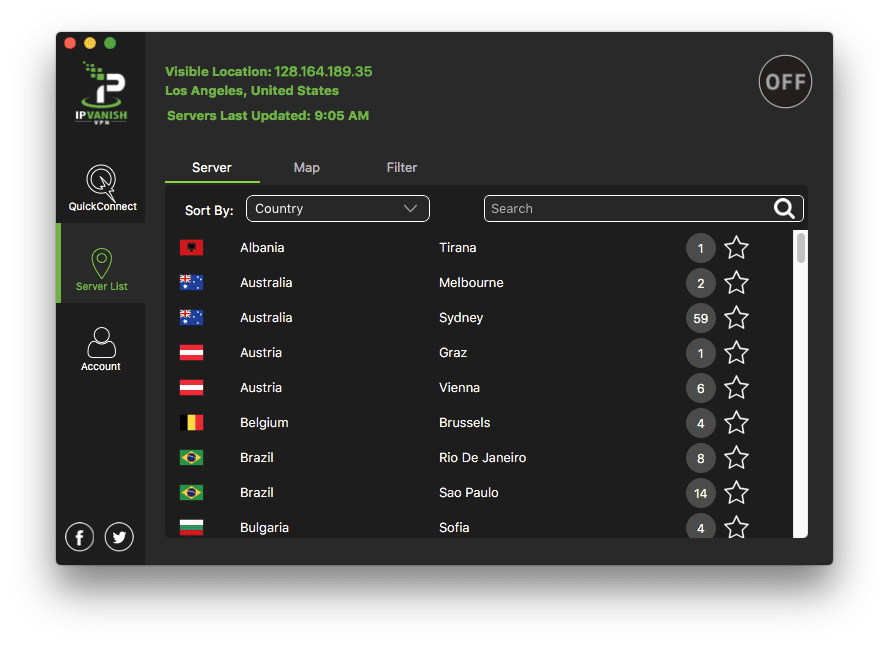 This VPN is compatible with multiple devices including iPhone and Android devices, computers running on Windows, Linux, Mac, and other devices such as the PlayStation, Xbox, Amazon Fire TV Stick, Roku, and routers.
IPVanish only comes with a 7-day money-back guarantee and I feel they could have extended it to better compete with the other solutions that offer 30 days. Also, you cannot use Bitcoin to pay IPVanish.
But on the upside, the VPN solution allows you to protect up to 10 devices using one license. That is more than any other solution on this list.
Read full review of IPVanish VPN
Pros
Guarantees great speeds since they self-manage their servers
Can disguise VPN traffic to look like normal traffic
Compatible with all types of devices
Can simultaneously connect to 10 devices using a single license
Cons
The US is not the best VPN jurisdiction
Does not accept Bitcoin payments
5. PrivateVPN
If you are operating on a tight budget then PrivateVPN is perfect for you. Unlike most of the other solutions that offer the best deal when purchasing long-term plans, PrivateVPN offers a really affordable one-year plan and an unbelievable monthly plan.
This VPN solution only has a little over 150 servers and I think it's the reason why it tends to be overlooked by many people. But the VPN is now more than 10 years old and you don't survive that long in this competitive niche if you have nothing to offer. They have also done a very nice job of distributing their servers in 60 countries.
This solution has better speeds than most of the other VPNs we have tested at Privacy Spark and that is why it will be excellent with Tor.
Moreover, PrivateVPN is one of the few VPNs that can successfully unblock geo-restricted content by streaming services like Netflix, Hulu, BBC iPlayer, Popcorn TV among others.
Though I would not recommend streaming when using the Tor browser over standard VPN. Unless you have no problem with constant buffering and low-quality video.
PrivateVPN is located in Sweden where they are under no obligation from the law to store user data. And for increased anonymity, they allow you to pay for your subscription via Bitcoin.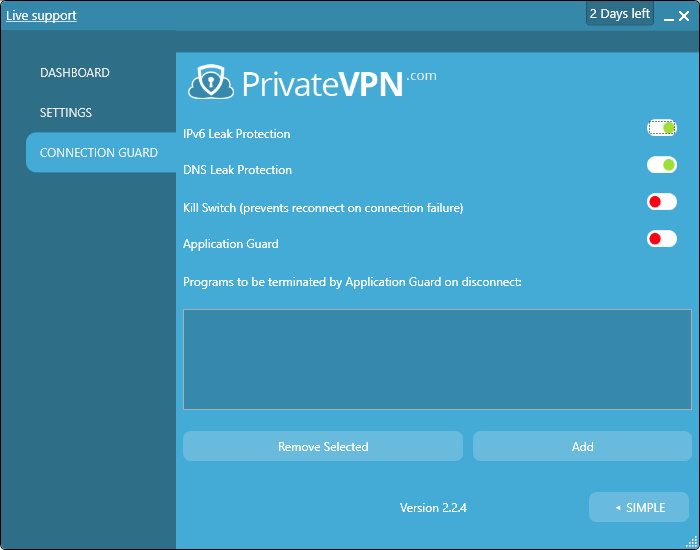 As expected this VPN is compatible with OpenVPN by default and uses 2048-bit Encryption With AES-256 to protect your data against theft by hackers and to prevent third parties from spying on you.
Other supported protocols include PPTP, L2TP, IKEv2 And IPSec.
PrivateVPN comes with native apps for Windows, Mac, Android, and iOS and will, therefore, help you protect other internet usage aspects that Tor does not cover.
This VPN is also equipped with a killswitch to disable the internet when the VPN disconnects unexpectedly to avoid leaking of data.
While all the other VPNs only allow you to use Tor over VPN connection, it's the recommended method, Private VPN also allows VPN over Tor. It's a little technical to execute and here is a step by step guide to help you.
PrivateVPN allows you to simultaneously connect up to six devices using a single license.
Read full review of PrivateVPN
Pros
Really affordable
Great connection speeds
Does not store user logs
Compatible with multiple devices
Cons
The number of servers could be more
Who Should Use Tor over VPN?
At this point, everybody could use the extra security. Data has become a valuable commodity and people will do anything to extract it from you. Cyber attacks are also at an all-time high and you should take all necessary steps to ensure that you are safe from hackers.
However, we cannot ignore the implications this security combination has on your speeds. If you are looking to stream videos, play online games or even download torrents then Tor over VPN is simply not viable for you.
You have to choose the specific activities that you want to super secure. That said, there a certain people who will benefit from the increased security more than others.
They include:
Journalists – Tor over VPN provides them with a secure way of communicating with their sources without exposing their real identities since it would put their lives at risk.
Whistleblowers – People looking to expose the government or rogue companies will find Tor as the perfect avenue to do so. Using a VPN with the browser helps add another encryption layer to further protect them.
Government agents – Government agents can also use this type of setup when investigating websites and people online. It helps them disguise their government IP addresses when visiting the sites under investigation so that it does not raise suspicion.
Additional Benefits of Using a VPN with Tor
Protects you from rogue nodes – Malicious users can target you by setting up rogue nodes on Tor. These nodes will capture your real information when connecting to the browser and proceed to track your activities.
However, this is impossible when using a VPN because your traffic will already be encrypted by the VPN servers.
You will not be flagged down by your ISP – Due to the illegal activities usually associated with the Tor browser, your ISP can flag down your connection when they notice you accessing the browser.
A VPN encrypts your data and blocks out anyone trying to monitor your online activities including your ISP.
Allows you to access Tor where it is blocked – It's not uncommon to find that Tor has been blocked from being accessed in a country or on a certain network.
A VPN will help to bypass these restrictions.
Should I use Tor over VPN or VPN over Tor
There are two ways you can combine Tor and VPN connections. The first is Tor over VPN which is executed by connecting to a VPN server and then launching the Tor browser. Everything we have discussed in this post so far has been about Tor over VPN.
So even without saying it, you already know that this is the method I recommend.
It hides your real IP address from Tor so that you cannot be targeted through rogue nodes and it hides your only activities from the VPN so they have no data to log.
The alternative method is called VPN over Tor and involves launching the Tor browser first and then configuring the VPN. It's a bit technical and most of the VPN solutions do not support it.
PrivateVPN is the only VPN that supports VPN over Tor on our list.
Conclusion
I hope at this point you have made up your mind about the best VPN to use for Tor. If you are still undecided then I will help you out. Just go with ExpressVPN.
I have personally been using it for over a year now and I am yet to be disappointed. And not just with Tor. ExpressVPN is the swiss army of VPNs. Think of any instance where you need a VPN and ExpressVPN will be at the top of that list.
And the best part is that you are protected by the 30-day money-back guarantee. So, should the VPN not live up to your expectations, then you can always request your money back. It's a win-win situation.