4.1 billion records. That is the amount of user data that has been exposed in the first half of 2019 according to this report. Now, if that is not enough motivation to consider getting a VPN, I don't know what is.
Well, I do actually. And surprisingly, it's the main reason a certain majority of people use a VPN. I am talking about unlocking geographical restrictions imposed by streaming services.
Whichever your reason is, you will need the best VPN for the job. And it does not help that every expert has their own opinion on which is the best software. However, ask enough experts and you will notice that a few names start appearing constantly.
CyberGhost is one of those names. And today, we will be helping you decide whether it's the right VPN for you.
Some of the things we will be covering in this review include CyberGhost's ability to unblock geo-restrictions, connection speeds, streaming quality, and security.
Let's get started.
My Verdict
Right off the bat, CyberGhost is not the fastest VPN you will use. However, affordability is one of its key selling points and for its price, you will be getting the best value.
My biggest concern with the software has been with its parent company, Kape Technologies (formerly Crossrider) who have in the past been accused of distributing malware in their software bundles.
However, CyberGhost has given me a lot of confidence in how they have transparently dealt with the issue, maintaining that they operate independently. And since they are based in Romania they are under no obligation to provide user data to any government including the US.
The overall performance of the software is great and Torrenters will particularly be happy since the VPN offers dedicated servers that are optimized for torrenting.
So, do I recommend you try CyberGhost? Absolutely.
Willingness to Recommend: 8/10
PROS
Unblocks Netflix and other streaming services
Supports HD streaming quality
Wide-selection of server locations
Solid Encryption techniques
Fairly priced
CONS
The parent company has a questionable past
The 1-day free trial period could be extended
Features Overview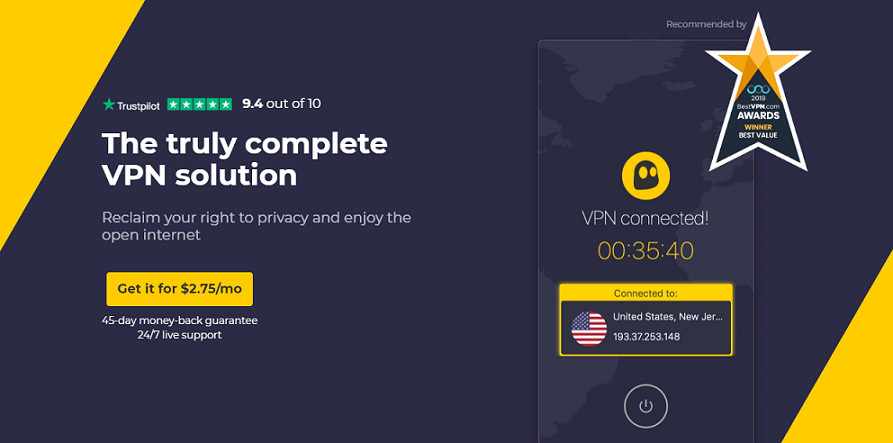 Multi-platform support – The great thing about CyberGhost is that it has an application for all popular devices. This includes Windows, Mac, and Linux apps for computer users and iOS and Android apps for mobile phone users. It is also available for Amazon Firestick and Android TV users.
Military-grade encryption – This VPN software uses several security protocols such as AES Encryption coupled with OpenVPN connection protocol to secure your data transfers.
Multiple servers – As I write this, CyberGhost has over 5500 servers that you can choose from. These are distributed over 112 locations in 60 different countries. The number of servers and locations is always increasing.
Unlocks Geo-restricted Content – There is an ever-growing list of countries enforcing internet censorship rules and if you ever find yourself in one of them, then CyberGhost can help you access the restricted content. Unfortunately, it does not work for some countries such as China This feature also applies when unlocking geo-restrictions by streaming services.
Automatic Kill switch – This is an important security feature that ensures your IP address does not accidentally leak if there are connectivity problems. It does this by disabling your internet if it senses that the VPN has disconnected.
Multiple-device support – Not to be confused with multi-platform support, this feature refers to the maximum number of devices you can secure using a single license of CyberGhost. And in this case, the allowed number is seven.
Pre-protection modules – As a way of boosting security and privacy, CyberGhost includes additional modules such as an ad-blocker, a malware blocker, and a module to stop online tracking. Some websites can include trackers to record your browsing patterns.
Performance Analysis
Shocker! It's not uncommon to find a disconnect between what a product claims to offer on paper and what it actually provides. Which is what makes this the most important section of this review. How well does CyberGhost perform practically?
Streaming
It's true that online privacy is the main concept behind Virtual Private Networks. Still, I know users who will immediately dismiss a VPN software if it does not perform in the streaming area regardless of how secure it is.
Fortunately, CyberGhost excels in this area with the standout feature being the inclusion of specifically optimized servers. So if you want to access Netflix UK, the server is already set up for you. In other VPN programs, you have to rely on trial and error for all their available servers
The streaming servers are easily accessible from the left pane of the CyberGhost UI. Just navigate to the Server section and click on the For Streaming option. You can also type the name of your streaming company on the search bar.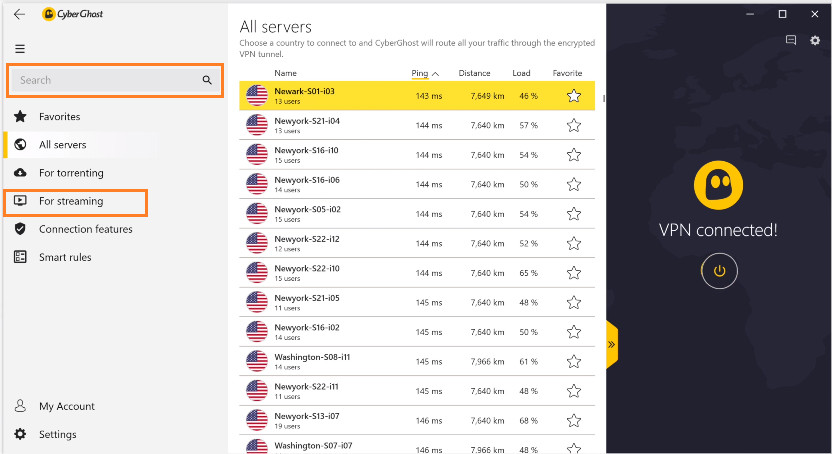 Streaming companies, especially Netflix, have become increasingly smart in detecting and blocking IP addresses from various VPN providers so it's awesome that CyberGhost can still unlock it.
Currently, it has 3 servers optimized for Netflix. These are the US, UK, and France servers. The last time I reviewed the software they also had a German server but it's not working at the moment.
Other streaming services with optimized servers include Hulu, Amazon Prime, BBC, YouTube, among others.
In other great news, CyberGhost supports streaming in qualities of up to 4K HD. I did not experience any major buffering while streaming. Also, the results varied depending on the streaming service. For instance, there was no buffering at all while using YouTube but it happened a few times on Netflix.
Note that the distance between you and the connected server may also affect your streaming quality. The further the servers are, the more distance data will travel which may cause buffering.
Security and Privacy
From the features overview, you can already deduce that CyberGhost has all the security basis covered. With the kill switch, you can be assured that even with a bad network there is no chance of leaking your IP. And the fact that it goes ahead and protects against malware and malicious sites is a bonus. Although you cannot compare it to a dedicated anti-malware program in terms of protection depth.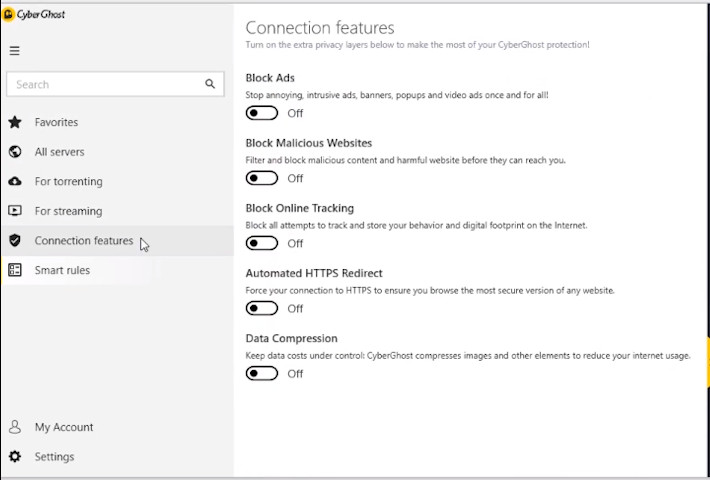 CyberGhost uses OpenVPN which is the only VPN protocol that has not been compromised by the NSA so far. Of course, the added encryption means that it has lower connection speeds than other supported protocols such as L2TP and IKEv2.
The concept of shared IP addresses used by this software also ensures that online activities cannot be traced back to a single address which helps to further reinforce security.
The main issue with CyberGhost has been with the trustability of the parent company which I addressed above. There was also an issue with the method they used to block ads in a previous version. It involved installing a root certificate on your device, a feature that could be utilized to execute a Man-in-the-middle attack. The issue has since been resolved and all ads are now filtered from the server-side.
Connection Speed
It's not news that VPN connection speeds will, in most cases, be lower than the standard speed. Reason being that you are introducing a middleman (the VPN server) between your device and the target destination on the internet.
So, to give you a clear picture, I did a speed test for different server locations. These were the results.
My standard internet speed before connecting to CyberGhost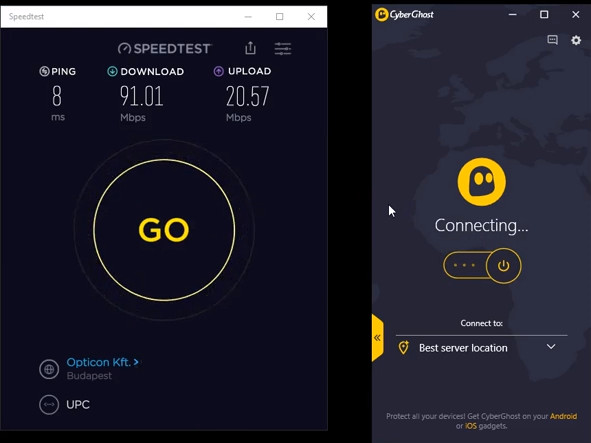 Based on your location, CyberGhost will provide you with a list of the best servers that will offer the least speed reduction. These were the first servers I tested.
Internet Speed When Connected to Hungary, My Best Recommended Server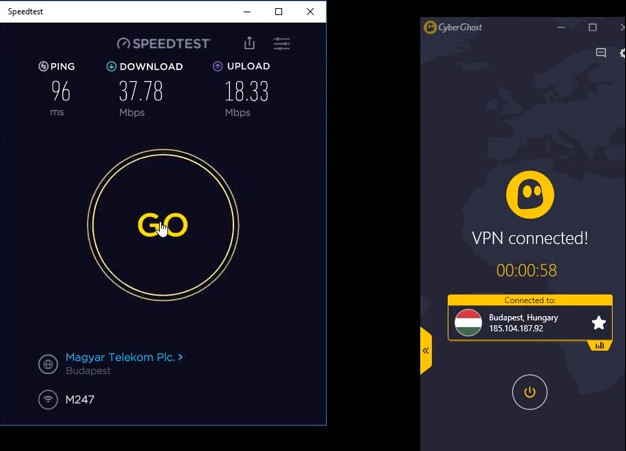 A significant decrease but we are still at decent speeds.
Internet Speed When Connected to a Canadian Server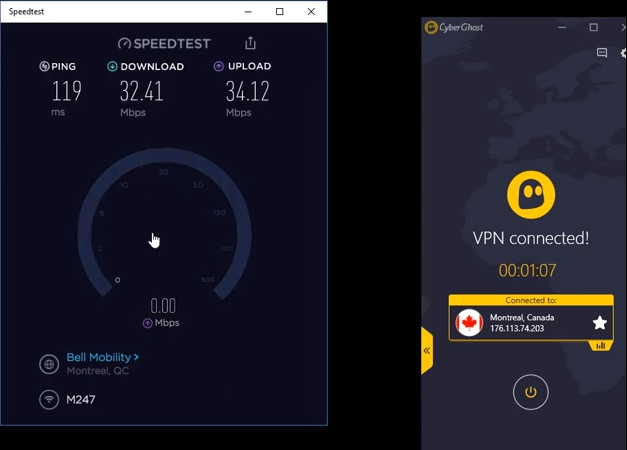 Still, decent speeds and, surprisingly, the upload speed is even better than the baseline.
Internet Speed When Connected to a US Server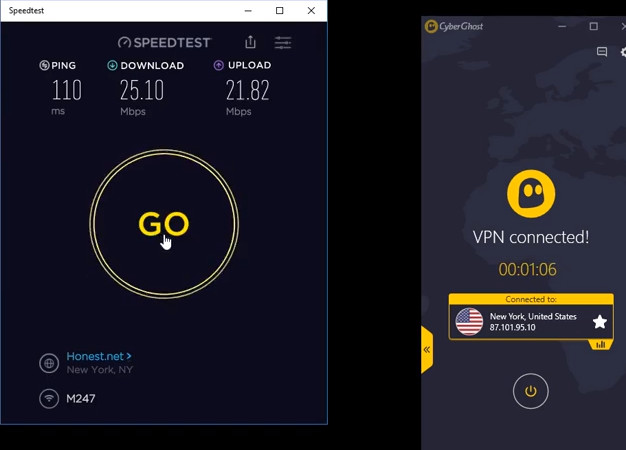 Further decrease in speed. And the reason for this is that the US servers are further away from me than the other two above.
Internet Speeds When Connected to a Server in South Korea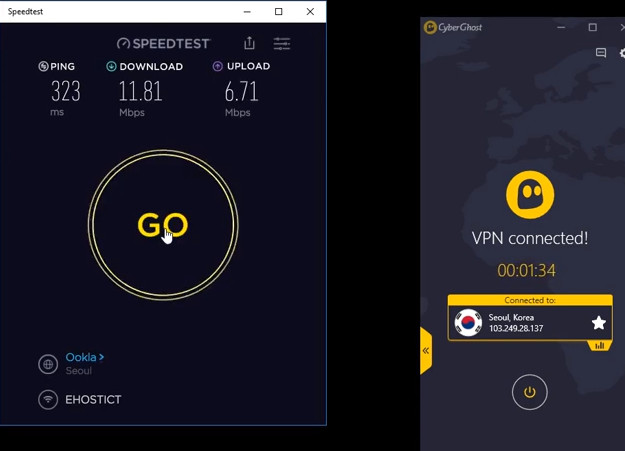 Lowest speed so far which proves my point. The further away the servers are the more your connection speed will be affected.
P.S. If you have noticed, CyberGhost slashed my speed by more than 40%. However, this is not a direct representation of how CyberGhost affects your connection speed. What I noticed is that the lower your connection speed, the lower the reduction margin.
Cost
Up until late last year, CyberGhost had a free offering. But I have never been one to recommend free VPN software.
See, the provider needs money to run their servers and pay their employees. Therefore, if they are offering their services for free then chances are they are selling your data to advertisers.
So currently, CyberGhost is available in 4 premium plans. The first and best plan you will get is the three-year plan. Because then you get charged $2.75 per month.
The 2-year plan gives the second-best value where you get charged $3.69 per month.
If you opt for the annual plan then you get billed $5.99 per month and the last option is the monthly subscription that is billed at $12.99.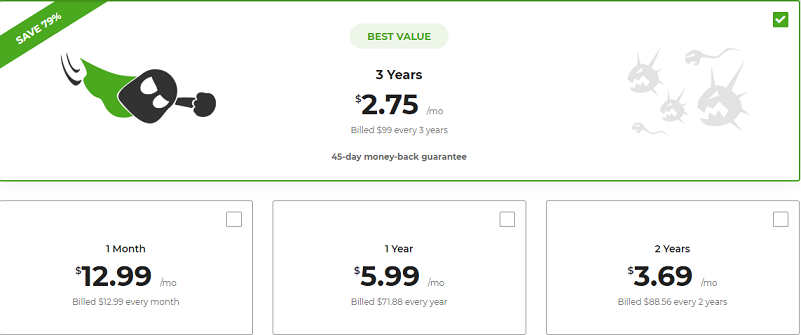 On the downside, CyberGhost only comes with a 1-day free trial unlike most of the other vendors that have a 7-day trial. Worse still, features such as unlocking of geo-restricted content will be limited. But to make it up for it, CyberGhost offers a 14-day money-back guarantee for the monthly plan and a 45-day guarantee for the other plans. This means you can request a refund if you are not satisfied with their services.
Alternative VPN Options
CyberGhost's superpower is the ability to provide all the essential VPN features at an affordable price. Therefore, if you are looking for an alternative solution, then there are two solutions that I would recommend.
PrivateVPN is an excellent VPN that is only growing in popularity. It's multiplatform meaning it can be used on Windows, Mac, Linux, Android, iOS as well as Amazon Firestick.
Their 100+ servers are nothing compared to CyberGhost's 5500+ but they are distributed over 60 different locations which give you plenty of options to choose from. This VPN software can also be used to unlock geo-restricted content and it does not slow speeds in a frustrating way.
PrivateVPN has a zero-logging policy so you don't have to worry about them sharing your data. And by employing 2048-bit encryption with AES 256, the company ensures that data being sent cannot be compromised. This is further reinforced by the Killswitch feature that disables your internet in the event that your VPN is disconnected which prevents data leaks.
PrivateVPN offers a 7-day free trial and 30-day money-back guarantee.
It has been 7 years since the first NordVPN server was set up and it currently stands as one of the most trusted solutions in the industry. It really goes strong in terms of security and comes with an ad and malware blocker on top of the military-grade encryption.
Moreover, it offers DNS leak protection and includes an automatic kill switch.
A distinguishing feature of this VPN is the introduction of the Onion network over the standard VPN which helps add an extra layer of protection. To achieve this level of security normally, you would first have to connect to the VPN and then use the Tor browser for your internet needs.
The maximum number of supported devices with NordVPN is six and it's compatible with all the popular operating systems including Android and iOS.
Unfortunately, NordVPN does not have a free trial. What they do have, however, is a 30-day money-back guarantee.