There is no denying the convenience brought about by the internet. But, we would be fools to overlook its biggest disadvantage. Invasion of our privacy. Did you know that there is a hacker attack happening every 39 seconds? As a result, millions of confidential user data end up in the hands of criminals every month.
The sad part is that most people know the necessary security measures to protect themselves but are limited by their pockets. Take a VPN for instance. It is one of the best-recommended methods that helps safeguard your data through encryption and protect your anonymity by masking your real IP address.
However, if you take a look at the most talked-about VPNs, like ExpressVPN you will quickly realize that they are not very affordable. Though to be clear, this is usually because you are getting the best services.
Still, it does not mean we don't have cheap VPNs that can offer reliable performance. In fact, that is what this whole post is about. Recommending the top VPN solutions that come at affordable prices.
Can cheap VPNs be trusted?
Yes and No. Most of them offer legit services but come with their share of downsides. Like slow connection speeds.
Then there are the others that promise you cheap services but that's only because they are making money on the side by selling your data to advertisers. These cannot be trusted.
Others offer low prices but then neglect what's really important. Constantly updating and patching their servers. This is when you hear about hackers gaining access to these servers and leaking user data or compromising the data in other ways.
Best Cheap VPN Providers
CyberGhost is the perfect definition of a feature-rich and affordable VPN. It has excellent internet speeds, guarantees security and anonymity, and it also supports P2P sharing. This puts it on the same competing level as some of the other more expensive VPNs.
NordVPN the most notable thing about NordVPN is it's advanced security features. It's also no secret that the VPN has some of the best speeds for browsing, streaming, and downloading torrents. However, I don't think they get enough credit for providing these features at such affordable prices.
PrivateVPN the best part about PrivateVPN is that all its subscription plans are cheap. This is unlike most of the other VPNs which offer the best deals when you purchase long-term subscriptions. The PrivateVPN speeds are amazing, it can unblock geo-restricted content and it also supports P2P sharing.
Surfshark is still establishing its name among the best. Still, there are millions of users who will swear it is the best cheap VPN. Its multiple servers promise unlimited bandwidth which makes it excellent for streaming and downloading torrents. It does not also disappoint when it comes to security.
Private Internet Access (PIA) – This VPN may not be very consistent when it comes to unblocking streaming services or producing great speeds but you can trust that it will protect your personal info and safeguard your online anonymity. Also, it is the cheapest VPN on this list. Most of its shortcomings can be overlooked once you see its price.
Factors to consider when choosing a cheap VPN
Connections speeds – Slow connection speed is a problem for many cheap VPN providers mainly due to server congestion and deliberate bandwidth limitation by the vendor. For this review, we chose the VPNs that had the least effect on our internet speeds.
Security and Privacy – Ensure that the VPN you choose provides strong encryption and does not store logs. This helps block off third parties trying to spy on you and it means that there are no digital footprints that can be traced back to you. You are completely anonymous.
Server locations – Check to see how many servers a VPN has and how they are distributed worldwide. More servers mean no competition for bandwidth and hence better speeds. Wide distribution means you can easily find a server that's near you for faster connection time.
Unblocks geo-restricted content – A lot of the cheap VPNs cannot unblock Netflix and the other streaming services. This is a big bummer because I know more people use VPNs to unblock content than for security purposes.
P2P sharing support – Although P2P sharing is not illegal a lot of the content distributed through the system is. As a result, some of the best VPNs no longer support torrenting. Confirm that your preferred VPN is not one of them. Also, check whether the VPN allows torrenting on all its servers or on specific servers only.
Multiple device compatibility – Ensure that the VPN you choose works flawlessly on all your devices. The best VPNs come with an app for all the devices you use to connect to the internet including your smart TV and gaming console.
Customer support – It is the responsiveness of a VPN's customer support that determines how quickly your problem is resolved. A great VPN should come with a live chat option for prompt communication but email support is also great.
1. CyberGhost
If I showed you the full list of CyberGhost features and told you to guess the price you would never imagine that it can be that cheap. Case in point, it is currently the number one VPN in terms of the total number of servers worldwide.
It comes with 5900+ servers that are distributed in 90 countries. You never have to worry about speed problems resulting from server congestion. And, it's really easy to find a server that is nearest to you which will significantly increase your connection speeds.
One thing that distinguishes Cyberghost from other VPNs is that it comes with specially optimized servers for streaming. If you are looking to unblock streaming services such as Netflix, Hulu, Prime Video, and BBC iPlayer you just connect to their specific servers.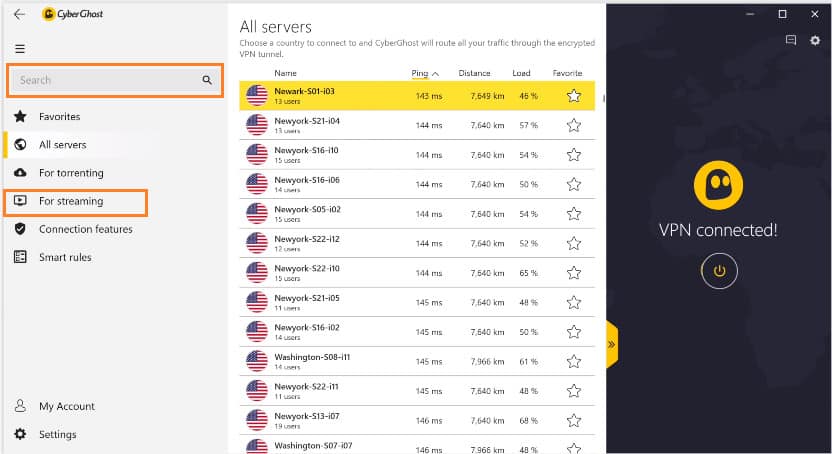 This is unlike other VPNs where you have to try multiple servers trying to find one that works. I did not experience any buffering when streaming and I was able to watch a whole episode in full HD.
This VPN is compatible with OpenVPN connection protocol which is further reinforced through AES 256-bit encryption to provide the best protection against data theft and ensure that not even your ISP can monitor your online activity.
Also worth noting is that CyberGhost does not log user data. And the fact that they are located in Romania means they are under no obligation from the government to store or share data with them.
Additionally, this VPN comes with an automatic kill switch that will disable your internet to prevent unencrypted data from leaking in case the VPN disconnects unexpectedly.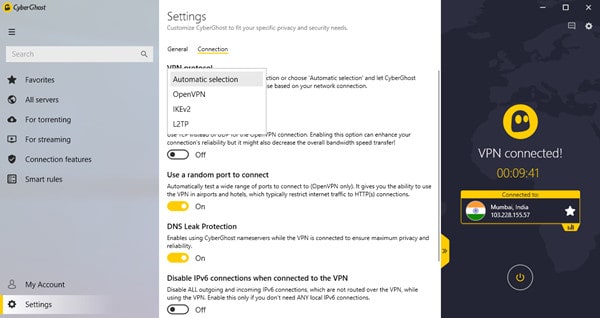 CyberGhost is also one of the few remaining VPNs that support P2P sharing. It offers unlimited bandwidth so you can enjoy the fastest download speeds.
This VPN has applications for all the popular operating systems including Android, iOS, and a Command Line Interface app for Linux. It allows a maximum of 7 simultaneous connections on a single license but you can protect unlimited devices by configuring it on a router.
If you want the best value, I recommend that you go for the CyberGhost 2-year plan or the 3-year plan. If we decided to rate it based on their monthly plan, then it wouldn't make the cut for the cheapest VPNs.
Read Full Review
Pros
Great internet speeds
Wide-distribution of server locations
Specialized servers for streaming
Does not store sensitive user data
Offers dedicated IP addresses
Cons
Offers the best value on long-term subscriptions only
2. NordVPN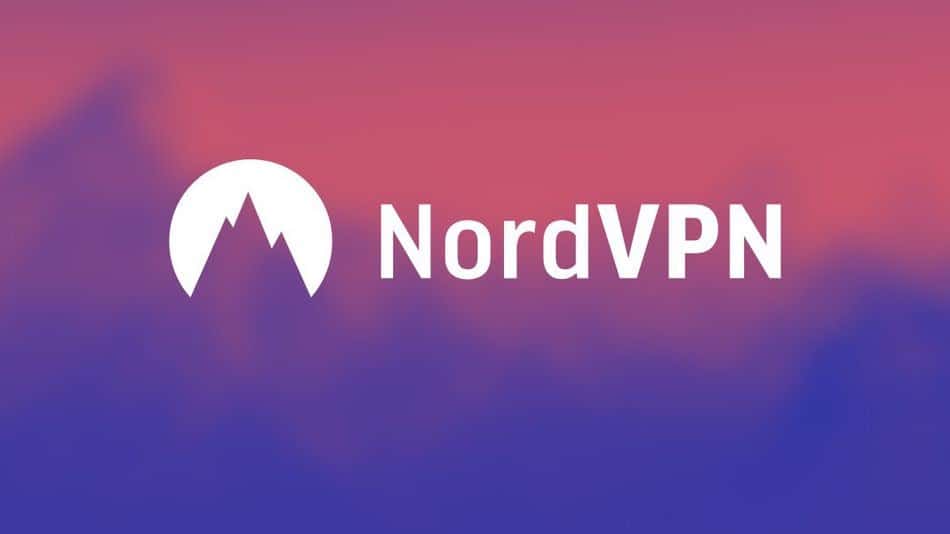 If you are all about security, then you will love NordVPN. It's yet another affordable VPN that goes toe to toe with the best in the industry.
NordVPN was the first and arguably the best VPN to offer a double VPN. This allows you to pass your internet traffic through two servers and consequently encrypt it twice. It also allows you to add the Tor network over the standard VPN connection with just one click. This is unlike other VPNs that require that you first download the Tor browser to benefit from the increased anonymity.
Of course, the advanced security features come at the cost of further reduction in speed. If you are only using the VPN for browsing this will not be an issue but if you are a streamer, then it can be really frustrating. If that's the case, I recommend you just stick with the standard security that combines OpenVPN and AES 256 bit encryption.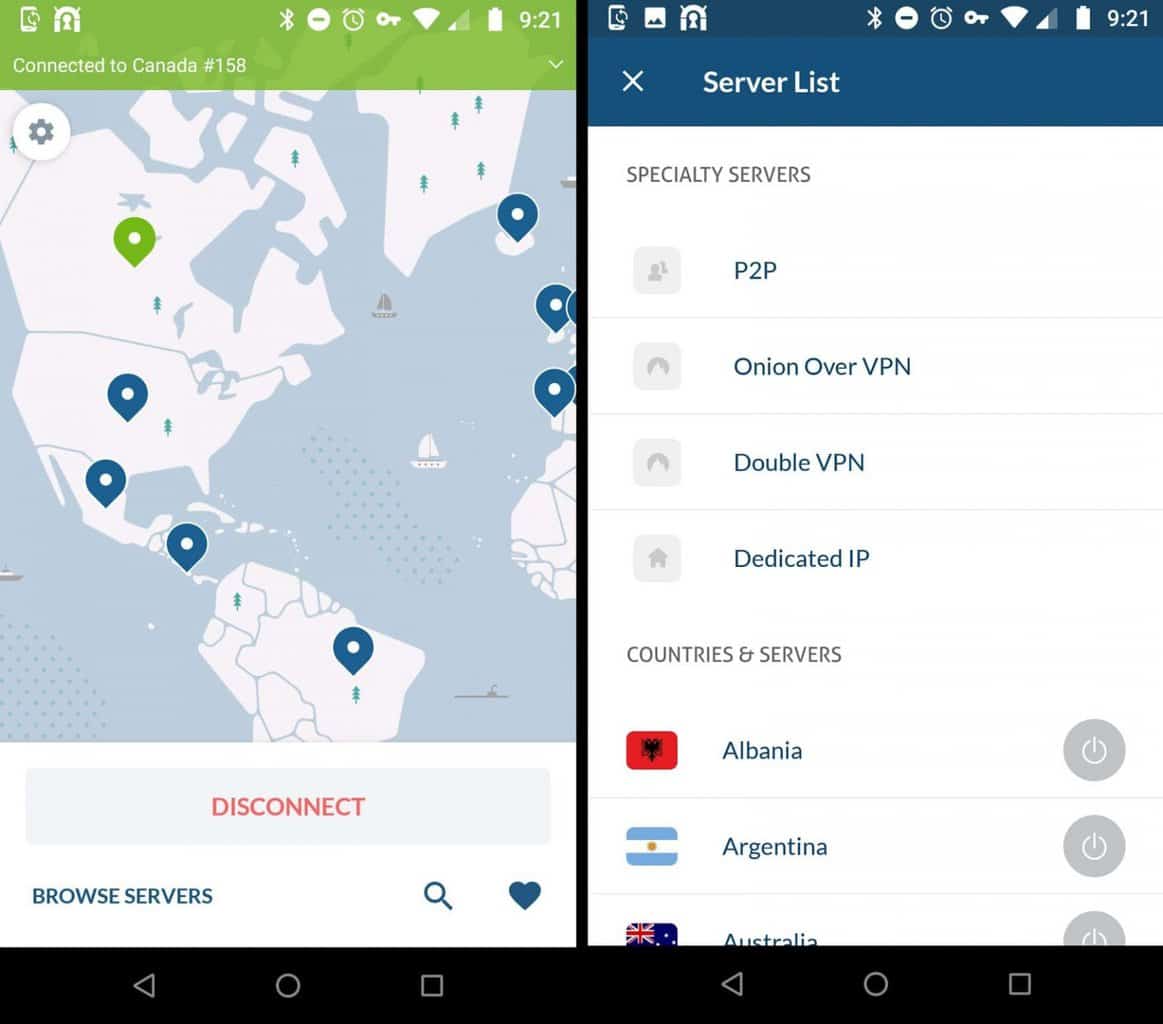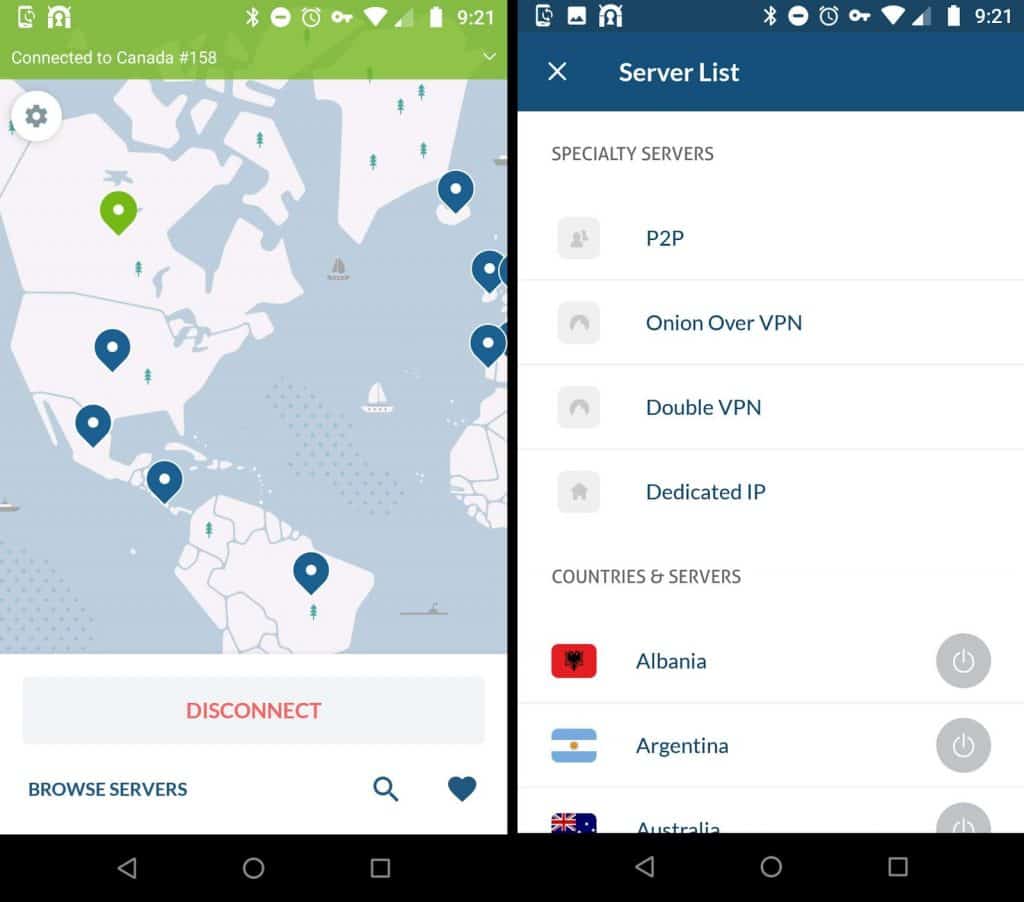 Additional security features include an automatic kill switch to prevent leaking of encrypted data and DNS leak prevention feature. The latter ensures that all your internet requests are routed via `the VPN servers instead of the ISP servers.
In terms of streaming, NordVPN does not dissapoint. It can unblock all the streaming services in all its server locations. And considering that it has 5400+ servers in 59 countries, that is a lot of content.
This VPN can be used on all the popular devices regardless of whether they are running on Android, iOS, Windows, macOS or even Linux. However, the best part is that it can be configured on your router which will consequently allow you to protect all the other devices connected to your network.
This is the perfect way to bypass the 6 maximum simultaneous connections allowed by this VPN service
As you already know, VPN IP addresses are shared between multiple users. This is great for anonymity but it will be flagged down by sensitive sites such as banking and eCommerce sites. The good news is that you can buy a NordVPN IP address that is dedicated to you only. This will help you access these sites while still remaining anonymous.
NordVPN does not come with a free trial but it offers a 30-day money-back guarantee.
Read Full Review
Pros
Advanced security features
Huge collection of global servers
Great download speeds
Compatible with multiple devices
Offers dedicated IP addresses
Cons
Advanced security features will affect speed more
3. PrivateVPN
PrivateVPN is an often-overlooked solution but it knows how to get work done without costing you a fortune. The first great thing about it is that it is located in Sweden. This means they are not under any obligation to store or share your user data with the government.
This VPN comes with a little over 150 servers distributed over 60 locations and will help you unblock restricted content in all these regions.
Yes, I know the number of servers is significantly lower than other VPNs but you won't notice it when using the VPN service. I know this because we did some speed performance tests. Usually, when the servers are inadequate, it will result in competition for bandwidth which then affects your download speeds.
I was able to watch a full episode of The Witcher on Netflix without being interrupted by buffering. However, I did notice that videos took longer to load. Also, there were a few times when the video quality fluctuated but for the most part, I was watching in full HD.
PrivateVPN does not dissapoint when it comes to security. It uses 2048-bit Encryption With AES-256 which is facilitated by OpenVPN connection protocol. You can also manually change to other connection protocols such as PPTP, L2TP, and IKEv2 which may not be as secure as OpenVPN but will help you get better speeds.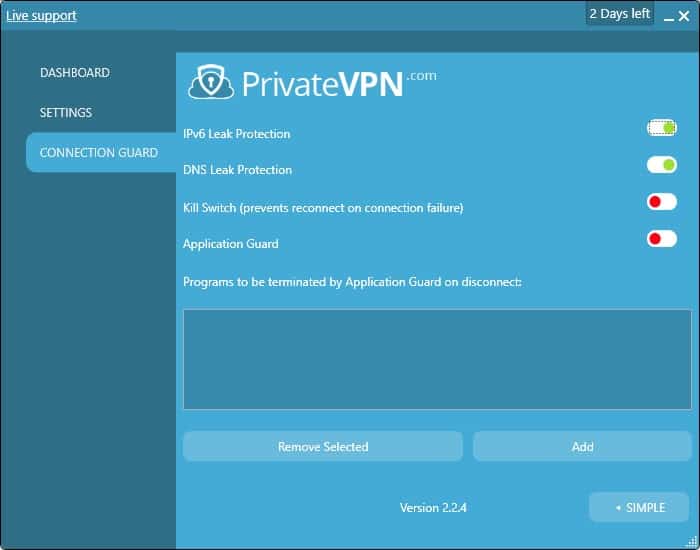 Additional security features include a kill switch, IPv6 leak protection, and DNS leak protection.
PrivateVPN supports P2P sharing but it is not the best VPN for the job because the functionality is only limited to the UK server. If too many users are connected, then there will be competition for bandwidth resulting in slowed downloads. Additionally, if you are far from the UK then the internet traffic will have to travel long distances to reach the VPN server which will also affect your download and upload speeds.
With that said, you will not have issues using the VPN on any device because it is compatible with all the popular OSes. It supports a maximum of six simultaneous connections but if you configure it on a router, you can protect unlimited devices.
One thing I really love about PrivateVPN is that it does not require that you purchase a long term deal to get the best value. It has an unbelievable 3-plan and a monthly plan that is an absolute steal.
Again, this VPN does not have a free trial but it offers a 30-day money-back guarantee.
Pros
Cheap regardless of the plan
Wide-spread server locations
Unblocks Netflix and other streaming services
Supports P2P sharing
Cons
Netflix videos take longer to load
4. Surfshark
Surfshark is another excellent cheap VPN you can trust to provide all the premium VPN features. It comes in three plans but it is the 2-year plan that really helps save the buck.
The first thing I tested with this VPN is its ability to unblock geo-restricted content. Good news, it unblocks Netflix and all the other popular streaming services. Then this led me to the other test. Speed performance.
Surfshark is not the fastest VPN but it did not dissapoint. I streamed a movie online and although there was no buffering, I experienced fluctuations in video quality from time to time.
One distinguishing factor of Surfshark is that it does not put a cap on the maximum number of simultaneous connections you can have. You can log in to all your devices at once. Still, it's great that you can configure it on a router since it will save you from the logging in process.
Whitelisting is the other distinguishing feature of Surfshark. It allows you to configure specific applications and websites to go through the ISP servers instead of the VPN servers. This is especially useful for banking sites and other sensitive sites that may flag VPN connections as suspicious.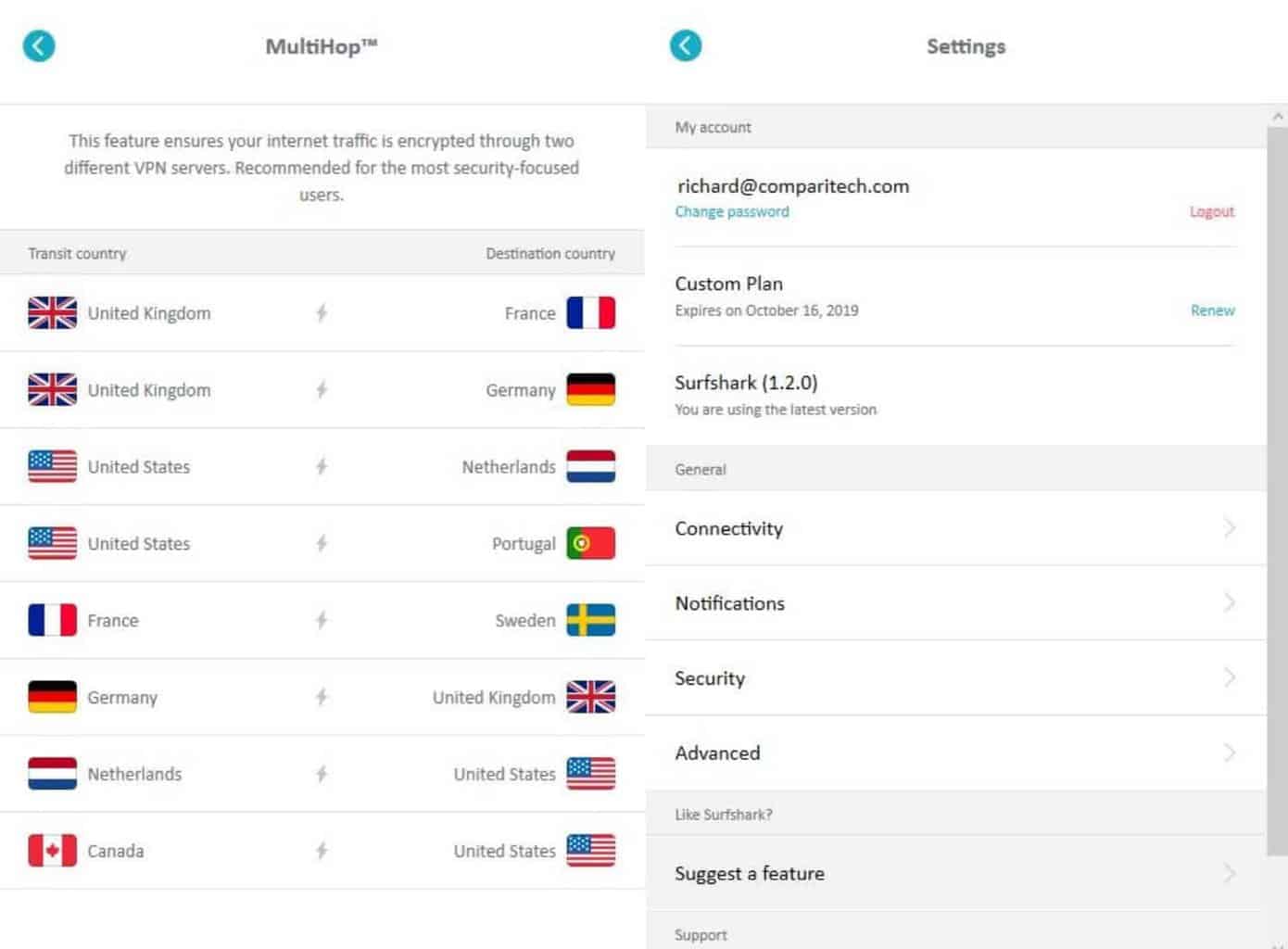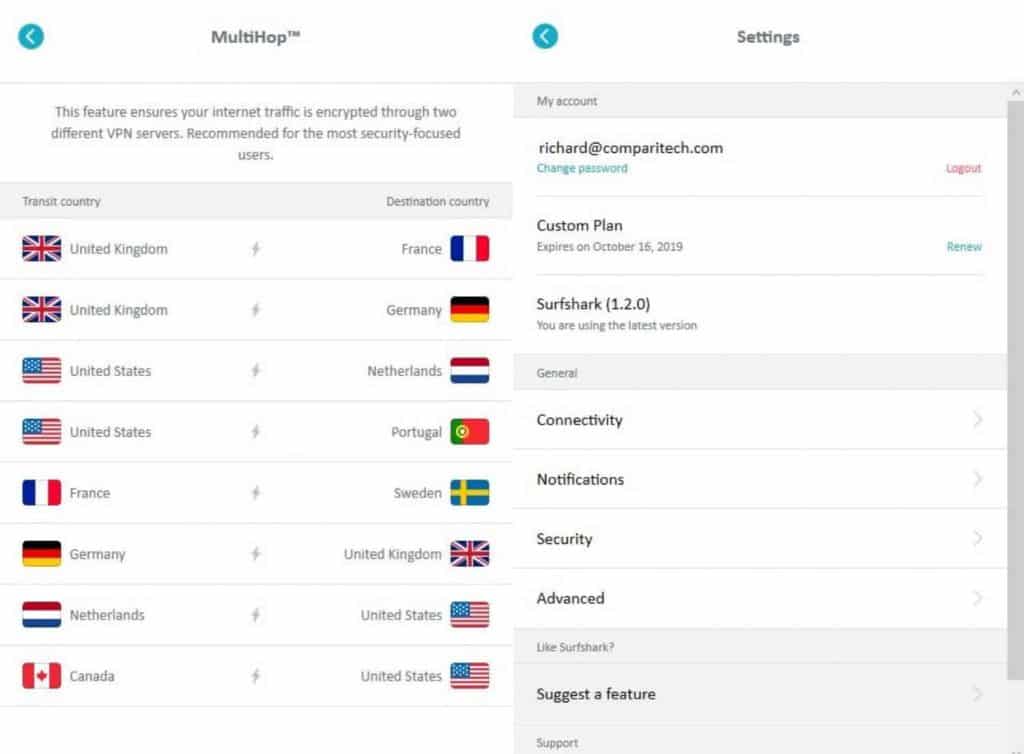 Surfshark is very strict about not logging the data of its users. It is further protected by their jurisdiction since the British Virgin Islands are not under UK privacy laws. This means that the VPN service may not be forced to store or share your data.
This VPN supports the IKEv2 connection protocol by default but allows you to manually change to OpenVPN connection protocol for increased security.
Oh, did I mention that Surfshark has the ability to camouflage a VPN connection to look like a normal connection? It's a great way to fool websites that block VPN connection.
This VPN has apps for Android, iOS, Windows, macOS, and Linux. It can also be installed on Smart TVs, gaming consoles, and streaming media players like the Amazon Fire TV Stick. And if you want, you can integrate it into Chrome and Firefox.
If you are having trouble using the VPN you can reach them through their live chat option that is available 24/7 or through email support. There are also several actionable articles in their knowledge base that you can use to resolve problems on your own.
Pros
Great streaming speeds
Supports unlimited simultaneous connections
Unblocks Netflix and other streaming services
Compatible with multiple operating systems
Cons
Fluctuations in video quality when streaming
5. Private Internet Access
You won't hear a lot of people talk about Private Internet Access but it is one of the cheapest VPNs in the market. And just like PrivateVPN, you don't have to subscribe to the long term plans to get the best price. Nevertheless, if you want the best deal then go for the annual plan.
It's a little unsettling that PIA is located in the United States who are members of the five eyes alliance but the VPN service is very strict about not storing important user data. This means that even if the government was to come knocking PIA would have no information to give.
Of all the VPNs on this list, PIA had the slowest speed performance. And this became even more apparent when we tried to stream a video. It was a music video on YouTube since we could not unblock Netflix and still, it buffered in two instances. The video quality was also not the best.
We were finally able to unblock Netflix US but we had to try several times.
But one area this VPN service did not disappoint is security. It supports PPTP, OpenVPN, and L2TP/IPSec connection protocols which provide an iron-clad security fortress when combined with AES 256 bit encryption.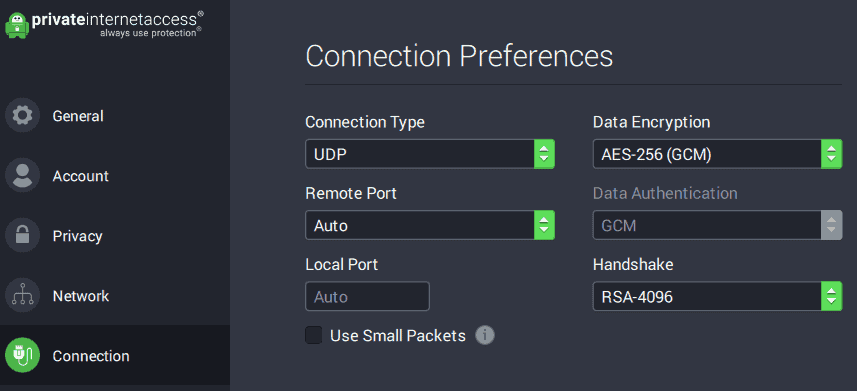 This helps prevent hackers from stealing your data and also ensures that your ISP cannot monitor your online activities. It will also help maintain your online anonymity when downloading torrents.
A distinguishing feature on this VPN is that it comes with an ad-blocker and will also stop trackers and malware. It won't replace a dedicated anti-malware program but it's a nice touch.
Private Internet Access VPN has an application for all the popular devices and allows a maximum of 10 simultaneous connections on a single license.
However, you can still protect unlimited devices by configuring the VPN on a router. This would only count as one connection and you can use the nine others for when you are outside or share with friends and family.
The customer support is also sort of a let down since there is no live chat option but their email support was more responsive compared to the last time I reviewed the VPN. Now it takes anywhere from 10-20 minutes to respond to queries. You can also try searching for your problem in their knowledge base and see if there is an existing solution.
Read Full Review
Pros
Cheapest VPN on this list
Strong encryption
Comes with an ad-blocker
Supports 10 simultaneous connections
Cons
Trouble unblocking Netflix and other streaming services
Unreliable connection speeds
Lifetime VPN subscriptions and why I don't recommend it
You have definitely come across a VPN that offers a lifetime plan on top of the usual subscription plans. You pay a slightly higher amount and in turn, you never have to worry about any payments again. But as awesome as that sounds you will never get the value for that money.
The VPN niche or more specifically the cybersecurity industry is highly volatile. What is working today will most probably not be working tomorrow. This means that the VPN that you just tied yourself to may lack the necessary features to protect you in the future.
And, considering that you never have to pay a single dime ever again, you see how it's easy for the VPN service to lack the necessary funds to upgrade their software in the future, right?
Another thing, new VPNs are being created by the day. There is a chance that another cheap VPN will come up that offers the best features. Unfortunately, you won't be able to jump ship because you already committed yourself for a lifetime.
My advice. Choose the subscription plan that makes the most economic sense but never the lifetime plan. If after the set years you still feel like going on you can renew the subscription.
And come to think of it, this is how marriages should also work.
Conclusion: Which is the best cheap VPN?
I have to admit it was a very close battle between CyberGhost and NordVPN. Both VPNs have top tier VPN features that you usually find on the more expensive VPNs. But I had to choose one so I went with CyberGhost.
It is the fastest VPN on this list, it promises solid security and privacy features, it supports P2P sharing and it also includes a bunch of other awesome features.
Also, this VPN service has also been growing very rapidly over the years which gives me the idea that they will introduce even better features as time goes by.
CyberGhost comes with a 45-day money-back guarantee and that is the most generous you will come across. This gives you enough time to take it for a test ride and decide whether it is the solution you are looking for.