Popcorn Time has been hailed by many as the free Netflix and to some extent that's true. The BitTorrent client comes with a huge collection of movies and TV shows that you can view for free using it's integrated media player.
What's more, you can find and stream recently released titles that would otherwise be unavailable on other streaming services like Netflix. But therein lies the problem. The other streaming services don't have these titles in their library because they don't have the rights to stream them.
The same is also true for Popcorn TV. In fact, it does not have the right to stream any of the titles in its library.
What are the Dangers of Using Popcorn Time Without a VPN
Every time you use the streaming service, you are infringing copyright laws. And If caught, the consequences will be different depending on which region you are located in. Worst case scenario you could go to jail. Other possible outcomes include a warning letter from your ISP with the possibility of being banned from their network or a lawsuit from the content owners.
In 2015, a number of Popcorn Time users were sued by a studio for downloading and distributing the movie, Survivor on the platform. 
Note that Popcorn Time uses Peer to Peer (P2P) file-sharing protocol and thus every time you stream a video on the platform, you expose your IP address for everybody else to see. This then makes it extremely easy for law enforcers to track you down since all they need to do is subpoena your ISP who will then give them all your personal details.
Also, hackers can use your IP address and exploit vulnerabilities in your computer to remotely access your system.
Now, up to this point, I think it's pretty clear why you need a VPN. It will encrypt your data and spoof your IP address making it impossible for your ISP to snoop on your online activities or for any other party to determine your real identity.
But here is the tricky part. There are so many VPN solutions currently that it can be painfully hard to settle for one. The good news is that we have done the hard work for you.
We tested all the popular VPNs and based on how they performed we have been able to come up with the best 5 solutions to use. And to further sweeten the deal, I will be telling you which is my favorite at the end of the post.
Best VPNs for Popcorn Time
Factors to Consider When Choosing a VPN for Popcorn Time
Supports P2P sharing – A lot of VPNs are either against P2P sharing or limit the amount of data that can be transferred through their servers. These are not the kind of VPNs you want for Popcorn Time.
Great Connection speeds – Streaming is a very bandwidth-intensive activity and if a VPN has slow connection speeds then it will interfere with your quality of streaming.
Has a Killswitch – Sometimes when your computer goes to sleep or when you change to another network, it's possible for your VPN to disconnect momentarily but that is enough time for unencrypted data to pass through. A kill switch will automatically disable your internet during these incidences to ensure that no data leaks.
DNS Leak protection – Your selected VPN should have dedicated DNS servers to encrypt all your DNS requests. If your ISP sees your DNS requests then they will be able to tell the websites you are visiting and even the files you are downloading.
Solid Encryption protocol – Encryption protects your data from theft and will also prevent snoopers, including your ISP, from monitoring your online activity.
Multiple device compatibility – A great VPN will work with multiple devices so that any device that you want to use to access Popcorn Time can easily be protected.
1. ExpressVPN
I cannot think of a single VPN list roundup that would be complete without ExpressVPN. Whether you are talking about security, speed, unblocking streaming services or even torrenting, ExpressVPN has it all.
The VPN is based on the British Virgin Islands which is independent of the UK and does not, therefore, have mandatory data retention laws. This means that ExpressVPN does not store any logs that could be used to identify you.
And with 3000+ servers distributed over 160+ locations in 94 countries, you have plenty of options to help you confuse anyone trying to track you. But the best part is that ExpressVPN allows P2P sharing on all its servers.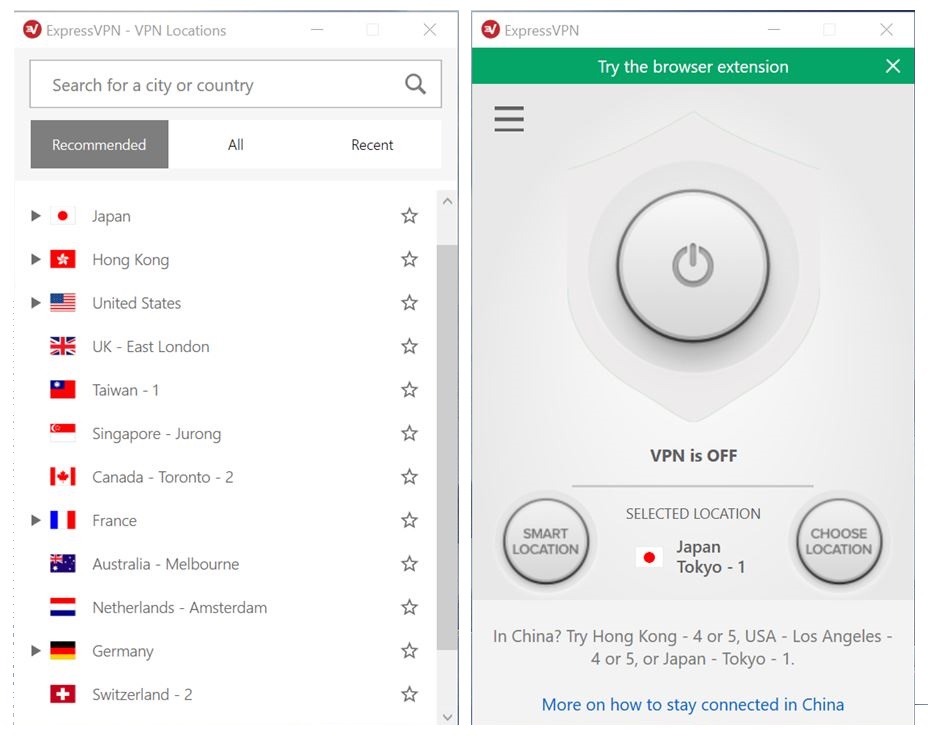 In terms of security, ExpressVPN is compatible with OpenVPN protocol which offers full-proof security when combined with AES 256 bit encryption. Not even the NSA has been able to crack through this security combination yet.
The VPN is also compatible with PPTP and L2TP/IPSec connection protocols which offer less security but provide better streaming speeds. Though there is no need to worry if you are using the ExpressVPN app because it will automatically choose the best protocol for your network.
The Killswitch is also present and will disable your internet in the event that your VPN connection drops to prevent unencrypted data from leaking out.
In case you run into any problems using this software, just contact customer support. Their agents are available 24/7 via live chat and they respond in less than a minute.
ExpressVPN does not offer a free trial but they have a 30-day money-back guarantee.
Read Full Review
Pros
Excellent streaming speeds
Supports P2P file sharing on all it's servers
Solid security protocols
30-day money-back guarantee
2. NordVPN
NordVPN does not mess around when it comes to security. It allows you to encrypt your data twice. As in your data goes through the first server gets encrypted and then it goes through another server and gets encrypted again. Good luck to anybody trying to track you or spy on you online.
Note that the double encryption will have a bigger effect on your connection speeds than standard encryption so if you experience trouble streaming content on Popcorn Time, you can disable it. You will still be adequately protected.
All in all, NordVPN provides great connection speeds suitable for streaming in full HD and without buffering.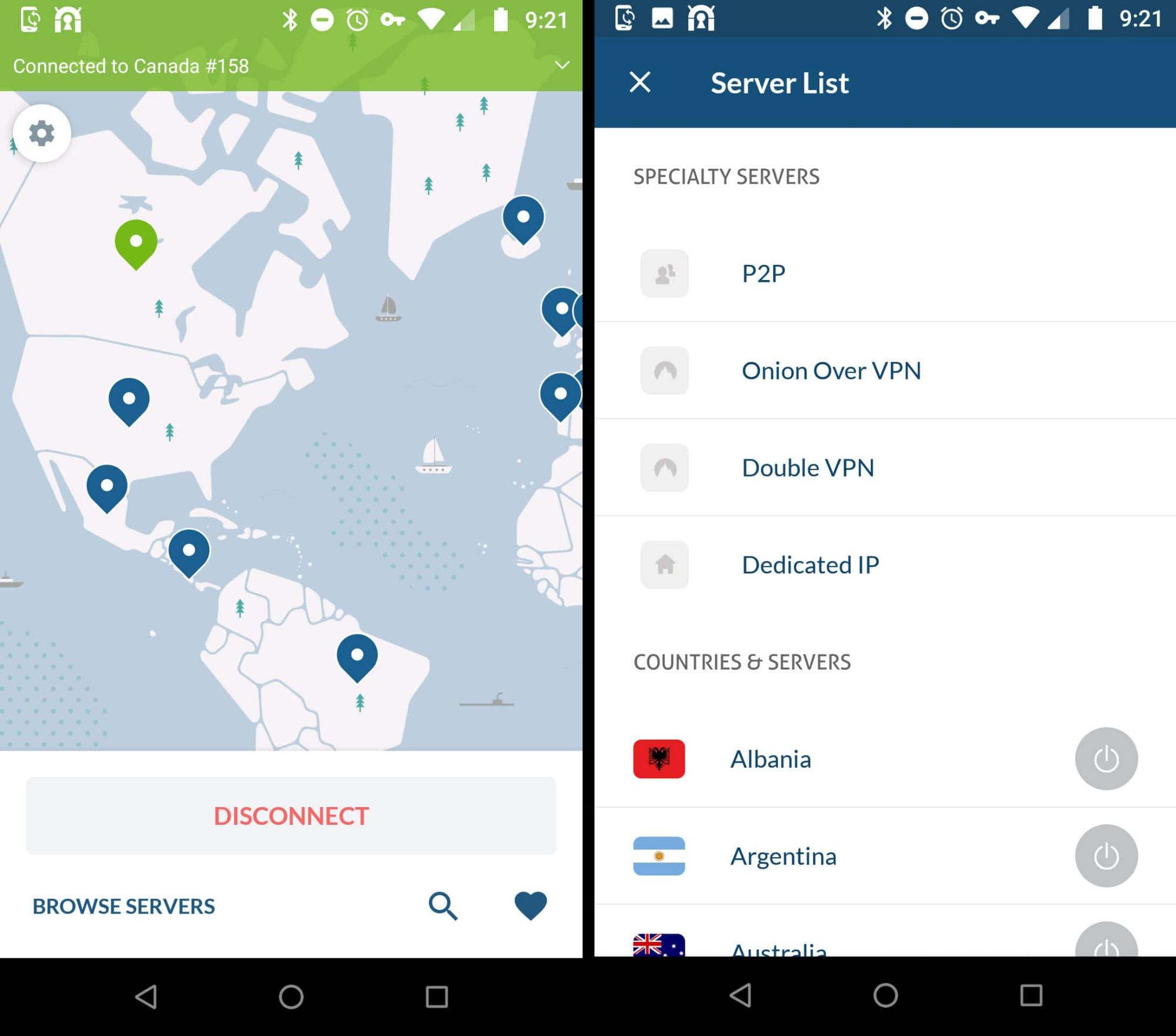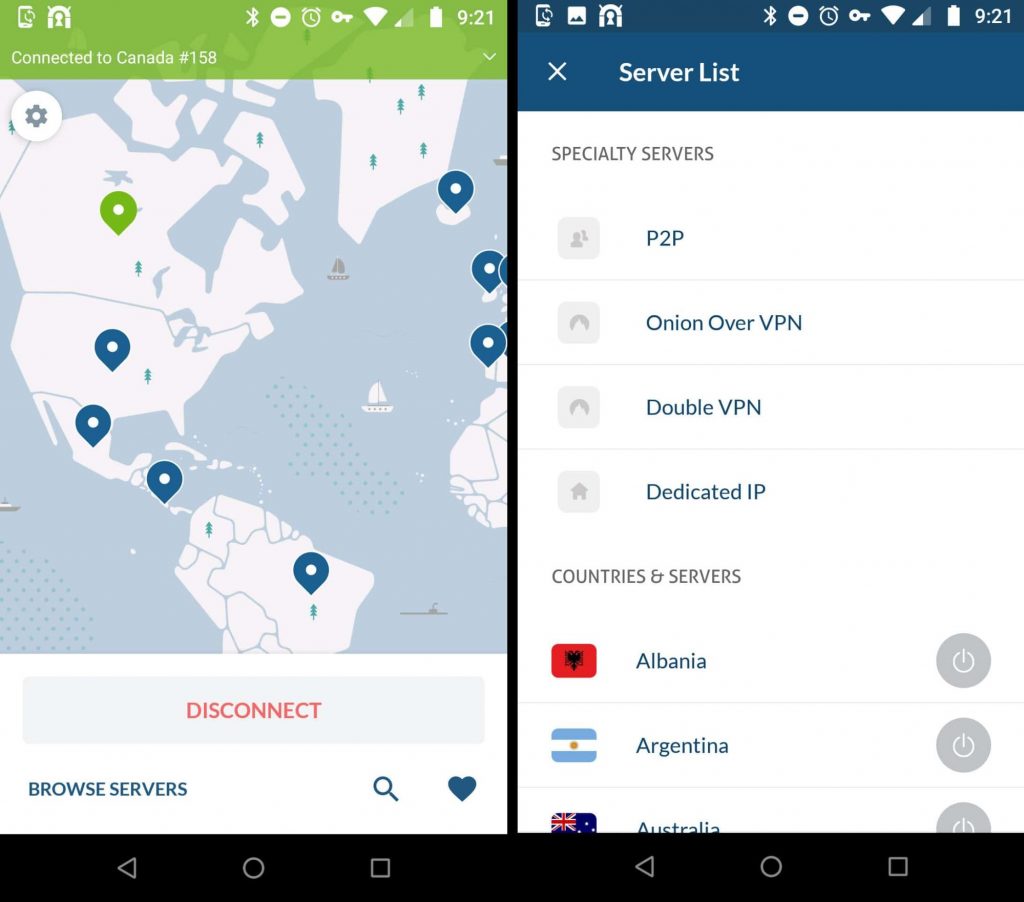 This VPN solution has over 5400 servers in 59 countries. The immediate benefit you get from this is that there are multiple locations to choose from when you want to hide your real IP. Then the underlying but more important benefit is that there is a huge selection of servers supporting P2P sharing.
Apart from a few countries like Israel, South Korea, and Indonesia, NordVPN supports P2P in all its servers. This means that there is no competition for bandwidth and hence you are assured fast and consistent connection speeds suitable for uninterrupted streaming even for full HD videos.
NordVPN is located in Panama where there are not obligated by the law to store user data. With no logs, it would be impossible for anybody to trace any online activity back to you.
For those moments when your VPN disconnects NordVPN ensures that no data is accidentally leaked by automatically disabling the internet. It also comes with its own DNS servers which means that unwanted parties cannot intercept your DNS requests and decipher what you are doing online.
NordVPN comes with a 30-day money-back guarantee but does not offer a free trial.
Read Full Review
Pros
Offers double encryption for increased security
Great streaming speeds
Does not store user logs
Huge collection of servers that support P2P sharing
Cons
Increased encryption could impact your streaming quality
3. CyberGhost
CyberGhost is a great VPN solution for Popcorn Time that comes with specialized servers for P2P sharing. These servers don't just allow P2P sharing they have also been optimized to produce the best speeds when sharing files.
What's more, CyberGhost does not put a bandwidth cap on these servers. You can, therefore, watch your shows and movies without having to worry about buffering.
This VPN has a dedicated application for all popular devices. So regardless of whether you are using an Android or iOS mobile phone or a computer running on Windows, Mac, or Linux OS, you will be VPN protected.
CyberGhost uses OpenVPN protocol combined with AES 256-bit encryption which will be a nightmare for anyone trying to crack through. Your ISP cannot ban you or throttle your internet because they have no idea what you are doing online. Other connection protocols supported by the VPN include IKEv2 and L2TP. They cannot match up to OpenVPN's security standard but they are a great alternative when you want better connection speeds.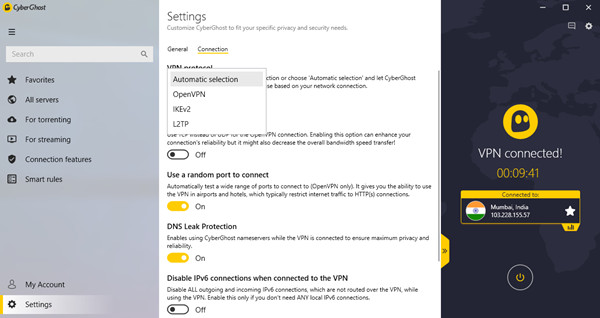 CyberGhost also ensures that there are no accidental leaks of personal data by automatically activating the killswitch anytime the VPN gets disconnected unknowingly. This is further reinforced through DNS and IPv6 leak protection. Most VPNs only encrypt data being sent through IPv4 addresses since it is the most common protocol and this may leave you vulnerable if you are using IPv6 addresses.
This VPN solution comes with a 1-day free trial but has limitations that prevent you from fully experiencing the product. The good news is that CyberGhost offers a generous 45-day money-back guarantee that allows you to request a refund if you are unsatisfied with the product.
CyberGhost is the most affordable solution if you opt for the long term subscription plan.
Read Full Review
Pros
Has specialized servers optimized for P2P sharing
Offers DNS and IPv6 leak protection
Affordable pricing
Great streaming speeds
Cons
The 1-day trial period is limited
4. IPVanish
This is a VPN that is held in high regards in the torrenting world because it has always had their interests at heart. IPVanish owns and self manages all their servers and can thus guarantee their availability and consistent connection speeds.
Better yet, the VPN allows P2P sharing on all its 1300+ servers and does not limit the bandwidth to be consumed. And that is what makes it such a good VPN for Popcorn Time. And the security aspect of it of course.
The servers are distributed over 75+ locations which gives you a lot of options when you want to spoof your IP address to a different location. It also increases your chances of finding a server that is nearest to you for even better connection speeds.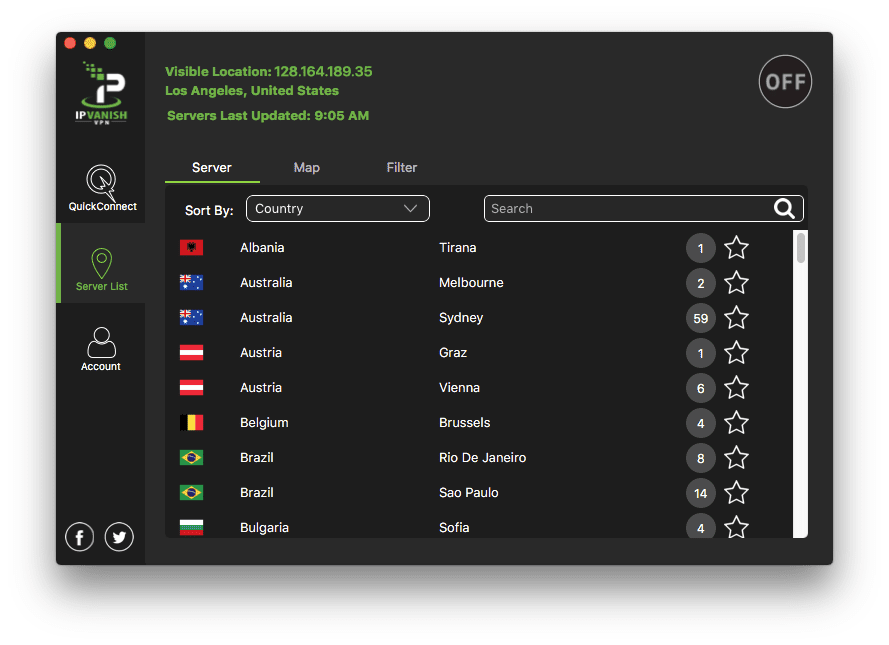 Since IPVanish does not store user data, there is no footprint online that can be used to identify you. The VPN supports multiple connection protocols such as IKEv2 and L2TP/IPSec but most importantly it supports OpenVPN protocol which provides the best security when combined with AES 256-bit encryption.
I understand that you may be wary of the fact that IPVanish is based in the US which is a member of the 5 eye alliance but here is the good news. The VPN does not store any logs. Sure, they are obligated to share user data with the government should the need arise but then they have no data to give.
The other thing that impressed me about this VPN is the multiple device compatibility. It has an application for all the popular devices you could use to stream Popcorn Time and what's more, it allows you to connect up to 10 devices simultaneously.
On the downside, IPVanish only comes with a 7-day money-back guarantee. That's a little limited compared to other VPNs like CyberGhost that offer 45-days but I still think it's enough time to test and understand the product.
Read Full Review
Pros
All servers support P2P sharing
Offers great streaming speeds
Solid security features
Compatible with multiple devices
Cons
The 7-day money-back guarantee could be more
5. PrivateVPN
PrivateVPN is a Swedish based VPN that is as great in streaming as it is in securing your connections. This is precisely what you want in a VPN if you are using it for Popcorn Time.
On the downside, this VPN only supports P2P sharing on their UK servers. People who are located far from the UK may get lower speeds than the others because of the big distance that the traffic data has to travel.
But the good thing is they are high-quality network capacity servers with no bandwidth limitation and can, therefore, guarantee decent speeds.
Sweden does not have mandatory data retention laws and since PrivateVPN does not store user data, there is no existing evidence to prove that you have been streaming content on Popcorn Time.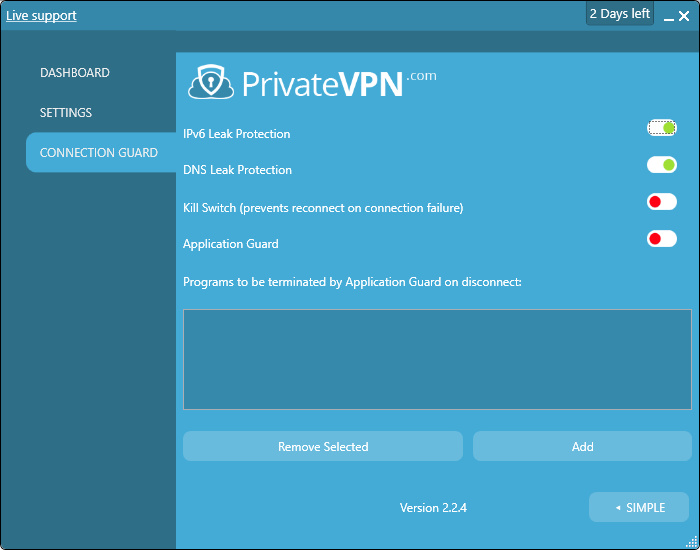 Moreover, this VPN solution ensures that non-authorized persons cannot spy on you by employing OpenVPN connection protocol coupled with AES 256 bit for data encryption.
PrivateVPN also features a kill switch that is further reinforced through DNS and IPv6 leak protection. All these features eliminate the chance of any information slipping past the VPN unknowingly.
PrivateVPN does not come with a free trial but it includes a 30-day money-back guarantee.
Read Full Review
Pros
Does not store logs
DNS and IPv6 leak protection
Very affordable
30-day money-back guarantee
Cons
Only the UK servers support P2P sharing
Popcorn Time Still wants me to use a VPN and I already have one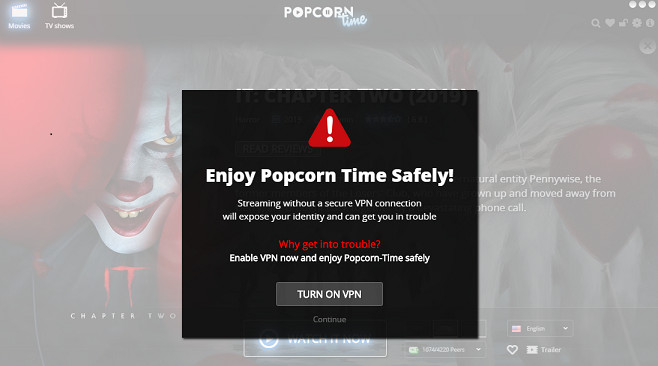 This was the message that probably made you consider using a VPN for Popcorn Time but now you already have a VPN and you are still receiving it. What's the problem?
Don't mind it. That is just Popcorn Time trying to make some money by selling their own VPN.
Anonymous VPN, as it's called, will offer you some level of security but unfortunately, it lacks the right combination of features present in our recommended solutions which is why it does not cut it into our top 5 list.
5 legal alternatives to Popcorn Time
It's great that you can get amazing content through Popcorn Time but even though you won't incur any subscription cost, it could cost you in terms of legal fines if you get caught.
Of course, that is what we are trying to avoid by recommending a VPN but if you like living on the safe side these are some alternatives you can consider. Some of them are also free.
Kodi (Free) – Kodi is a media player software that allows you to organize and manage your local collection of movies, shows, music and photos. However, it has addons that will give you access to free and legal streaming sources.
Kodi is available for all the popular OSes such as Windows, Mac, Linux, Android, iOS and even Raspberry Pi.
Plex (Free) – Plex is also a media player like Kodi but it does not need addons to stream content from the internet.
The company recently partnered with Warner Media, Lionsgate, and Legendary to distribute their content for free but with advertisements in between the content.
Crunchyroll (Free) – This is a popular Anime streaming platform that comes with an awesome library of shows you can stream for free. They also offer a premium plan that will give you access to more shows and also eliminate the ads.
Netflix (Paid) – I don't think this one needs an introduction. Netflix has over 148 million subscribers worldwide and you just need to look at their title catalog to understand why.
Hulu (Paid) – Hulu is the next big thing. And if you have not yet heard of it, it's probably because it is only available in the US and Japan. But that does not mean you cannot access it from elsewhere. All you need is the right VPN to spoof your IP address to a US location.
Conclusion
Popcorn Time is, without a doubt, one of the best platforms there is for streaming the latest movies and shows at no cost. However, you cannot ignore the legal and security implications of using the platform.
Why risk getting arrested or getting hacked if it can be avoided by simply using a VPN? Security and speed are the two things that matter the most when choosing a VPN for Popcorn Time and you can trust that I put that into consideration when recommending the 5 solutions on this list.
But as I promised, I will tell you which one of them is my favorite. Although I am sure you have already guessed it. ExpressVPN. The VPN ticks all the security features and has the least effects on your connection speed. It's not the cheapest option but I swear you get value for every penny you spend. I should know because it's the VPN I use.