ExpressVPN has long established itself as a major player in the VPN market. This shouldn't come as a surprise since the features available for users are unique and critical to its overall performance as a leading VPN service provider.
In this review we look at the various salient features that create an experience that is relevant to VPN users.
Deploying ExpressVPN to a real online environment has given us insights into different aspects of its design and performance.
ExpressVPN Installation
Installing the ExpressVPN app is an easy process for all supported platforms. The setup wizard will take you through the steps after inputting the activation code from the signup process.
By default, the app selects an optimized server location. Simply click on the "On" button to connect to that server. The same button is used to disconnect. To switch to a different server location, click on the ellipsis and a list of servers will appear. The recommended list of server locations offers the best speeds based on your current location.
You can also click on the "All Locations" tab to get the full list of servers worldwide.
Interface
The ExpressVPN app has an intuitive design which brings out a practical layout that is easy to use. The updated apps for Windows, Mac OS, Android, and iOS are user friendly with quick tap buttons that enable faster location change. Improved connection speeds and reliability has made the apps more responsive.
Supported platforms
ExpressVPN supports several platforms and has made available apps for Mac OS, Windows, iOS, Android, Linux and routers. The service also supports Apple TV, Fire TV, Smart TV, PlayStation and Android TV box.
The Windows client has a simple interface that is extremely friendly for any user whether experienced or new. There is an On/ Off button at the top which allows users to activate the service.
Here you'll get an overview of the ExpressVPN Windows app home screen: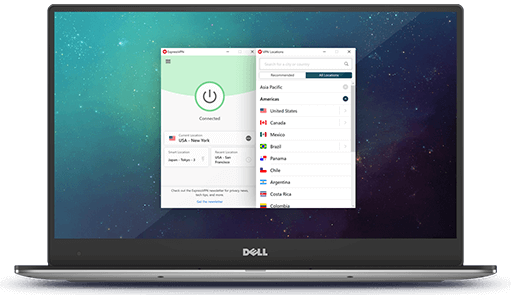 At the top left corner are three horizontal lines which when clicked on, display a menu with more features and the "settings" menu item. When the "On" button is activated, the app connects to an optimized server based on your current location using a Smart Location feature.
The "Recommended" button gives a list of servers that are near you and have the best speeds .
To switch to a different server location, click on the ellipsis and a list of servers will appear where you can browse every location within a country and select one manually.
Even better is the presence of a Search box that helps you to find locations by keyword. On the main client window, users can click the "Recent locations" tab to get faster reconnections to locations that have been accessed before.
To change a server, simply double-click a location you want on the list and the client will automatically disconnect from the current one and switch to the new server.
However, the client issues a warning that the internet traffic won't be protected until it's reconnected using the new server you have chosen.
A system tray icon makes it easy to connect to a server quickly by right-clicking on it. This displays a menu with a list of the last three locations you used. Users can therefore connect directly to a recent location without opening the full client.
Under "General Settings," users are allowed to choose from four encryption protocols including OpenVPN/ UDP, OpenVPN TCP, L2TP – IPSec and PPTP. The app will by default automatically pick the protocol most appropriate for your network.
The Network Lock (Kill Switch) is enabled by default to block all internet traffic if the VPN connection drops. This automatically protects your privacy by reducing the chance of any data leaks when a connection is lost.
On the Advanced tab, users can utilize ExpressVPN's split tunneling to choose which apps will use the VPN. This is helpful for excluding applications that won't work with the VPN by allowing them to use the normal internet connection.
Installing the Android app is easily done through the Google Play Store. This takes just a few seconds, then you are prompted to complete the signup process.
However, if your ExpressVPN account has already been set up on Windows, you can install the Android version from the Windows console by choosing Setup > Android page, then scan the QR code to automatically download and install the app. Remember to allow your phone to accept installations from outside Play Store.
The app has the On/Off switch just like the Windows version and a Location Picker makes it simple to find servers and connect quickly.
While the Windows version allows users to test speeds for specific servers or groups of servers in a certain geographic area, the Android app doesn't. The choice of protocols is limited to two – OpenVPN TCP or UDP.
The app allows Split Tunneling which helps users to decide which apps should or shouldn't use ExpressVPN. This can greatly improve performance by restricting apps that may slow down when using a VPN.
When you sign up through the Android app you get the option to try the service for free for 7 days.
The Android app unfortunately, does not have the Network Lock feature.
Apart from Apple's stringent security checks, the iOS app installs easily and has a similar interface to the Android version albeit with a few extra features.
Use the 'Smart Location' feature to choose a server or simply tap the Connect button to activate the VPN and let the app automatically select a server for you.
A Recent Connection list allows you to quickly choose a server and add commonly-used locations to your Favorites list.
The app allows users to switch servers without manually closing the current connection which is useful for those who switch servers often. Users are also given more protocol options including OpenVPN UDP, TCP, IKEv2 and IPSec.
Like the Android version, the app offers a risk-free 7-day trial and doesn't have a kill switch. However, it features an auto-reconnect option which is useful for attempting to re-establish the tunnel if the connection drops for any reason.
Browser extensions are important for protecting your browser traffic. ExpressVPN requires the desktop application to be up and running before the browser extension can be used.
The extensions enable users to easily switch server locations within the browser without the need to navigate to the desktop VPN client.
ExpressVPN's browser extension also incorporates HTTPS Everywhere which is a feature that forces websites to connect securely through HTTPS. This ensures that the data being transferred is encrypted to prevent interception by anyone.
The Chrome extension has a Privacy and Security section which allows users to prevent HTML5 geolocation from revealing their real location while connected to the VPN. it also enables blocking WebRTC leaks at the browser level. Combine all these with the HTTPS Everywhere feature, and this extension becomes genuinely useful.
The extension doesn't support the client's Favorites list which is an inconvenience for users with an existing preferred server list considering that the extension is directly linked to the desktop client.
The extensions are lightweight and it takes a few seconds to add them to supported browsers.
Unlike other VPN services, ExpressVPN offers a dedicated VPN router app for select router models. This can be achieved by installing the app or manually setting it up on the router.
The app is available for download from the ExpressVPN website. The site also offers comprehensive guides on how to setup the VPN on supported routers.
The use a VPN on a router gives users the flexibility to use multiple devices connected to the router. The router is counted as one connection, enabling users to enjoy the full benefits of the VPN with an unlimited number of connections.
Since ExpressVPN limits the number of simultaneous connections to 3, using the router app is the best alternative to providing encrypted traffic and anonymity for all your devices.
The router app enables users to easily switch between VPN servers and it has the Network Lock (kill switch) feature which helps to block all internet traffic when the VPN server connection drops.
The app also features split tunneling which allows users to select which apps or websites can bypass the VPN.
Key Features
ExpressVPN is an exceptional VPN service with excellent performance with regard to multiple parameters. It is packed with a combination of standard and other unique features that are critical for a VPN to stand out in a competitive field.
Let's explore these features in detail:
Security
ExpressVPN offers several core features that are critical for security conscious VPN users. Let's look at the various security components:
Encryption
ExpressVPN utilizes AES 256-bit encryption with DNS/IPv6 leak protection. The encryption uses a 4096-bit RSA key and SHA-512 HMAC authentication to provide a high level of securing data.
OpenVPN is set as the default protocol for ExpressVPN. However, users are allowed to choose other protocols such as OpenVPN TCP/UDP, L2TP IPSec and PPTP.
Under OpenVPN, some of the key elements for securing data are:
Server authentication – OpenVPN uses certificates similar to HTTPS to protect users against man-in-the-middle attacks. This is done using an RSA certificate identified by the hashing algorithm SHA-512 of the SHA-2 family. The RSA key belonging to the certificate is 4096 bits.
HMAC authentication – (keyed-Hash Message Authentication Code) is a Message Authentication Code used to protect data against being altered in transit by an attacker who has the ability to read it in real-time. TLS and OpenVPN uses hashes to reliably authenticate messages.
Control-channel encryption – To encrypt the control channel, ExpressVPN uses AES-256-CBC (Cipher Block Chaining) which is one of the most widely used encryption standards with the largest size of 256-bits. This encryption makes each message transmitted dependent on the previous one such that any brief interruption in the channel can be quickly detected.
Perfect forward secrecy – this ensures that if an attacker compromises your computer or VPN server during a session, he would not be able to decrypt any traffic from past sessions. This is accomplished by ExpressVPN negotiating a new secret key every time you connect. The system is set so that even if you remain connected to the VPN for an extended period of time, ExpressVPN automatically negotiates a new key for every 60 minute interval.
ExpressVPN Kill Switch (Network Lock)
The ExpressVPN Kill Switch is a critical component of security for automatically stopping the whole device from accessing the web once a VPN connection drops.
The kill switch, referred to here as the Network Lock feature, prevents your network traffic from being routed back through your internet service provider, when you are disconnected from a VPN server location.
This feature is critical in ensuring that no information is exposed every time a server connection is dropped. The primary purpose of a VPN is to protect your online activity and IP address from being exposed to hackers or your ISP.
In situations where a VPN server connection suddenly drops, the continuing internet connection is likely to expose your activities and identity to anyone snooping around.
To avoid such exposure, the Network Lock feature instantly stops your device from connecting to the Internet until the VPN connection is restored.
ExpressVPN currently provides the Network Lock feature for its applications that run on the following platforms:
Windows
Mac OS
Linux
Routers
Leaks
VPN leaks are common occurrences that can be caused by several factors including:
A BitTorrent client trying to send some traffic outside the VPN tunnel
A device losing connection to the network
Switching a device from Wifi to a cellular data network
WebRTC allowing a third party to request your true IP address
The VPN server suddenly becoming unavailable
The types of leaks that can affect a VPN include
IP address leaks
IP traffic leaks
DNS leaks
WebRTC leaks
Bittorrent leaks
DNS leaks are a serious problem when using any VPN service because they may not be obvious to a regular VPN user. They are likely to go unnoticed unless a DNS leak test is conducted.
When a device requests connection to a website, it first contacts a DNS (Domain Name System) server for the unique IP address of that site. A VPN ensures that this process goes through the VPN tunnel to make the data being transferred secure and private.
When a device's system reverts to the default DNS servers, it exposes the user's activities such as which files are downloaded or websites visited.
If this information is leaking it can be intercepted by the ISP or hackers, which means your identity can be revealed.
ExpressVPN secures all traffic by providing an IPv4 address and processing all DNS requests with secure DNS resolvers. The DNS servers ensure that no unencrypted queries are sent outside a secure VPN tunnel, effectively preventing any DNS leaks.
Users can also utilize the open source tools developed by ExpressVPN to test the service for any leaks. The tools are available from the ExpressVPN website (Leak Testing Tools page) or can be downloaded from Github.
The tools can be used to test leaks for any other VPN service.
RAM-DISK Mode
Starting in April 2019, ExpressVPN deployed servers running in RAM-disk mode.
This means that all servers in the network will not be storing any information since RAM requires power to store data. All the information on a server is wiped every time it is powered off and on again.
The TrustedServer security standard avoids the common way of running servers which relies on hard drives that retain all data until it is erased. These servers are prone to the risk of being hacked and data compromised.
The use of RAM-disk mode ensures that there is no possibility of servers inadvertently retaining sensitive user information.
Privacy and legal
Your privacy and that of your data is important when you choose to use a VPN service. ExpressVPN has put in place policies that protect your IP address and your activities online.
No logs policy
In its 'Policy towards logs' statement, ExpressVPN states that it does not and will never log traffic data, DNS queries, or anything that could be used to identify clients.
The company is clear on which records are logged. For example, it records the choice of server, amount of data transferred each day, version number of any clients installed and date when a user connected to the service. Since it doesn't store the IP address allocated or connection time, it is impossible to use this data to link any activity to a specific ExpressVPN user.
Data on crash reports, speed tests and connection failures is anonymized and cannot be traced back to a user.
Jurisdiction
ExpressVPN is based in the British Virgin Islands (BVI). This territory is known for friendly policies that do not allow data retention which guarantees complete privacy.
The company is therefore legally under no obligation to keep activity or connection logs.
The British Virgin Islands are not part of '14 Eyes', a group of countries that have an intelligence sharing agreement. The company cannot be compelled to release any data to authorities outside the BVI.
Furthermore, if such a request is made, it has to go through the BVI High Court and show expressly that the records are related to a serious crime. The entity requesting the information must also show how the data would provide relevant evidence to the case.
The advantage for ExpressVPN users is that even if such a request were granted, there would be no records to hand over since the company implements a no logs policy.
Payment Options
ExpressVPN gives the option of paying using Bitcoins for an untraceable VPN purchase.
Special features
Sensitive information is given an extra layer of security through ExpressVPN's hosting of a VPN service within TOR (The Onion Network). TOR layers internet traffic like an onion through a network of free servers or 'nodes.' The routing of traffic randomly between nodes obfuscates the origin of the data, significantly increasing a user's anonymity and privacy online.
Split Tunneling
ExpressVPN utilizes split tunneling that lets you choose which traffic is routed through the encrypted VPN tunnel and which one has direct access to the internet. This is useful in the improvement of performance by restricting apps that may slow down when using a VPN.
This feature can be activated in "Settings" since by default, all applications are routed through the VPN. Here, the user can select among the following options:
Allow all the apps to use the VPN
Select specific apps to use the VPN
Prevent specific apps from using the VPN
The feature can also be implemented on routers, allowing users to control how certain devices access the internet. Specific websites can be set to use or bypass the VPN.
Server coverage
ExpressVPN boasts more than 3,000 servers in 160 VPN server locations spread out across 94 countries. The servers are distributed across Europe, North America, South America, Africa, the Middle East and Asia Pacific regions.
The huge number of servers ensures that you'll be able to find one near you or one that's not too crowded, which ultimately results in good speeds.
Multiple server locations are important because they give users more options when servers are overloaded or when they are traveling across the world. You will always have access to a nearby server, which in turn ensures reliable connectivity and excellent speeds.
Subscriptions and Pricing options
ExpressVPN's pricing structure has three plans, monthly, six month and one year arrangements. The monthly plan is billed at $12.95 per month while the 6-month plan will cost you $ 9.99 per month. The 6-month plan is not common with many VPN providers and can be attractive for users who are not interested in the annual plan.
The annual plan is discounted and will cost you $8.32 per month. Special deals promoted by the company occasionally bring down the price to $ 6.67 per month.
The pricing plans from ExpressVPN are relatively higher compared to other VPN providers. For example, the monthly plan of $12.95 is higher than NordVPN's $11.95 for comparable features.
However, ExpressVPN's prices are typical of a premium brand that touts robust features and reliable support. Furthermore, there are no hidden fees but a straightforward billing cycle.
ExpressVPN offers various payment options for your convenience. These include:
All the major credit Cards such as Master Card, Visa, Discover and Amex
Bitcoin
PayPal
Other emerging payment platforms such as WebMoney, Alipay, Yandex and others.
All plans qualify for the 30-day money back guarantee if you are not satisfied with the service.
Connections and devices
ExpressVPN supports up to 3 simultaneous connections and unlimited bandwidth, optimized for fast connections. This is a limitation that gets noticed by many users.
However, the company offers comprehensive guides on installing the app on various routers. The router will occupy one of the 3 slots but enables users to connect multiple devices including desktops, laptops, smartphones, game consoles and even smart TVs.
This bestows users with the full benefits of the VPN with an unlimited number of connections.
Customer Support & Knowledge Base
Customer support is a very important part of any VPN provider. This ensures that issues are resolved promptly and users get value for money..
ExpressVPN's website provides comprehensive troubleshooting guides that can be helpful to users. These guides are handy for issues like error messages or dropped connections. The guides give alternative solutions with detailed descriptions and relevance.
Installation tutorials cover the installation of ExpressVPN's apps on various platforms including Windows Mac, iOS and Android. For each platform several tutorials are available detailing different ways to install the apps and manual setups too.
A huge collection of popular topics is available for users to find anything they are looking for.
Live Chat
The support team is available 24/7 on live chat. Within two minutes of initiating the chat, a representative responded to our query. The level of engagement by the chat agent was excellent and detailed. The fact that this service is not automated is a plus for ExpressVPN.
Email
ExpressVPN can also be contacted via email. The email response was delivered within 3 hours which was exceptional considering that the company promises to respond within 24 hours.
Netflix Streaming
Streaming services are important to most VPN users looking to unblock restricted content. A VPN that delivers high-capacity bandwidth and access to streaming content is preferred by many users.
Since the content on Netflix is segmented for various geographic regions across the world, users need a VPN service that can circumvent these restrictions and provide unfettered access.
The challenge for most VPN services is that Netflix is continually devising new ways to block VPNs. Blocked websites may also be as a result of government censorship or simply a Wifi network that may limit access to certain content like YouTube.
If you have already subscribed to Netflix, you may be restricted in terms of accessing certain content.
To access such content which is not available in your region, you need a VPN service that can get around such geo-restriction by hiding your IP address and using one from that particular region.
ExpressVPN performs quite well in unblocking such content. Netflix, BBC iPlayer and Amazon Prime performed exceptionally well in our tests across several servers in both the UK and US.
In most cases we were able to access Netflix and other geo-blocked content on a good number of servers. The good news is that the ExpressVPN support team is always available and their recommended servers worked on all our tests.
It is advisable to get in touch with them on live chat if you are unable to unblock any particular site. Their response was quite fast and helpful.
While Netflix and other content providers keep improving their VPN detection, ExpressVPN has shown resilience and we hope they will keep innovating to stay ahead of the game..
Using ExpressVPN in China
China and other countries with repressive regimes are notorious for blocking certain content to control what their citizens can access.
The good news is that ExpressVPN can bypass the Great Firewall and unblock websites that are censored in China. This allows any user in that country to access a variety of content across the internet.
ExpressVPN servers use an obfuscation protocol within the VPN app to conceal the user's VPN traffic as regular HTTPS encryption. This tricks China's censorship mechanisms to allow the traffic pass through the Great Firewall.
As mentioned earlier, when you are unable to get through China's Great Firewall, It is advisable to get in touch with ExpressVPN's support team for suggestions on which servers are designated to defeat the censorship.
Torrenting
If you are a torrenting fan, you definitely need to stay anonymous and find a way to download content without being throttled or monitored.
Since internet service providers can track your IP address and are able to monitor your online activities, a good VPN service can shield your activities.
While other VPN services tout special P2P-optimized servers which are essentially used for torrenting purposes (there is always a caveat not to download copyrighted content), ExpressVPN does not mention anything on those lines.
However, the company says that it offers unlimited bandwidth with great speeds and does not throttle connections. The lack of a cap on data usage is something that will always appeal to any torrenting fan.
Some companies will also restrict torrenting to selected servers but ExpressVPN seems to allow users to choose from the full set of server locations. This means that if you are torrenting, you will have full access to servers across the world and unlimited bandwidth.
With the great features offered by ExpressVPN – no activity logs, multiple apps, thousands of servers in numerous locations – it is a great service for anyone interested in torrenting.
Speed
As mentioned, a VPN service routes internet traffic through servers spread out around the world before connecting to a web resource. This is unlike a situation where no VPN is used – the traffic travels directly to the intended website.
The data going through a VPN has to be encrypted, the IP address hidden and the traffic routed across the world which can affect the speed. A server's load and distance from the user's location are also factors that cannot be overlooked.
However, the speed, although lower, shouldn't have a large variance when a VPN is deployed. A good VPN service will mitigate all these factors and deliver excellent speed.
ExpressVPN does this well and delivers superior speeds compared with other VPN providers.
ExpressVPN provides fast speeds that are consistent across its server network.
Our test results showed ExpressVPN delivering speeds above 150 Mbps for most of the servers. The speeds did not drop below 100 Mbps which indicates a rare consistency for a VPN.
For servers that are farther afield, the speeds reduced marginally to between 125 Mbps and 140 Mbps.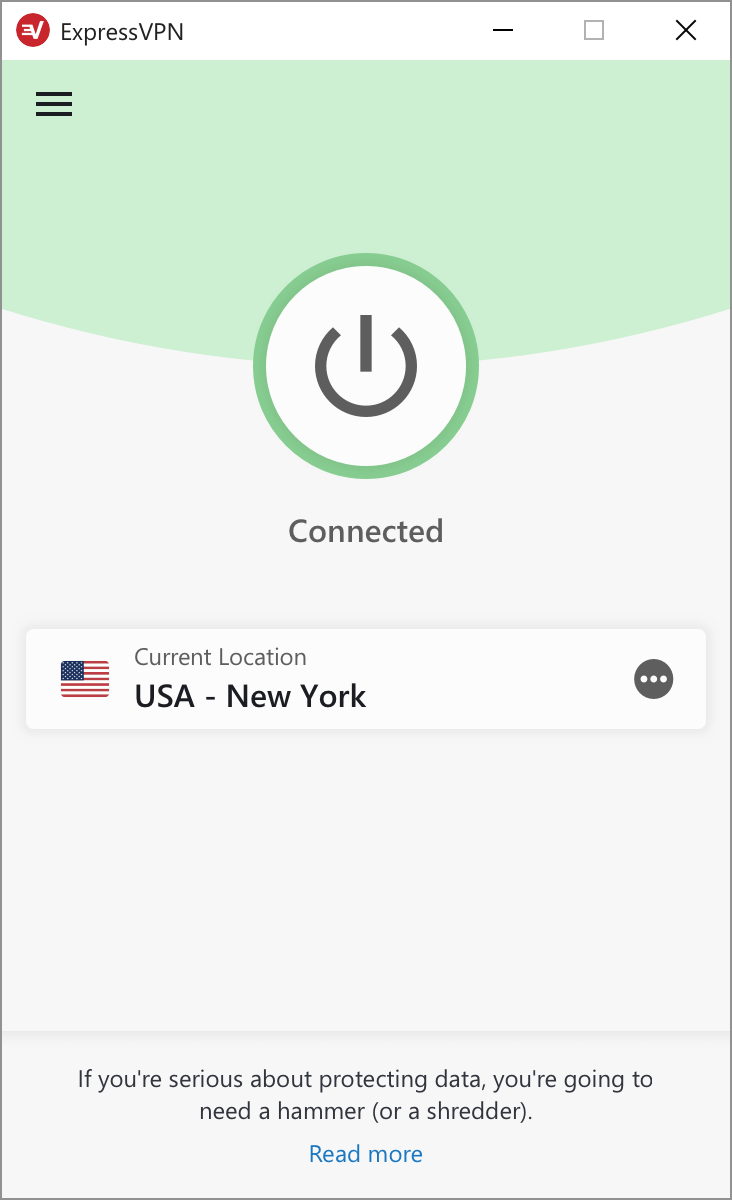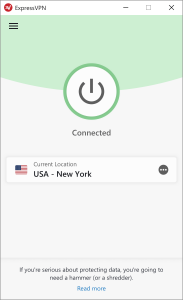 The ExpressVPN app provides users with a simple way to maximize speeds. When choosing servers, users can click on "recommended " for the app to display servers with the best speeds depending on your location and server loads (bandwidth availability) at a particular time.
In a nutshell, ExpressVPN delivers excellent speeds for all kinds of needs users may have.
PROS
30 day money-back guarantee allows you to test-drive ExpressVPN's features
Excellent speeds
Performs well with Netflix and major streaming services
Multiple secure apps
CONS
A bit expensive compared to similar VPN services with matching features
Only 3 simultaneous connections
Alternative VPN Options
While ExpressVPN has over 3,000 servers spread out in 90+ countries and admirable speeds, other VPN providers compare favorably with their standard and additional features.
NordVPN has a huge network of servers – 5,118 servers in 60 countries – and several outstanding features. It has applications for Windows, macOS, Linux, iOS, Android and Android TV. A 30-day money-back guarantee is available. The CyberSec feature is an advanced technology solution that automatically blocks suspicious websites to prevent malware and other threats from infecting your device while protecting you from annoying ads.
NordVPN's Double VPN feature passes your traffic through two servers for an extra layer of encryption in a process known as VPN server chaining.
VyprVPN offers 5 simultaneous connections and support for multiple devices compared to ExpressVPN's 3 simultaneous connections. However, VyprVPN provides support for P2P networks with unlimited bandwidth for torrenting fans although It does not offer a 30-day money-back guarantee.
Hide My Ass on the other hand supports torrenting and unblocks Netflix US and other streaming services. It uses 256-bit encryption and provides apps for major platforms such as Windows, MacOS, iOS and Android. Hide My Ass has put in place advanced leak protection and offers a 30-day money-back guarantee.

Conclusion
ExpressVPN is a well-rounded VPN service that delivers a combination of convenience, security and speed. With headquarters in the British Virgin Islands and a no-logs policy, the privacy policy of this company is unparalleled.
The service has a network of more than 3,000 servers, dedicated IP addresses, AES 256-bit encryption with DNS/IPv6 leak protection and multi device support.
The encryption uses a 4096-bit RSA key and SHA-512 HMAC authentication to ensure all data is secured throughout the tunnel. OpenVPN is set as the default protocol for ExpressVPN but users are allowed to choose other protocols such as OpenVPN TCP/UDP, L2TP IPSec and PPTP.
The availability of unlimited bandwidth and good speeds make ExpressVPN a suitable service for torrenting and streaming enthusiasts.
The Network Lock (Kill Switch) is enabled by default and helps to block all internet traffic if the VPN connection is lost. This feature is an important component that automatically protects your privacy by reducing the chance of any data leaks when a connection is dropped.
ExpressVPN utilizes split tunneling – a critical feature that is lacking in many other VPNs. This feature enables users to choose which traffic is routed through the encrypted VPN tunnel. It makes it possible to select specific apps which will have direct access to the internet. This is useful for improved performance through restriction of apps that may slow down when working through a VPN.
The service performs quite well in unblocking Netflix, BBC iPlayer, Hulu, Amazon Prime and many other streaming services. China's Great Firewall is no match for ExpressVPN's obfuscation capabilities. Users in China are able to evade censorship and access content from anywhere in the world.
The latest innovation from ExpressVPN is the deployment of servers that run in RAM-disk mode. These servers do not store any information since RAM requires power to store data. Every time the servers are powered off and on, all the information is wiped. This ensures that there is no possibility of servers inadvertently retaining sensitive user information.which is common with hard drives.
ExpressVPN is among the top-quality VPNs that dominate the market. It exceeds our expectations in everything from platform support, encryption, privacy, ease of use, unblocking of content and excellent customer support. The absence of an integrated kill switch on mobile apps is a drawback which, if fixed will leave the pricing plan as the only limitation for ExpressVPN in a competitive marketplace.