Playing video games is awesome but there is also something wildly exciting about watching other people play. Especially when that other someone is popular Twitch streamer Tfue who will make Fortnite look like a movie. And that is what makes Twitch so popular. It's a form of entertainment but you also get to sharpen your gaming skills by copying what the pros do.
The platform also serves as a community where gamers meet and discuss the hottest and most current trends in the gaming industry.
Since its acquisition by Amazon, Twitch has been branching out and now includes other non-gaming videos. For instance, they have a category called In Real Life (IRL) which involves the streamers chatting with their audiences in real-time.
It's therefore not surprising that Twitch boasts of more than 15 million active users every day.
There is just one problem though. Twitch may restrict your access to their content for multiple reasons.
Reasons you can't access Twitch and what to do about it
You are living in a country with high-level internet censorship. Russia and China are two of the countries that restrict access to twitch.
You are accessing the streaming service via an institution network. If you are at school or at work then the network Admin may block access to sites that hinder productivity. Unfortunately, Twitch is one of them.
Your IP address has been blacklisted by twitch. Twitch blocks all accounts and IP addresses that are associated with activities that go against their terms of service.
So, how do you regain access to twitch in such instances? By using a VPN. It works by hiding your original IP address and assigning you a new one that Twitch does not recognize. The VPN also allows you to change your address location so that it seems you are connecting from a country where Twitch is not restricted.
But there is another problem. How do you choose the best VPN for Twitch from a list of over 60 providers? That is where we come in. We tested all the popular solutions and managed to narrow down the list to just five. This should make it easier to find the ideal fit.
Best VPNs for Twitch
Factors to Consider when Choosing a VPN for Twitch
Has not been blacklisted by Twitch – Just like most of the other streaming services, Twitch has also put in place algorithms to detect and block VPNs. Ensure your selected solution is not one of them.
Server Coverage – Your VPN of choice should have enough servers so that users do not congest on one server. The servers should also be widely distributed to increase the chances of finding a server that is nearest to you. This will help boost connection speeds by reducing the distance that your internet traffic has to travel to reach the VPN servers.
Connection Speeds – VPNs are always guaranteed to slow down your speeds due to encryption and the additional distance that your data has to travel to reach the VPN servers. You need to find a solution that provides the perfect balance between security and speed.
Security and Privacy – Ensure that your VPN of choice does not store important user logs that could compromise your online anonymity. Also, check to see whether it supports OpenVPN connection protocol and AES 256 bit encryption. The two form the best security combination that even the NSA has been unable to crack yet.
Compatibility with multiple devices – Ensure that your chosen solution supports all the devices that you might use to access Twitch. This will make it easy for you to unblock content on the platform when necessary.
Customer Support – A good VPN should come with email support and a live chat option that works 24/7.
1. ExpressVPN
I have tested and recommended multiple VPNs over the years and one thing that has remained constant is that ExpressVPN is always my top choice. It excels in just about every use case thanks to its excellent speeds and solid security.
But, what makes it the perfect VPN for twitch is its amazing speeds. It has the least effect on your speed and unless you were already experiencing speed problems before connecting to the VPN, don't expect to experience them once you begin using ExpressVPN.
In our tests, I was able to follow a 20 minute FIFA 20 stream without any buffering.
ExpressVPN currently boasts of 3000+ servers in 94 countries so you should have no trouble finding a server that is nearest to you. It also means there are adequate servers to cater to multiple users without leading to bandwidth competition.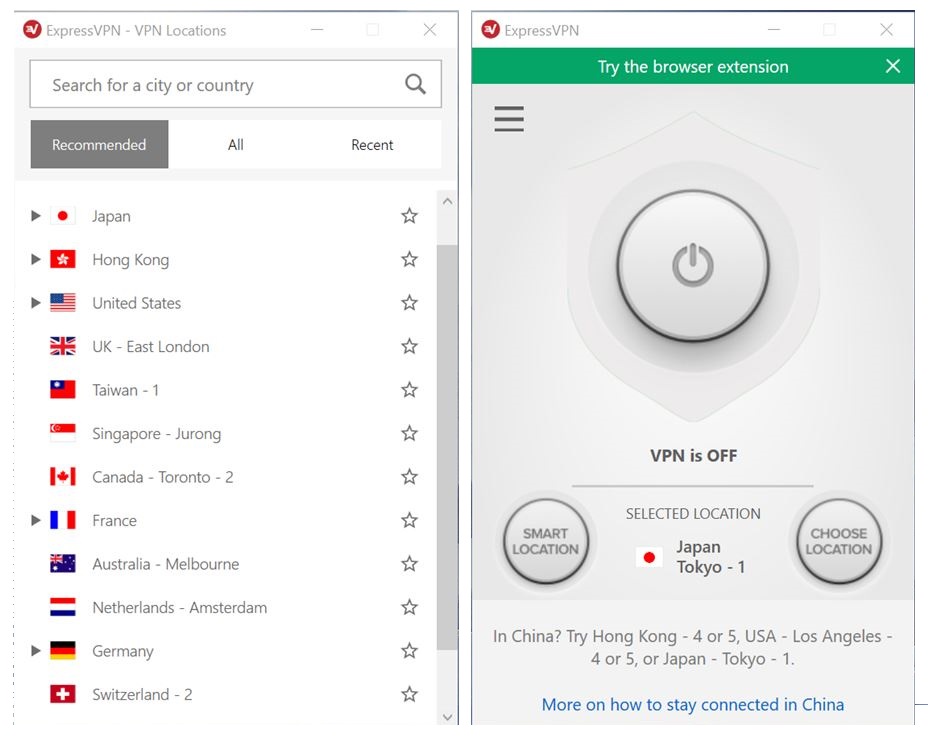 Security is also something ExpressVPN takes seriously. It is compatible with OpenVPN connection protocol which is further reinforced through AES 256 bit encryption to ensure that hackers have no chance of stealing your personal information. It also means that no third party including your ISP can spy on you.
ExpressVPN is also compatible with other connection protocols such as PPTP and L2TP which do not provide the same level of security as OpenVPN but they have better speeds. You don't have to worry about manually switching between them. ExpressVPN chooses the appropriate protocol depending on your network.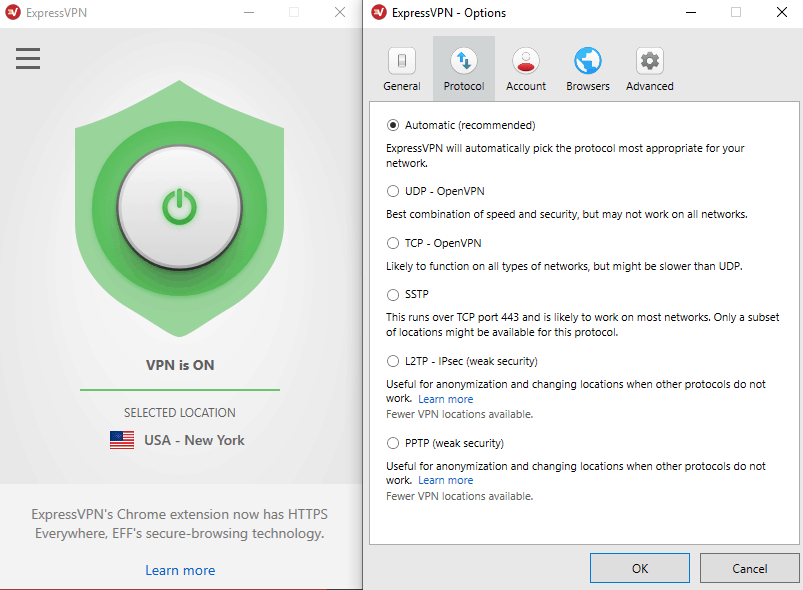 Then the other thing I like about ExpressVPN is its compatibility with just about every device you will use for Twitch regardless of the operating system. It could be your smartphone, laptop, or streaming media players like the Amazon Fire TV Stick.
Better yet, ExpressVPN can be configured on a router and it will consequently help you protect all the other devices that are connected to your network.
Once you have purchased ExpressVPN premium, you get 30 risk-free days to test and understand the product. If it does not meet your expectations during this period, then you can request a refund.
Read ExpressVPN Review
PROS
Excellent streaming speeds
Huge collection of global servers
Dedicated apps for multiple devices
Excellent customer support
2. NordVPN
If you are a security-conscious person looking for a fast speed VPN then it does not get better than NordVPN. The Panama-based solution was the first and is probably the best VPN to offer the double VPN feature. This allows you to pass your internet traffic through two servers and encrypt the data twice.
Additionally, it allows you to add the Tor network over your standard VPN connection directly from the app. Other VPNs require that you first download the Tor browser in order to access this feature.
As expected, the advanced security features will have a bigger effect on your connection speed. Therefore, if you notice constant buffering when streaming content, you can switch to the standard VPN protection which compromises with OpenVPN connection protocol combined with AES 256 bit encryption.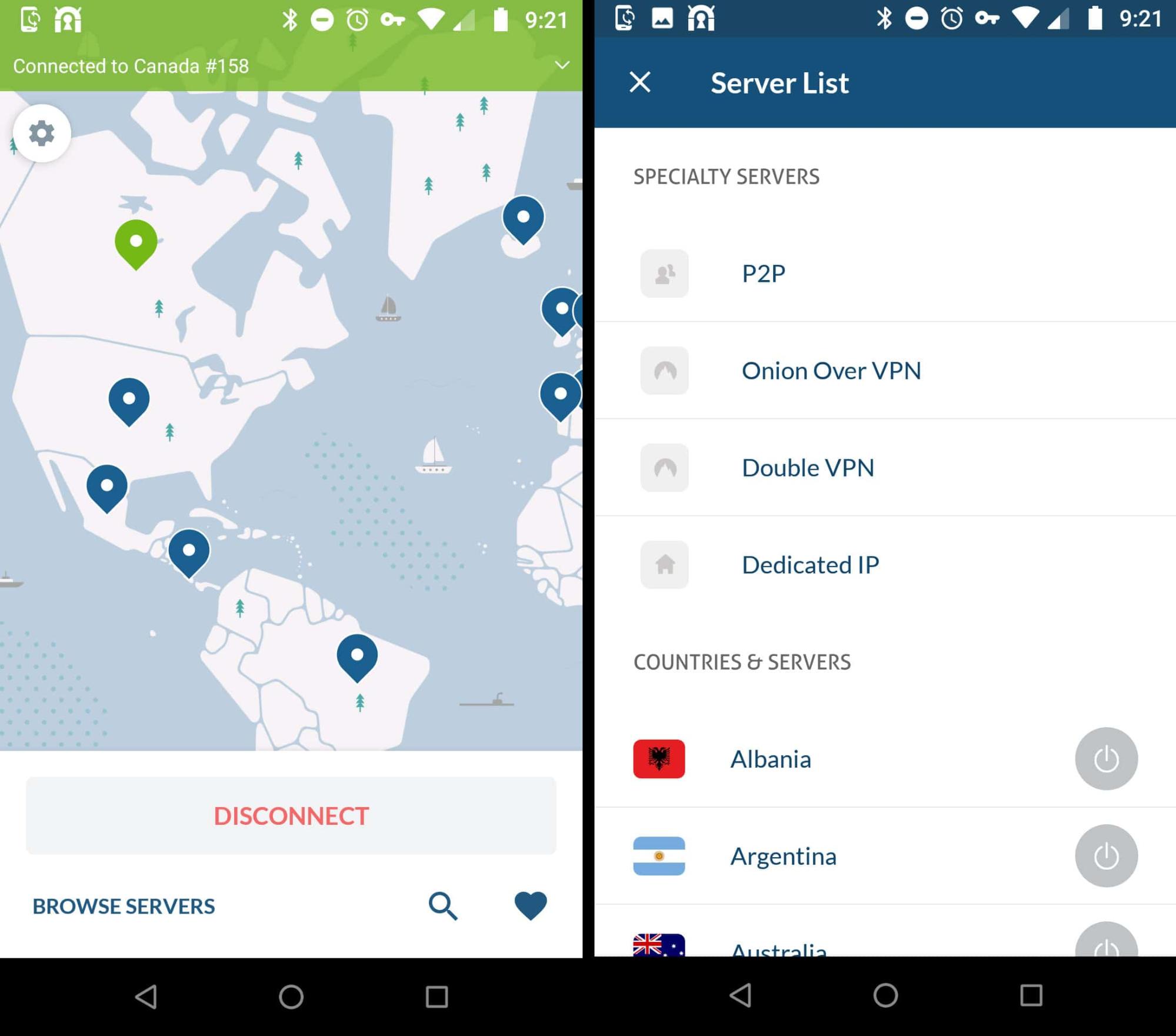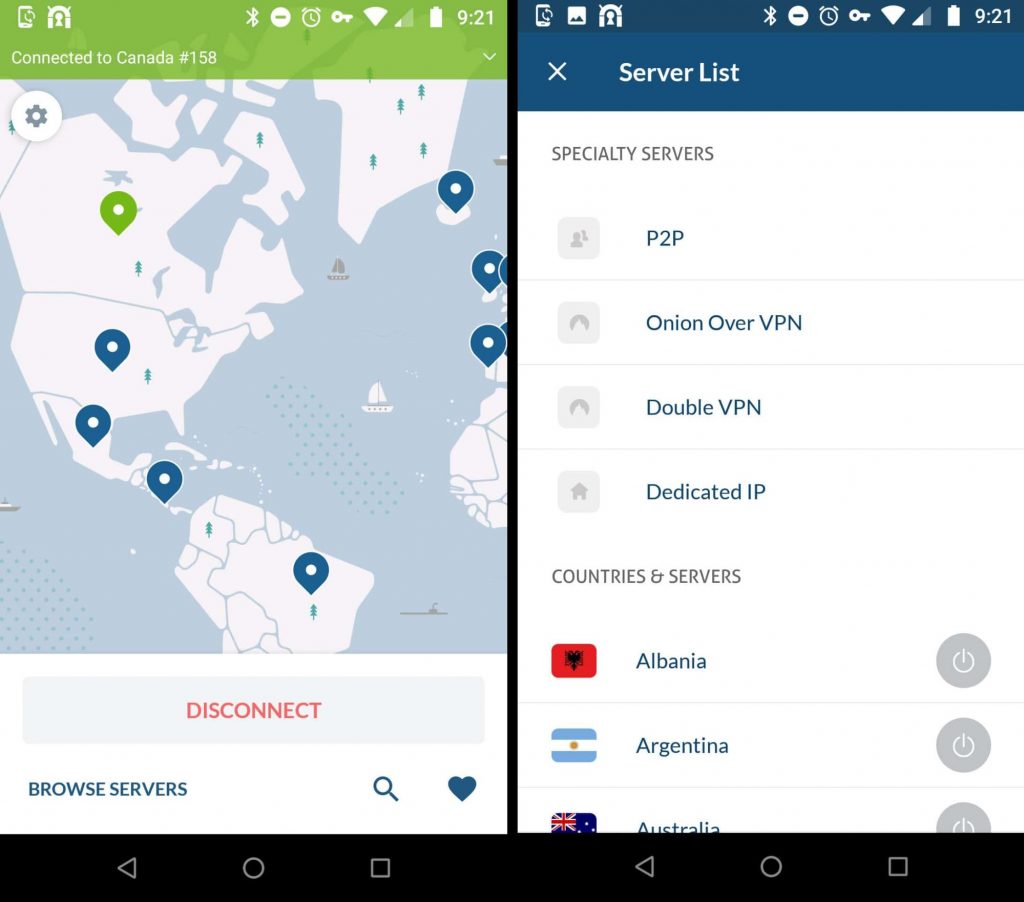 NordVPN may not be able to match ExpressVPN in terms of speeds but it performed great in our speed tests. I was only going to do a 10-minute test but I ended being sucked into a Fortnite stream for almost an hour. The good news is that I did not experience any buffering problems during that time.
NordVPN currently boasts of over 5400 servers distributed in 59 countries. Again, this is great as you don't have to compete for bandwidth with other users and it also significantly increases your chances of finding a server that is near you.
All of these servers can be used to unblock Twitch and also other streaming services like Netflix, Hulu, and BBC iPlayer.
NordVPN has apps for all the popular devices running on iOS, Android, Windows, macOS, and even Linux which really simplifies the process of unblocking Twitch.
The VPN allows you a maximum of 6 simultaneous connections using a single license but you can use it on unlimited devices by installing it on a router. The router will only count as one connection allowing you to share the remaining connections with friends and family.
NordVPN does not come with a free trial but it comes with a 30-day money-back guarantee. During this period you get to test the product and if you don't like it then you can request a refund.
Read NordVPN Review
PROS
Great streaming speeds
Advanced security features for increased anonymity
Has apps for all the popular devices
Wide server collection
CONS
The advanced security features may affect speeds
3. CyberGhost
CyberGhost has been available for more than 15 years now but it was not until its acquisition by Kape Technologies in 2017 that it realized its full potential.
With over 5900 servers in 90 countries, this VPN currently stands as the number one solution with the most number of servers worldwide. Wherever you are you are guaranteed there is a server near you that can unblock restricted content on Twitch TV.
But wait until you see how much it costs. CyberGhost has a 2-year subscription plan that is valued at $3.69 per month. It does not get better than that. Actually, it does. They also have a 3-year plan that is valued at $2.75 per month.
Unfortunately, you won't get as good a deal if you opt for the short-term subscriptions.
We did some speed tests to determine how this VPN performs and I have nothing to complain about. It had a bigger effect on our speeds than both NordVPN and ExpressVPN but it still gave me enough juice to stream content on Twitch without interruptions.
Also, it comes with specially optimized servers for streaming which eliminates guesswork when trying to find a server that will unblock streaming services such as Netflix and Hulu.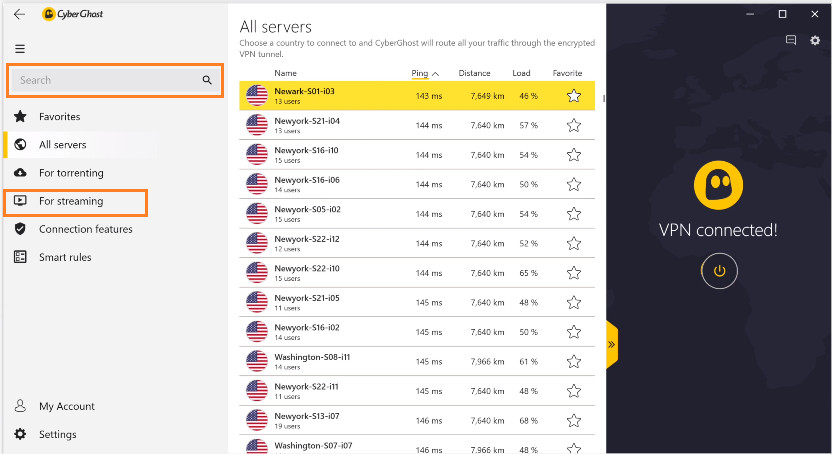 CyberGhost does not dissapoint when it comes to security. It uses a combination of OpenVPN protocol and AES 256 bit encryption to create a security fortress. Good luck to anyone trying to monitor your online activities or steal your personal data.
It is also compatible with other connection protocols such as IKEv2 and L2TP/IPSec which provide less encryption but better speeds. Whenever you are having speed problems you can manually change from OpenVPN to any of the other protocols.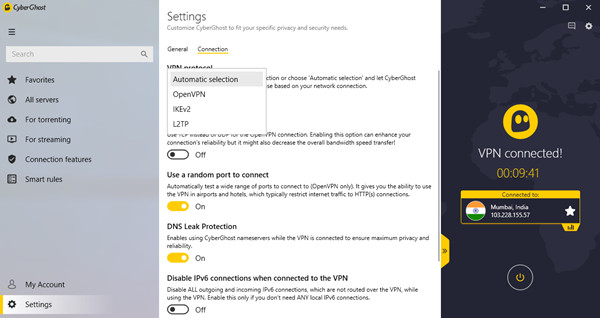 Moreover, you don't have to worry about compatibility problems since CyberGhost comes with dedicated apps for all the popular devices and operating systems. And for non-supported devices, you can protect them by connecting them to a router that has been configured with the VPN.
CyberGhost is the only VPN on our list to offer a free trial but it is very limited. It's only available for a day and lacks important features like unblocking restricted content.
I recommend purchasing the premium version and making use of the 14-45 day money-back guarantee to test and familiarize yourself with the product.
Read CyberGhost Review
PROS
Great speeds for streaming
Very affordable
Has an app for all devices and OSes
1-day free trial
CONS
The free trial is very limited
4. IPVanish
This is another solution that cements its place as one of the best VPNs for Twitch thanks to its great speeds. IPVanish owns and self-manages all their servers and, therefore, when they promise reliable servers and consistent speeds you can be assured that they will deliver.
And an additional benefit is that there are fewer chances of your personal data leaking to third party contractors.
With over 1300 servers in 75 locations, it's hard to imagine experiencing any connection problems as a result of server congestion. Also, you should have no problem finding a server near you.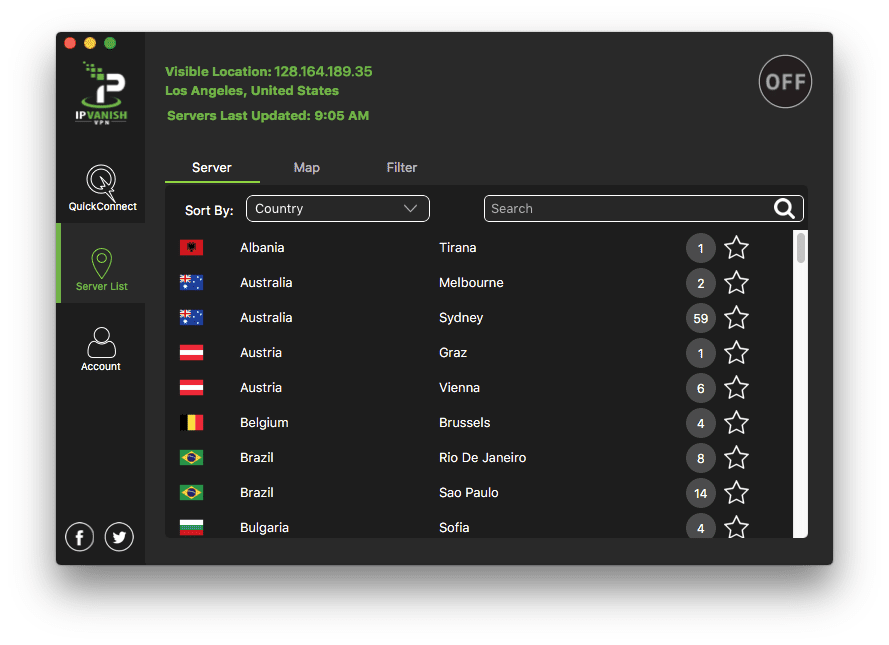 In our tests, I watched a streamer complete the whole Fog of War mission on Call of Duty without any interruptions.
This VPN does not also dissapoint when it comes to security. It uses a combination of OpenVPN connection protocol and AES 256 bit encryption to ensure that you remain completely anonymous online.
It's a little worrying that the IPVanish is located in the US which is a member of the 5-eye alliance but according to their privacy policy, they do not log any sensitive user data. Therefore, even if the government was to come knocking, they would have nothing to give them.
This VPN service is compatible with all the popular devices and all the popular operating systems. The installation process may not be very direct for some of them such as Chromebook, Linux, and routers but the vendor provides step by step guides on how to configure it.
This VPN allows up to 10 simultaneous connections using a single license which is quite generous.
IPVanish does not have a free trial but it comes with a 7-day money-back guarantee. This is enough time to test and familiarize yourself with the product but I feel they could extend it to better compete with other solutions that offer 30 days and more.
Read IPVanish Review
PROS
Provides uninterrupted streaming
Wide-spread server distribution
Has dedicated apps for all the popular OSes
Allows up to 10 simultaneous connection
CONS
7-day money-back guarantee could be more
5. PrivateVPN
PrivateVPN is my last Twitch VPN recommendation and it's what I like to call the hidden gem of VPNs. Hidden because most VPN experts overlook it and a gem because of its amazing performance. It offers amazing speeds that guarantee uninterrupted streaming and it ticks all the right security features.
And, unlike CyberGhost, you don't need to purchase long term plans to get the best value. Private VPN offers an incredibly affordable monthly plan and an unbelievable three months plan.
Although one thing I did notice is that this VPN has a significant effect on ping time. Twitch and all the other websites I tried logging to took longer to load. However, once it opened, I did not have any trouble streaming content.
The other impressive thing about this solution is that it can also unblock all the other streaming services like Netflix and Hulu without being discovered. This is a feat that several other popular and more expensive VPNs have been unable to achieve.
On the downside, PrivateVPN has a very small server network and that may be one of the reasons that it is underrated. It only comes with slightly over 150 servers.
Nevertheless, they have done an excellent job of spreading the servers over 60 different countries and that's one country more than NordVPN yet it has thousands of servers.
PrivateVPN has dedicated apps for all popular devices and works with Android, iOS, Windows, and Mac devices. It can be simultaneously connected to a maximum of 6 devices using a single license but this is something you can overcome by configuring it on a router.
As expected, PrivateVPN supports OpenVPN protocol by default and uses AES 256 bit encryption to ensure you are protected from online spies and data thieves.
This VPN solution does not have a free trial but it comes with a 30-day money-back guarantee.
Read PrivateVPN Review
PROS
Great speeds for streaming
Very affordable
Has apps for all devices you may use for streaming
30-day money-back guarantee
CONS
Number of servers could be more
Additional Benefits of Using a VPN with Twitch
Prevents Internet throttling – Yes, it's true that your ISP can deliberately slow down your internet connection to discourage you from bandwidth-intensive activities like streaming. However, when you use a VPN, it encrypts all your internet traffic which prevents your ISP from monitoring your online activity.
Protects personal data – This is especially true when you are browsing on public networks since hackers can intercept your internet traffic and steal important information like your credit card details. Again, thanks to VPN encryption, the hackers will have nothing to steal since the data they get will be all scrambled up.
Unblocks other streaming services – On top of allowing you access to restricted content on Twitch, our recommended VPNs will also enable you to bypass geographical restrictions imposed by other streaming services like Netflix, Hulu, YouTube, BBC iPlayer, and Prime Video.
How to Stream Twitch with a VPN
Choose and subscribe to the VPN that you liked the most.
Launch the VPN app and connect to a server location where Twitch is not blocked.
Open Twitch.tv and begin streaming content.
There is a lot of content that you can still enjoy on Twitch without creating an account but it will all be random since you cannot subscribe to any channel.
What are the Best Free VPNs for Twitch
There is no best free VPN for anything. See, in order to run a VPN company then you need servers. And, these servers need to be maintained. So then the question becomes, how does the VPN provider come up with the operation cost if their services are free?
Probably by selling your data to the people that they are protecting you from.
And if you are lucky and the above is not true then you have to deal with long periods of waiting in order to access the free servers. And even then the speeds offered will be so slow you will want to smash your device on the wall.
What I would recommend instead is that you use freemiums. VPN providers like Tunnel Bear and Windscribe offer free versions of their premium products that you can utilize without worrying about compromised security. The only problem is that they come with limitations that make them impractical for Twitch.
For instance, Tunnel Bear only allows 500MB each month for its freemium. How long do you think that will last on a Twitch stream!
Conclusion
With all the information you have are you now able to pick the best VPN for Twitch? I would assume so. But, if you are still on the fence I will help you out. Go with ExpressVPN. You probably saw that coming, right?
Here is the thing. If you randomly took 5 VPN experts and asked them to recommend their best solution, I am willing to bet that four of them would go with ExpressVPN. That is how good it is and that is why I have personally been using it for the past year.
The fast speed is what sells it but I also love how helpful their customer support is. Therefore, any issue that you have you are guaranteed it will be resolved promptly.
Not sure still. Don't worry. You will be protected by their 30-day money-back guarantee. At the end of that period if you are still not impressed, request a refund and choose another solution.