"Hey man, I am planning on starting a VPN service and am going to call it Hide My Ass!" That was Jack Cator 14 years ago talking to his best friend about his big idea. At least that is how I imagine it happened. I can also see his friend laughing. Not because of the big idea but at the name.
Fast forward to 2019 and Hide My Ass! VPN, now subtly referred to as HMA, is one of the most popular VPN services boasting of millions of users.
A lot has changed over the years. For instance, Jack is no longer the VPN owner. It was sold to AVG technologies in 2015.
So, in this review, we will be looking at how HMA currently measures up against other VPN solutions in the market. Is it worth your money?
Some of the key issues we will be highlighting include the VPN's ability to safeguard your online security, its ability to unblock geo-restricted content and how much it affects your connection speeds and streaming quality.
Let's begin.
My Verdict
Hide My Ass! is an overall great VPN that comes with all the essential features of a VPN. It can bypass local internet censorship, unblock Netflix US and I have absolute trust in their security features.
Although they don't store any sensitive user data, HMA still stores more logs than most of the other VPN solutions and considering that they are based in the UK, I understand why that could be a problem to some.
Under UK law, HMA is under the obligation to share user data should the government come knocking.
Their prices are also slightly above most of their competitors but HMA has added new features and performance upgrades which makes it understandable. I found their speeds to be above average.
My Willingness to Recommend: 8/10
Pros
Solid encryption techniques
190+ countries is an impressive number of server locations
Great connection speeds
Unblocks Netflix and other streaming services
Allows split tunneling

Cons
Limits P2P sharing to just a few servers

Streaming
According to a report published by Go-globe on VPN usage stats, more people are interested in purchasing a VPN to unblock streaming services than they are for security purposes.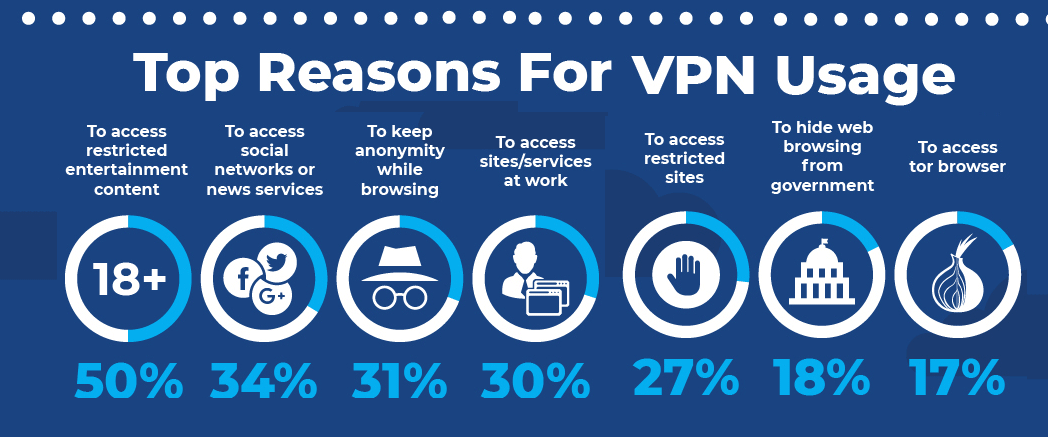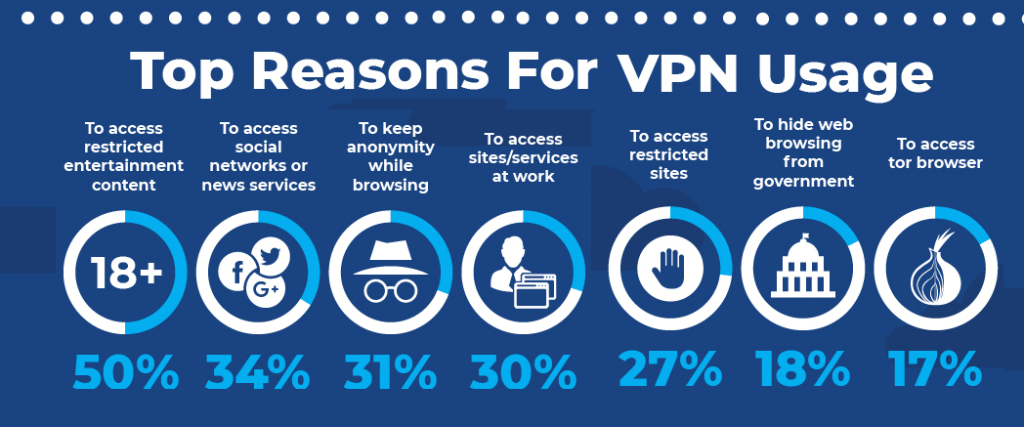 So, the first thing we did was test how HMA VPN performs on this front. I was impressed. Netflix is the most strict of all the streaming services and has been able to successfully block several VPN IP addresses from various vendors.
Nevertheless, HMA was able to unlock not just Netflix US but also UK and Germany. Even better, it comes with specialized servers for streaming which eliminates the need to try multiple servers before finding one that works.
The next streaming service I tried was BBC iPlayer which can only be viewed in the UK. And guess what? It connected seamlessly. Unfortunately, the same cannot be said about Prime Video and Hulu.
The other thing I was interested in seeing was how HMA affected my streaming quality. The videos took longer than usual to load but, I did not experience any major buffering in between play. Also, there were times when the videos deteriorated in quality but only for a few minutes and then it was back to full HD.
Security and Privacy
Streaming may be proving to be the more popular use for VPNs but we cannot ignore the core reason why they exist in the first place. To maintain your privacy and security when browsing online.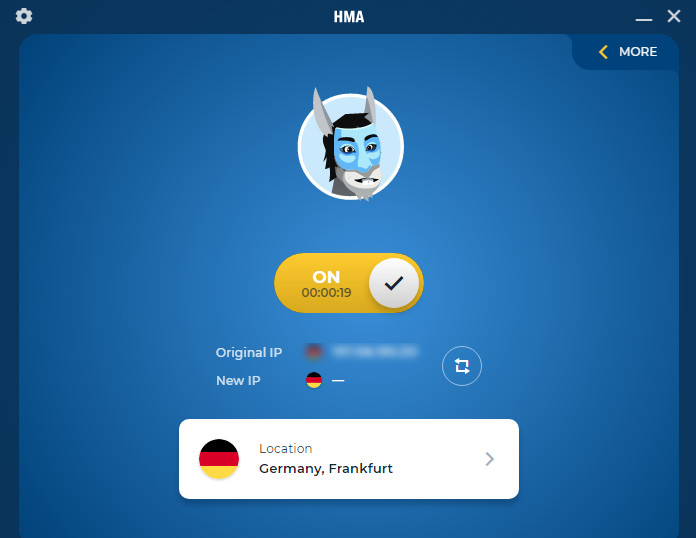 The last time I reviewed HMA I found it a little alarming that they were storing users' real IP addresses. This is information that could very easily be used to identify you, especially when combined with your connection time stamps which they were also storing.
It seems that they listened. Although they still store connection timestamps, they have now resorted to only logging the subnet of your original IP which cannot be used to ID you. Especially since they anonymize the last octet of the subnet.
Some of the other data they log include the assigned IP address when using the HMA servers and the total bandwidth you consume when connected. Their reasons for storing this data are all plausible and at least, the data is deleted every 30 days.
And again, what really matters is that they don't record your online activity logs such as the websites you visit, DNS queries, or the applications you use.
IP shuffle is another distinct HMA feature that impressed me. It allows you to configure your VPN so that it randomly changes your IP address multiple times a day.

All factors considered, I believe what makes HMA VPN truly secure is its compatibility with OpenVPN, an open-source connection protocol that is constantly being tested for vulnerabilities. This is further reinforced through AES 256 bit encryption which is the highest standard currently. And to top it off, HMA uses 4096 bit RSA keys for handshakes and SHA256 for authentication.
In normal terms, this is the best security combination you can have.
I would prefer if HMA supported OpenVPN for Mac and iOS too but unfortunately, these devices are only limited to IKEv2/IPsec. But this is more of an apple problem than HMA.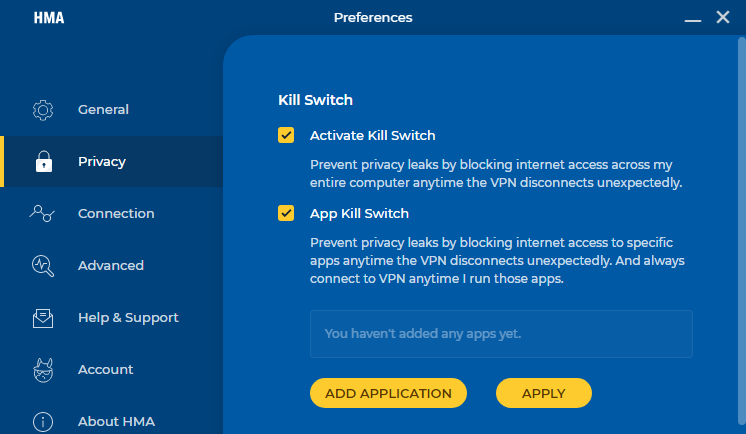 The other security feature worth mentioning is the Hide My Ass killswitch. It automatically cuts off your internet traffic when your VPN connection drops to prevent any data from leaking.
If you are using the Windows client you can further customize the kill switch so that it activates for your whole system or on an app by app basis.
And finally, you don't have to worry about IPv4, IPv6, or any other DNS leaks while using Hide My Ass VPN. They have built-in protection against these leaks and all your DNS requests are routed through their custom DNS servers. This is an excellent way to protect you from malware and phishing schemes.
Speed
I took the initiative of carrying out speed tests so that we have a clear picture of how much HMA affects your speeds. First, I tested my speeds before connecting to the VPN and then repeated the tests while connected to various servers on the list.
Note that this is not a direct representation of how the VPN affects speeds everywhere. There are several other factors that come into play. These include your location, your baseline speed, the number of people connected to the HMA server at that particular time, among others.
That said, HMA has a handy feature called Lightning Connect which helps you connect to the fastest server based on your current location or the location you want to connect to.
These were my speed test results
Speed before connecting to HMA VPN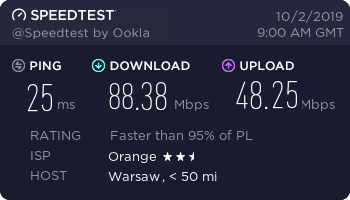 Speed When Connected to my Recommended Server
Speed When Connected to the US Streaming Server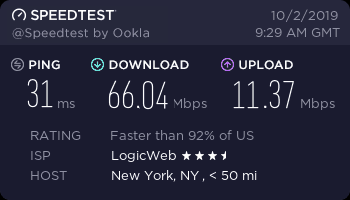 Speed When Connected to the UK Server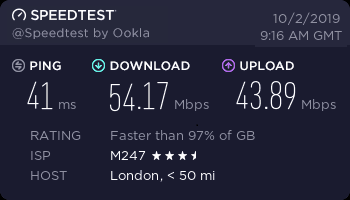 Cost
When I last reviewed Hide My Ass VPN a year ago, it was much cheaper than it currently is. Then again, there were a lot of things that were wrong with it then.
I believe the features and performance upgrade it has undergone warrants a price increase but I still think it could be cheaper especially when compared to similar solutions like Nord VPN and Cyberghost.
HMA is currently available in 3 plans. There is a monthly plan that is valued at $11.99 and there is an annual plan that will be charged at $6.99 per month. By purchasing the one-year package you will be saving about 42% of the total cost.
But, there is a better deal. A 3-year plan which, unfortunately, is available for a limited time. I wish it wasn't. This package is valued at $4.29 per month and will see you save about 64% of the total cost.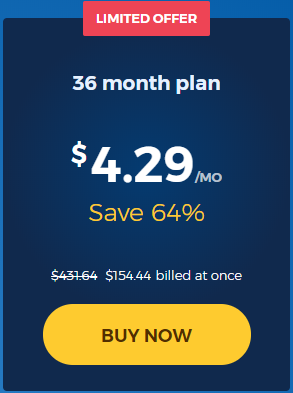 Hide My Ass VPN offers a 7-day free trial but you will have to fill in your payment information. Once the trial period is over, then they will automatically charge you for the subscription.
Don't worry though, you can easily cancel the automatic payment anytime by logging in to your HMA account. Also, you are entitled to a 30-day money-back guarantee after your purchase.
Additional Features
Split tunneling
This is a feature that allows you to route part of your traffic through the HMA servers while the other traffic is sent through your ISP. And the great thing about this is that you get to enjoy unlimited speeds for connections that do not require a VPN while also securing the necessary connections. It also allows you to connect to LAN devices while using a VPN.
Supports torrenting
HMA comes with specific servers that are optimized for P2P file sharing thus making it an excellent torrenting option. Still, it would be great if you could torrent on any server rather than being limited to just the 8 dedicated locations.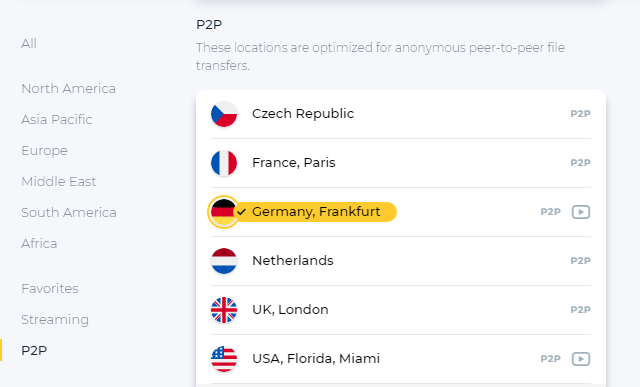 If you are a distance away from the P2P servers then your transfer speeds will take a hit. The same is true if too many people are torrenting on the same server.
Automatic Connection Rules
Thanks to this feature you don't have to manually launch HMA every time. Instead, you can configure it so that it automatically launches when you open a certain application or if you connect to an unsecured network.
It provides you with the option to create a list of trusted networks.
Alternative VPN Options
As usual, we will be including two alternative solutions for one simple reason. What works for me may not necessarily work for you. Therefore, if for any reason HMA does not work for you then here are some additional VPN software you can try.
PrivateVPN
PrivateVPN is a Sweden-based solution that became popular due to its ability to offer excellent functionality at affordable prices.
The software has clients for all the operating systems including Windows, Mac, Linux, iOS, and Android. It can also be configured on Amazon Firestick and other similar devices.
Private VPN comes with less than 200 servers which may seem like a small number but they have done a great job spreading them to over 60 different locations that you can choose from.
I also like what they have done in terms of security. The VPN software supports OpenVPN protocol and uses military-grade encryption to secure your data from hackers This is further reinforced through a kill switch and an IPv6 leak protection feature to ensure complete anonymity.
Also, you will be pleased to learn that PrivateVPN can be used to unblock Netflix and other streaming services.
This VPN comes with a 7-day free trial, can be used on 7 devices simultaneously and offers a 30-day money-back guarantee after the purchase.
NordVPN
It has been 7 years since NordVPN started operating commercially and during this period, it has managed to cement its name as an industry leader in the VPN niche. It boasts of an impressive 5500+ servers making it the VPN with the most servers in the market.
NordVPN is based in Panama which means they are under no obligation from the law to store or share user data with any government.
On top of that, the software supports OpenVPN connection protocol and AES 256 bit encryption which is as secure as it can get. NordVPN also comes with a kill switch that works together with DNS leak protection to ensure that you remain anonymous while online.
And as if that's not enough, the VPN even comes with an ad and malware blocker.
If you are looking to unlock Netflix, NordVPN will be an excellent choice for you.
This software can be used on 6 simultaneous devices but does not come with a free trial. Instead, they offer a 30-day money-back guarantee.