We are marching towards a wireless future and Sling Television is at the forefront of the revolution. The platform allows you to access the various live TV channels offered by cable and satellite TV via the internet and at a reduced cost.
No more worrying that you will miss your favorite program because you are not home yet.
It's, therefore, not surprising that the Internet TV service currently boasts of about 2.686 million subscribers less than five years since its inception.
Unfortunately, due to geo-restrictions Sling TV is only accessible in the US. Everybody else including America's next-door neighbor, Canada will have no luck even in accessing the platform's website. A classic case of 'so close yet so far away'
Not to worry though. In this post, I will be showing you how to get Sling TV in Canada.
In fact, the method I am sharing can be used to access any geo-restricted content regardless of the platform you are using or where you are located. You could be in a remote village in Kenya and you would still be able to watch TV on Sling.
About Sling TV
Sling TV is the genius idea of Dish Network Corporation. I say genius because it was not created to compete with the on-demand video providers like Netflix. Rather, it serves to complement them. It's the perfect way to go cordless without sacrificing live TV.
The internet Television service currently starts at $15 per month and comes with more than 30 live TV channels.
Most notably, you will have AMC, ABC, and Fox for your daily dose of tv shows, your kids will have Cartoon Network and Disney Channel, Bloomberg is available for latest business news, CNN and BBC America will keep you up to date with current news and thanks to ESPN, you don't have to miss important sports event.
There are a lot more where those came from.
Sling TV is available in three packages, Sling Blue, Sling Orange, and Sling Blue+Orange. You can also get extra channels in any genre by paying an extra $5 per month. For instance, if you opt for lifestyle Extra you will get VH1, Hallmark, and several other channels.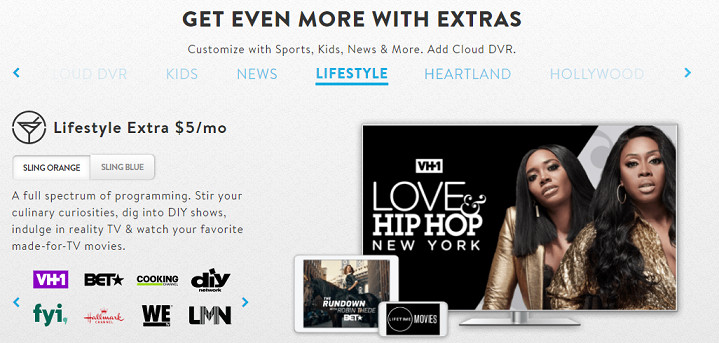 You can also subscribe to premium channels like Starz, Epix, and Showtime to be added as part of your Sling Channels.
However, seeing as the main point of Sling is to save on cost, I would take it slow on the extras.
Sling Television comes with a dedicated application for all the popular devices so you should have no problem accessing it from your computer, mobile phone, Smart TV, or using streaming media players like Amazon Fire TV Stick, Apple TV, and Roku.
Why is Sling TV Blocked Outside the US
It's because the platform only shows American Channels which are already blocked by their owners from being accessed outside the US. And the reason the TV channels only opt to show their content in one region is due to the varying content licensing and copyright laws in different countries.
The channel owners would have to go to each country individually and get a license to show their content in the region. That's a lot of work.
The move would also be met by a lot of resistance from the local TV networks since it would be seen as competition.
How does Sling TV Block Content?
They use your IP address to determine your location and block you. In case you were not aware, every time you connect to the internet your device gets assigned a unique identification called an IP address. The IP contains your personal information such as the name of your ISP and geolocation.
When Sling TV receives your connection request they first check your IP address and if it's not US-based then they restrict your access to their site.
How to view Sling TV in Canada
A VPN is the number one recommended solution for unblocking Sling TV in Canada. How this works is that the VPN acts as a middleman between you and the Internet. Your connection request first goes through their servers where your original IP address is discarded and a new one allocated to you.
The servers then send the request to Sling TV using the new address which tricks the TV service into thinking that you are actually connecting from America.
Now proceed to open your Sling account and purchase your preferred package.
And you see the great thing about a VPN is it also helps protect your online identity through data encryption. It will be impossible for hackers to steal your personal information or for third parties to spy on your online activities.
Which is the Best VPN to Unblock Sling TV in Canada
With over 60 possible VPN solutions to choose from, I understand why settling for one VPN can be a hassle. Especially since most of them claim to help bypass the geo-restrictions on various online video services only to get discovered and blocked after a while.
Sling TV has come up with techniques to identify and block VPN connections and a lot of Vendors are suffering as a result.
Luckily, we have tested all the popular solutions and based on their performance I will be recommending my best pick.
ExpressVPN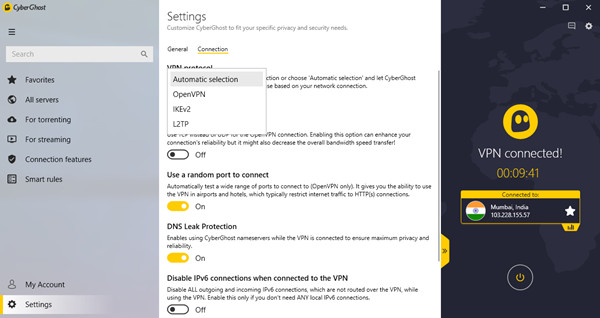 Why is ExpressVPN the best for Sling TV? A lot of things immediately come to mind but speed is the predominant factor.
Streaming is generally a bandwidth-intensive activity but as you may have realized, streaming live TV is even more brutal. Therefore, it does not help that VPNs slow down your network speed when connected.
Not ExpressVPN though. The solution has managed to achieve the perfect balance between encryption and speed and most times you may even forget that you are using a VPN.
You don't have to worry about buffering when watching your programs. That is a streamer's worst nightmare.
Also of all the VPNs we tested, ExpressVPN is the most consistent in unblocking Sling TV in Canada. I have not yet encountered an incident where ExpressVPN was discovered by Sling.
But even if it happened, the VPN has a track record of quickly updating their IP addresses or configuring a new server to allow their users to continue accessing geo-restricted content.
Here are some of the other reasons ExpressVPN is perfect for Sling Television.
Widespread server distribution in the US
ExpressVPN has more than 3000 servers worldwide and a decent number of them are distributed over 16 locations in the US.
This allows you to easily find a server that is nearer to you and consequently reduce the distance covered by your internet traffic before reaching the VPN servers. This is a great way to boost your internet connection.
Multiple device compatibility
Do you remember all the devices I mentioned that you can use to stream Sling TV? Smartphones, Computers, Smart TVs, streaming media players. ExpressVPN has an application for all of them too.
This makes it extremely easy to spoof your IP on the specific device and log in to Sling Television.
Excellent customer support
The ExpressVPN agents can be reached 24/7 via live chat and respond to user queries in less than a minute.
Do not hesitate to contact them if you have trouble with the VPN. They will offer direct assistance or refer the problem to the technical team for prompt resolution.
The ExpressVPN knowledge base is also packed with a lot of practical information that you can use to solve various VPN issues by yourself.
30-day money-back guarantee
ExpressVPN does not offer a free trial but once you purchase the premium plan, they allow you to use it risk-free for 30-days.
During this period, if there is an aspect of the product that does not meet your expectations and you feel that it cannot be resolved then you can request a refund.
ExpressVPN is compatible with OpenVPN connection protocol which combines with AES 256 bit encryption to provide rock-solid security against data theft and online spies.
It also comes with a kill-switch that will disable the internet in case the VPN disconnects unexpectedly to prevent the leaking of unencrypted data.
And since ExpressVPN is based in the British Virgin Islands where there are no mandatory data retention laws, you can be sure that they don't store any activity logs that can be used to trace back to you.
Conclusion
The Americans are very lucky to have access to Sling TV with no restrictions. The quality of television that you get is amazing and at so much less than cable and satellite providers.
But at least now thanks to VPN technology you can also access the TV platform from Canada. You only need to pick the best VPN for the job and I can assure you that it does not get better than ExpressVPN.
I know because it is the VPN that I personally use.
They are always one step ahead of the Sling TV detection algorithms and the streaming speeds are exceptional.
But the best part is that you are protected by their 30-day money-back guarantee. If it works as promised then you win and if it doesn't, you get a refund and so again it's a win for you.
Spoiler alert: It never disappoints.