Imagine if you had to purchase an individual VPN license for every device that you use to connect to the internet. I am looking around at my house and I can count five already. A laptop, a desktop PC, a phone, a smart TV and a Playstation console.
I can't afford to buy a license for each one of them so I would probably just install the VPN on my laptop which I consider my main device.
But hold on, now that means I cannot watch US Netflix on the smart TV. And what about when I am at my favorite cafe and want to use their Wi-Fi on my phone. How can I be sure some malicious user won't try to steal my personal data?
Well, as luck might have this is not a problem we have to go through because most VPNs allow you to secure multiple devices using a single license. The tricky part is finding the VPNs that helps you protect the maximum number of devices. Which is what I aim to help you achieve in this post.
And as you already know there is more to a VPN than allowing you to connect multiple devices simultaneously. We put all that into consideration when coming up with our list of the best VPNs and you can, therefore, be assured that you are getting the complete package.
Here is a rundown of the 5 VPNs we will be discussing in this post.
Best VPNs for use on Multiple Devices
Factors to Consider when choosing a VPN
Apart from the ability to simultaneously protect multiple devices with a single license, here are some other things you should look for in a VPN.
Compatibility with multiple devices – A great VPN should have a dedicated application for all the popular devices or at least come with a way to manually configure it on the particular device.
Connection speeds – A VPN is always guaranteed to lower your internet speed due to data encryption and the additional distance that the internet traffic has to travel to reach the VPN servers. However, some VPNs can make your connection painstakingly slow and that is not what you want.
Server distribution – The more distance that your internet traffic covers to reach a VPN server the more your internet speed will be affected. Therefore, your VPN of choice should have servers distributed in multiple locations across the globe so that you can easily find a server that is close to you.
Security features – The main reason for the creation of VPNs was to protect your personal data and safeguard your internet privacy. Therefore, when choosing a VPN make sure that it supports OpenVPN protocol and AES 256-bit encryption. The two form the best security combination.
Logging policy – You should also make sure that your choice VPN does not store user data. Doing so would mean that there are digital footprints that can be traced back to you. All it requires is a subpoena from your government to requiring the VPN to surrender your data to them.
1. ExpressVPN
ExpressVPN takes the top spot for one simple reason. Speed. The VPN has such a minimal effect on your connection speeds that you will barely notice it's there. And that is exactly what you want if you are a streamer or a gamer like me.
With over 3000 servers distributed in 94 different countries, it's very easy to find a server that is near you which will enable you to get the best speed performance.
Also worth mentioning is that ExpressVPN can be used to successfully unblock geo-restricted content for all the popular streaming services such as Netflix, Hulu, Prime Video and BBC iPlayer. And although these services have developed methods to identify and block VPN connections, Express VPN currently stands as the most consistent VPN in evading the block.
In those rare instances when it has been discovered, they are very quick to configure a new server or update their IP addresses to new ones that have not been blacklisted.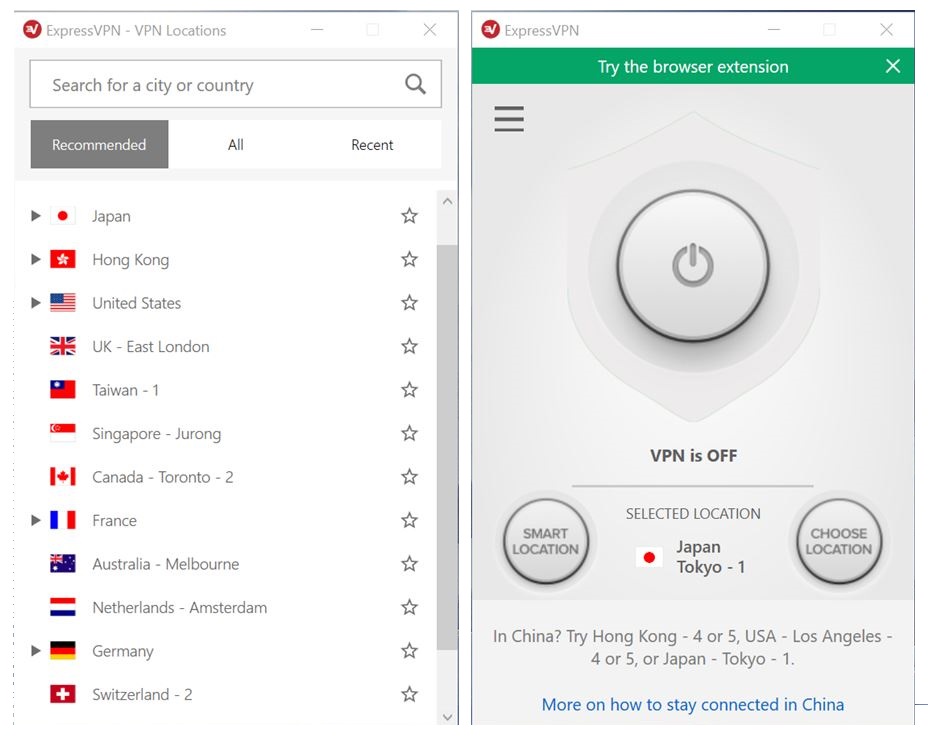 In terms of security, the VPN is compatible with OpenVPN connection protocol which is further reinforced through AES 256 bit encryption to provide full proof security.
Better yet, it allows you to manually change to other protocols such as L2TP and PPTP which offer less security but better connection speeds. But this should not be much of a problem since ExpressVPN automatically chooses the best connection protocol based on your Network.
Now to my favorite part. Although ExpressVPN only allows 5 simultaneous connections you can protect unlimited devices by configuring the VPN on a router. Any device that you connect to the internet via that router will be secured.
This VPN is based in the British Virgin Islands where they are not obligated by the law to store user data.
ExpressVPN does not come with a free trial but they allow you to purchase and test the premium plan for 30-days without any risks. If it does not impress you during this period then ask for a refund.
Read Full Review
Pros
Excellent streaming speeds
Offers complete anonymity when online
Compatible with all the popular devices
Excellent customer support
Cons
Does not have a free trial
2. NordVPN
NordVPN is a Panama-based VPN that does not kid around when it comes to security. It allows you to pass your data through two VPN servers for double encryption and can also be used to create an extra layer of protection over the standard VPN connection using the TOR network.
Most of the other VPNs require that you download the TOR browser separately to access this feature.
I know a lot of people, eg whistleblowers, will appreciate the added security but it may be too much for the average user. Not to mention the fact that it considerably slows your speeds and you may thus suffer if your initial speeds are not good enough.
If that's the case then just use the default security protocols. They are enough to block off online spies and will also produce decent speeds for browsing, streaming and even gaming.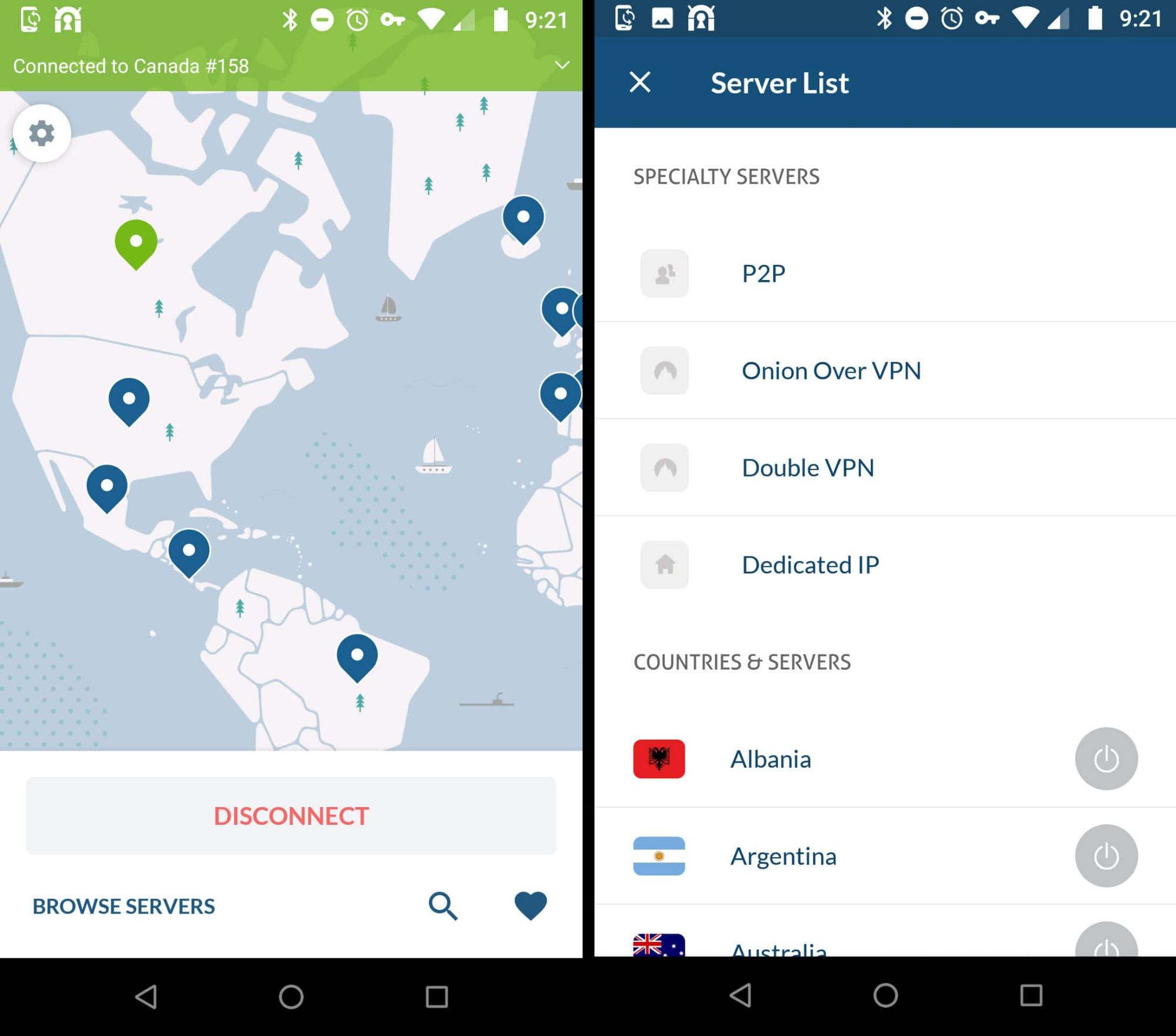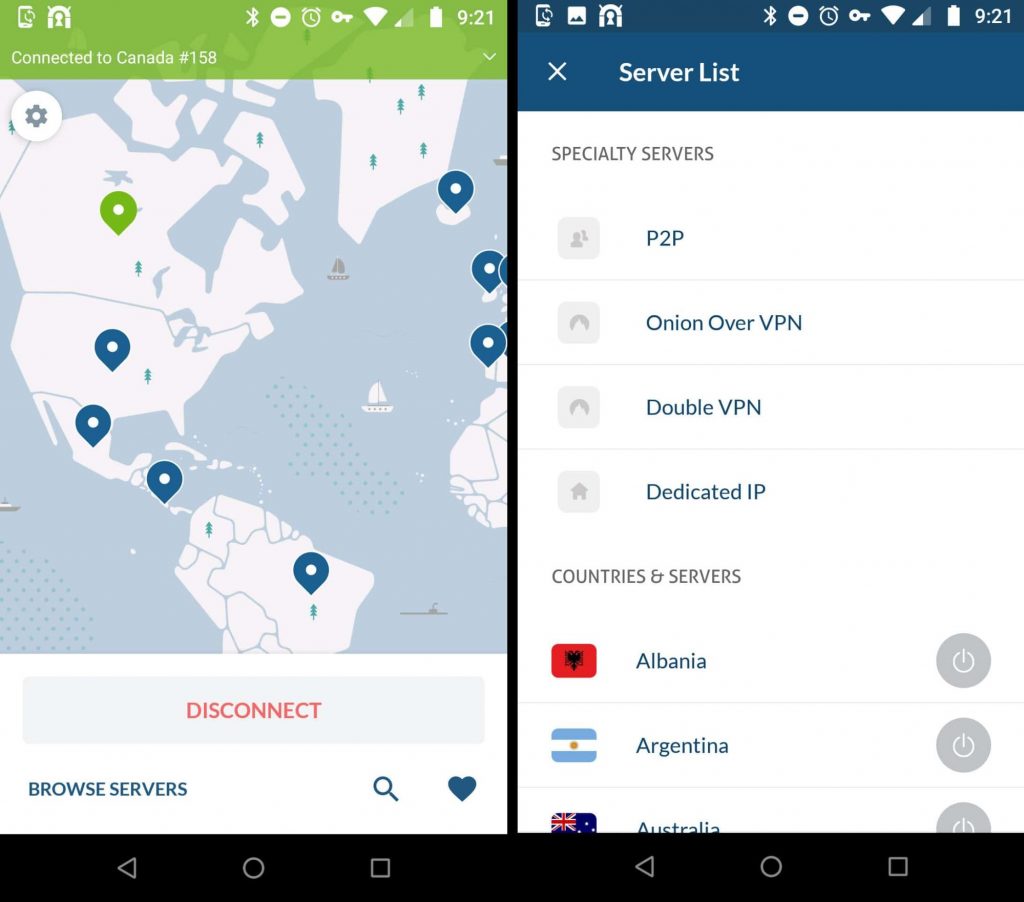 NordVPN can also be used to unblock the streaming services so you should have no problem accessing BBC iPlayer from outside the UK or viewing the US Netflix library from anywhere in the world.
NordVPN comes with an impressive 5100+ total number of servers distributed in 59 countries. I know they could have done a better job dispersing the servers but this still gives you a lot of locations to choose from.
The VPN has dedicated apps for all the popular operating systems and can also be installed on devices such as the Amazon Fire TV stick and various types of routers.
NordVPN does not also come with a free trial but they do give you a 30-day money-back guarantee.
Read Full Review
Pros
Great streaming experience
Double VPN for extra security
Allows purchase of a non-shared static IP
30-day money-back guarantee
Cons
The increased encryption may affect connection speed
3. CyberGhost
CyberGhost is on an upward growth trend and keeps on adding more useful features every day. It has surpassed NordVPN and currently sits as the top VPN with the most number of servers worldwide. That is 5700+ servers distributed over 90 countries.
This means that regardless of your current location, you are bound to find one server that is close to you.
Then another standout feature of this VPN is that it comes with specialized servers for streaming. So, unlike most of the other solutions, you don't have to rely on trial and error to find the best server for unblocking your streaming service. You just need to find the server with the name of your service on it and connect to it.
The most popular streaming providers supported by CyberGhost include Netflix, Prime Video, Hulu, BBC iPlayer and YouTube.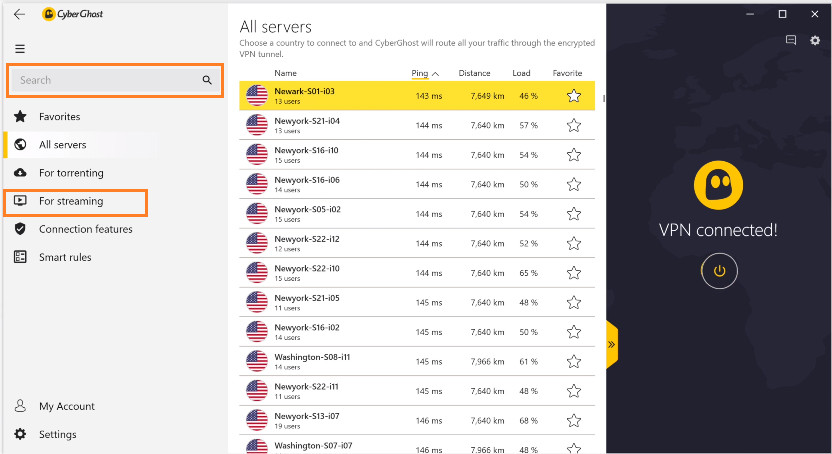 In our tests, the VPN performed really well and was able to stream videos in full HD without buffering.
In terms of security, CyberGhost uses OpenVPN connection protocol and AES 256-bit encryption making it a nightmare for anybody trying to steal your data or monitor your online activities.
Additionally, it allows you to change to other connection protocols such as IKEv2 and L2TP in the event that you want to boost your connection speeds.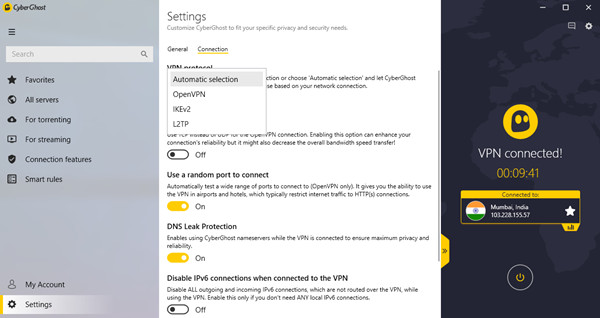 CyberGhost does not store any data that could be used to identify you and the good news is that in Romania where the VPN is based, there are no mandatory data retention laws.
The VPN comes with a one-day trial but you will only have access to the basic features. To fully test the product you will need to subscribe to the premium plan. Fortunately, they offer a 45-day money-back guarantee that you can utilize.
Read Full Review
Pros
Great streaming speeds
Very affordable
Has specialized servers for streaming
Compatibility with multiple devices
Cons
The 1-day trial is very limited
4. IPVanish
IPVanish is a US-based VPN that hides your real IP address and allows you to vanish to any of its 75+ server locations. They have more than 1300 servers which they own and self-manage and can, therefore, guarantee great speeds.
But you don't have to take their word for it. We conducted the speed tests and they were satisfactory. You don't have to worry about video buffering or poor quality streaming unless it is a problem you were struggling with even before using the VPN.
While at it, I also tried to unblock the US versions of Netflix and Prime Video and I was successful in both. Hulu was a bit of a problem but I was able to get the customer support to direct me to a working server. If you experience the same problem try the US Ashburn server.
You can also use IPVanish to access BBC iPlayer if you are outside the UK.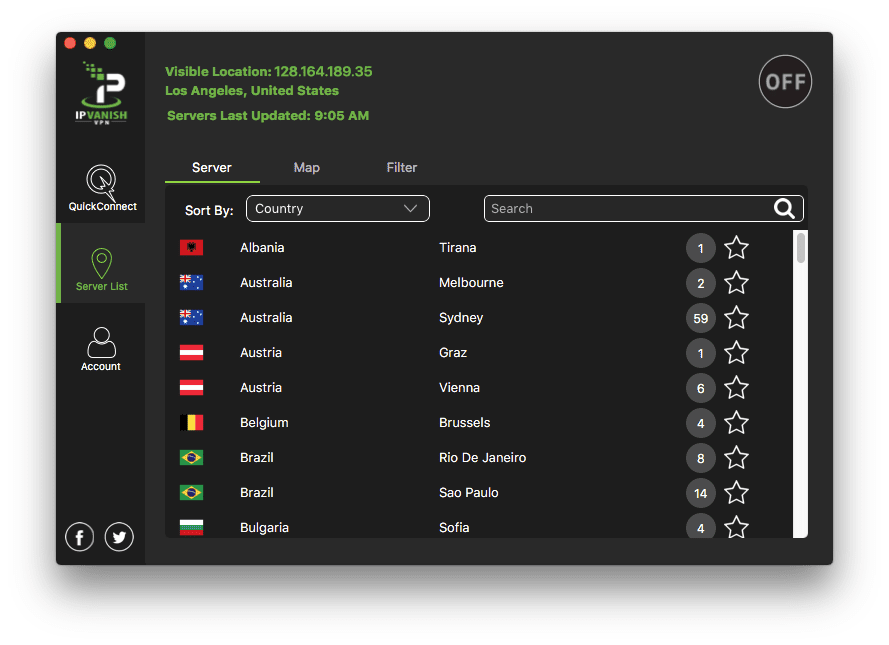 But one thing that really captured me about this VPN is its price. CyberGhost offers the best deal in the long-term but you won't get a better deal in the short term than IPVanish.
And you don't have to sacrifice any important feature as a result. The VPN uses OpenVPN connection protocol and AES 256 bit encryption to offer you the best protection against data theft and online snoopers. Not even your ISP can see what you do online.
Admittedly, the US is not the best Jurisdiction for a VPN. It is a member of the five eye alliance who are known for surveilling on their citizens. But the good thing is that IPVanish does not store user data and hence if the government comes knocking they will have no information to give.
IPVanish does not have a free trial but provides you with a 7-day money-back guarantee. I know that is not a lot of time but it's still enough to test and understand the product.
Read Full Review
Pros
Supports up to 10 devices
Operates self-owned server
Strong encryptions
Reputable geographic diversity of servers
Cons
Apps can be challenging to use
5. PrivateVPN
I don't understand why some people underestimate PrivateVPN. It's probably because it has a little over 100 servers. But they forget that the VPN has been around for more than 10 years now and you don't survive that long in the competitive VPN industry with nothing to offer.
They have also done a great job of distributing their servers to 60 countries allowing you to easily find a server that is close to you for the best speed performance.
In our tests, I was able to watch a movie in full HD and with no buffering.
The videos took longer than usual to load but once they started playing then it was smooth sailing. Also, there were minor fluctuations in the video quality but it did not stay long enough to be a nuisance.
PrivateVPN can easily unblock all the popular streaming services including Netflix. And that is a major feat because they are several top-tier VPNs that have been blocked by video providers.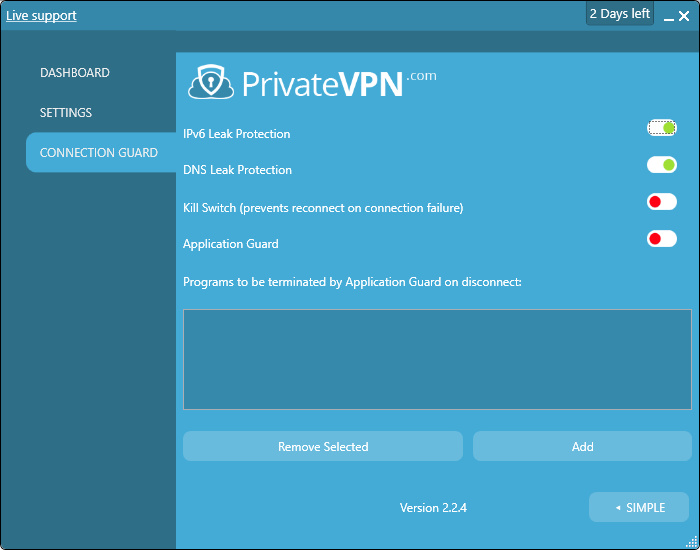 If it's security you are concerned about then you won't be disappointed either. This VPN uses 2048-bit Encryption With AES-256 and is compatible with OpenVPN protocol. Good luck to anybody trying to steal your data or spy on you online.
Other supported protocols include PPTP, L2TP, IKEv2 And IPSec. These will be great for when you want to get better speeds out of your VPN but will provide less security.
PrivateVPN can be used on just about any device including routers. They are not obligated by the Swedish law to store your data so there is no footprint online to trace back to you.
This VPN comes with a 30-day money-back guarantee.
Read Full Review
Pros
Can successfully unblock BBC iPlayer and other streaming services
Very affordable
Easy to use
Solid security protocols
Cons
Videos take longer than usual to load
Benefits of using a VPN
1. Unblocks geo-restricted content
As you may already know, the content library for the various streaming services varies depending on the regions. A lot of content that is available on US Netflix will not be available on Canadian Netflix.
But with a VPN, you are not limited to any region. All you have to do is change your IP location to any country and you will have access to all the restricted content in that region.
2. Protects your online identity
Anytime you access the Internet, your device gets assigned an IP address that contains your location info, the name of your Internet provider, and other personally identifiable information (PII).
This is all information that can be used to determine your real identity but it will be inaccessible when you use a VPN.
3. Prevents internet throttling
Throttling is the deliberate slowing down of your internet speeds by your ISP in an attempt to discourage you from bandwidth-intensive activities such as torrenting and streaming. And the only way they are able to do this is by monitoring your online activities.
When you use a VPN it encrypts all your internet traffic and makes your ISP blind to what you are doing. Therefore, they have no grounds to throttle your internet.
4. Prevents data theft
This feature will be particularly useful when you are connecting to the internet via public Wi-Fi. Hackers can target you and try to steal your personal information like credit card details.
But that will be extremely hard if you are using a VPN. Especially when you have configured it to use OpenVPN protocol and AES 256 bit encryption. Not even the NSA has been able to crack through this security fortress.
5. Ensures safe torrenting
Torrents use the P2P file-sharing protocol meaning that every time you download a file your IP address is in the public domain. That in itself is a danger.
Then, of course, depending on the material you are downloading, you could be violating copyright laws. That is another danger that could see you receive a warning letter from your ISP, have your internet throttled and on rare occasions, get sued.
Our recommended VPNs come with dedicated servers for P2P sharing and employ the necessary measures to ensure that you remain completely anonymous while doing so.
Best Free VPNs that allow multiple simultaneous connections
This is probably not what you were looking to hear but I do not recommend that you use free VPNs. Unless you don't have a problem with them sharing your data with the guys you are trying to hide it from. Yes, that is what happens.
The VPNs offering you free services still need servers to operate. And the servers need to be maintained. How do you think they can afford to pay the maintenance guys?
But even if they don't sell your data their services are mostly unreliable. They cannot guarantee you fast and consistent speeds, you will probably have no access to customer support and you cannot depend on them to unblock geo-restricted content.
But I have no problem with freemiums. Some VPN vendors like TunnelBear and Windscribe have free offerings but with limitations that are meant to make you buy the premium plans. For instance, the TunnelBear freemium only allows 500MB of data per month.
Will that work? Good for you.
How to use a VPN on unlimited devices by configuring it on a router
The best part about our recommended VPN solutions is that they can all be configured on a router.
This allows you to protect all the devices in your network using one connection and you can then use your other connections on devices that you use outside the network.
Alternatively, you can share the login details with your family and friends to enable them to protect their devices.
But you should know that not all routers support VPN installation. Sometimes this can be resolved by flashing the router with custom firmware like DD-WRT but if you are using an old model router your only option may be to upgrade to a new router.
You may want to consider routers that already come pre-installed with the VPN
Conclusion
I believe now you have all the information you need, not just for selecting the VPN that allows you the most simultaneous connections but also for choosing a solid VPN that will meet all your needs.
Still not sure which one you want? I would recommend you go with ExpressVPN. It has the least chance of disappointing you. I know because I use it. And did I mention that it has the best connection speeds?