It would be impossible to talk about video-on-demand streaming services without mentioning BBC iPlayer. It is right there at the top together with services like Netflix, Prime Video, and Hulu. Case in point, research conducted four years ago by GlobalWebIndex established that over 60 million people were accessing the platform from outside the UK.
And that is despite the fact that BBC iPlayer is only available for viewing in the UK. So how were all these people still able to access the platform? You already know that. They were using an unblocker. VPNs were and still are the best solution for bypassing the geographical restriction imposed by iPlayer.
The only difference between then and now is that BBC iPlayer can now identify and block connections originating from an unblocker. And unfortunately, a lot of the VPNs that claim to unblock the streaming service will not be able to live up to it. This then makes the process of choosing the right VPN a whole lot trickier.
But not for you because you have us. We have tested all the popular VPNs and we will give you our top 5 best solutions based on their performance. This should make it considerably easier for you to choose one. But if it doesn't, I will go a step further and recommend my favorite VPN.
And you see the great thing about using a VPN is that on top of unblocking BBC iPlayer, it also safeguards your online privacy and security.
It will change your IP address to the UK to give you access to iPlayer and then it will encrypt your internet traffic making it impossible for third parties to monitor your online activities.
This will be especially useful in preventing internet throttling where your ISP deliberately slows down your internet to discourage you from bandwidth-intensive activities such as streaming and torrenting.
Here is a rundown of the 5 VPN solutions we will be discussing in this post.
Best VPNs for BBC iPlayer
In case you are wondering, this is the criteria we used to come up with our best VPN solutions.
Factors to Consider When Choosing a VPN for BBC iPlayer
Has servers in the UK – The best VPN for BBC iPlayer is one that has an adequate number of servers in the UK to guarantee unlimited bandwidth. If too many users congest one server, they will be competing for bandwidth which then affects the overall streaming experience.
Connection speeds – A VPN is guaranteed to slow your connection speeds due to encryption and the additional distance that the internet traffic has to cover to reach the VPN servers. However, a great VPN ensures that the effects are not so big that they affect your browsing and streaming experience.
Has not been blocked by BBC iPlayer – BBC iPlayer can now identify and block VPN connections. The VPN you choose, therefore, should have strategies to avoid detection and always stay a step ahead of the streaming service.
Customer support – In the event that you encounter a problem using a VPN, say it stops unblocking BBC iPlayer, how quickly can you get help from their customer support?
Multiple device compatibility – A great VPN should have a dedicated application for almost every device that you may use to stream BBC iPlayer.
Security protocols – Check to see that the VPN of all your choice has all the security features to ensure complete anonymity when online.
1. ExpressVPN
I love ExpressVPN because of how it fits into every VPN category. Whether it's security, unblocking Netflix, Hulu, or even AppleTV you can trust this VPN to deliver. And what makes it the perfect fit for BBC iPlayer is its excellent streaming speeds.
The VPN even has a speed test feature that allows you to check the server with the best connection performance.
Also, of all the VPNs on this list, ExpressVPN has been the most consistent in unblocking not just BBC iPlayer but also other popular streaming services like Netflix and Hulu. And in the rare instances when the VPN has been discovered and blocked, they are very quick to update their IP addresses or configure a new server that has not been blacklisted yet.
This can be partly attributed to their excellent customer service. The VPN has a live chat option that you can use 24/7. But the best part is that their agents take less than a minute to respond which, therefore, guarantees fast resolution of your problem.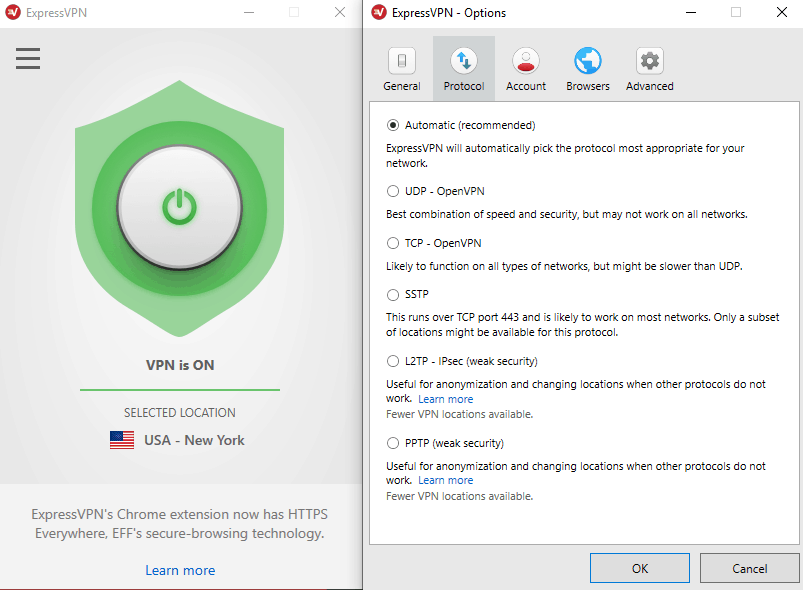 In terms of security, Express VPN uses AES 256 bit encryption and is compatible with OpenVPN protocol. This is the best security combination that not even the NSA has been able to crack yet.
It also supports additional protocols such as L2TP and PPTP which offer better connection speeds but less security.
ExpressVPN does not come with a free trial but they offer a 30-day money-back guarantee. If unsatisfied with the product during this period they will refund you with no questions asked.
Read Full Review
Pros
Excellent streaming speeds
Offers complete anonymity when online
Compatible with all the popular devices
Excellent customer support
Cons
Does not have a free trial
2. CyberGhost
CyberGhost is an excellent budget VPN that comes with all the important features that you normally find in top-tier solutions. In fact, it is currently the VPN with the most number of servers worldwide.
It comes with 5900+ servers and about 320 of them are located in the UK. But the best part is that this VPN has special servers that have optimized for streaming. Instead of trying multiple servers to find one that works, you can go directly to the BBC iPlayer server.
Apart from BBC iPlayer, CyberGhost also includes dedicated servers for Channel4 and Eurosport which are also blocked outside the UK. It also has specialized servers for Netflix, PrimeVideo, Hulu, and YouTube.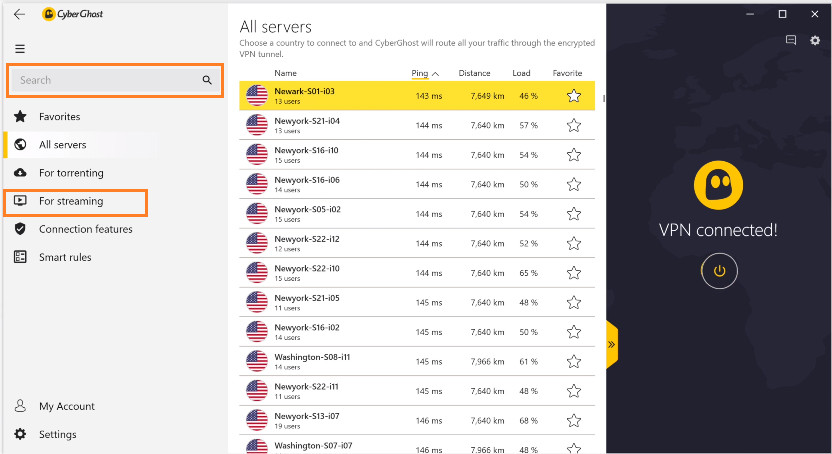 In case these servers don't work you can still use the normal servers.
CyberGhost is compatible with multiple devices such as iOS and Android devices, computers running on Windows, Mac, or Linux OS, Amazon Fire TV Stick, and Android TV. Better yet, it can be configured on a router allowing you to protect every other device that connects to the internet via the router.
This VPN is compatible with OpenVPN connection protocol which is further reinforced through AES 256 bit encryption to provide full-proof protection against hackers and online spies.
However, if you notice that your speeds are not optimum you can manually change the connection protocol to IKEv2 or L2TP/IPSec which offer less security but better streaming speeds.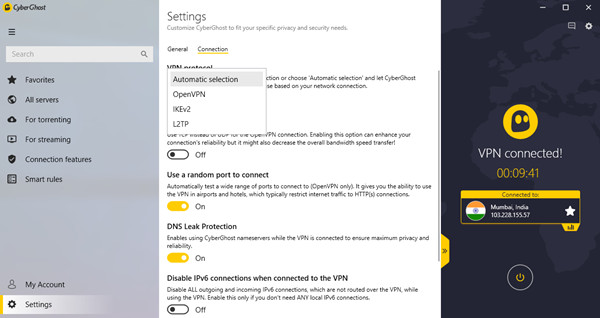 CyberGhost comes with a one-day free trial but you won't be able to use some of its important features including unblocking BBC iPlayer. But the good thing is that they offer a 45-day money-back guarantee which allows you to purchase the premium product and request a refund if unsatisfied.
Read Full Review
Pros
Great streaming speeds
Very affordable
Has specialized servers for streaming
Compatibility with multiple devices
Cons
The 1-day trial is very limited
3. NordVPN
NordVPN is a security-oriented VPN but it also understands the streaming needs of its users. It was the first VPN to offer double encryption which sees your internet traffic pass through two servers for increased anonymity.
While there are a lot of users who will appreciate the increased security I still have to say that for the average user, it's an overkill. And if your baseline speed is not fast enough the extra encryption may lead to continued buffering when streaming.
You are better off with the standard protection using OpenVPN protocol and AES 256-bit encryption.
NordVPN comes with over 690 servers in the UK which is more than any other VPN on our list. And this means that you won't experience connection speed problems resulting from bandwidth competition.
In our tests, I was able to stream a movie in BBC iPlayer in full HD without buffering.
On top of unblocking BBC iPlayer, NordVPN also works for other streaming services like Netflix, Hulu, and Prime Video. And you are not just limited to the UK. You can use the servers in other countries like the US, France, and Canada to unblock the restricted content in these regions.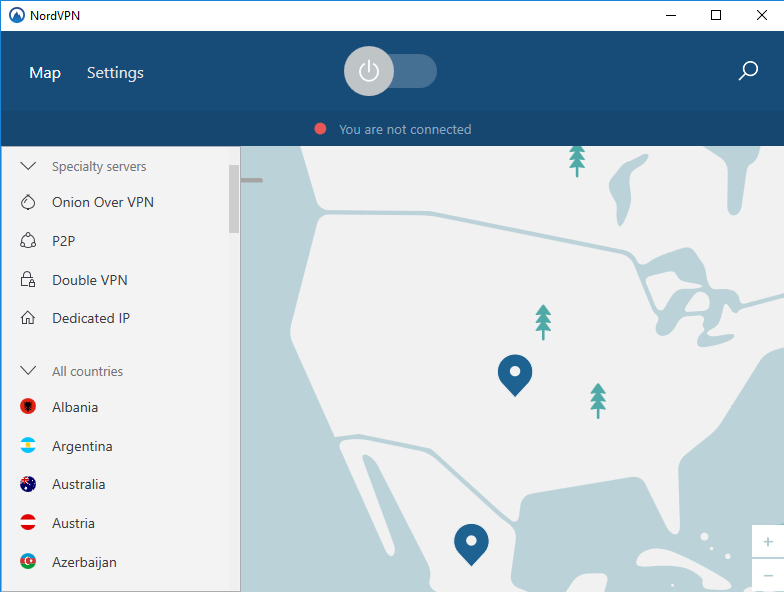 NordVPN allows 6 simultaneous connections using one license which is made even better by the VPNs wide compatibility with various devices including Amazon Fire TV Stick and routers.
Also for an extra cost, you can get assigned your own static IP address which makes it harder for BBC iPlayer to identify and block your VPN connection.
NordVPN allows you to try their product risk-free through their 30-day money-back guarantee.
Read Full Review
Pros
Great streaming experience
Double VPN for extra security
Allows purchase of a non-shared static IP
30-day money-back guarantee
Cons
The increased encryption may affect connection speed
4. PrivateVPN
PrivateVPN is one VPN that does not get the credit it deserves. And considering that it comes with slightly over 100 servers, it's easy to see why. But don't let that fool. The VPN can successfully unblock BBC iPlayer and multiple other streaming services. A feat that many bigger VPNs have been unable to achieve.
It only has 6 servers in the UK but from our tests, this did not cause any major effects on streaming speeds.
We did notice that videos took longer to load but once they started playing everything went on smoothly. Also, there were minor fluctuations in the video quality but only for a few seconds and it was back to full HD. But depending on your baseline speed before connecting to a VPN, this may not even be a problem for you.
Then again it's easy to complain about these minor issues before you see how much the VPN costs. In all honesty, I would say that PrivateVPN provides you more value than you pay for.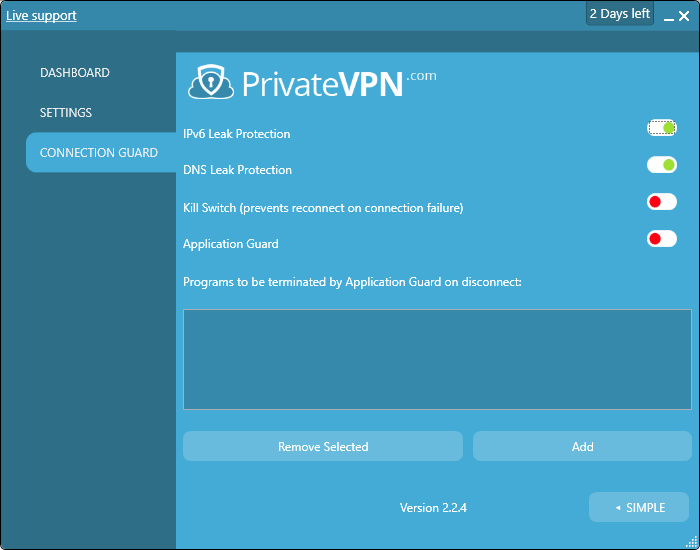 The VPN is compatible with multiple devices including routers so you should have no problem securing any device that you want to use to stream BBC iPlayer. And it does not disappoint in regard to security too.
PrivateVPN supports the OpenVPN protocol and uses AES 256 bit encryption to ensure that no one can monitor your online activities and that you are an online ghost.
The VPN comes with a 30-day money-back guarantee.
Read Full Review
Pros
Can successfully unblock BBC iPlayer and other streaming services
Very affordable
Easy to use
Solid security protocols
Cons
Videos take longer than usual to load
5. PureVPN
PureVPN is a surprise inclusion to this list because when I reviewed it last, it was unable to unblock BBC iPlayer. But a lot has changed since then. For instance, they have expanded their server portfolio in the UK to about 168 servers distributed over 4 locations and can unblock not just iPlayer but also multiple other services like Netflix and Hulu.
PureVPN owns and self-manages all their servers and can, therefore, guarantee fast and consistent speeds.
You don't have to take their word for it. I tested the VPN and was able to watch an episode of Peaky Blinders in full HD and without buffering. And I did not have to work too hard to find a working server because PureVPN has specialized streaming servers.
The VPN has also added a Firefox browser extension to its list of supported devices. The other supported devices include iOS and Android phones, computers, Kodi, Android TV, Amazon Fire Stick, and routers.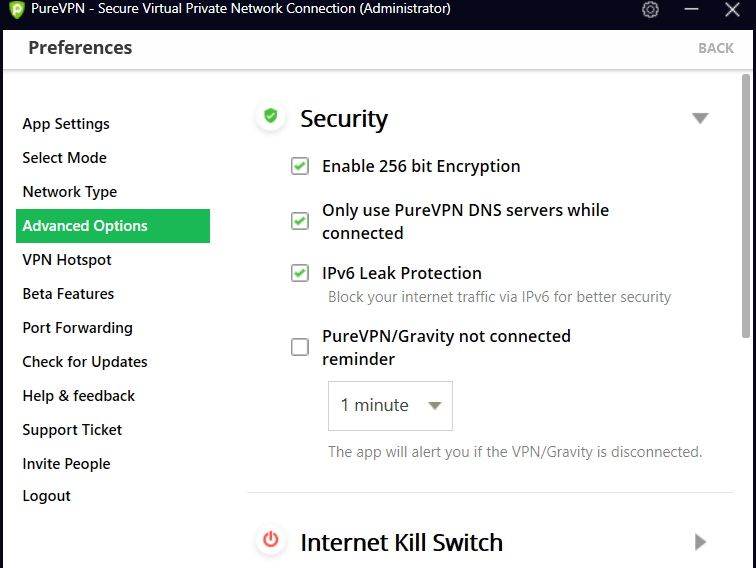 Much like NordVPN, this VPN also allows you to purchase a dedicated static IP address which significantly reduces your chances of getting flagged down by BBC iPlayer.
PureVPN is configured to use OpenVPN and AES 256 bit encryption which guarantees the best security. However, you can manually change the protocol to L2TP, PPTP, SSTP, and, IKEv2, which provide less security but better speeds.
This VPN comes with a 31-day money-back guarantee.
Read Full Review
Pros
Great streaming speeds
Allows you to purchase a non-shared static IP address
Compatibility with multiple devices
31-day money-back guarantee
Why is BBC iPlayer blocked outside the UK

This is because it is a free service meant for UK residents who have paid the TV license fee.
Then why don't they provide a paid plan for non-UK residents? I bet it has something to with content licensing.
The content that is currently available on BBC iPlayer has been licensed to be viewed only in the UK. If the service is made available in other countries, then they would have to buy the right to stream that content in the new region.
And if enough people do not subscribe, then that would be a loss for them.
Do I need a TV License to Watch BBC iPlayer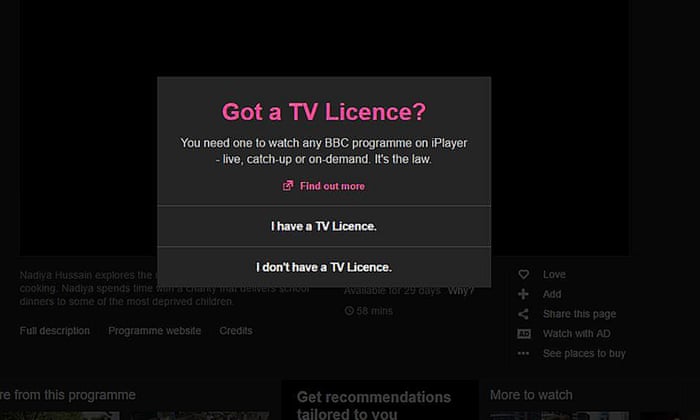 During sign up, a pop up will appear asking if you have a TV license.
Don't worry. The system is based on the honor system and you will not be prompted to enter the TV license. Just say Yes and proceed.
What is the best free VPN for BBC iPlayer
I have never at any point been an advocate for free VPNs. And I also doubt that there is a free VPN that would afford to optimize their servers to consistently unblock BBC iPlayer without detection.
But if they can then it will be at the expense of your privacy and security. It would not be the first time that the so-called free VPNs sold their user data to the same people they are supposed to be protecting them from.
If you have to use a free VPN, then I would recommend you use a free version of a premium product. The only downside to this is that the freemiums come with limitations such as the maximum amount of bandwidth per month which makes them unpractical for streaming.
A good example is the Tunnel Bear freemium that only allows 500MB of data per month. How long do you think that will last on BBC iPlayer?
VPNs that don't unblock BBC iPlayer
Even as we talk about the best VPNs for BBC iPlayer, I think it's great that we mention some of the VPNs that you should not bother trying. We are always testing the products and if anything changes we will be sure to update the list.
AnonymousVPN
Cactus VPN
Goose
Hide.me
Hola
EarthVPN
Hotspot shield
BBC iPlayer still not working and I have a VPN
Sometimes it's possible that you use a working VPN but it's still unable to unblock BBC iPlayer. At that point, it's best to contact customer support and see if they will help you resolve the issue.
But before you do, here are some tricks to try.
Connect to a new server – See, when BBC iPlayer blacklists a server or a specific IP address the VPN does not remove them. Instead, they add a new server or update their address list with new ones that work.
This means that there are chances that you will be allocated an IP address that has already been blacklisted. And when you connect to a new server, you get allocated a new IP address which may now be able to unblock the streaming service.
Clear your browser's cookies and caches – If you had tried accessing BBC iPlayer before connecting to a VPN, then it's possible that your browser stored your location information and BBC iPlayer is now using that info to determine your location.
Configure the VPN on a router – Sometimes the VPN applications may be sending your connection requests via your ISP DNS instead of using the VPN's encrypted DNS servers.
In this case, BBC iPlayer will still be able to tell your real location and consequently block you from accessing the service.
If after doing this, you still cannot access the platform then contact support. And if that does not yield any solution then it's time to accept that BBC iPlayer has gotten the better of the VPN and is now blocking all their connections.
The only hope now is to wait and hope that they quickly resolve the problem by adding more servers and IP addresses or try out another VPN solution.
Conclusion
BBC iPlayer is an excellent streaming service and the fact that it is available for free makes it more appealing. It's, therefore, unfortunate that you cannot access it if you are outside the US.
Nevertheless, if you have learned anything from this post then the geo-restriction should not stop you from enjoying quality content. All the VPNs that we recommend in this post tick all the right features necessary to unblock BBC iPlayer without compromising your identity.
But since I promised, I will tell you which one is my favorite. ExpressVPN and for one simple reason. They are always a step ahead of the streaming services. Even when discovered, it is never an inconvenience for long.
The problem resolution process of ExpressVPN is swift and prompt.