It's a rainy Sunday afternoon, the pizza is ordered, and you're ready to "Netflix and chill." So, you grab a warm blanket, switch on your TunnelBear VPN connection, open up your Netflix account and get ready for some much-needed downtime.
Then, this happens: You get the dreaded "Whoops, something went wrong…" message of doom. "You seem to be using an unblocker or proxy. Please turn off any of these devices and try again."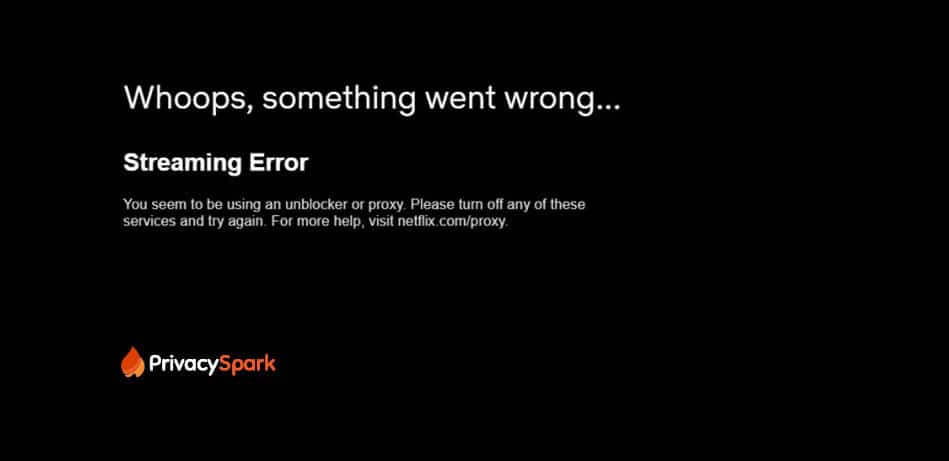 What? Not again! Sometimes it works, sometimes it doesn't. What's gives?
Why Netflix Blocks a VPN Provider
According to data collected from GlobalWebIndex, a leading audience analytics platform, VPNs are used by 25 percent of all internet users. They're faster, offer greater privacy, and are more secure.
However, VPN users around the world, regardless of which VPN they subscribe to, are experiencing the same issues with Netflix.
Since 2016, Netflix has been waging a war against VPN users by blocking their IP addresses and keeping them from accessing their content.
Prior to this, TunnelBear and other VPNs provided quick and easy access to Netflix's never-ending stream of content goodness. However, keeping Netflix off your IP address coattails takes effort, and TunnelBear seems to have thrown in the towel.
As a TunnelBear user, where does this leave you?
Don't worry, you have options. But first….
How Does Netflix Block a VPN Provider?
There are a ton of benefits of using a VPN, but most people use them to protect their online privacy. As such, most connect to their VPN every time they go online.
When someone connects to their VPN, they connect to one of their VPN provider's servers along with several other users. To make it seem like they're connecting from the location of the VPN server, a new IP address is given each time they sign in.
This is where the problem lies.
Shared IP Addresses
VPN users who connect to a particular VPN server all share the same VPN-assigned IP address, so each of their connections appear to be coming from the same location.
While this provides users with an added layer of security, it also makes it possible for Netflix and other streaming services to detect the use of a VPN.
If several VPN users connect to Netflix from the same VPN, this clues Netflix in to the possibility that a VPN IP address is being used.
When Netflix discovers the use of a VPN IP address, they can then block it from accessing their servers. This means, VPN users won't be able to access their content.
When a VPN provider discovers an IP address of one of their servers is being blocked, they can then create a new IP address or group of addresses, enabling users to access Netflix once again. However, the new IP addresses will also eventually be discovered, resulting in a never-ending game of chess.
This can be frustrating for VPN users, but it can also be frustrating for VPN providers. The sad fact is TunnelBear and many others simply grew tired of the back and forth and gave up the good fight.
Fortunately, there's a workaround.
Best Blocked Netflix Workaround: ExpressVPN


At the start of 2016, when Netflix announced it would start blocking VPN servers from accessing their TV and movie content, just about any VPN could access the streaming service.
In the months and years since, a lot of VPN providers have decided to quit the IP address battle. TunnelBear is one of those providers.
The good news is that not all VPN services have given up on the challenge.
Unable to Access Netflix with TunnelBear? Try ExpressVPN.
ExpressVPN is one of the only VPN providers continuing to create new IP addresses for their users and fight the good fight.
Although you may have an IP address get flagged by Netflix and no longer work, you'll likely be able to solve this dilemma by reconnecting and finding a server with the keys to the Netflix content kingdom.
I've tested dozens of VPNs, and ExpressVPN has proven to reliably unblock Netflix in the US, Canada, UK, Australia, Italy, France, Japan, and several other countries.
It's really fast too, so you can immerse yourself into full HD enjoyment for hours on end with little to no buffering.
With a 30-day money-back guarantee to boot, there's no reason not to give it a risk-free try.
Why Use ExpressVPN with Netflix?
While their numbers have dwindled, there are still a few VPNs advertising Netflix connectivity. However, not all VPNs are created equal.
Here's why we like ExressVPN, especially with Netflix:
• Global Coverage
With more than 1,500 VPN servers in over 90 countries, ExpressVPN is an excellent option for accessing Netflix and other streaming services.
• Privacy
ExpressVPN does a great job with privacy protection. Based in the British Virgin Islands, they're not required to keep user logs. In fact, they actually have a strict "No Logs" policy to protect the privacy of each of its users.
• Speed
Granting Netflix access is one thing, but you'll also want a VPN provider with fast connection speeds in order to minimize buffering and maximize your enjoyment of your favorite content. ExpressVPN's connection speeds are pretty fast for a VPN, nearly matching the speeds of most ISPs.
• Multi-Platform Viewing
You can access Netflix from virtually any connected device, and ExpressVPN will allow you to do exactly that. From iOS and Android devices to Apple or Amazon Fire TV, Xbox and PlayStation gaming consoles, macOS native apps, Windows desktop platforms, Chrome and Firefox browser extensions, and more, you can access Netflix from just about anywhere.
• Customer Support
While no VPN provider can guarantee a hassle-free experience, big name VPNs like ExpressVPN come pretty darn close. Their team works hard to ensure their servers are working great and users can privately access Netflix, Hulu, and other content services.
That said, the support is pretty great too. In addition to live chat, there is a submission form option. In testing both, I found the responses were fast, informative, and succinct. There's also a helpful support library full of topics for those who prefer learning on their own.
Best Netflix VPN
ExpressVPN hits the sweet spot of reliability, affordability, and performance, making it my top pick for VPN users wanting access to Netflix when TunnelBear no longer works. Not only does ExpressVPN offer the ability to get around Netflix's blocking measures, but they respond quickly whenever they discover a blocked IP address.
With excellent connections speeds, great global server coverage, top-notch privacy protections, and customer support that's second to none, ExpressVPN is currently the go-to VPN for unblocking Netflix's treasure trove of content.
While no one can say when or if ExpressVPN will call it quits on their ongoing game of "Battleship" with Netflix, they continue to offer movie lovers a fast and reliable way of accessing Netflix when travelling abroad.