Did you know that Hulu had 2x as much growth as Netflix in the US in 2019? According to reports released by the two streaming services in the first quarter of 2019, Netflix only added 1.74 million users while Hulu added 3.8 million new subscribers.
The increased popularity of Hulu is a clear indicator that Netflix is no longer the dominant streaming service and that people living outside the US and Japan are missing out. These are the only two countries where you can stream Hulu normally.
I say normally because you can also stream Hulu if you are outside these regions but you have to trick Hulu into thinking that you are in the US. And how you do that is by using a VPN.
The good news is that there are multiple VPN solutions you can choose from and the bad news is that there are so many that picking the most ideal may turn out to be a headache.
What's more unfortunate is that all these solutions claim to unblock Hulu on their websites only for you to be met with an error message when trying to login to the streaming service.

Don't worry though. We have done all the hard work for you. We have tested all the popular VPN software and come up with a list of 5 of the best solutions. And guess what I have a favorite which I will be sharing with you at the end of the post.
Best VPNs for Hulu
This is a rundown of the 5 best VPN solutions that I will be reviewing in this post.
Factors to Consider when Choosing a VPN for Hulu
This is the criteria I used when recommending the most ideal VPN for Hulu
Server Availability in the US – It's critical that a VPN has adequate servers in the US to avoid congestion which would lead to unhealthy competition for bandwidth.
Has not been Blacklisted by Hulu – The streaming service has come up with ways of identifying and blocking VPN connections which has affected several VPN vendors. Later, I will even list some of the VPNs that do not currently work with Hulu to save you the trouble.
Connection Speed – What is the point of being able to unblock Hulu if you can't enjoy your shows and movies due to buffering and poor quality video.
Compatibility with Multiple Devices – A great VPN will have an application for all the popular devices that you may use to access Hulu. These include mobile phones, computers, and smart TVs.
Customer Support – If you encounter a problem with the VPN how long does it take for their customer support to respond to your query?
Strong Security and Privacy protocols – A great VPN will encrypt your data making it a nightmare for hackers to steal your personal data or for snoopers to monitor your online activities.
1. ExpressVPN
If you took 5 experts and asked that they recommend the best VPN for Hulu then I can bet you that four of them will say ExpressVPN. What makes this VPN stand out like that you wonder. The first thing that comes to mind is how quickly they react when they get discovered by Hulu.
It's a rare occurrence but when it does happen, ExpressVPN will promptly update their IP addresses or configure a new server such that it's never a big inconvenience.
This VPN has 28 servers distributed over 16 locations in the US which gives you plenty of options to choose from. You can even make use of the speed test feature to check which server has the best performance.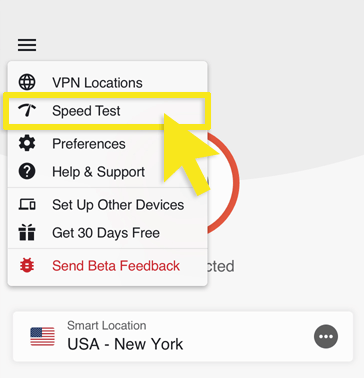 Something else that makes ExpressVPN ideal for Hulu is that on top of the usual devices, it can also be installed on a router. The configuration process is a bit technical but once done, any device connecting to the internet via that router will be VPN-protected.
In case you are worried about streaming quality, ExpressVPN has such minimal effect on your connection speed that you will barely notice that you are using a VPN. This means that you get to enjoy uninterrupted streaming at full HD.
Other than Hulu, ExpressVPN can also be used to access the US libraries of other streaming services like Netflix and Prime Video. Moreover, you can make use of their servers in other countries like the UK and Canada to access the restricted content there.
The VPN comes with a 30-day money-back guarantee and so should you be dissatisfied with their services you can request a refund.
Although I recommend that you take it up with their customer service first. Their agents are available 24/7 via live chat and will respond to your queries in less than a minute.
Read Full Review
Pros
Compatible with all popular devices
Quick remediation process when discovered by Hulu
Very responsive customer support
Excellent streaming speeds
2. NordVPN
There is no other VPN solution in this list that has more servers in the US than NordVPN. But considering that it has 5100+ servers worldwide, it's not surprising that 1,530 of them are in the US.
What this means is that there is no competition for bandwidth among the VPN users since they do not congest on a single server. It also means that NordVPN has more IP addresses to allocate making it harder for Hulu to discover them.
In our tests, I was able to watch movies at full HD and did not experience any buffering so that should not be a problem for you too.
Of course, there is the case of Internet throttling by your ISP which could lead to poor streaming quality. But the good thing is that NordVPN encrypts your internet traffic so that not even your ISP can monitor your online activity. That means they will have no grounds to slow down your internet.
The VPN uses AES 256 bit encryption coupled with OpenVPN connection protocol which is the best security combination you can have currently.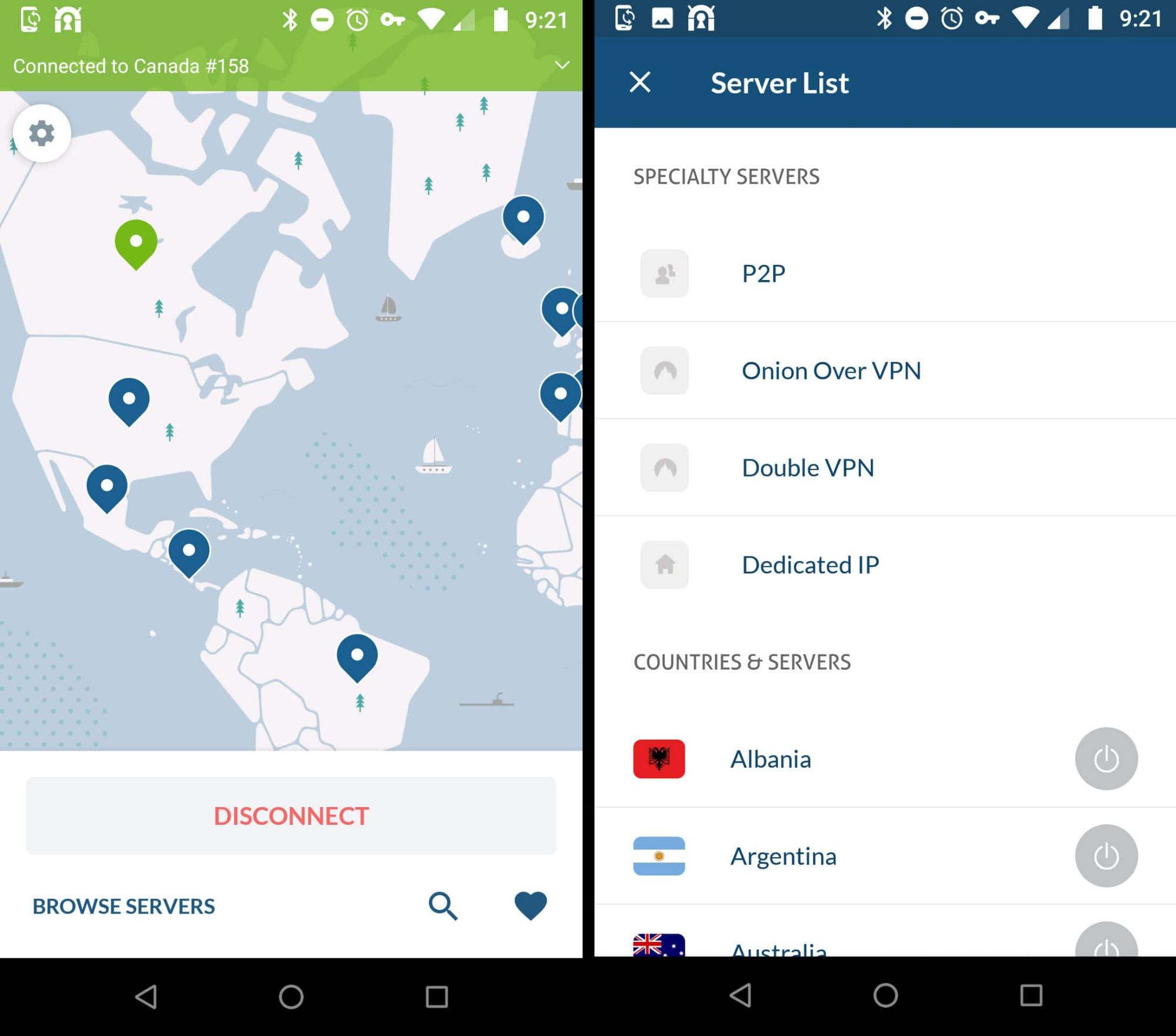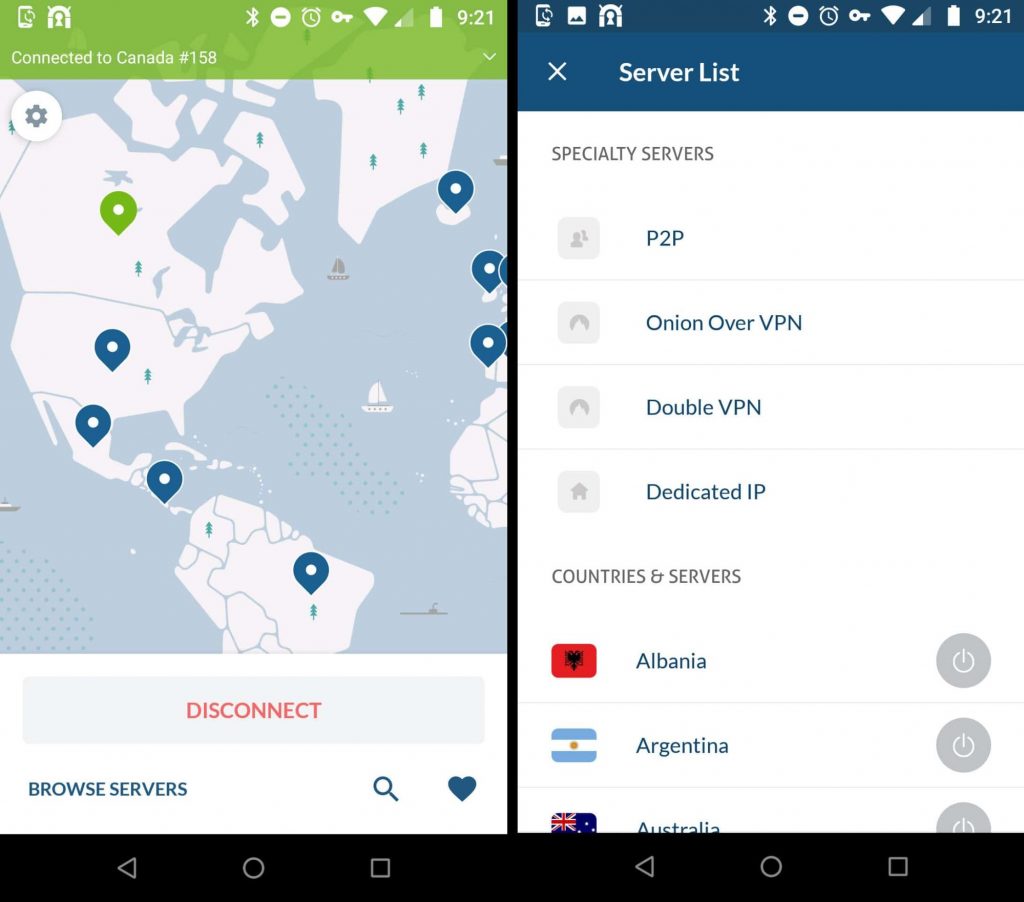 The maximum number of devices you can simultaneously connect to NordVPN at a given time is 6. So if you are using watching Hulu on your smart TV, you can also protect your laptop and mobile phone at the same time. It is compatible with iOS and Android mobile phones and can also be installed on computers running on Windows, Mac, or Linux OS.
NordVPN does not have any specialized servers for streaming but has a feature called Smart-Play that allows you to start streaming restricted content without any further configuration.
This VPN solution does not come with a free trial but they offer you a 30-day money-back guarantee.
Read Full Review
Pros
Offers a double layer of security
Huge server collection in the US
Multiple device compatibility
30-day money-back guarantee
Cons
Lacks Optimized servers for streaming
3. CyberGhost
CyberGhost is the most affordable solution on our list but you won't tell that by looking at its features. With more than 5900 servers, it has even surpassed NordVPN to become the VPN with the most servers worldwide. Of these, 1,112 are located in the US only.
Again what this means is that there is no competition for bandwidth since there are enough servers for all its users. As a result, CyberGhost offers great connection speeds that guarantee uninterrupted streaming at full HD.
Although you should understand that the further away you are from the server the more your connection speeds will be affected.
In terms of security, the VPN is compatible with OpenVPN protocol which is further reinforced through AES 256 bit encryption. It also allows you to use other connection protocols such as L2TP or IKEv2 which offer less security but better speeds.
Now, not only will it be almost impossible for hackers to steal your data, but also your ISP cannot spy on you.
Cyberghost has dedicated applications for all the popular devices that you may use to watch Hulu and can even be installed on a router.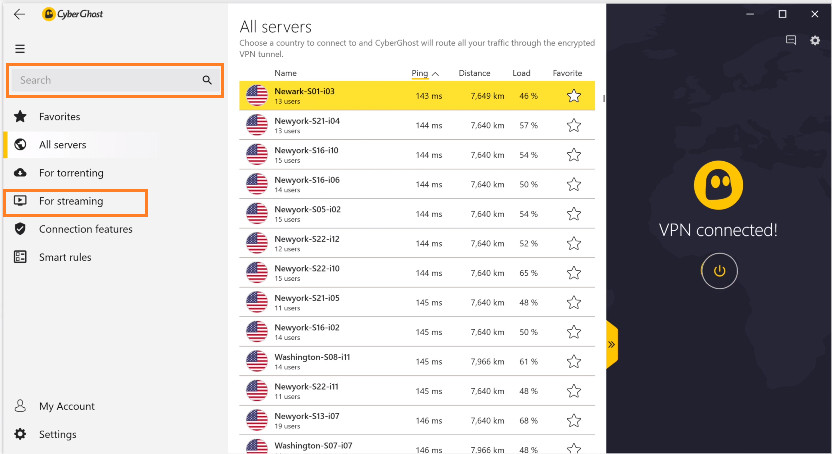 Also, apart from Hulu, it can unblock other streaming services not just in the US but in the various other countries where it has servers. And the best part is that the VPN comes with specific servers that have been optimized for streaming meaning that you don't have to rely on trial and error to determine the best server.
But if the dedicated server is not working, you can always try other available servers.
CyberGhost has a 1-day free trial and they will also allow you a 45-day money-back guarantee once you purchase the premium version.
Read Full Review
Pros
Has specialized servers for streaming Hulu
Huge collection of servers in the US
Very affordable
Great connection speeds
Cons
The 1-day free trial is very limited
4. VyprVPN
VyprVPN is a Swiss-based VPN that has been tailored not just for streaming but also packs solid security features. The VPN company owns and self-manages all its 700+ servers and can, therefore, guarantee fast speeds and reliable connections.
These servers are distributed over 70 different locations and the US has 8 different locations you can connect from.
As expected VyprVPN will reduce your internet speed but in our tests, the effect was not big enough to affect my streaming quality. I noticed that the videos took a longer time to load than usual but once they started playing I did not experience any buffering.
Also, there were fluctuations in the video quality but this only lasted for less than a minute and it was back to Full HD.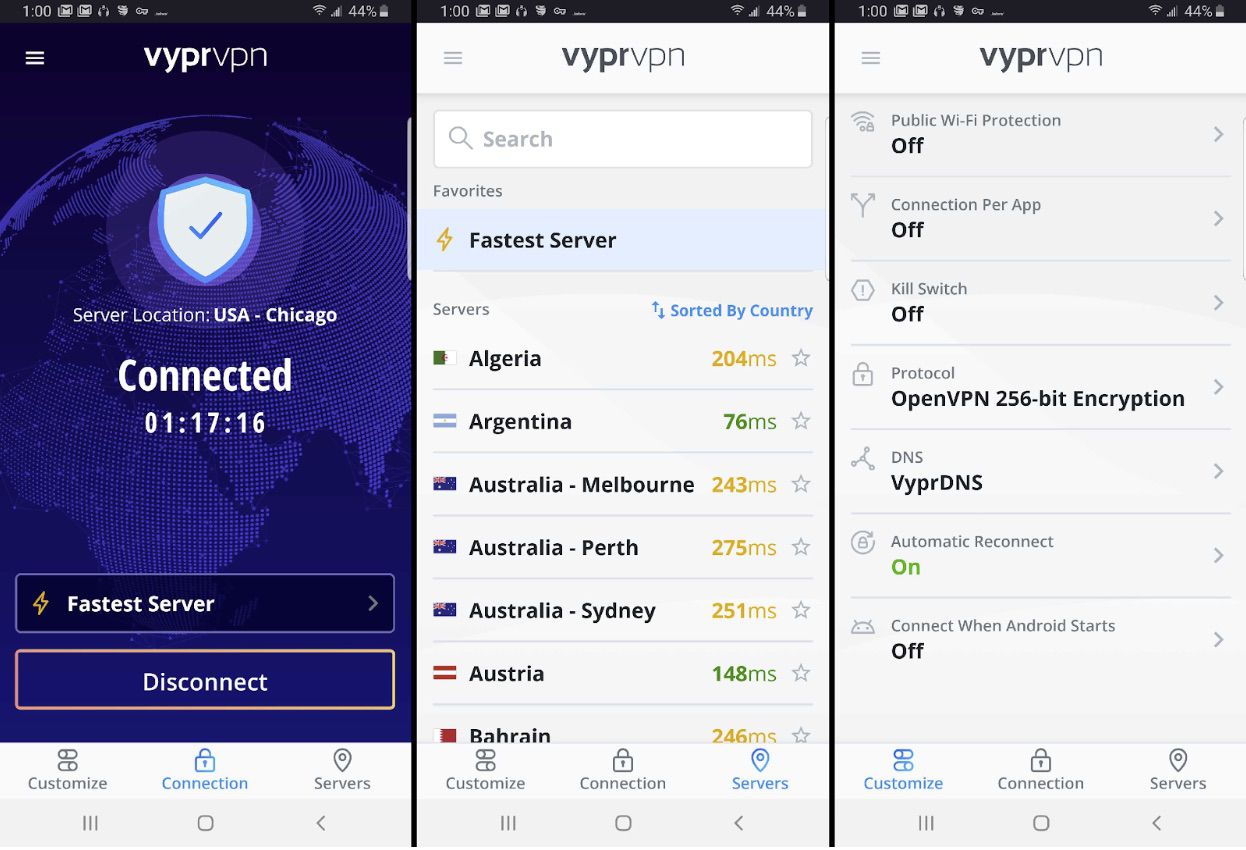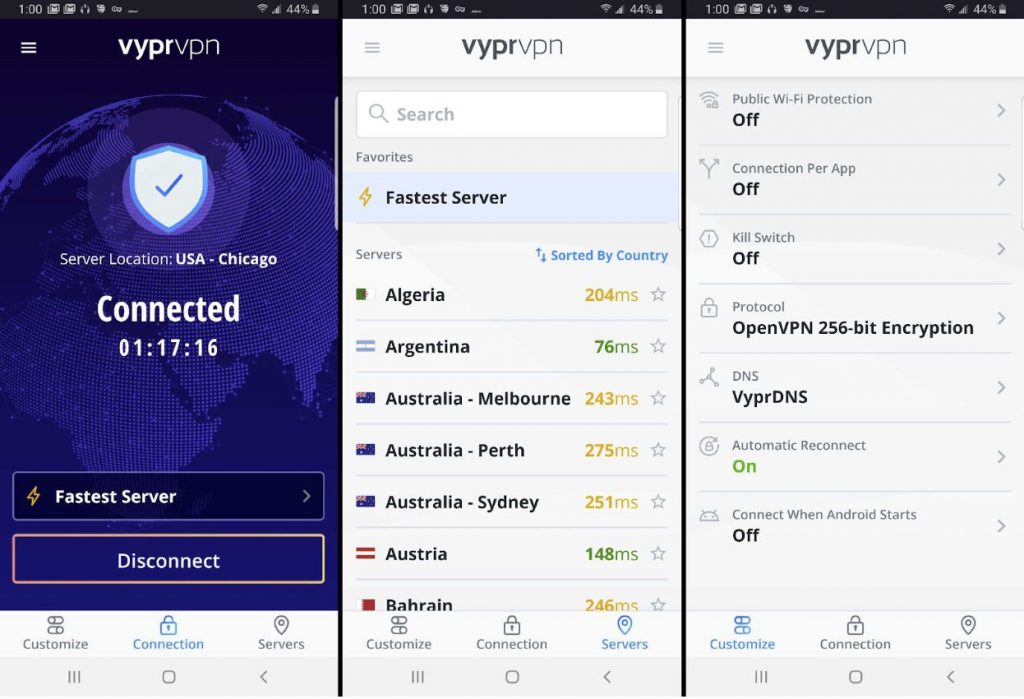 VyprVPN allows you to protect up to 5 devices using one license. It comes with a dedicated app for all the popular devices including some Smart TV brands and Amazon Fire TV Stick.
Moreover, on top of unblocking Hulu, this VPN can also unblock other streaming services like Netflix, Prime Video and BBC iPlayer. The latter is only accessible in the UK.
The Vypr customer support is available 24/7 and hence if any issue arises you can be assured that it will be resolved immediately.
A while ago the VPN offered a 3-day free trial but they have since withdrawn that. Now they just give you a 30-day money-back guarantee.
Read Full Review
Pros
Great streaming speeds
Multiple device compatibility
Responsive customer support
30-day money-back guarantee
5. PrivateVPN
PrivateVPN is still a growing VPN but so far so good. Their slightly over 100 servers are nothing compared to CyberGhost's 5900+ but that has not stopped them in any way. Private VPN can still successfully unblock Hulu without detection and it also works with other streaming services not just in the US but in other regions like France, the UK, and Canada where they have their servers.
Again, 14 servers distributed over 9 locations in the US are not compelling but from our tests, the VPN connection speeds were satisfactory. I was still able to watch my movies in full HD without any buffering.
And you see unlike the other solutions where you have to purchase long term plans to get the best plan, Private VPN has a 3-month plan valued at $4.88 per month which is a steal.
The fact that it has a dedicated application for almost every device you will be using makes installing the software a breeze. The software interface is also very direct and only needs intuition to operate.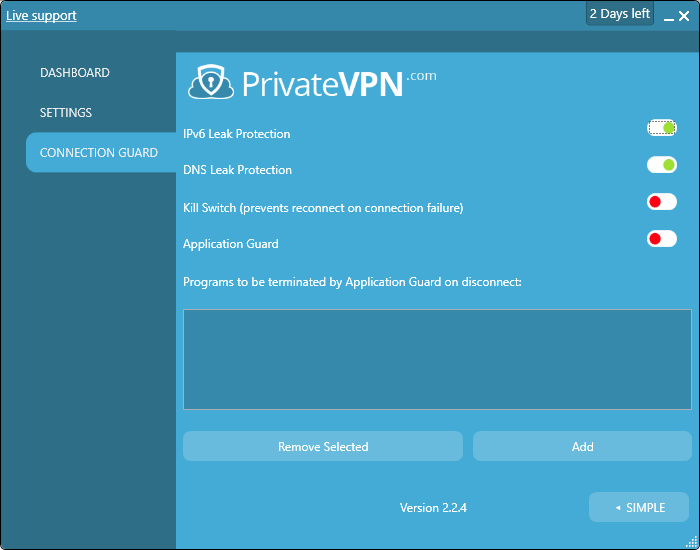 In regard to security, PrivateVPN is compatible with a variety of protocols but most importantly it supports OpenVPN combined with AES 256 bit encryption which ensures that snoopers cannot monitor your online activities.
Security is further reinforced through a killswitch that disables your internet when the VPN gets disconnected. You also get DNS and IPv6 leak protection.
PrivateVPN allows you to protect up to 6 devices with one license and although they don't have a free trial, you will have access to a 30-day money-back guarantee.
Read Full Review
Pros
Successfully unblocks Hulu and other streaming services
DNS and IPv6 leak protection
Solid Security features
Compatible with multiple devices
Why Do You need a VPN for Hulu
Well, the most obvious reason is if you are outside the US or Japan and want to access the streaming service. But there are two other reasons why a VPN will be useful in this case.
To Prevent Internet Throttling by your ISP – Streaming is a bandwidth-intensive activity and if your ISP notices too much bandwidth consumption on your side, they can intentionally slow your Internet. A VPN encrypts your traffic so that they have no idea what you are doing online.
Online Privacy and Security – A VPN helps protect your personal information from hackers through encryption and also prevents advertisers from monitoring your online activities so that they can serve you targeted apps.
What is the Best Free VPN for Hulu
I have never been one to recommend free VPNs for any purpose and here is why. It's very suspicious when a company that needs money to function offers its services for free.
How will they maintain their servers or pay their employees? Probably by collecting your data and selling it to the same people that they are protecting you from.
I have nothing against freemiums through. These are limited versions of a premium product that are offered for free. The problem is that the limitation usually makes them unusable for streaming. For instance, Tunnel Bear has a freemium that only allows you to use 500MB of data each month.
Even if this VPN was able to unblock Hulu, which it can't, then the allocated data would be exhausted in the first 10 minutes of streaming.
How to Pay for Hulu Outside the US
The thing with Hulu is that spoofing your location to a US address is not enough. In order to access their services, you also need to make payments from a US-based account. This could be through a US credit card or a US PayPal account. All of which are unaccessible if you are outside the US.
So a great way to bypass this would be by using a virtual credit card. I won't say I have used these services but States pay is one such service that has very great reviews.
VPNs that do not currently unblock Hulu
IPVanish
TunnelBear
HotSpot Shield
Private Internet Access
Cactus VPN
Ironmate
Unotelly
Zenmate
PureVPN
Conclusion
There have been talks about Hulu expanding outside the US but Japan was the only place it was expanded to. Now, you could sit and hope that they will reconsider and make the service available in your region or you could take the matter in your hands and use a VPN to bypass the geographical restrictions.
If you choose the latter then that's a wise choice. But remember it's a war and you will not win unless you have the best weapon. I have given you 5 weapons which one do you choose?
As promised, I will tell you which is my favorite VPN. Although am certain that you have already figured it out. Express VPN. And as already mentioned, it is the swiftness with which they act after being discovered that really impresses me. They may not be the cheapest solution but you get value for every dime you pay for it.
But you know what would be great? If instead of blocking VPNs, Hulu realized that there is a high demand for their services and hastened the expansion process. Right?