Fun fact, we collectively watch over 1 billion hours of video on YouTube every single day. That is more than Netflix and Facebook videos combined. So then it's safe to assume that YouTube is the most used streaming service currently. In fact, it is the second most visited website after Google.
Music is the site's most streamed content but YouTube is also home to movies, tutorials, Live TV, and a whole lot of other crazy videos. But you already know that. How many times have you started to watch a video sworn it would be the only one that you watch only to find yourself 3 hours later still scrolling and watching.
Which then begs the question, with such an amazing collection of content, why would anyone need a VPN for YouTube?
Instances When a VPN will be Useful for YouTube
When the platform is banned in your country – China, Iran, and Syria are just some of the countries that will not allow you to access YouTube. A VPN will help you bypass the ban by changing your IP address to that of a different country where YouTube in accepted.
You are using a school or work network and Youtube has been blocked – Employers and school administrators understand how easy it is to fall into the YouTube rabbit hole and can sometimes block the streaming service to boost productivity.
To see what's trending in other countries – YouTube has a trending section where it highlights the most popular videos in your region. A VPN can help you change your IP address to different locations to see what's trending in those regions.
To unblock geo-restricted content – This is different from country bans because you will have access to YouTube only that specific videos will not be accessible from your region. This could be due to content licensing agreements that limit streaming the content to specific regions or due to uploader preference.
You want to subscribe to YouTube Premium – YouTube has a premium plan that comes with multiple advantages such as ad-free video viewing, the ability to play videos in the background when using mobile phones and access to YouTube original shows and movies. Unfortunately, it is only available in specific regions. A VPN will help you change your location to any of these regions and subscribe to the premium plan.
Now to the tricky part. How do you choose the best VPN for YouTube from a list of over 60 solutions that all look the same on paper?
Well, you don't have to. We have tested all the popular solutions and narrowed down the list to just 5 of the best. And if by the end of the post you are not yet decided, I will give you my top pick.
Best VPNs for YouTube
Factors to Consider When Choosing a VPN for YouTube
This is the criteria I used when recommending the best VPN solution for YouTube.
Server Coverage
The distribution of VPN servers is important for two reasons. One is that it gives you multiple locations you can change your IP to and the second is that it increases the chances of finding a server that's close to you for the best speeds.
Connection speeds
A VPN is guaranteed to slow your connection speed due to encryption and the additional routing of data to the VPN servers. However, a great VPN won't affect your speed in such a way that it spoils your streaming experience.
Device compatibility
A great VPN comes with a dedicated application for all the popular devices. This makes it easy for you to secure any device that you wish to use to access YouTube.
Security and Privacy
Definitely not the first thing anybody considers when looking for a YouTube VPN but it's nice when you are sure that your data is encrypted and hackers cannot easily steal your personal information.
1. ExpressVPN
ExpressVPN boasts of being the number one trusted solution in the market and I agree. With over 3000 servers in 94 countries, it's really easy to find a server that is close to you so that you get the best performance.
And, it also gives you more options to choose from when spoofing your IP address. You will be able to access all the limited content in these regions.
ExpressVPN uses the best security combination of OpenVPN protocol and AES 256 bit encryption which will be a nightmare for anyone trying to snoop on you or steal your personal info. But the best part is that it does this without seriously compromising your speed.
In case there is a noticeable decrease in speeds, ExpressVPN includes additional protocols like PPTP and L2TP/IPSec that you can use instead of OpenVPN. They are less secure but they provide better streaming speeds. Then again you don't have to worry much about this because ExpressVPN automatically selects the best protocol based on your network speeds.
Also when choosing a location to use, ExpressVPN allows you to use a speed test feature that will help you select the best performing server in that region.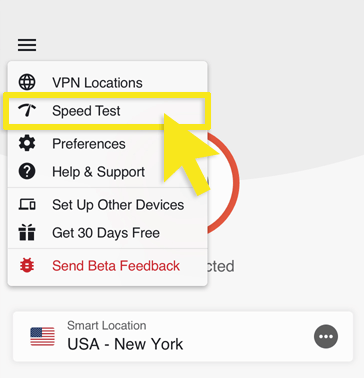 ExpressVPN is compatible with multiple devices including Android, iOS, Windows, Linux, and Mac devices. Moreover, it can be installed on your Smart TV, Playstation, Amazon Fire TV Stick, gaming consoles and several other devices that you may use to stream YouTube.
This VPN does not come with a free trial but it offers a 30-day money-back guarantee. During this period, you can test the product and if it does not meet your expectations then they will refund you.
Read Full Review
Pros
Excellent streaming speeds
Huge collection of global servers
Guarantees online security
Compatible with multiple devices
Cons
Does not have a free trial
2. NordVPN
If your main focus is security but you are also looking for a VPN that will provide you with an awesome streaming experience then NordVPN is the one for you. It is the first and arguably the best VPN that offers double encryption. This means that your traffic goes through two servers and is encrypted twice.
Although some people will appreciate the increased anonymity, I have to say that for the average user, double encryption is sort of an overkill. Not to mention it may affect your streaming quality if you are using a low-speed network.
The truth is that even with the standard VPN connection, you will still be able to block anybody trying to monitor your online activities while still protecting your data from hackers.
NordVPN is compatible with OpenVPN protocol and uses AES 256 bit encryption to complete the dynamic security duo. The VPN is based in Panama where they are not obligated by the government to store user data. This means there is no online footprint that can be used to tie you to anything that you do online.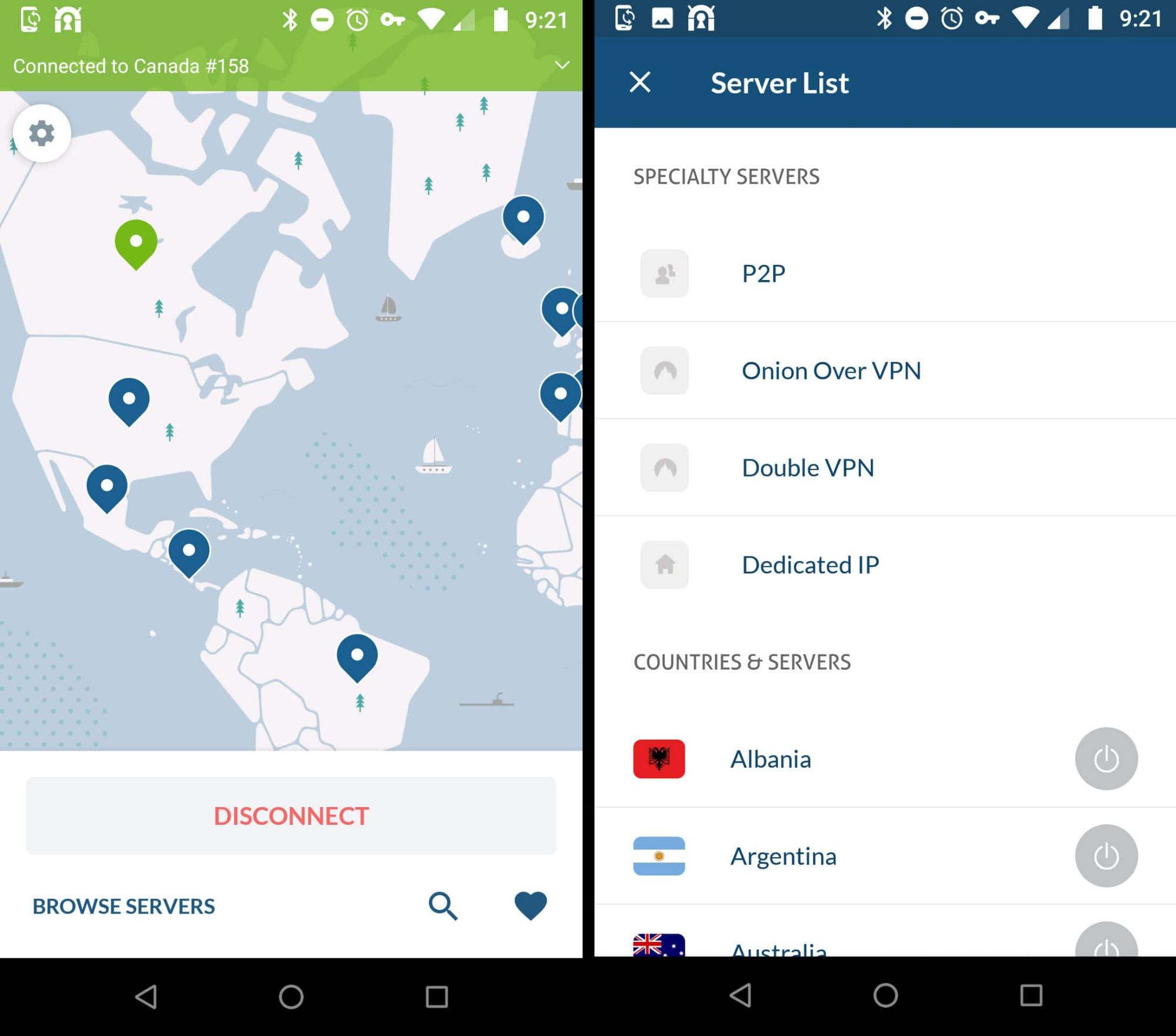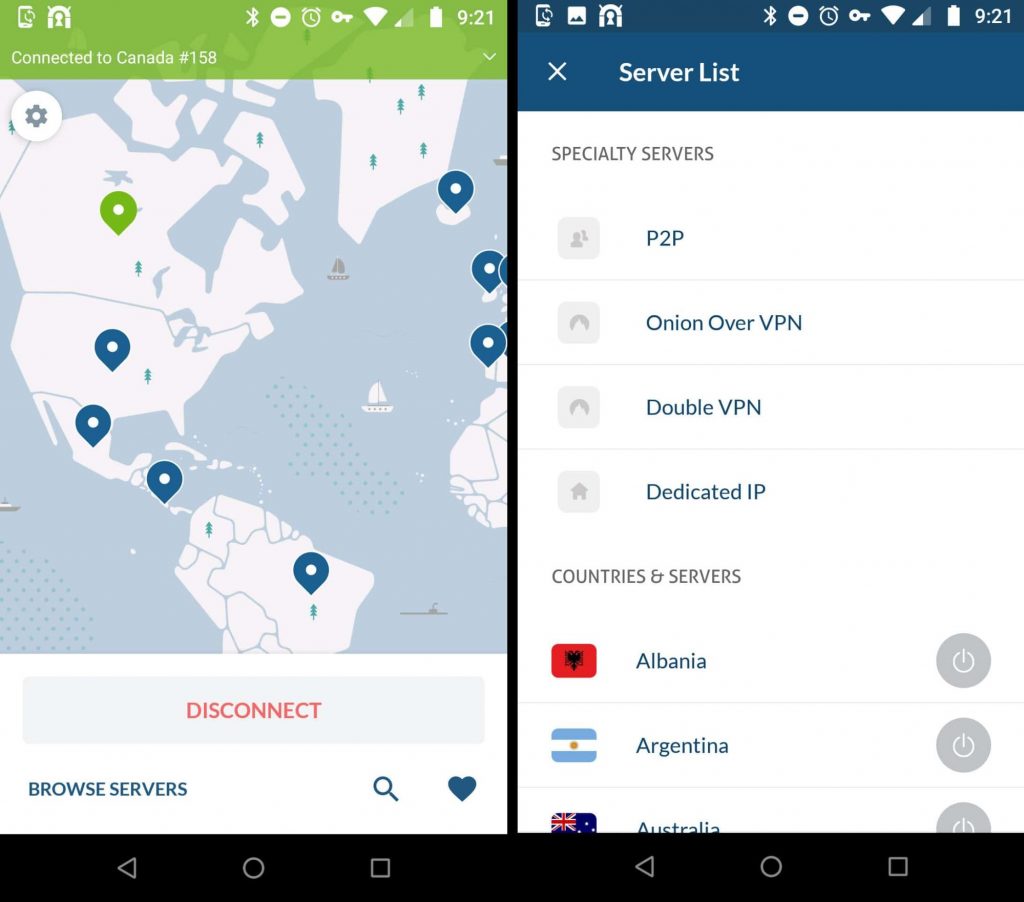 Did I mention that NordVPN has 5100+ servers distributed in 59 countries? I believe that they could have done a better job covering more countries but the multiple servers mean that there will be no competition for bandwidth at any time. You are therefore assured of fast and consistent speeds all through.
NordVPN is compatible with multiple devices and even comes with browser extensions for chrome and firefox. It also allows you to simultaneously connect up to 6 devices using a single license.
Although it does not have a free trial, NordVPN allows you to try the product risk-free for 30 days.
Read Full Review
Pros
Great speeds for streaming
Double encryption for increased anonymity
Huge collection of servers
30-day money-back guarantee
Cons
Increased encryption can affect streaming speeds
3. CyberGhost
CyberGhost has been around for 15 years now and during this time it has grown to be an industry leader. Up until recently, it was NordVPN that had the biggest server portfolio. CyberGhost has since taken that spot and boasts of 5700+ servers distributed in 90 countries.
Regardless of where you are you can easily find a server that is near you that will give you the best connection speeds.
It may not be the fastest VPN but when we tested CyberGhost we were able to stream videos in full HD without experiencing buffering. The VPN gave me access to blocked YouTube content and I was also able to make it work on Netflix.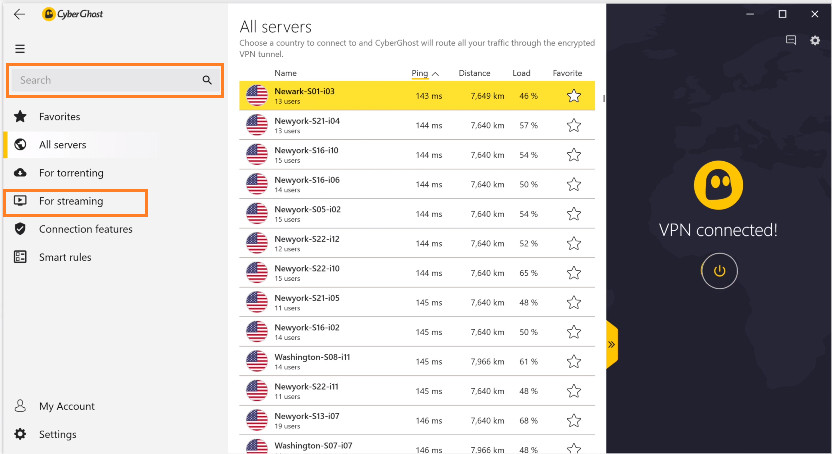 Unlike some of the other VPNs, CyberGhost comes with dedicated servers for streaming. The current ones have been optimized for YouTube, Netflix, Prime Video, Hulu and BBC iPlayer. But the good thing is that even the non-optimized servers will also work in unblocking YouTube.
Also worth noting is that CyberGhost has an application for almost any device that you may consider using to stream Netflix. This is including iOs and Android devices and also computers running on Windows, Linux, or Mac computers.
But the best part is that it can be installed on a router which will consequently protect every other device that connects to the web via the router.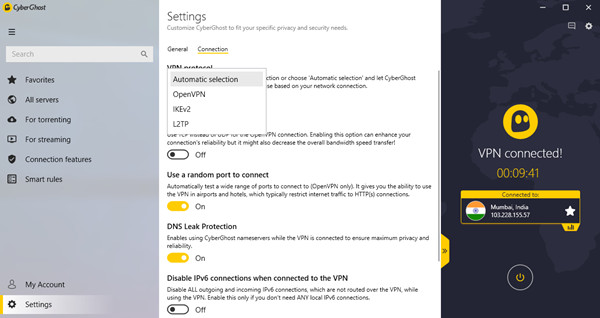 CyberGhost uses 256-bit encryption to protect you from online snoopers and hackers trying to steal your personal data. Not even your ISP can tell what you are doing online. It also supports multiple connection protocols such as OpenVPN, IKEv2, and L2TP/IPsec and allows you to manually switch between them to get the best connection speeds.
CyberGhost comes with a 1-day free trial and allows you a 45-day money-back guarantee once you purchase the premium plan.
Read Full Review
Pros
Comes with specialized servers for streaming
Widespread server coverage
Solid security features
Has a 1-day free trial
Cons
The free trial could be extended
4. IPVanish
IPVanish is a highly regarded VPN that comes with 1300+ servers in more than 75 locations. The company owns and self-manages all their servers and guarantee you reliable and consistent speeds.
IPVanish has 40,000 IP addresses which are shared among its users. The reason why this is important is that when you share an IP with somebody, it becomes impossible for anybody to tie the activities of that IP directly to you.
In our tests, IPVanish was able to unblock YouTube and also worked with other popular streaming services like Netflix, Prime Video and BBCiPlayer. But the most important thing is that it did not affect connections speeds in an inconveniencing way.
We noticed that videos took longer to load but once they started playing, there was no buffering. I was also able to stream the videos in full HD.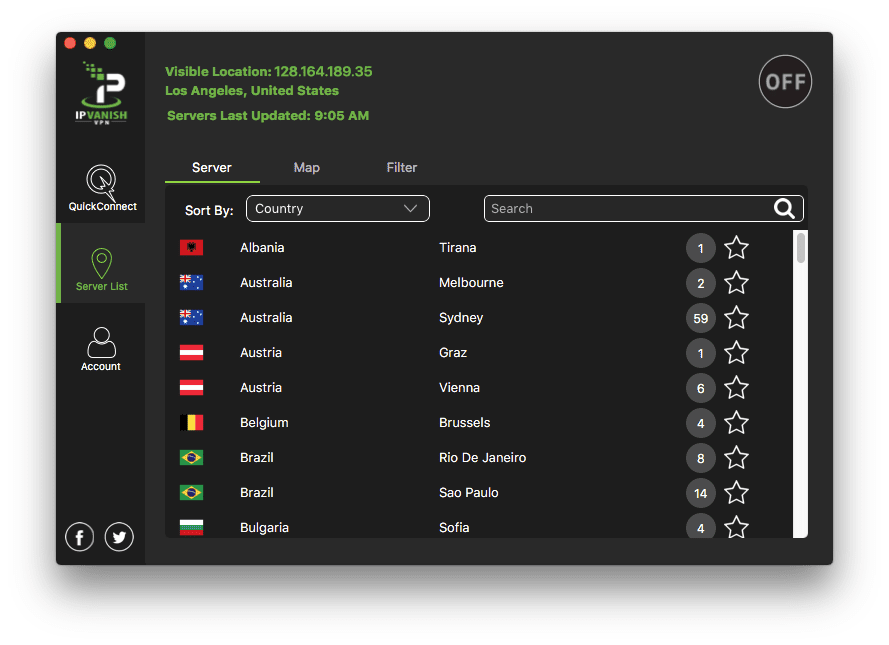 Then, of course, there is the security aspect of the VPN. IPVanish uses OpenVPN protocol coupled with military-grade encryption to provide you with full-proof protection against hackers and online spies.
The VPN is compatible with almost every device that you can use to access YouTube and even comes with guides on how to set it up on Chromebook, Linux, routers and other devices. It is also very generous in terms of the number of devices you can secure using one license allowing up to 10 devices.
IPVanish does not come with a free trial but they allow you a 7-day money-back guarantee. That is enough time to test and know the product but I still think it could be extended.
Read Full Review
Pros
Widespread server location
Great streaming speeds
Can unblock YouTube and other streaming services
Allows 10 simultaneous connections
Cons
7-day money-back guarantee could be extended
5. PrivateVPN
Private VPN is the perfect gateway into the world of VPNs. It is considerably cheap even for short-term subscriptions and comes with easy to use applications for all the popular devices.
On the downside, they have slightly over 100 servers which could lead to congestion of one server and consequently low speeds for streaming.
However, in our tests, I was able to watch all the videos in full HD without buffering. Again the videos took longer to load and this time there was also the occasional fluctuation in video quality but not in a frustrating way. If anything it was the reason why the videos never buffered.
PrivateVPN has also done a great job of spreading its servers to over 60 countries which gives you a lot of locations to choose from.
On top of unblocking YouTube, Private VPN can also be used to unblock other streaming services such as Netflix and Hulu and that is a big feat considering a lot of the bigger VPNs have been unable to achieve the same.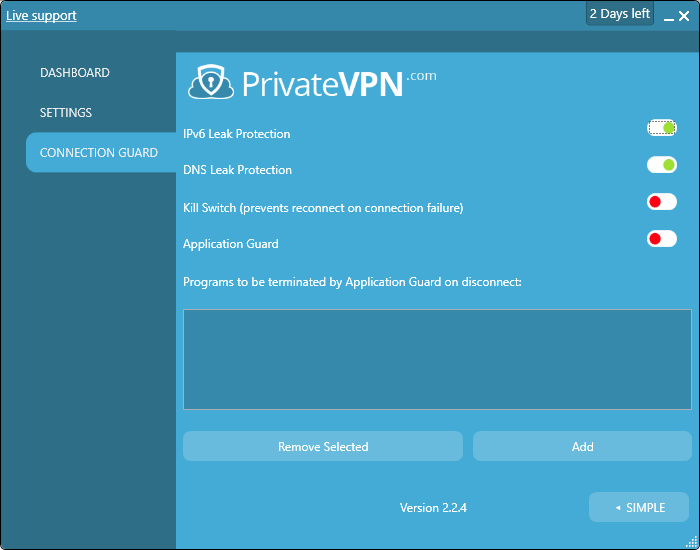 As expected, PrivateVPN is compatible with OpenVPN protocol and uses AES-256v bit to encrypt user data. Additional protocols supported include PPTP, L2TP, IKEv2 And IPSec.
This VPN allows you to protect up to 6 devices using one license and although they don't offer a free trial they have a 30-day money-back guarantee.
Read Full Review
Pros
Widespread server location
Quite affordable
Unblocks YouTube and all the other popular streaming services
Solid security features
Cons
Has a limited number of servers
What is the Best Free VPN for YouTube
Unlike most of the other streaming services like Netflix and Prime Video, YouTube does not take any measures to detect and block VPN connections. This means that VPNs do not need advanced features to stay undetected and, therefore, a lot of the free VPNs can also be great for YouTube.
Here is the problem though. Whatever you don't pay in terms of money you will pay in terms of your privacy.
These free VPNs still need servers to function and these servers need to be maintained. Where then do they get the money to pay the maintenance guys? I will tell you. By selling your data to the same people they are protecting you from. And for this reason, I don't recommend that you use a free VPN for any purpose.
What I can recommend, however, is a freemium VPN. A limited version of a premium product that is available for free. But the problem is that the limitations make them unusable for streaming. For instance, TunnelBear offers a freemium that only allows you 500MB of data each month.
Now go to YouTube and tell me how long that lasts.
Additional Benefits of Using a VPN
Can unblock Netflix and other streaming services – YouTube's lack of movies and shows means you are probably subscribed to another streaming service like Netflix or Hulu. Using a VPN will allow you to access content that would otherwise be blocked in your region.
Prevents internet throttling – It's not unusual to hear people complain about their ISP deliberately slowing down their connections when they notice high consumption of bandwidth as is the case when streaming. A VPN will encrypt your data and block your ISP from monitoring your online activities.
Protection when connected to public WiFi – It is when you are connecting to the internet via a public WiFi that you are most vulnerable. Hackers can easily intercept your connection and steal personal information like your credit card details. That is unless you are using a VPN to encrypt your data.
Protects you while torrenting – A lot of VPNs have publically denounced their support for torrenting. All the VPNs on our list come with specific servers that allow P2P sharing and will provide you with great transfer speeds while also keeping you completely anonymous.
Conclusion
After everything we have read, I doubt there is anyone who can question the importance of using a VPN with YouTube. And hopefully, you have found a solution that speaks to you directly. If you are still unsure then I will tell you which one if my favorite.
ExpressVPN. Mostly because of their excellent speeds but also because they value their customers. Until now, I am always amazed at how fast the ExpressVPN support agents respond to queries even from unregistered users.
Then, of course, there is the fact that it is perfectly suited for any VPN use. Once you purchase this VPN, I doubt you will ever find yourself in the market looking for another one. I should know because it's the VPN I use.