The days of the Cathode Ray Tube (CRT) TV are long gone. Remember them? Ugly square boxes with exaggerated backsides? Yes, they belong in the museum now. We are in the digital era. TVs are now called smart and they can be used to access the internet. It's even possible to make a video call from your TV set.
Smart TVs come preloaded with various apps like Netflix and Prime Video and give you access to unlimited access to movies, shows, and other types of videos online.
However, smart technology is still in working progress and a lot of the old model sets lack the functionality. That is where the streaming media players like Roku come in.
If you don't own a Smart TV the media players present you with the most affordable and convenient way to 'smarten' your TV. Why spend $500 to purchase a new television when you could get the Roku Express at $25. Heck, even the high-end Roku ultra costs less than $100 and it supports voice control.
I own a smart TV and yet I still use the Roku streaming stick. Reason? The media streamers are updated more regularly and give me access to more content providers than my TV ever could.
There is just one problem though. There are several channels on the device that I cannot access because they are blocked in my region. Worse still, most on-demand streaming services have different content libraries for each country.
For instance, the movies and shows I can access in my country are a shadow compared to the titles available on Netflix US.
The good news is that I have found a way to bypass the geographical restrictions. I use VPNs to change my IP address so that to the content providers, it seems like I am connecting from another country other than my own
And in this post, I am going to share with you my five best VPNs to use on your Roku device.
Moreover, I am going to give you a step by step guide on how to get a VPN to work with Roku. Because unlike other media streamers like the Amazon Fire TV Stick, Roku does not allow the installation of a VPN on its hardware.
The best way to use a VPN on Roku is by configuring the VPN on a router which will enable you to use the VPN not only on Roku but also on every other device that connects to your VPN.
Why do you need a VPN for Roku
To access geo-restricted content – The video content providers use your IP address to determine your location and will block your connection if you are outside the accepted regions. For example, Hulu is only accessible in the US.
A VPN will help you bypass the restrictions by spoofing your IP address.
To enhance your online security and privacy – A VPN encrypts all your internet traffic which blocks out anybody trying to monitor your internet activities or steal your data.
To prevent internet throttling – Internet Service Providers (ISPs) have been known to intentionally slow down the internet speed of their users when they detect a huge consumption of bandwidth usually associated with activities such as streaming and torrenting.
Thanks to VPN data encryption, not even your ISP can see what you are doing online.
Best VPNs for Roku
Here is a rundown of the five solutions we will be discussing in this post.
And in case you are wondering, this is the criteria I used to come up with the shortlist.
Factors to Consider When Choosing a VPN for Roku
Can be installed on a router – Some VPNs cannot be installed on a router and that is a deal-breaker because that is the only way you can use a VPN on Roku.
Has not been blacklisted by streaming services – Most of the streaming services have come up with techniques to identify and block VPN connections and this has affected a lot of vendors. Ensure that your VPN of choice is not one of them.
Connection speeds – Streaming is a bandwidth-intensive activity and watching a video on a slow network is one of the most excruciating experiences you can go through.
It's guaranteed that a VPN will slow down your speeds due to encryption and the additional routing of data through the VPN servers but, you need to ensure that it does not affect your streaming quality.
Server coverage – The more servers a VPN has, the less competition for bandwidth there will be and that translates to better speeds. Moreover, a wide server coverage means you can easily find a server that is near you which will reduce the distance that your internet traffic has to travel to reach the VPN servers.
Customer support – A responsive customer support is critical when choosing a VPN especially in our instance because you may need to contact them during the installation process.
Security and privacy – A great VPN should have measures in place to help you surf the web anonymously without having to worry about spies or hackers trying to steal your data.
1. ExpressVPN
I have been testing and recommending VPNs for the longest time and I cannot think of a single instance when ExpressVPN came up short. It's, therefore, not surprising that I decided to make it my personal VPN.
Like I mentioned, the main reason that I recommend this VPN is consistency. A lot of the other VPNs start out really well unblocking all the streaming services but then after a while, they get flagged down and they can no longer bypass the set restrictions.
On the other hand, ExpressVPN is always a step ahead of all these services including Netflix which is the most strict.
Even in instances when it has been discovered and blocked they are very quick to add new IP addresses or configure a new working server so that it never inconveniences the users.
Then speed is the other area where ExpressVPN excels. They have managed to find a perfect balance between security and speed and you can, therefore, be assured that you will enjoy uninterrupted streaming in full HD.
Also worth noting is that ExpressVPN has a feature called Mediastreamer which allows you to change the DNS settings of your Roku TV instead of installing the VPN. This will particularly be useful to people whose routers do not support VPN installations.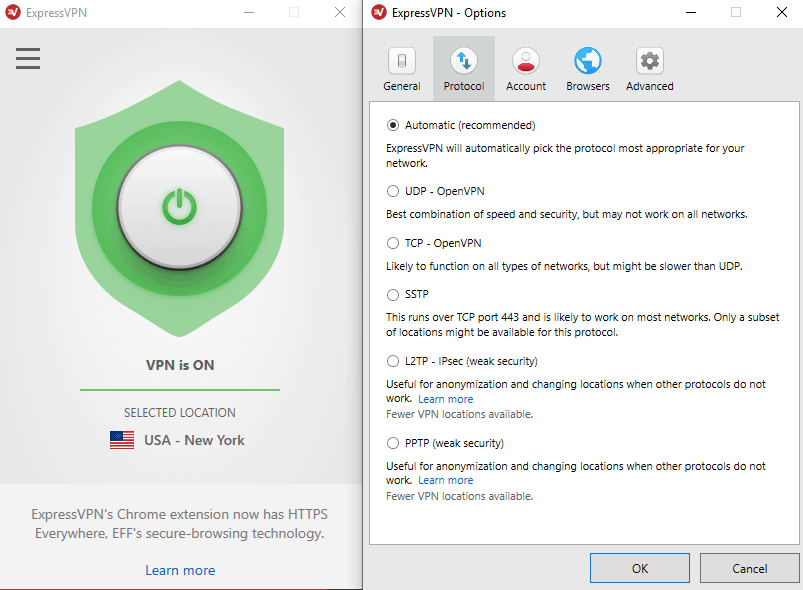 This VPN is based in the British Virgin Islands where they are not under obligation to store user data. It's also compatible with OpenVPN connection protocol and uses AES 256 bit encryption to protect your data from hackers and ensure that you remain completely anonymous when online.
It's impossible for anyone including your ISP to establish what you are doing online.
Apart from router installation, ExpressVPN also comes with a dedicated application for all popular devices such as mobile phones, computers, Xbox, Playstation, Smart TVs and other streaming media players like Amazon Fire TV stick.
ExpressVPN has over 3000 servers in 94 countries and it can be used to access geo-restricted content in all of these regions.
Read review of ExpressVPN
Pros
Excellent streaming speeds
Very reliable in unblocking geo-restricted content
Allows you to change the DNS settings of Roku instead of installing VPN
Excellent customer service
2. NordVPN
NordVPN is best known for its double VPN which allows you to pass your traffic through two servers and consequently encrypt the data twice. It is also the only VPN that comes with a built-in Tor over VPN feature which allows you to add The Onion Router network over the standard VPN connection for increased anonymity.
The other VPNs require that you first download the Tor browser.
Also related to security, NordVPN is compatible with OpenVPN connection protocol which is further reinforced through AES 256 bit encryption. The result is an impenetrable security fortress that even the NSA has been unable to crack.
And as if that's not all, it comes with DNS and IPvs leak protection features and includes a kill switch that will disable your internet to prevent the leaking of unencrypted data in case the VPN disconnects unexpectedly.
But what I love the most about NordVPN and the reason I believe it's a great solution for Roku is its great speeds. In our tests, we were able to watch a whole episode of The Walking Dead on Netflix without buffering and in full HD.
You should also have no problem watching videos in 4K resolution if your device supports it.
Note that this is only true when using the standard VPN connection. If you opt for double VPN or Tor over VPN then the experience will be different.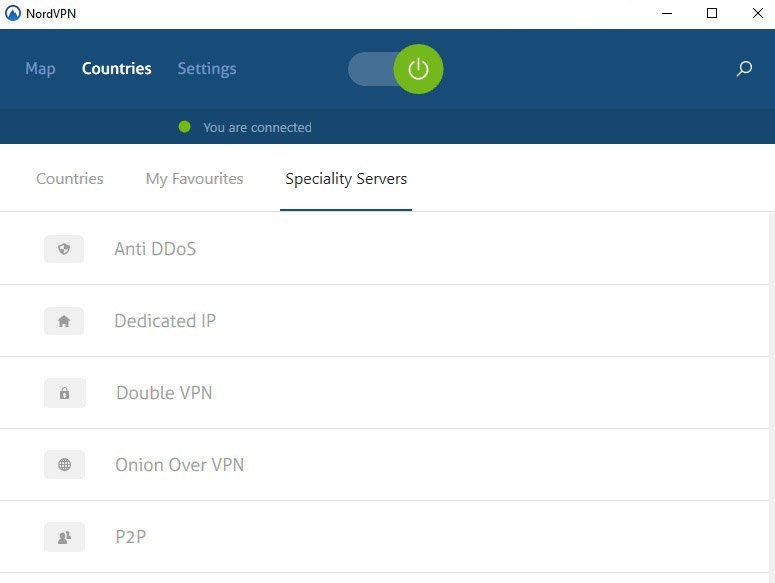 NordVPN is compatible with all the popular devices including a router and can be used to simultaneously protect up to six devices with just one license.
With a total of 5100+ servers, it's hard to imagine ever experiencing connection problems that result from congestion on one server. The servers have been distributed in 59 countries and you can use the VPN to unblock geo-restricted content in any of these regions.
Read review of NordVPN
Pros
Provides rock-solid security features
Great speeds for streaming
Multiple servers spread over many regions
30-day money-back guarantee
Cons
Low connection speeds when using double VPN
3. CyberGhost
The number of strides that CyberGhost has made in the VPN world over the years is remarkable. It has moved from a relatively unknown VPN to one of the best and currently stands as the #1 VPN with the most number of servers worldwide.
It has 5900+ servers distributed in 90 countries.
The CyberGhost connection speeds are great and that is critical in ensuring that you have the best streaming experience on Roku. However, it is the VPN's pricing that really draws you in. Especially when you look at the feature it packs.
Unlike most of the other VPNs, CyberGhost comes with dedicated streaming servers for various services like Netflix, Prime Video, Hulu, Prime Video, among others. This eliminates the need to try out multiple servers trying to figure out which one exactly unlocks blocked content.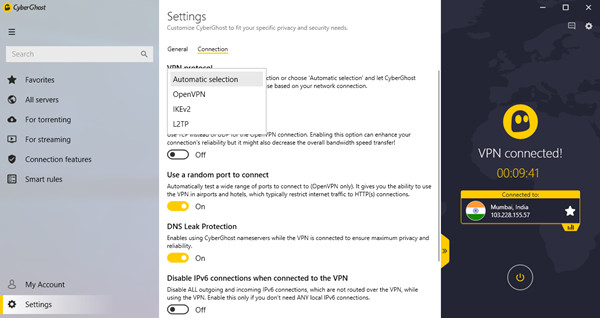 In regard to security, CyberGhost does not dissapoint either. It supports OpenVPN protocol by default and uses AES 256 bit encryption to provide you with full-proof protection against hackers and people trying to monitor your online activities.
It also supports other protocols such as IKEv2 and L2TP which may not be as secure as OpenVPN but they offer better speeds. You can manually change between to get the best speeds.
CyberGhost comes with a 1-day trial but don't celebrate yet. It's very limited and several features like unblocking geo-restricted content will be unavailable. To experience the full product, you will have to purchase the premium plan.
Fortunately, they offer a 45-day money-back guarantee.
Oh, and if you want the best CyberGhost deal then you will have to purchase a long-term plan.
Read review of CyberGhost
Pros
Comes with specialized servers for streaming
Multiple servers in multiple locations
Protects your security and privacy
45-day money-back guarantee
Cons
The 1-day free trial is limited
4. PrivateVPN
PrivateVPN is one of the most underrated VPNs and I think I know why. It only comes with a little over 150 servers. That is 20x less than our top solution.
However, it performs extremely well in terms of speed and that is the one thing that would be most affected if the servers were inadequate. PrivateVPN has also done a great job of distributing the servers in 60 countries which is even more than NordVPN.
We tested the VPN by watching an episode of the drama series, Wentworth, that is available for streaming on Foxtel. This was the takeaway. You can trust PrivateVPN to unblock geo-restricted content. You cannot view Foxtel unless you are in Australia and am not. Also, you don't have to worry about poor streaming quality.
During the entire episode, the video only stopped once. There were minor fluctuations in video quality but they only lasted less than a minute. And that is a very small price to pay compared to how much you pay for this VPN.
Unlike CyberGhost, you don't have to purchase long-term plans in order to get the best deal.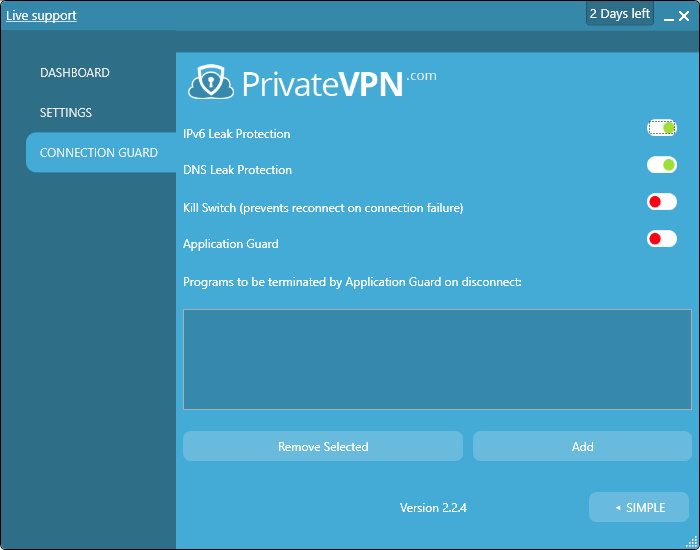 Private VPN encrypts all your traffic data using 2048-bit Encryption With AES-256 and it's compatible with various connection protocols such as OpenVPN, PPTP, L2TP, and IKEv2.
This helps you maintain your anonymity when online and block out any third-party that may want to spy on you. It is also the best protection against hackers when browsing on public connections.
PrivateVPN security is further reinforced through a killswitch that disables your internet when the VPN gets disconnected and you will also get DNS and IPv6 leak protection features.
The maximum number of devices you can connect to this VPN on a single license is six. Of course, since it can be configured on your router there is virtually no limit to the number of devices you can protect.
PrivateVPN comes with a 30-day money-back guarantee.
Read review of PrivateVPN
Pros
Great streaming speeds
Really affordable
Solid security features
30-day money-back guarantee
Cons
The number of servers could be more
5. VyprVPN
If it was a while ago, I would have recommended IPVanish over VyprVPN. But, IPVanish has since stopped working with all the popular streaming services which makes it impractical for Roku.
Not to worry though. The Swiss-based VyprVPN is the perfect alternative. Just like IPVanish they own and self manage all their servers. So, when they promise great speeds and server reliability you can be assured that they will deliver.
VyprVPN has more than 700 servers distributed in 70 locations worldwide. Still, not much compared to CyberGhost but they are enough to eliminate connection problems that may result from server congestion.
In our tests, I had no trouble streaming movies in full HD and there was no interruption from buffering. However, I did notice that videos took longer to load and at times the video quality fluctuated. However, this only lasted for a few seconds and then it was back to full HD.
On top of compatibility with a router, VyprVPN also comes with easy-to-use applications for all the popular devices including the Amazon Fire TV stick.
With just a single license of the VPN, you will be able to simultaneously protect up to five devices.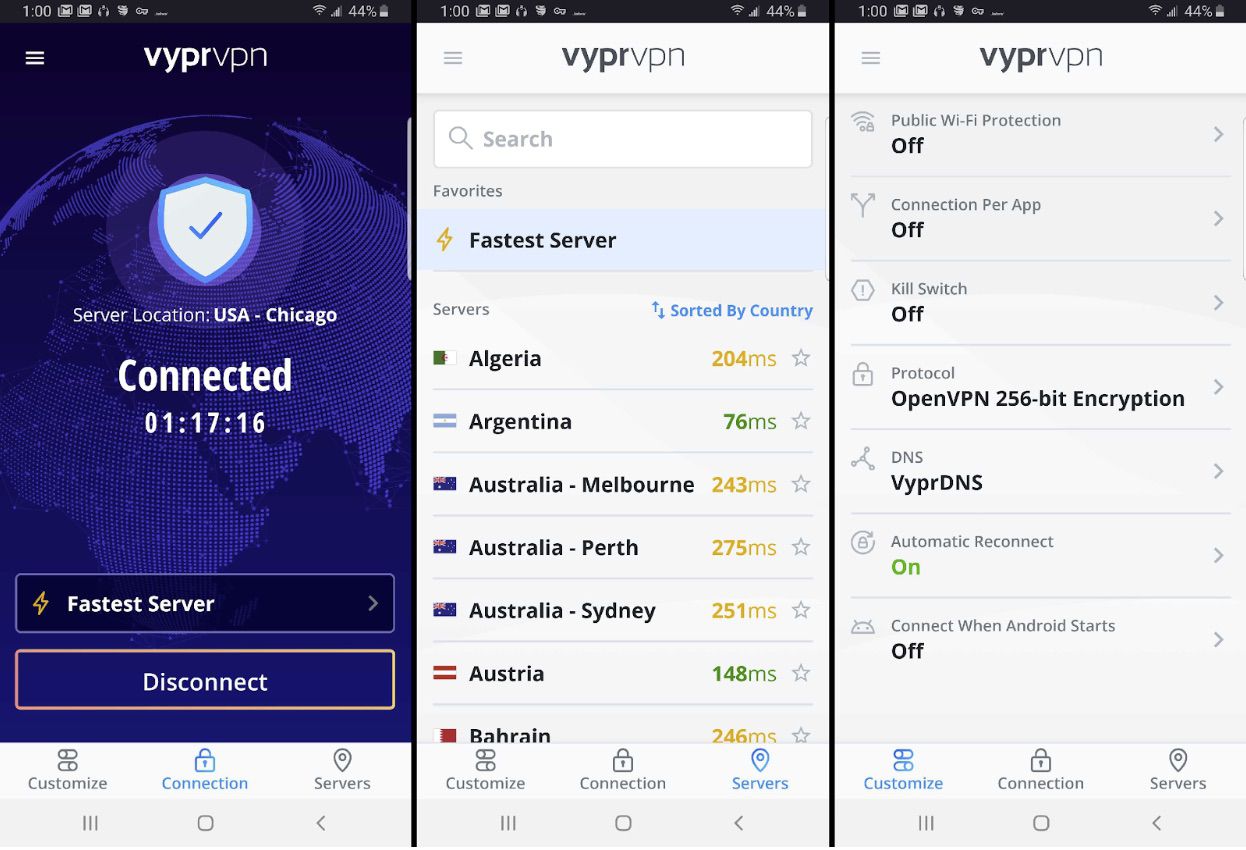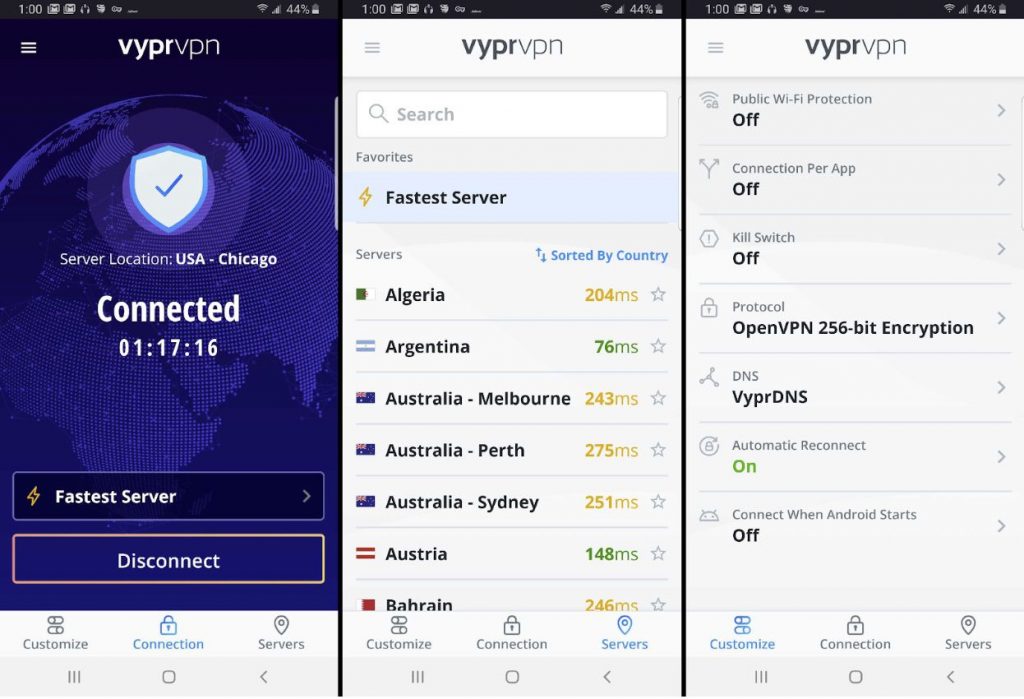 As expected, the VPN is compatible with OpenVPN protocol and uses AES 256 bit encryption to ensure that your online activities are not monitored.
The other connection protocols supported are PPTP, L2TP/IPSec, and Chameleon. If you have not heard of that last one before, it's because it is a proprietary protocol by Vypr that scrambles the VPN traffic coming out of their server to ensure that streaming services do not use deep packet inspection to flag down the connection.
A while ago this VyprVPN had a 3-day free trial but now they only offer a 30-day money-back guarantee.
Read review og VyprVPN
Pros
Guarantees great speeds and server reliability
Solid security features
Compatible with multiple devices
30-day money-back guarantee
Cons
Minor fluctuations in video quality when streaming
How to Use a VPN on Roku
Install the VPN on your router and connect Roku to your router
Unfortunately, I can't go into the process of configuring the VPN on your router because it depends on the type of router. To get the router-specific guide just search 'How to install a VPN on [type of your router]'.
Nevertheless, there are a few things you should know.
For starters, not all routers allow VPN installation by default. If you don't find a VPN installation guide after searching that may be an indicator that your router is not compatible with VPNs.
Fortunately, you can overcome this problem by replacing your original router firmware with custom firmware through a process known as flashing. DD-WRT and Tomato are two excellent firmware that supports VPN installation.
I should mention that the flashing process is a little technical and could result in complete failure of your router if not executed correctly. If you are not too sure about your technical skills consider upgrading to a newer model router, preferably one that has a VPN already pre-configured.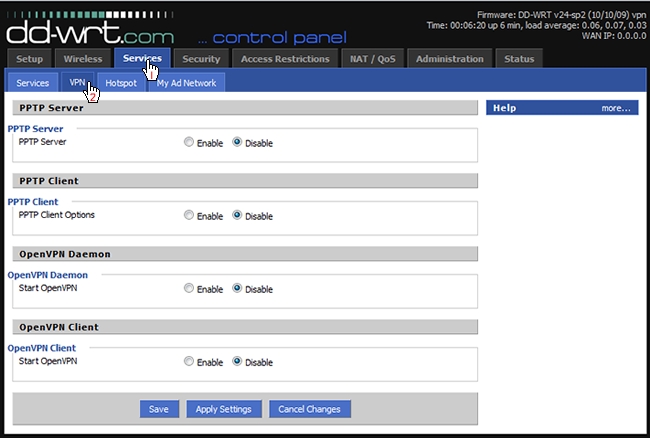 ExpressVPN is one of the vendors on our list that sells routers that already have the VPN.
If none of the above work then it's time to try another method.

Convert your Windows or Mac Computer to a VPN-Protected hotspot and connect Roku to it
How to create a VPN-Protected Hotspot on Windows
Launch your VPN and connect to the server you want to use. Make sure the VPN is using OpenVPN connection protocol.
Open the Command Prompt in administrator mode. Just type CMD on the Windows search bar, right-click on Command Prompt and Run as Administrator.
Type in the following command and press enter: netsh wlan show drivers
From the results, you should see a line labeled Hosted Network Supported. If it says Yes then you can create a Windows hotspot using this method.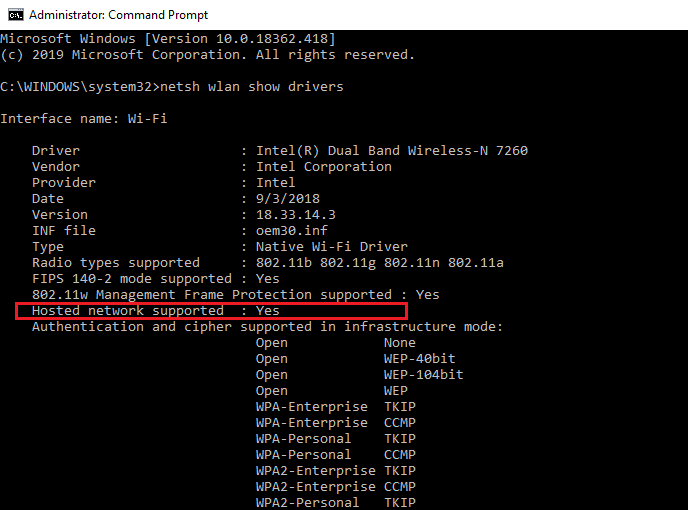 If it says No, your other alternative is to share the VPN connection via Ethernet.
I have included the guide for that below but unfortunately, the method will only work with the Roku Ultra model. This is because all the other Roku models do not have an ethernet port.
While still on the command prompt type in the following command: netsh wlan set hostednetwork mode=allow ssid=Name key=password. Replace Name with an appropriate name for your hotspot and password with a password of your choice.
Activate the hotspot by entering this command: netsh wlan start hostednetwork You will get a return message notifying you that it has started.
Open Network and Internet from the Windows Settings menu and click on the option labeled Change adapter options.
The hotspot you created and your VPN connection should now be visible to you. The VPN connection will either go by the vendor name or by the generic name Tap Windows Adapter VPN. In the picture below I was connected to TunnelBear VPN.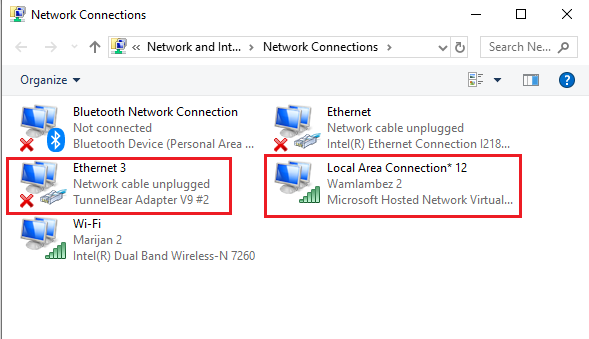 Right-click on the VPN connection and click on its Properties.
Navigate to the Sharing tab and tick the box labeled Allow other network users to connect through this computer's Internet connection. Then below it where we have Home networking connection, click on the drop-down arrow and select the hotspot that you created (Local Area Connection*12). Now click Ok.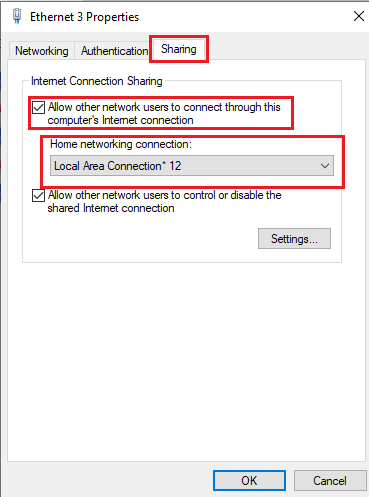 Connect your Roku TV to the hotspot you created and it should now be VPN protected.
How to Share a VPN Connection with the Roku Ultra via Ethernet on Windows
Connect your Windows PC to the internet via WiFi.
Launch your VPN and connect to the server you want to use. Make sure the VPN is using OpenVPN connection protocol.
Connect the Roku TV to your computer using an ethernet cable.
Open Network and Internet from the Windows Settings menu and click on the option labeled Change adapter options.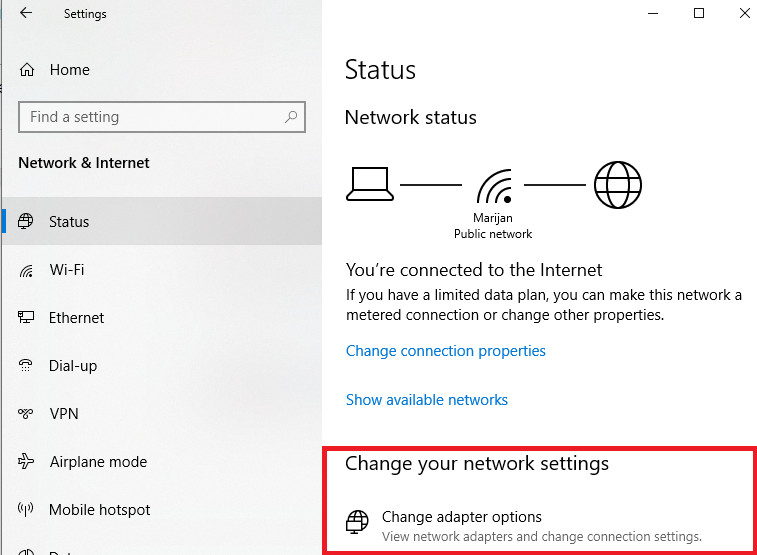 You will be presented with a list of all your available connections including the VPN connection you established step 2. It will either go by the name of the VPN vendor or the generic name Tap Windows Adapter VPN. Right-click on it and go to Properties.
Navigate to the Sharing tab and tick the box labeled Allow Other Network users to connect through this computer's Internet connection. Then below it where we have the Home networking connection, click on the drop-down arrow and select your Ethernet connection then click Ok.
Your Roku device should now be VPN protected but you can restart it just to be sure.
How to Create a VPN-Protected Hotspot on MacOS
Unlike Windows, Mac OS cannot create a WiFi hotspot using the same WiFi you are connected to.
So, it's either you connect to the internet via Ethernet and then create the hotspot or you install a second WiFi adapter like a USB dongle and use it to connect to the internet while using the Mac's integrated Wi-Fi adapter to create the hotspot.
Also, for this method to work, you need to manually configure your VPN on the built-in macOS VPN client as opposed to installing the dedicated VPN application.
Don't get scared, I have the complete step by step guide for you.
Sign up to your preferred VPN and manually configure it on Mac OS. To do this, go to System Preferences, open Network and click on the plus (+) sign at the bottom left.The pop-up below will appear.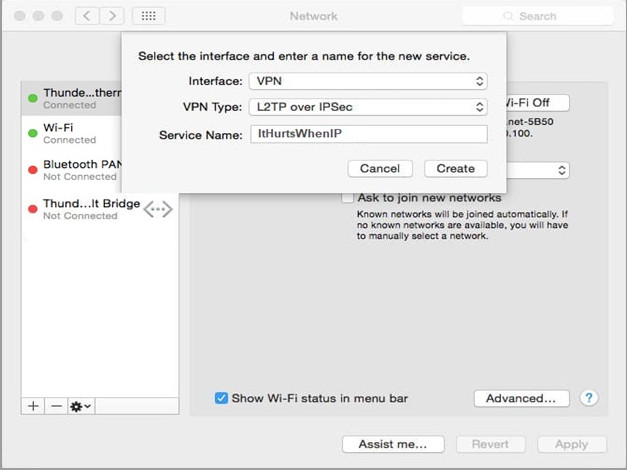 Set the interface to be VPN and let the VPN type be L2TP over IPSec. In the Service Name field, enter the preferred name of your VPN connection.
Click on Create to register the connection.
Open the VPN connection you created from the left pane to finish configuring it. You will need to enter the Server Address you want to connect to and Account Name. Contact your VPN provider to get this information. The Configuration field should be left as default.
Now you understand why a responsive support team is critical when shopping for a VPN.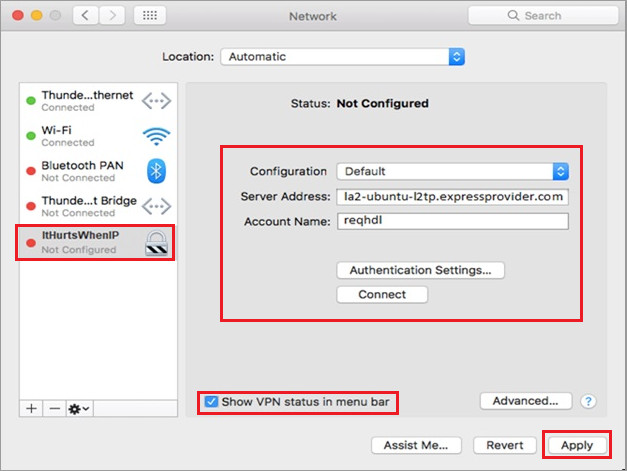 Make sure you check the box labeled Show VPN status in menu bar.
Go to Authentication Settings and enter your VPN account password. Below that where we have Machine Authentication, use the IPSec key as the Shared Secret. 12345678 is the default IPSec pre-shared key.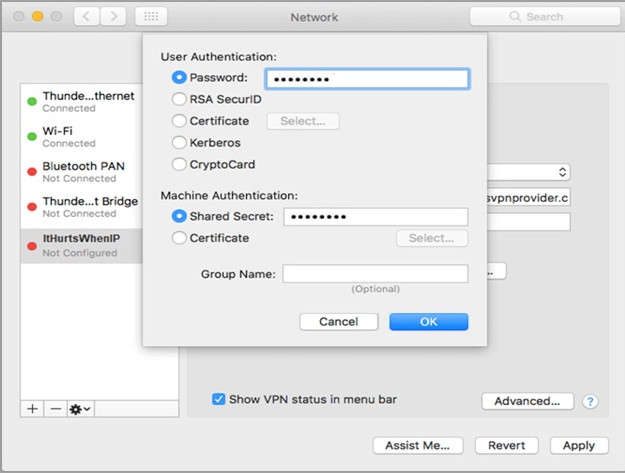 Click Ok to finish authentication.
Click on the button labeled Advanced and tick the box labeled Send all traffic over VPN connection.
Apply the settings and your VPN connection is ready.
Open the VPN connection again from the left pane and hit the Connect button.
You are now connected to the VPN server address that you entered. What remains is to extend the connection to Roku TV.
Open System Preferences, go to the Sharing menu and open Internet sharing. Proceed to Share your connection from the VPN connection you created To computer using WiFi.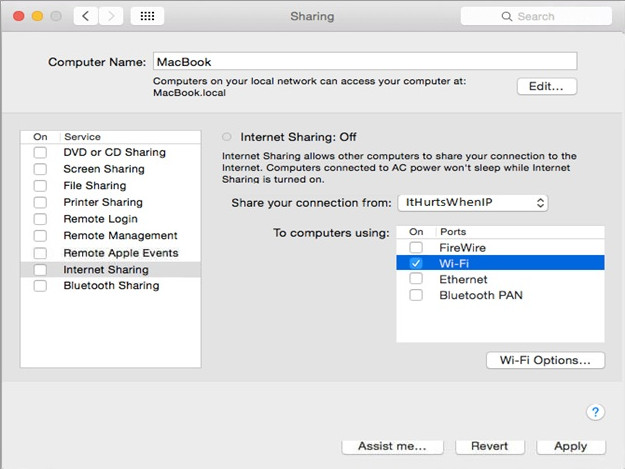 Open WiFi options and fill in the fields appropriately. Enter an appropriate Network Name, leave Channel as default, use WPA2 Personal for Security and create a strong Password. Click Ok when done.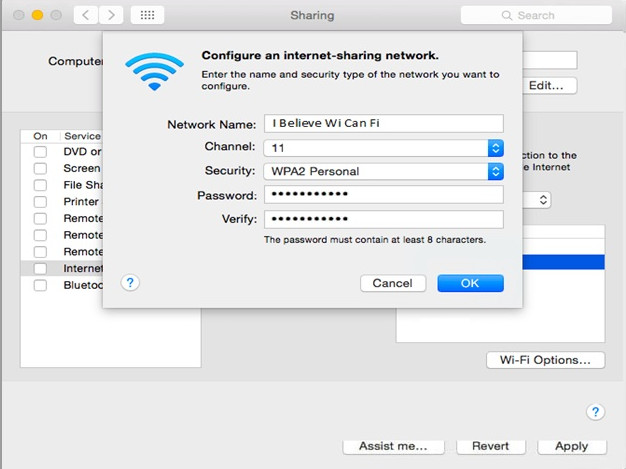 Activate Internet Sharing by checking the box alongside it. A green light will appear next to Internet Sharing to show that it is activated.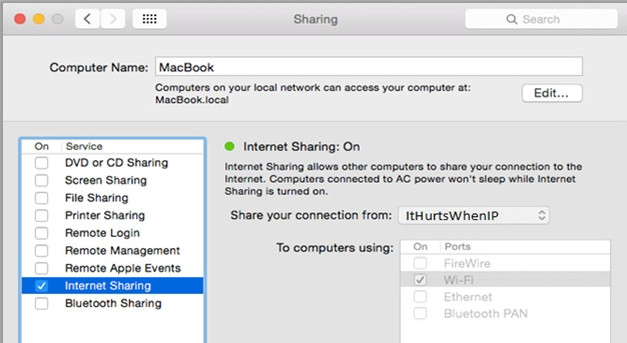 Now connect your Roku TV to the connection you have created on step eight and it will become VPN protected.
What is the Best Free VPN for Roku TV
Yes, we all love free things but have you ever heard the phrase that there is no such thing as a free lunch? Well, it has never been more applicable than right now. There are several VPNs that offer free services but what you don't pay in terms of money you pay in terms of your privacy.
See, in order to run a VPN software, you need servers. And these servers need to be maintained. So how do the free VPN providers pay their maintenance guy? Here is a guess. They sell your data to advertisers.
In some instances, they may log your personal information like credit card details and sell them to malicious people.
And if you are 'lucky' to find a free VPN that isn't doing the above, they will most certainly have the worst speeds. You cannot rely on them to provide a smooth streaming experience.
Nevertheless, I have no problem with free versions of premium products offered by vendors like TunnelBear and Windscribe.
Unfortunately, these providers are not the best when it comes to unblocking video-streaming services and also, the limitations they impose on their free versions make them impractical for Roku.
For example, TunnelBear will only allow you 500MB of data per month. How long can that last you when streaming?
Conclusion
Roku is a cheap and effective solution for accessing internet services on your TV but unfortunately due to geographical restrictions, you are not utilizing its full potential.
That is where the VPNs come in.
But as you have seen, using a VPN with Roku is not as simple as we would want it to be. This is why you cannot afford to go wrong with the VPN you choose. Imagine having to go through that whole process again! I would not blame you if you gave up on using VPNs altogether.
All the VPNs on this list are excellent but if I was to go with one, I would choose ExpressVPN. It impressed me when testing it and it continues to blow my mind every day that I use it.
You will get amazing speeds and from the way you interact with the customer support, you can tell you are appreciated. What else do you need?