Hide My Ass! What a name. But the VPN was created by a 16-year old high school student, so it makes sense. Over the course of 10 years, HideMyAss!  has grown into one of the most used VPNs and at some point even changed names to HMA. I wonder why?
It is now owned by AVG Technologies and is quite popular among streamers and Torrenters due to its great speeds.
ExpressVPN, on the other hand, is the iPhone of VPNs. Everybody has heard about, everybody wants to use it but unfortunately, not everybody can afford it.
The VPN offers excellent speeds and will be perfect for just about any VPN use including streaming, torrenting and protecting your online privacy.
So, it's agreed that both VPNs are excellent options. But, you cannot use both. So what I am going to do in this post is to give you a comprehensive comparison of the two.
We will look at features that ExpressVPN and HMA have in common but more importantly, we will look at how they differ. After that, it should be easier for you to pick one of the two.
How to Choose the Best VPN
Before settling for any VPN, there is a criterion to be used. It's the same criteria we used when comparing these two VPNs. We created a list of all the important VPN features and functionalities and measured how both ExpressVPN and HMA perform in each area.
These were our findings.
Connection Speed
Have you ever come across a VPN that promises to increase your internet speed? They were lying. A VPN works the other way. It slows down your connection due to encryption and the additional routing of your internet traffic through the VPN servers before it reaches the web.
The trick is finding a VPN that does not slow down your connection in a significant way and both ExpressVPN and HideMyAss are great in this regard. But to give you a better picture we went ahead and carried out speed tests.
First, we measured our internet speed before connecting to the VPN. That is our baseline speed. Then, we measured our speeds after connecting to a VPN server.
We conducted our tests using the US and UK servers.
Internet speed before connecting to a VPN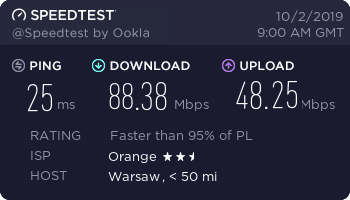 Internet speed when connected to the Recommended ExpressVPN US Server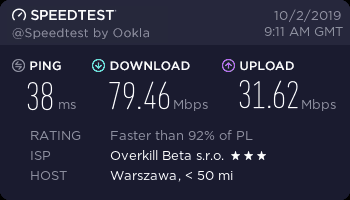 Internet speed when connected to the ExpressVPN US Server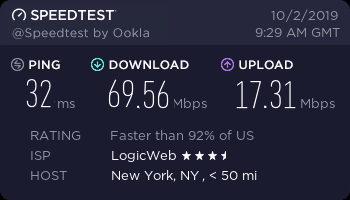 Internet speed when connected to the ExpressVPN UK Server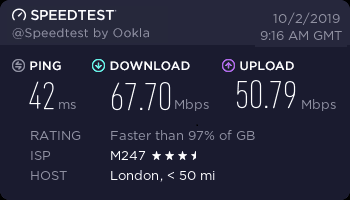 Internet speed when connected to the HMA Recommended server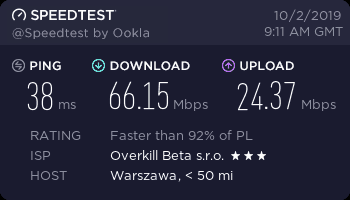 Internet speed when connected to the HMA US server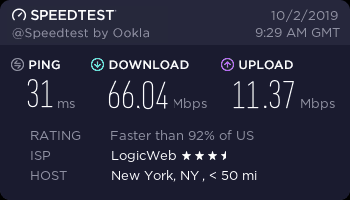 Internet speed when connected to the HMA UK server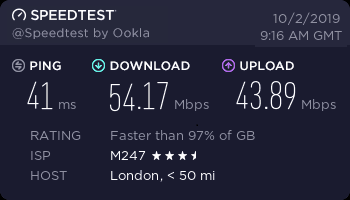 From the tests, ExpressVPN reduced our speeds by about 20 percent while HMA reduced the speed by 30 percent. Note that this is not a direct representation of how these VPNs affect your connection speed.
There are multiple factors that come into play. Like how far you are from the server or the number of people using that server a particular time. Your baseline speed matters too.
And did you notice that we also did a speed test on the recommended server? Both ExpressVPN and HMA have a special feature that automatically connects you to the best performing speed based on your location.
Additionally, ExpressVPN comes with a speed test feature that you can utilize to test servers before connecting to them.
Connection Speed Winner: ExpressVPN
Pricing
Right off the bat, I can tell you that none of these VPNs would make it to the list of cheap VPNs. However, you don't go for a VPN because it's cheap. You choose one because it gives you value for your money.
ExpressVPN is available in 3 plans and at the time of writing this, the annual plan has the best deal going for $8.32 per month. You can also opt for the semi-annual plan or the monthly plan.
HideMyAss, on the other hand, comes with just two plans. A monthly plan and an annual plan which is currently going for $5.99 per month. They also have a 36-month plan valued at $3.99 per month but it's only available for a limited time.
Although come to think of it, I was reviewing the VPN again about five months ago and the 36-month plan was still available for a limited time. I am tempted to say that it's just a marketing scheme by HMA. Still, I would recommend that you take advantage of it while it's still there.
While we are still talking about prices, there is one more thing to consider. Most VPNs no longer offer free trials and that means you will have no practical experience when purchasing it.
Actually, HideMyAss! is an exception and comes with a 7-day free trial. But on top of that, you should check to see whether the VPN offers a money-back guarantee.
This refers to the risk-free days that a VPN vendor allows you to use the product after purchase. Both ExpressVPN and HMA offer you 30 days.
If the VPNs don't live up to your expectations then you can request a refund.
Pricing Winner: HideMyAss!
Privacy
VPNs have become so popular for unblocking geo-restricted content that people have even forgotten the main reason they exist. To safeguard your online privacy.
And this is one area that HMA struggles. Just a while ago, it was discovered that Hide My Ass! was storing the real IP addresses of users connecting to their servers and it was a big issue. It does not help their case that they are located in the UK, a member of the 5-eye alliance, who are notorious for spying on their citizens.
IP addresses can be combined with other log data like connection timestamps to find out everything you did online.
The VPN has since changed its logging policies but they still store some user data like the subnet of your IP address and connection time stamps.
They have a perfectly plausible explanation for keeping the data but it does not change the fact that other VPNs still operate without that data.
Like ExpressVPN.
They only collect very minimal information that is necessary to maintain great customer support. Like the amount of data transmitted through a server which will help them optimize the most used servers. Or the account information you provide during signup which will help them administer your subscription.
ExpressVPN is based in the British Virgin Islands where there are no mandatory data retention laws. The VPN cannot be forced by the government to store your user data
Then the other thing to consider in regard to privacy is the allowed payment modes. ExpressVPN accepts Bitcoin which allows you to open an account anonymously. The same is not true for HMA which only accepts Paypal, credit cards and debit cards.
Privacy Winner: ExpressVPN
ExpressVPN vs HMA Features Comparison
Encryption
A VPN is also an excellent tool to protect your personal data from hackers while also keeping out anybody trying to monitor your online activities. But it has to have the right features.
The first thing to watch out for is if the VPN supports OpenVPN connection protocol. This should further be reinforced through AES 256 bit encryption. This is currently the best security combination that even the NSA has been unable to crack.
Once your traffic has been encrypted, not even your ISP can see what you are doing online. This is the perfect way to prevent internet throttling where your ISP deliberately slows down your connection to discourage you from activities such as streaming and torrenting.
Both ExpressVPN and HMA support this security combination. They also support additional connection protocols such as PPTP, L2TP/IPSec, and SSTP. Although that last one is only available on ExpressVPN.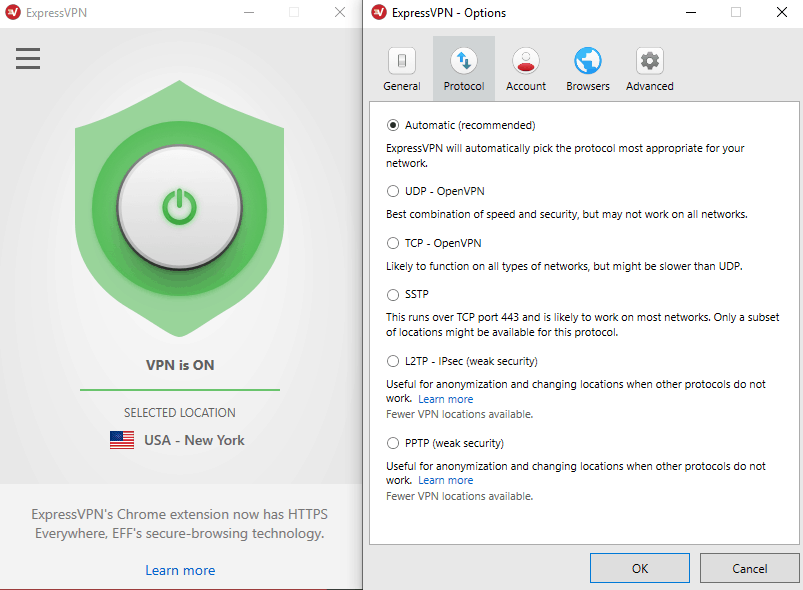 HMA compensates for that through the IP shuffle feature that is not available on ExpressVPN. It allows you to automatically change your IP address at set intervals which is a sure way to confuse anybody trying to monitor your VPN connection.

Both VPNs also come with a kill switch that will disable your internet to prevent the leaking of unencrypted data in case the VPN disconnects unexpectedly.
This is further reinforced through DNS and IPv6 leak protection features.
Choosing a winner in this category is a bit harder than the others but I will go with ExpressVPN for one reason. It manages to implement the security features without significantly affecting your internet speed.
Encryption winner: ExpressVPN
Simultaneous Connections
Imagine if you had to purchase a VPN license for every device that you want to protect. Fortunately, VPNs allow you to simultaneously connect to multiple devices with just a single license. Though the exact number of devices depends on the VPN you choose.
Both HideMyAss! and ExpressVPN allows connection of up to 5 devices but you can bypass this by installing the VPNs on a router.
It's not a straight-forward process but once configured, the VPN will protect every other device that connects to your router. And that leaves with 4 other connections that you can utilize as you please.
Simultaneous Connections Winner: Tie
Torrent support
A lot of VPNs have stopped supporting torrent downloads. Although torrenting in itself is not illegal it is mostly used to share copyrighted content illegally and thus causing friction with the authorities.
On the other hand, we do not recommend that you download torrents without a VPN due to security reasons. Every time you download or upload a torrent your IP address becomes public and can be accessed by anybody and it could be used by hackers to remotely access your computer.
There is also the possibility that your ISP terminates its services with you. Though you will have received a warning letter before this happens.
ExpressVPN allows P2P sharing on all its servers and does not put a cap on bandwidth consumption which makes it one of the best VPNs for torrenting.
HMA also supports torrenting but only on eight servers. This is still commendable but it can lead to speed problems as users compete for bandwidth.
Also, if you are located very far from these servers then that's another blow to your speeds.
Torrenting Winner: ExpressVPN
Global Server Coverage
How many servers does a VPN have and how are they distributed worldwide. ExpressVPN has 3000+ servers in 94 countries while HideMyAss! has 980+ servers in 180 locations.
A high number of servers means there is no competition for bandwidth that would result from congestion on one server. ExpressVPN wins in that regard.
Wide server coverage enables you to find a server that is nearest to you and thus reduce the distance that your internet traffic has to travel before reaching the VPN servers. HideMyAss! Wins in that regard but a lot of their servers are virtual. This can work for or against you.
For example, if you are in the UK you could be connecting to a server in London because it is nearest to you only to realize that it's a virtual server and the physical server is in Portugal. In this case, the distance that your data has to travel will be increased.
Now assume you are in the UK and want to connect to a Portugal server. In normal circumstances, this would mean that your data has to travel long distances to reach the server. But, what if the Portugal server is virtual and the physical server is in the UK?
Then it means will still get a Portugal IP address but your data will travel a shorter distance to reach the server.
Global Server Coverage Winner: Tie

Multi-Platform Support
Every device that you use to connect to the internet should be VPN protected. Therefore, a great VPN should come with dedicated applications for all popular devices.
ExpressVPN is compatible with all the popular operating systems and hence you should have no problem protecting your devices. It works with mobile phones, computers, smart TVs, gaming consoles and streaming media players like Amazon Fire TV Stick and Roku.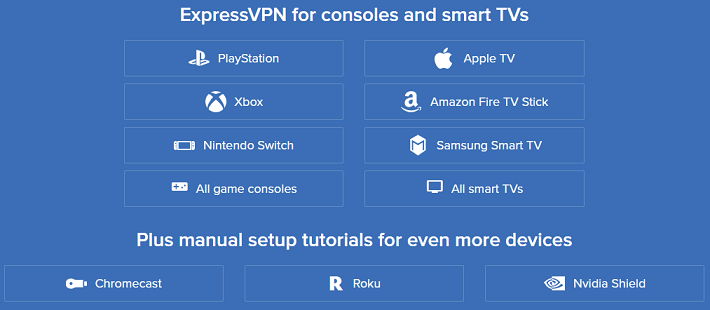 It also has browser extensions for easy integration into chrome and Firefox but most importantly, it can be installed on a router which helps you protect unlimited devices.
HMA also offers support for all the popular devices but it's limited to Android, iOS, Windows macOS, and Linux OSes. On the upside, it can also be configured on your router to protect multiple devices at once.
Multi Platform Support Winner: ExpressVPN
Customer Support
Imagine you are about to start watching your favorite show which is blocked in your region but then the VPN server you usually use to bypass the geo-restriction has stopped working.
Times like these are why you need customer support. They will easily help you find the next working server.
Both ExpressVPN and HMA have live chat support and their agents are available 24/7. You will be happy to know that it only takes a few seconds for them to reply to your queries.
The VPNs also include a knowledge base with several actionable articles that you can use to resolve various problems without assistance.
Customer Support Winner: ExpressVPN
Conclusion: ExpressVPN Wins
I could have told you this at the beginning of the post but it's better when you draw the conclusion yourself. This was never a competition. ExpressVPN is in a class of its own and as you have seen, it outperforms HideMyAss in just about every aspect. Well, except the Price.
So, what's the takeaway. If you are shopping for a VPN and trying to decide between ExpressVPN and HMA then the former is your best bet.If you are already using HMA! and looking to upgrade, ExpressVPN is the best choice you will ever make. And if you are an ExpressVPN wondering if there is another better alternative, you won't find it.
But in the end, what matters is if you can afford it. Most of the other VPNs cannot compete feature-wise with ExpressVPN but they can offer more affordable prices. HMA is one of them. You will have to compromise on a few areas but it will give you good value for your money.