151 million. That is the total number of paid Netflix subscribers worldwide. It's impressive but I think the number would be significantly bigger if Netflix had a universal library. Unfortunately, that's not the case.
The movies and shows that you can access depend on the country you are viewing from. Netflix US has arguably the best collection of content.
It's, therefore, not surprising that everyone is always trying to find a way to access the American library. Using a VPN is the most popular and effective method to unblock Netflix but as you may already know, not all VPNs work with Netflix.
So, where does StrongVPN lie?
The good news is that it's one of the few VPNs that can still successfully unblock Netflix. The bad news is that it's inconsistent.
One time you log in to Netflix and it is working perfectly then the next time you cannot proceed with your show because StrongVPN has been detected by Netflix and blocked.
You get hit with the streaming error message.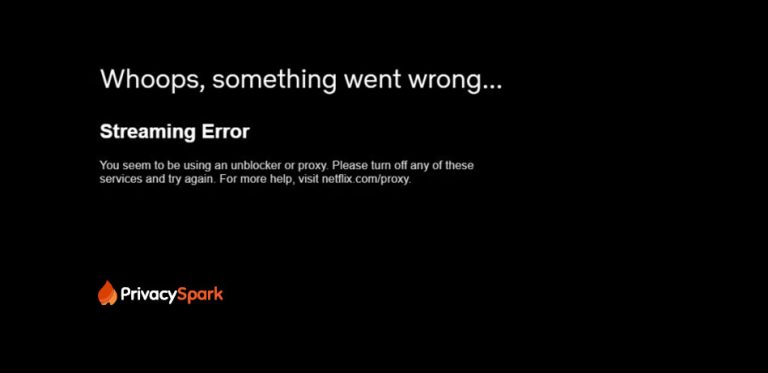 Why Does Netflix Block VPNs
It's because it goes against the contract they have signed with the content owners. See, Netflix does not own most of the titles they show on their platform. The approach movie studios, television networks, and independent producers and buy the rights to stream their content.
Due to different content licensing laws in each country the title owners may restrict the viewing of their content to a specific region only. Netflix has to ensure that the content boundaries are respected or otherwise they could be sued for breach of contract.
Also worth noting is that the content owners don't receive any financial gain when their content is accessed in countries where it's meant to be blocked.
Therefore, if Netflix does not make an attempt to stop the illegal access of content the title owners may be wary about partnering with them in future deals.
How is Netflix Able to Detect and Block VPN Connections
To understand this, you first need to know how a VPN bypasses the geo-restrictions on Netflix.
Every time that you send a connection request to the internet, your device gets assigned an IP address. This is a unique identification number that contains your geolocation, and the name of your internet provider.
When Netflix receives your connection request they can tell where you are connecting from based on your IP location and will, in turn, direct you to your country's content library.
This is where the VPN comes in. It acts as a middleman between you and the internet so that instead of your connection request going directly to Netflix, it first goes through the VPN servers. Here, your original IP address will be discarded and you will then be allocated a new one with a new location that you choose.
But, therein lies the problem. VPNs have a limited number of addresses that they can give out which means that one IP address can end up being shared by hundreds of people.
The Netflix detection algorithm can tell when multiple requests are being sent from one IP address and will consequently block that connection. And unfortunately, a lot of the VPNs lack the resources to add new IP addresses and servers whenever the existing ones get blacklisted.
What To Do When StrongVPN Fails
There are three things you can try if you have trouble unlocking Netflix using StrongVPN.
Connect to a new server – When a range of IP addresses gets blacklisted, the VPN vendors do not get rid of them. They simply add new ones.
Therefore, there is the probability that you will be allocated one of the blocked IP addresses when trying to access Netflix. To solve this, connect to a new server or restart the VPN connection. You will be allocated a new IP which hopefully works.
Clear your browser's cookies and cache – If you had accessed Netflix previously without using a VPN, it's possible that your browser stored your location information and Netflix is using this data to determine your location.
Contact customer support – They may be able to direct you to the right server that will unblock Netflix.
What if all the above solutions fail? It's time to consider using another alternative.
Also, you can't keep contacting customer support every time you want to use the VPN. What you need is another VPN that is consistent. And I have just the perfect solution. ExpressVPN.

The Best StrongVPN Alternative for Unblocking Netflix

ExpressVPN is the recommended solution for unblocking Netflix by many experts. Why? I will get into the details for that shortly, but the one that stands out for me is consistency.
On the rare occasion that ExpressVPN gets discovered and blacklisted, they are so quick to update their IP addresses or configure a new server that you barely get inconvenienced.
Here are some of the other reasons why ExpressVPN is the perfect solution.
Excellent streaming speeds
A VPN is always guaranteed to slow down your connection speed due to encryption and the additional routing of data through the VPN servers. Nevertheless, ExpressVPN has managed to find the perfect balance between security and speed so that it does not slow down your internet significantly.
In our tests, I was able to stream a movie in full HD without any buffering.
Widespread distribution of servers
ExpressVPN has 3000+ servers distributed over 94 countries and this is important for two reasons.
One, the multiple servers ensure that there is no competition for bandwidth since users do not congest on one server. Then the diverse server coverage means you can easily find a server that is near you which reduces the distance that your internet traffic has to travel to reach the VPN server.
All of this helps in ensuring that you get the best speeds for streaming.
Additionally, ExpressVPN even includes a speed test feature that will enable you to choose the best performing server.
Excellent customer support
It never ceases to amaze me how responsive the ExpressVPN support is. Their agents are available 24/7 via live chat and it takes them less than a minute to answer your queries.
Now, anytime you have trouble unblocking Netflix, you can contact customer support and they will promptly direct you to a working server.
Compatibility with multiple devices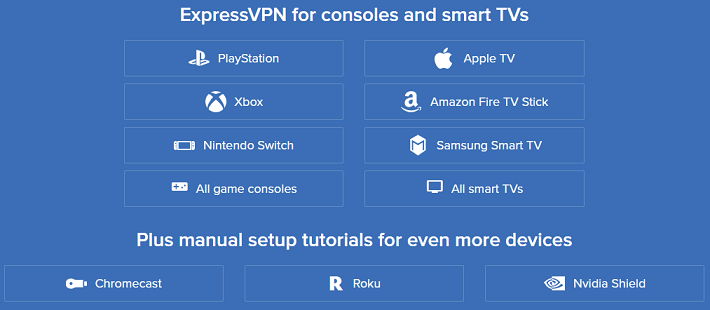 ExpressVPN has a dedicated application for all the popular devices that you may use to access Netflix. It can work on Android and iOS mobile phones, computers running on Windows, Linux, and macOS, and it can also be installed on Smart TVs, Playstation, Xbox, Amazon Fire TV Stick, and other similar devices.
Even better, ExpressVPN can be configured on a router which will consequently protect every other device on your network.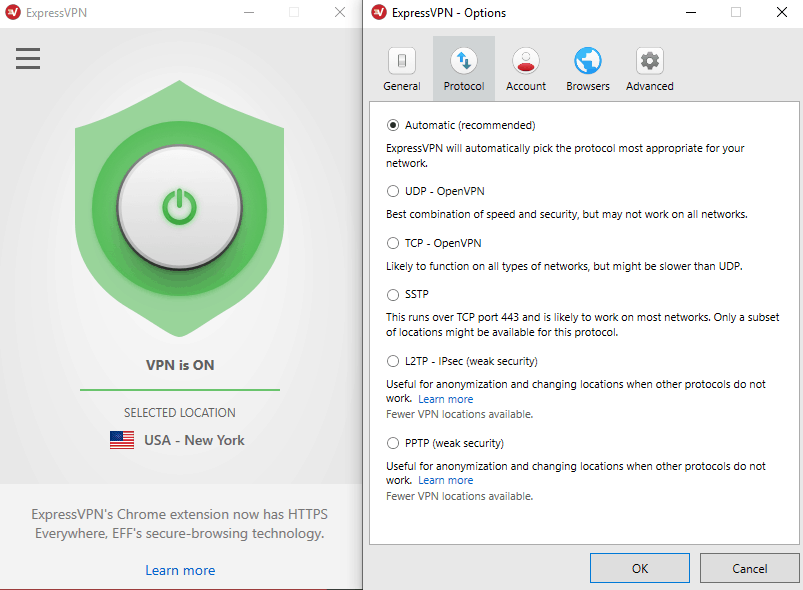 Apart from unblocking geo-restricted content, a VPN is also supposed to secure your connections and protect your online identity.
ExpressVPN is compatible with OpenVPN protocol which when combined with AES-256 bit encryption provides full-proof protection against hackers and online spies.
The VPN also supports other connection protocols such as PPTP and L2TP/IPSec which, although not as secure as OpenVPN, provide better streaming speeds.
The other notable security feature is a kill switch that disables your internet traffic when the VPN disconnects to avoid accidental leaking of non-encrypted data.
Right off the bat, ExpressVPN is not the cheapest solution around. But I have used it and I can assure you will be getting value for every penny you spend.
The VPN does not come with a free trial but it offers a 30-day money-back guarantee. This allows you to test the product during this period and if it's not what you were expecting, then you can request a refund.
Works with other streaming services
ExpressVPN is not limited to Netflix only. It can also be used to unblock other services like Prime Video, Hulu, and BBC iPlayer.
Conclusion
I strongly believe that credit should be given where due and StrongVPN deserves recognition for being able to unblock Netflix. It's one feat that a lot of big names in the VPN industry have not been able to achieve.
But if you are like me then you will probably hate the uncertainties that come with using the solution. What if today the VPN is the day that the VPN stops working? This is a question that will constantly nag you when using StrongVPN.
And It's for this reason that I decided to settle for ExpressVPN.
I have tested a lot of VPNs, not just StrongVPN, and none has been as reliable in unblocking Netflix or any other streaming services for that matter.
And you know what, you don't even have to take my word for it. You can utilize the 30-day money-back guarantee to get a feel of the product yourself. Thank me later.