It has taken a lot of awakening such as the Edward Snowden revelations but I think people are finally taking online privacy seriously. Admittedly, we still have a long way to go but at least you are here and that is one step in the right direction. Why? Because a VPN software is one of the top recommended methods to enhance your online security.
Today we are going to be looking at a VPN that has been around for more than 10 years now. PureVPN which is based in HongKong started as a personal experiment before it launched commercially in 2007 with just 2 server locations. Very humble beginnings compared to the 2000+ servers it now has distributed over more than 140 countries.
But is it worth your money? That is the question we seek to answer in this review. Some of the key issues we will be addressing include PureVPN's security, streaming quality, connection speeds and also, the software's ability to unblock geo-restricted content.
My Verdict
PureVPN is one of the most feature-rich VPN software that you can have. And while you may have issues with some of the additional features, Split tunneling did not work for some sites, I had it's hard to complain considering the VPN's affordability.
Security and Privacy is the core concept for any VPN and this software ticks all the boxes in that regard. It's also one of the few remaining solutions that actively support torrenting and also unblocks Netflix.
All factors considered, this is a VPN I would recommend to anyone who is on a budget and is concerned about their online security.
Willingness to Recommend: 8/10
PROS
Affordable prices
Unlocks Netflix US and multiple other streaming services
Great for torrenting
Impressive security features
Supports multiple platforms
CONS
Does not have a free trial
Streaming
With the increased popularity of online streaming services and their bandwidth-intensive nature, it's expected that people will want to know how a VPN affects the quality of service. The good news is that PureVPN has dedicated servers that are optimized for streaming. In my tests,there was the occasional fluctuation in quality and one time buffering but nothing to vent about.
Apart from streaming, PureVPN includes four other user modes that you can choose from depending on the intended use. This is great as it eliminates the need for any further configuration. The modes are Internet Freedom, Security/Privacy, File Sharing, and Dedicated IP.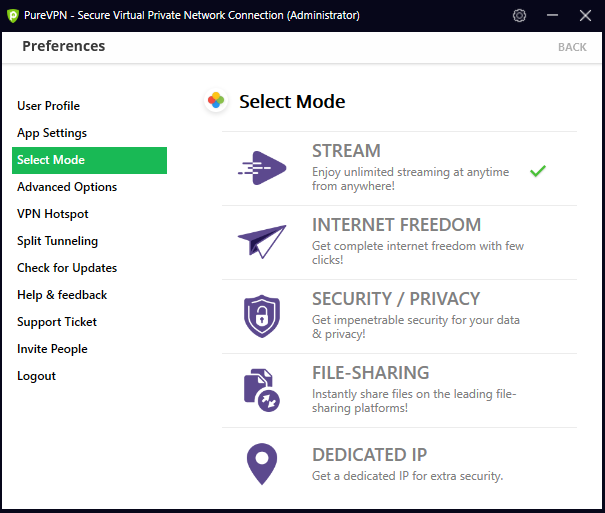 The other great thing about this software is that it can unblock Netflix US. Unfortunately, that is where it ends. Other server locations such as France, Germany, and the UK did not work for Netflix
Also, there was an incident where I received a connection error while trying to open Netflix US but I was able to resolve it by changing to a different server.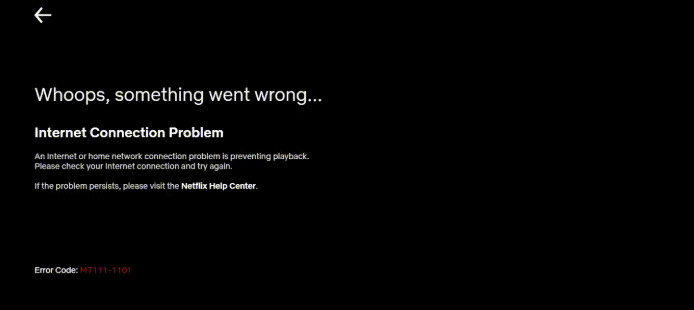 In case you have a similar issue and using a different server does not resolve it then contact the PureVPN support. They will guide you to a working server.
Additional streaming services supported by PureVPN include Hulu, Amazon Prime, BBC iPlayer among others. It can also be used to unblock sports streaming sites like BT sport that's only accessible in the UK.
Security and Privacy
Now, let's talk about how PureVPN is optimized to safeguard your online activities.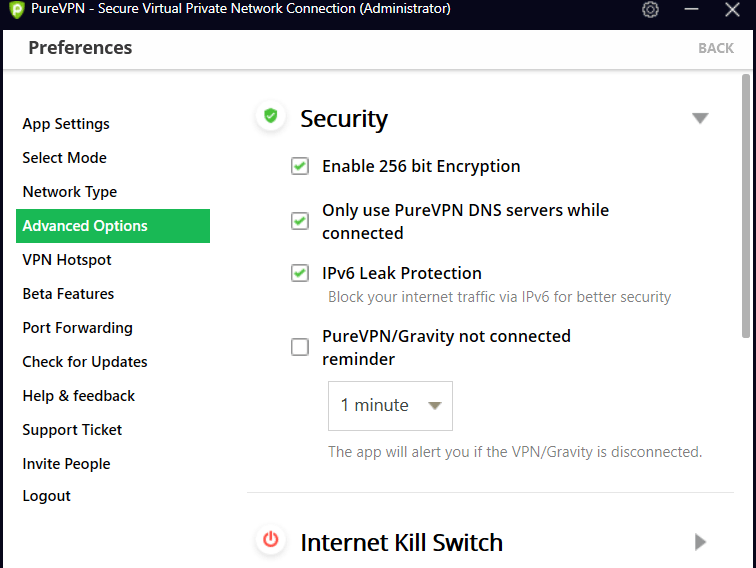 For starters, I like that it supports OpenVPN since it's the best protocol when it comes to security. The protocol is reinforced with AES 256-bit encryption and uses digital certificates for authentication. Open VPN is the only protocol that has not been compromised by the NSA yet.
Of course, PureVPN also works with other VPN protocols such as L2TP, IKEv2, PPTP which is best suited for streaming and SSTP which only works for Windows OS.
Another great thing about PureVPN is that it does not store browsing logs. Notice how I didn't say that they have a zero log policy? It's because they do store some data. PureVPN has records of the day you connected to their servers, your ISP and the total bandwidth consumed.
This is not data that can compromise your online security. Rather, it helps them provide the best services by ensuring that every user has the same level of speed. The information will also be crucial in overcoming regional-specific connection problems.
Still, if you have a problem with their logging policy then we have some alternative VPN software you can check out at the end of this review.
This VPN software also comes with a customizable kill switch. This is important as it will prevent your IP from leaking in the event that your VPN connection is disrupted. This is further reinforced by their IPv6, WebRTC, and DNS leak protection features which give you full anonymity on the internet. From my multiple tests, I did not detect any leaks so the features work as advertised.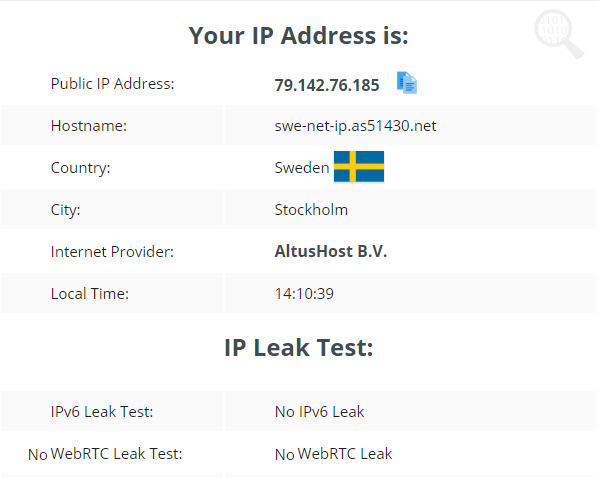 Something else that impressed me with PureVPN is that it can be used to bypass the Great Firewall of China. A feat that some major VPN names have been unable to execute.
However, you should already have it installed before you go to China because most VPN websites cannot be accessed once you are there.
Since PureVPN is based in HongKong then they have no obligations to share data with any government.
Speed
A VPN may excel in every other aspect but if it fails in terms of connection speed then it's pointless. Obviously a decrease in speed is to be unexpected due to encryption and the routing of data through the VPN servers but some VPNs can just be impossible to bear.
So, to give you a clear picture, I did speed tests for various server locations and these were the results. To be honest, the test results were exceptional. I was expecting a much bigger reduction in speed. And if indeed this is the situation with every user, then PureVPN deserves much more credit than it is receiving.
Baseline Speed Before Connecting to PureVPN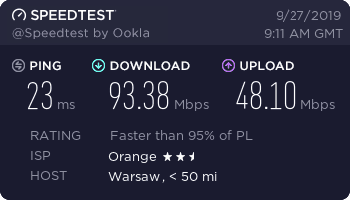 Speed When Connected to the US Streaming Server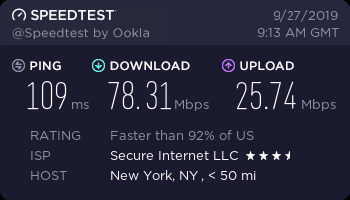 The streaming servers are optimized for speed but still, this is incredible.
Speed When Connected to the UK Server Optimized for Security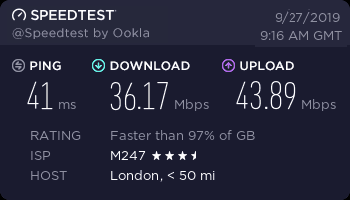 Speed When Connected to the Australia File Sharing Server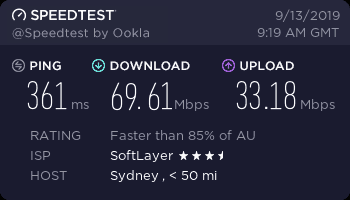 Speed When Connected to France Server Optimized for Security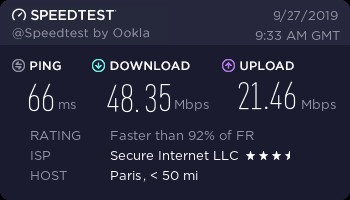 Cost
One of the most attractive things about PureVPN is its price. The software is currently available in 3 plans. If you want the best value then you should go for the 2-year plan where you get charged $3.33 per month.
The annual plan is the next best offer where you get charged $5.81 per month. And then, of course, there is the monthly subscription that goes for $10.95.
Actually, PureVPN also has a 5-year plan which gives the best value but it's hidden. The deal will appear as a pop-up if they detect you are about to leave the site. If that does not happen then you can access it using this link.
Note that these were the current prices at the time of this review and are subject to change.
On the downside, this VPN software does not offer a free trial. What they do offer, however, is a 3-day paid trial but at a small fee of $2.50. While this may seem like a raw deal compared to other vendors who offer completely free trials. The good thing about this is that you get the full features of the VPN.
PureVPN also offers a 31-day money-back guarantee where they refund your purchase if you are discontented with their services.
Additional Features
Split-Tunneling
This is a cool PureVPN feature that allows you to route some of your traffic to the VPN encrypted tunnel while the other data is routed directly to your ISP.
Some of the benefits of Split tunneling include the ability to stream local and foreign content at the same time, increased speed for the sites being routed directly and also the ability to connect to LAN devices while still connected to the VPN.
Port forwarding
Port forwarding is a process that is usually executed from the router interface. But it's an intricate process that many people will find hard to implement.
Fortunately, PureVPN can implement the port forwarding for you.
How this works is that the VPN client intercepts the internet requests from your devices and routes them to the VPN server using a single IP address. It will then receive the returning traffic and route it to the originating device.
Any returning data that is not recognized will be discarded meaning the VPN will essentially be acting as a firewall. This feature comes at an additional cost of $0.99 per month.
P2P File sharing
PureVPN allows you to send and receive P2P files at unlimited speeds. This makes the software one of the few remaining tools that serve as great torrenting options.
Multi-platform support
This VPN has dedicated applications for multiple operating systems including Windows, Mac, Linux, Android, and iOS. It also has extensions for Chrome and Firefox and is compatible with routers, Android TV, Firestick, Kodi, Roku, among other devices.
Multi-Login support
For maximum efficiency, PureVPN can be used with up to 5 devices simultaneously.
Alternative VPN Options
So, I have said just about everything there is to be said about PureVPN. However, I believe in the power of choices. Therefore, I am going to recommend two other VPN solutions that you may consider if, for some reason, PureVPN does not work for you.
PrivateVPN
PrivateVPN may not have some of the advanced PureVPN features such as split tunneling but there are similar in several ways. Most notably, they both have amazing pricing plans.
The VPN is based in Sweden, meaning they are under no obligation to store or share your data. The software includes applications for various platforms such as Windows, Mac, Linux, Android, iOS, as well as Amazon Firestick.
At the moment, they only have a little over 100 servers which are distributed over 60 different countries.
PrivateVPN is not lacking in terms of security and includes features such as AES-256 encryption, IPv6 leak protection, and a kill switch that will disable your internet traffic when the VPN connection is bad. It also supports all the key VPN protocols such as OpenVPN, PPTP, L2TP, and IKEv2.
If you are in it for streaming then you will be pleased to learn that the software can unlock Netflix as well as other streaming services like Hulu and Prime Video. It's also one of the few remaining software that openly supports torrenting.
Private VPN can be used by up to 7 devices simultaneously.
The VPN software comes with a 7-day free trial and also gives you a 30-day money-back guarantee.
NordVPN
NordVPN has been around for 7 years now during which it has risen to become one of the most trusted VPN solutions.
One standout feature for this software is the Onion network over the standard VPN network which helps add another layer of security over an already secure solution. So on top of military-grade encryption, you are also afforded the extra security of someone browsing on Tor.
NordVPN also comes with an ad and malware blocker, automatic kill switch, DNS leak protection and has a zero-logging policy.
This software is compatible with all the popular devices and operating systems and allows you to connect up to 6 devices simultaneously.
Although they do not have a free trial, NordVPN offers a 30-day money-back guarantee.